Windows 10 rollout puts massive strain on web traffic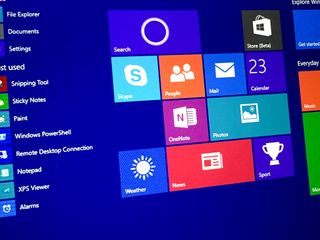 There's no doubt that the Windows 10 launch is going to put quite the strain on ISPs and content delivery networks (CDNs). However, a new blog post from Dan Rayburn on the Streaming Media Blog points to just how much bandwidth Microsoft is planning to eat up as its latest operating system pushes out to millions of users worldwide.
According to the report, Windows 10 has already hit the 10Tb/s mark spread out over several CDNs, but we're only into the first several hours of launch and Microsoft has planned for much more:
If Microsoft does manage to hit the 40Tb/s threshold with Windows 10's rollout, it will be quite impressive. If true, this data shows just how massive the Windows 10 rollout actually is, and further helps to illustrate why Microsoft chose to go with a staged rollout rather than unloading the upgrade to every user at once.
Source: Dan Rayburn; Via: Neowin
Dan Thorp-Lancaster is the former Editor-in-Chief of Windows Central. He began working with Windows Central, Android Central, and iMore as a news writer in 2014 and is obsessed with tech of all sorts. You can follow Dan on Twitter @DthorpL and Instagram @heyitsdtl.
we have to reach Billion devices ... don't stop people

he means "us", you not included.

Yeah 1 billion - 1 ... Him.

that was the perfect response :-D

Lets make sure to reach the 1 billion devices within the first month to impress Microsoft :)

500m month or year would be impressive .... dont forget half of the PCs are business so they will be on their usual schedule.

I have got it on 5 devices already at home. Will download on 2 more at work in an hour. I contributed to 7 genuine updates of that 1 billion.

LET THE DOWNLOADING BEGIN!!!!
BREAK THE INTERNET!

Just got mine. Seems like Surface owners are getting it 1st. al;l other machines are still waiting at my end. i'm in the US.

Puts Kim K's ass to shame. This might actually break the Internet although I am a bigger fan of the former.

Except people didn't choose to download it. They get it automatically downloaded without question.

i'm pretty sure you have to "reserve" windows 10

When i go to do the download yes?? It says FAILED!! Can you read this yes? Lol but yeah when ever i try it says COMPUTER SAYS NO! So i will try again in the morning :)

Yes, I can read it lol. I just didn't understand what "saying failed" meant.

I was with you on that one. Sentences without nouns are not sentences.

"Go" is not a sentence. It's a subjunctive command. It comes from "I want/wish that you go".

Or "I command that you go."

I think he is saying the install failed. I believe he is from India and it is 7/29 there. So, they can start installing the update.

Saying its failed here too. Will try in morning!

This seems to fix it https://www.reddit.com/r/windows/comments/3eyrre/fix_for_the_80240020_er...

This will just redownload Windows 10. The error everyone is getting during installing is that the update is time locked. Have some patience guys, not everyone is able to install immediately after 00:00. Maybe try later in the day.

i forgot to mention the lemonade to her

Imagine that bill. Sheesh.

What ever happened to the entire dark & light system theme setting? Like on the phone. Or did it turn into a per-app thing?

As for now, it's a per app thing. I'm hoping by Redstone, it'll be all over the OS.

Same. I love a dark screen.

The CDNs are not allowing any more features because of the massive strain on the networks, as mentioned in the article.

That makes no sense. The CDNs have no control or say over what features W10 has

Alroy your are very wrong

I believe they were joking

I knew that stack of unopened free month of Compuserve CDs would come in handy some day.

I'm going back to dial-up for the downloads

Uhh.... Its 56.6 Kbps dude... Dont you dare minus that 1.2% of your total top speed!!!

let me know your input after installing. I am little afrad that it might not be very stable version of Windows yet

I'm not having liver and onions for dinner.

I love Liver and Onions. Any left?

I'm not flying an Ostrich in space.

You must Posted via the Windows Central App for Android

I'm not a ninja holding a flag while riding a dinosaur staring into smoke and laser light.

Your PC are belong to Windows 10.

I'm not waiting for Windows 10 - Downloading now

yet mine is stuck at 140 mb (in the folder) while my dads pc reached 4 GB already...

You mad bro? Yeah, you mad.

Oh my god...
I thought only I am having this 140mb issue..
But you also joined me...
Mine started at 28/7 - 8.30pm now it's 29/7 - 5.30
[ Region : India ]
Guys anyone know how to come up from this issue..?
Pls do help...

You'll have to wait out out.. Files started downloading on my PC since July 10th.. Remember not everyone is supposed to get this on day one.

It's ironic as Windows 10 brings a feature where you can download updates from PCs on your network :p

And I thought w8/10s wu client was f messed(mostly due to buggy intel wifilink/centrino drivers)

for anyone having 140mb issue: https://www.reddit.com/r/Windows10/comments/3ewa8r/psa_here_is_how_to_ch...

Mine too! And INTERNET's. Being unstable.

It's not stuck at 140MB. It will show that until the main files have been downloaded, unpacked and moved to that folder.

Do we have an ISO release date yet?

No, but considering the amount of bandwidth they are using for uploading the update, I doubt they will release an ISO anytime soon. That would stress the servers even more. I'm guessing when the the automatic updates subside, they will release teh ISO then.

Your logic is completely flawed. Download the update or the ISO = the asme amount of bandwidth. Additionally if the download fails the ISO would mean LESS bandwidth. Some of the folks in the comments here have zero clue about how things actually work.

https://www.windowscentral.com/e?link=https2F%2Fclick.linksynergy.co... Out

But they doing something wrong as it's now 1am in UK and it's not activated. Apparently it will be 5am. That's five hours where's there virtually no Internet traffic not being used Posted via the Windows Central App for Android

In UK. Nothing here as of yet also.

How annoying. I was hoping to leave mine downloading the whole night so it'd be good to go in the morning (1Mbp/s internet...grr!).

Id hate to be working for MS activation call center right about now

It sure makes the point that there should be lots of potential users for universal apps.

Isn't 40 Tbps less than 10 TBps?

I don't think article writer put much thought about letter case..

Stupid casing mistake on my part. Updating, and thanks for pointing that out!

I'm not sure tablespoons is a valid unit of measure for data transfer :P

It is. As we all know theres flour in all the datawires

Already downloaded and installed here in the UK :-)

What! Lucky, I'm in the UK nothing as of yet :)

Any significant difference from the latest insider build??

Where did the temporary files download to on your computer? Is there a folder that I can go to in order to confirm if/when the download has started?

Same here :) the win bt folder had 6.06 gb for me

Honestly I hope they reach 1 billion devices by the end of the next year that would show that Microsoft is back

If that volume holds, they could hit a billion by the end of the week. ( :

or even in 6 months would show Microsoft has its Windows mojo back

That's about 10000 downloads a second!!!!! And that's about 864 MILLION a DAY!!!!!!!

Not necessarily. I think your math is a little off ;) "That's about 10,000 downloads a second!!!!" Actually, it's 10,000 people downloading at that second. 10,000 people downloading at 1 Mb/s is 10 Gb/s. So it's entirely possible that only 10 million people could be downloading it at that slow speed, and the higher the speed (as you move into Western Europe), the lower the number of potential people downloading it at a single time. I'm sure Microsoft will have tens (maybe even hundreds) of millions of people on Windows 10 by the end of the year, so I'm not trying to bring you down, just saying that I dont think it's actually 864 million a day lol

so 10000 downloadings per second

People can install using ISO later you know...

I think your math is wrong. How do you get 10000 downloads per second?

This is really an awesome Windows release!! I'm loving every part of the new OS.

I'm still thinking should I or should I not download it. W7

I think w7 users will like the design and functionality. It's significantly quicker and more efficient than w7 as well (so was w8 tbh, but I guess I understand people avoiding, though I liked it as of 8.1)

Having used 7 and 8 a lot, 10 feels like the best of both worlds. You have the tiles from 8 but the start menu from 7.

They are making a staggered rollout because Windows 10 updater supports P2P sharing across LAN and WAN. Its buried under the settings! Those who have Windows 10 installed will share the update packages online, reducing the cost Microsoft has to pay for reserving bandwidth.

Please expand on your theory and also define P2P to those ignorant people among us whom haven't a clue what you are ranting about.

Peer 2 peer protocol - the same as what is used by UTorrent etc to share files. I.e., we share and seed the files between each other rather than downloading from one central location

No. It's p2p in your local network, meaning if you have several computers in your house it only downloads it once and shares the package between them. It's not sending it out to strangers over the internet.

You can choose for it to be local or available to strangers over the internet. It can go both ways, but you get to decide.

The information is accurate. It is not buried though. It is where it is supposed to be!

This sure beats iOS and OS X release days, where I kept mashing on the "Check for updates" button waiting for a taxed download to happen. Yay for pre-loading things.

I'm like a kid on Christmas eve!

I guess we won't hear anything about Windows Mobile while this is happening! :-(

Let's hope this is the beginning of the end for the windows app gap

I don't think it will reach that max capacity. Microsoft can allocate capacity and control the release to those who reserved.

I hope developers see the magnitude of Windows 10 and start developing Universal Apps.

I guess everyone is tripping on this momentous occasion, but please state your country of origin, download speeds, difficulties etc etc etc so that we can formulate an objective opinion as to how successful this rollout is.

Last night I hit 95% and 100% of my 250gb monthly usage. I wonder why? I was asleep.

Long story short: Windows 10 is expected to break the internet

is there any way I can make sure I get the update tomorrow? I reserved the update the same day it was available but I don't see the preloaded files yet.

In the file explorer toolbar under view chck the box for hidden files then you should see it.

CAN'T WAIT, RELEASE IT TO CANADA ALREADY!

Some computers if you restart it gets a small update and faster downloads... Plus if MS used torrent like protocols would speed up considerably...

They do. The protocol is called BITS. Backround Intelligent Transfer Service. Even better than most P2P protocols. BITS allows me to release updates to over 7000 PCs at the same time without crushing the network.

Upgrade failing again and again.

Has anybody other than windows insider in india, got the update??

I got it bro. 4% download complete. Use command wuauclt.exe /updatenow I Run. And then check Windows Update.

Still no update in Australia.

When Upgrade for windows Phone?

As soon as it is released.

They forecasting in fall...

If you need to check if update is downloading in background use this command
Bitsadmin /monitor /allusers

Tempting but first I have to find a way to get Windows media centre on this OS before I move

M getting 80240020 error here....wt to do...guys ??

Still no update for me in India... I checked several times... Is anybody help me.... ??

I have also waiting foe phone update when it will be start in India ​ ​ ​

It is not for phones. It is for desktops, laptops, 2 in 1, all in ones

No phone updates, this is a PC update for Windows 7/8/8.1 running PCs. No phones

It's their on my setting, window update saying my windows 10 reserved but it says they will say when its ready?? I'm in the UK and its 4 am

I'm depressed right about now because I don't have the windows 10 so app on my SP3 : (

Wen in India? The answer is first in India. Update started to download since 18th July 15.

mine downloaded, but no notification to install

Go to Windows Updtae and check if there is any new Windows update or not. If there are, install it. Then run this command through Run... wuauclt.exe /updatenow You will see Windows 10 is downloading in Windows Update

My windows 7 machine has failed the windows 10 update 6 times so far (I'm in Colorado, USA). Nothing on my windows 8 machine yet...

It's failing cause of timezone and country?

good share by amirhj. I will use the command. It will take time, I have three devices on which update is downloading.

All right! Windows 10 install started for me at 11:47 PM Eastern. Needed to keep checking the GWX icon on the taskbar.

Downloaded, but no notification to install :(

Who has been the lucky one to have downloaded Windows 10 to his/her computer? -Not the insider crew- Please reply

We don't even have the box to reserve.

Yeeaahh, so where is it? I got nuthin.

Maybe MS should have downloaded bit by bit to systems, then updated only files that needed updated. Thus removing strain.

My Lenovo Thinkpad 8 tablet still says my tablet is up to date.

Remember just because you've reserved a copy of 10, doesn't mean you'll get it at midnight or day 1 ... you're pretty much letting MS know that you'd like 10 at some point.

Upgrade at the press of a button they said. Yea right , I never wrote so many cmds in my life , i downloaded the windows bt so many times, waste of bandwidth , now downloading the iso final solution, yea 1 button upgrade :)

If you don't want to wait until Windows Update schedules you, just download the update tool from MS and select "update this pc".

I installed windows 10 thirty minutes after midnight, they know how to rollouts updates
Windows Central Newsletter
Thank you for signing up to Windows Central. You will receive a verification email shortly.
There was a problem. Please refresh the page and try again.