Big Windows Phone 8.1 update coming to Weathr, join the beta today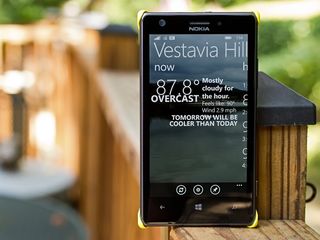 The Windows Phone Central Forums is a great place to visit when you're in the mood to chat it up about Windows Phone. One area of the forums that is always full of surprises is the Developers Beta Testing forums. You can get a sneak peek at what apps and games are in the works or sign up to beta test these Windows Phone titles.
One app caught our attention the other day and while it's yet another Windows Phone weather app, Weathr is being re-written to take advantage of new Windows Phone 8.1 features. There is a current version of Weathr available in the Windows Phone Store but the developer wants to put the new version through the ringer and needs beta testers to help identify bugs, glitches and areas of improvement.
The main pages for Weathr cover your current conditions, an hourly forecast, a maps page, a five-day forecast page and a weather alerts page. The app supports forecasts for your current location as well as a host of worldwide cities. Additional features for Weathr include:
Beautiful local images from Flickr based on your current weather
Support for all three sizes of live tiles, either transparent or with local images from Flickr
Support for detailed status on lockscreen, so you can easily check the forecast without unlocking your phone
Full screen radar and satellite maps
Adjustable background update times, from 15 minutes to 12 hours
Weathr taps into both Weather Underground and Forecast.IO for its forecast information.
In just tinkering with the beta version of Weathr for a short period of time, it has a good bit of appeal and should be able to hold its own against the top Windows Phone weather apps.
If you're interested in signing up to be a Weathr beta tester, head over to the WPCentral Forums discussion linked below for all the details. Just keep in mind you need to be running Windows Phone 8.1. The current version of Weathr is available for Windows Phone 8 devices for $1.99 with a trial version available (512MB devices supported).
Windows Central Newsletter
Get the best of Windows Central in your inbox, every day!
George is the Reviews Editor at Windows Central, concentrating on Windows 10 PC and Mobile apps. He's been a supporter of the platform since the days of Windows CE and uses his current Windows 10 Mobile phone daily to keep up with life and enjoy a game during down time.
Toast notification just gave me a heart attack ... But....

My heart skipped a beat too, man

Effective title in getting us to click but the content disappointed. Hmmm, we all know what happened to the kid who cried wolf too many times :)

I also read "Big Windows Phone 8.1 update coming today!" :/

Lol same here. I was so happy for a sec and then it all died out after reading the title properly. ;)

Click bait with that notification wording

George must live in Mountain Brook.☺

The toast notifications got my hyped for nothing. Lol.

That tasty toast notification ..

Does it have the animated screen ala the amazing weather HD app?

Halfway while reading the headline, I almost thought a windows phone 8.1 system update was on its way. Damn.

Me 2 :( , I think it will be available to download on Friday

I was also bit shocked...for official update we need to wait...

Can someone tell the author that starting an article with 'Big Windows 8.1 update,' should only be written WHEN the WP8.1 UPDATE is actually ready for the device, not yet another weather app on a platform awash with weather apps!

Big update on my toast and I was tempted to eat it lol

i thougt windows phone 8.1 gdr1

Isn't WP8.1 update expected this week too?

Nice try George, trying to get more hits n stuffs. It worked >_

Off topic.. Can anyone tell me some fighting games like wrestling anything...

All I saw was "big Windows Phone 8.1 update" on the toast notification and then...the rest.lol

Got excited for a minute.

Man the headline made me excited

That Excitement!!!! I can't even explain....

Damn! I read it as win 8.1 coming update coming! Aarrghhh!

Foreal... Stupid weathr... Peed my pants

I can't recall the last time that the Weathr made me mess my pants ;)

Yeah, the toast notification got me so excited, I thought an update to wp8.1 dev preview or something about update 1. Totally misleading headline

That toast notification made me skip a beat. Heart break reading the full title

Used to love riding my bike around Vestavia Hills. :)

How it is compared to Bing weather

Exactly good point! Although I used Vieather after reading about it in the comments section of yet another weather article.

Well...I read the whole title of the post and knew what it was about..lol This beta is awesome and the developer is working hard on it.Right now though,it's fully functional and works great for me..and am looking forward to what he is adding to it soon

How to get this beta version of weathr on my Lumia 625.i m running developer 's preview on my phone...

Too many weather apps on this platform lets have some diversity please... Non of our apps look like Accuweather Platinum on Android, which is £2.99 in the UK, but beautiful... #AndroidEnvy

Will try out..just 1m.b. App if goes good will be great(trial)..

And that day nobody have a Fuck about weather.

First sentence: change "your" to "you're".

Nextgen Reader also to be updated in a week. As per the developer.

Cortana and bing does the job for me.

Too many weather apps for my taste. Wish for more diversity in other apps like fitbit or a polar tracker.

Go write to fitbit and Polar. Complaining about someone else's work won't bring those apps to you.

Oh I have. The same with jawbone. Sometimes it takes the presence of a third party app to show just how much interest there is on a platform for a product.

Ha, and on the eigth sentence change "ringer" to "wringer" while you are at it

Well, the beta is done. The realease of the 2.0 is out. So we have to pay for it now. I support developers and apps and I pay for them, but It's feel awkward after helping with the beta.