Windows Phone-based robotics app creator wins grand prize in dev contest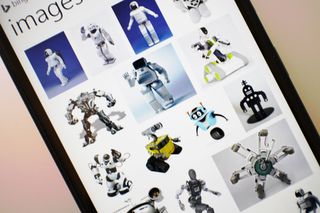 A Windows Phone app designed to help operate a robot that performs home inspection duties has won the New Civic App Category grand prize in the 2014 Accela Construct App Challenge.
The app was created by Robert Oschler and is called Inspector Buddy. It combines a Windows Phone app and device, a Surface 2 tablet, a wearable Bluetooth-based controller and the RoboMe robot. The contest's press release says:
The video above shows Inspector Buddy at work, with the Windows Phone device attached to the RoboMe robot. Using the wrist-based Bluetooth controller, the user can control the robot with just his or her arm movements, assisted by the tablet Oschler says. "The remote PC can be any laptop or tablet, etc. that is capable of running a Windows Store App. The client app is a Windows Store App and it talks to the Windows Phone app running on the phone controlling the robot.
Oschler will receive $7,000 or the software equivalent for winning his category, plus access to a mentorship program. He is currently developing software tools that will allow anyone to make Windows Phone apps that can connect and use the RoboMe robot.
What do you think of this home grown robotics project?
Source: Accela via PRWeb, Robodance
Get the Windows Central Newsletter
All the latest news, reviews, and guides for Windows and Xbox diehards.
Windows phone app developer always innovative.

Microsoft should start building a robot with Cortana built-in to make her the first real personal assistant.

Yeah...(ass)istant iykwim ;)

Holy crap! (most intelligent response I could come up with)

Well he take his name seriously

Crap... No more places to hide weed :P

The power of windows phone os

That's really something remarkable!