Windows Phone Camera Faceoff: Nokia Lumia 900 and 920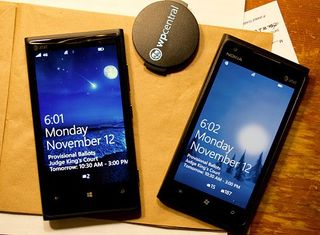 What many may see as an unfair fight between Windows Phone cameras, some have asked how the Nokia Lumia 900 and Lumia 920 cameras compare. We took both Windows Phones out for a comparison shoot and the results weren't too surprising.
While the Lumia 900 has turned out to be a decent little camera, the Lumia 920 has an improved design and the Pureview software. It's like comparing two sports cars with one having a nitrous booster installed and the other is stock.
Okay... before we jump into things... the 920 blows the 900 out of the water with regards to low light photography. We didn't give low-light performance much of a look and the sample below should say it all.
Nokia Lumia 900 (left) and Lumia 920 (right) night test shots
Okay... so that might not be a fair comparison but how about this one? The Lumia 920 clearly sheds more light on low light images.
Nokia Lumia 900 (top) and Lumia 920 (bottom) night test shots
While the low light battle is dominated by the Lumia 920, what we did look at is how the Lumia 900 and 920 handled themselves in typical outdoor lighting.
But first, the tale of the tape.
The Lumia 900 is fitted with a 8MP camera with a 28mm f2.2 lens. The sensor is a front illuminated (FSI). The Lumia 900 has no stabilization features.
The Lumia 920 is fitted with a 8.7MP camera with a 26mm f2.0 lens. The sensor is a back illuminated (BSI) and the camera is fitted with optical stabilization (OIS) in addition to custom Nokia processing algorithms for noise reduction (which were not possible in Windows Phone 7)
The Lumia 900's camera menu gives users control over scenes, white balance, exposure compensation, ISO, metering modes, effects, contrast, saturation, focus mode, resolution and flicker reduction. Additionally through Nokia's Camera Extras you have Smart Group Shot, Action Shot, Panorama and Timer features.
The Lumia 920's camera menu gives users control over scenes, ISO, exposure compensation, white balance, aspect ratio, and turning on/off the focus assist lamp. Instead of Camera Extras, the 920 has the lens feature of Windows Phone 8 that identifies any app that utilizes the camera. Nokia also offers Smart Shoot, Panorama, and Cinemagraph apps for the 920's camera.
On paper, the 920 wins out as far as camera build is concerned. The optical stabilization and BSI sensor (and even the slightly wider 26mm lens) lends themselves to better low light performance that includes night time and indoor photography.
Lumia 900 (left) and Lumia 920 (right) outdoor test shots
However, the 900 gives users more control options which helps the 900 tackle more diverse situations and may eliminate the need for post-processing software. If you need more contrast or saturation, the 900's menu gives you that option Granted not everyone will miss the more detailed settings of the Lumia 900 but many will.
Lumia 900 (top) and Lumia 920 (bottom) outdoor test shots
As far as image quality is concerned, the Nokia Lumia 900 started out a little rough. The original firmware for the camera held the camera back and image quality... well... image quality was marginal at best. But then Nokia updated the firmware back in August and the Lumia 900's camera performance noticeably improved.
The Lumia 920, on the other hand, hit the ground running with tons of pre-release samples that gave everyone pause. The low light samples were stunning as were samples taken under other lighting conditions. However, while production models continue to shine with their ability to capture very nice low light images, the also produce slightly soft images. The softness isn't something to pull your hair over but we feel that it holds the camera back. As with the Lumia 900's problems, the 920's softness can easily be fixed with a firmware update.
Lumia 900 (left) and Lumia 920 (right) indoor test shots
In comparing the images taken from both of these cameras, the 920 gets an edge in outdoor, daytime pictures. Both camera's aspect ratio were set to 4:3 and the settings were set to default. Images have been resized for publication but no further adjustments have been made. Color was warmer and more natural with the Lumia 920. The 900 also had a little difficulty handling glare at times. While both captured quality images, our opinion is that overall image quality is better with the 920.
But that's what we expected, right? By no means does the Lumia 900's camera suck wind but the hardware and software are now dated. Just as last year's DSLR isn't a slouch but not as good as the current year's model. Nokia has researched, developed and improved their camera's performance over the past year so it's natural for the 920 to be the better performer.
Lumia 900 (top) and Lumia 920 (bottom) outdoor closeup test shots
The Lumia 900's camera (post update) is a decent little Windows Phone camera. But the Lumia 920's camera significantly raises the bar for Windows Phone cameras. Night time photography aside, if you're making the move from the Lumia 900 to the Lumia 920 you will be pleased with the camera's performance.
George is the Reviews Editor at Windows Central, concentrating on Windows 10 PC and Mobile apps. He's been a supporter of the platform since the days of Windows CE and uses his current Windows 10 Mobile phone daily to keep up with life and enjoy a game during down time.
two things..one- why is the lumia 900 one minute faster in the title photo when its so clearly behind the times and outdated? (weird) and two- the lumia 900 camera was truly garbage and this photo comparison proves it. the photos have a much more blue tinge then the 920 which looks very impressive in this comparison :D

"

one- why is the lumia 900 one minute faster in the title photo when its so clearly behind the times and outdated? (weird)"

SIM vs no-SIM. When not syncing to a network, non-SIM'd phones get innacurate for their clocks.

honestly didnt know that o.o thank you for teaching me that!

The 900 camera was not "truly garbage". I have pictures to this day to prove it and I'm still impressed that I took them with my phone. It's not necessary to go over the top and discredit one product vs another because you bought it.

The 900's camera was terrible. Source: me, a former Lumia 900 owner. The 920's camera is truly excellent, though, so all is forgiven, Nokia.

Is this terrible or "truly garbage"?

http://flic.kr/p/dsgBg2

looks pretty good. The 900 always did pretty good in ideal conditions. otherwise, it was a cloudy, blurry mess.

can we agree its a "meh" camera at least? campared to the iphone 4s and gs2 i had it seemed sub par...

Although the 920's camera is alot better, the 900 was not that bad. And for sure wasn't worse then the iPhone 4s. My friend & I took picks of the kids watching their first 3D movie in theatres. Their pic on the 4s looked dark & grainy, while the 900 looked much better. Even they were surprised.

In properly lit situations the 900 was pretty good. But outside of that, it was very average. Took great photos in summer sun though :)

Lumia 900's camera was terrible before the software updates and after that it became one of the best of its time ie. SGS2/Lumia 900/iPhone 4s/HTC One X etc. Yeah in some conditions the Lumia 900 didnt win but it definetly was close.
Any one who actually knows anything about photography can confirm this but the current mobile camera top is: Nokia (Symbian) 808, Lumia 920, Nokia (Symbian) N8. The N8 is actually still better than 920 in some cases but most of the time the OIS proves its value and stabilizes the picture to put it in front of N8.

The Lumia 900 initially suffered from a software problem that would ruin a lot of pictures after they were taken if using the native camera app.
I was so frustrated with having to correct pictures after they were taken that I started only taking shots with Creative Studio. The issue was that you could line up a perfect shot and see it on the screen but once it was captured it would not look the same. That same thing is happening to a lesser extent on my 920 today.
So, I agree that it's not fair to say that the camera is the problem in any case. The fact is, it's a great camera but the software held it back at first. All the same, the Lumia 920 is certainly a better camera but one would hope that new devices would have improved technology, otherwise they wouldn't be worth upgrading to.

Had the 900. Agree 100% with this article..

I can honestly say the 900 was the worst cell phone camera i have ever used.
Iphone original
iphone 3gs
iphone 4
samsung focus s
lumia 920
samsung galaxy s 3
By far the worse and most frustrating. It would take multiple pictures to get anything good indoors or low light, outside you get a glowing type effect in the pictures.

Knowing firsthand how godawful the camera in 800 was, I don't believe when people claim the camera in 900 is decent.

Decent in properly lit situations. You CAN get some great photos with it. I have. But most of the time, and in most situations its very average for a smartphone, you are right.

Well yeah, anyone can get a few decent phots in a year on vacation. But most of our times we spend indoors, don't we?

...try the camera on a DVP sometime... THEN talk to me about "worst" cell phone camera...

You must be tripping
... My lumia 900's camera easily beats iPhone all the way to iPhone 4

So a 2012 phone beats a 2009 camera? That's not much of an accomplishment.

It's the optical stabilization and low-light performance that is the accomplishment. OS in such a small camera is ground breaking and a rather big accomplishment. I hope Nokia continues this development and introduces a mechanical shutter in the next series of Pureview cameras. Sure... most 2012 cameras will beat out their 2009 ancestors. But the accomplishment is how they beat the older cameras. Better sensors, better software, better lenses, better design, etc. As far as the 900 being garbage, the 900 isn't a camera designed to use default settings. You can boost contrast, color, and get rid of that blue color tint by tweaking the settings. The 900 isn't garbage, just a camera that requires a little patience and the willingness to make the necessary settings adjustments.

The "auto" mode should take care of that, not the user. And it was completely broken in 800, resulting in photos looking ten times worse than their preview.
And Nokia actually managed to pull that off in 820 - photos taken in poor 60W indoor lighting are automatically adjusted with astonishing results:
http://i.imgur.com/nHL7l.jpg - 800
http://i.imgur.com/J7pHM.jpg - 820

I 100% agree. I shouldn't have to fiddle around with the camera for 5 minutes to take an "ok" picture. The fact that my 900 would not auto shoot well was insanely frustrating. Even more so was that the macro focus was a manual process. The ridiculous amount of noise and blue ting in low light/ indoors with auto settings made me want to pull my hair out. I found myself acutally using my old Samsung Focus S from time to time to take indoor photos.
The differnce in you pic's is awesome. you can not even read the samsung logo on the 800 vs 820...
920 - http://sdrv.ms/T5Dqnh (point and shoot - 2 seconds)
900 - http://sdrv.ms/UJGZfm (spent 5+ minutes messing with setting to get this shot).

I agree. What's alarming is that Nokia was touting this camera like it was something to behold. They put the Carl Zeiss branding on there and in turn probably diluted his brand. I know I now don't give a shit about CZ lenses.

920 is the first camera on a phone to actually compete with iPhone quality pictures. GSIII is pretty darn good to, but iPhone has had that market cornered for awhile now starting with the 4, 920 challenges that crown finally.

Actually, I think the Nokia 808, as well as the N8, has better photo/image quality than any iPhone, and the GSIII.

Perhaps you meant that the Lumia 920 was the first Windows Phone that could compete/best the iPhone and GSIII?

Yeah, but how does the 920's camera compare to the LG Quantum's? (just kidding)

I appreciate the effort, but dam you might as well grabbed a Motorola Razr maxx and compared it to the 920 - at least take pics off some booty or boobies with the 900 so we can at least bare to look at them.. they are horrible.

A lot of dumb comments here..for you all to bash the lumia 900 camera is stupid.. 900 camera is on par with the 920 beats any android nor the iPhone out there,the 920 is a major improvement yes I agree, but to say 900 is a garbage camera phone is STUPID.. Im at Starbuck ryt now in culver and Alton I will show you my photos...SMFH!!

this guy is ready to fight

lol.. I still have my 900, and it does take garbage photos.

I don't have a Lumia 900, but there are too many photos on the internet demonstrating the Lumia 900's image quality, and they are far from garbage. Perhaps your device?

Can you post some that you have taken with the 900? Maybe a link to an imgur gallery? Here, I'll start with a bunch of pics I took with my 900:
https://skydrive.live.com/?cid=05b3d30e9cfaa27c&id=5B3D30E9CFAA27C%211933
What do you think?

No...as I stated, I don't own a Lumia 900. There are photos of examples of Lumia 900 pics in the WP
Central forum as well as examples linked from other sites (i.e. Flickr)...far from garbage, and obviously, user results will vary.

Ah yes, those "examples" from a very rude individual who was very quick to cry "user error" but was unwilling to provide any tips about how to achieve such pristine results.

What I really want to see is the "TODDLER TEST". My 18 month-old wont hold completely still for a picture. All of the test shots I have seen have been of inanimate objects. That's nice. But slowly moving and /or unstable objects would close the deal for me.

Took pictures of my dog while moving took good shot.

I still carried a camera around while I had the 900. Don't think I.ll be needing the Kodak anymore with the 920. The improvements from 900 to 920 are amazing. The 900 took great pictures in daylight especially outside but indoors was never reliable. I took several pictures with both yesterday and my results were same as article. Nokia you truly made a great device in the 920. Even compared to my Kodak 10mp camera the 920 is just as good. Finally down to carrying one device, 920= GPS, camera, Zune.

>one device, 920= GPS, camera, Zune.
The holy grail, well done :)

Also, what I'd like to know, in comparison to the 900, does the 920 have the same distortion when shooting a person from either very low or very high. If I put my camera a knee level, and shot a subject's head, there would be a lot of distortion near the edge of the field. Like it was being stretched.

@daniel i know you say that the photos from the 920 look more natural - is that the same as "as seen by the eye"? i mean is it closer to real life for color reproduction?

looks that way when i use it

are their any sample photos of the Lumia 822? I need to get my wife a new phone. Would prefer to stay on Verizon for her. Need to know the quality of the 822 vs the 8X. how about a sample of those. She doesn't care about music. she just wants a good camera for taking pictures of the kids. Her Trophy is getting real old.

Dell venue pro was the worst camera. Get your facts right.

Nokia 808 is the king :)
http://www.flickr.com/photos/thenokiagallery/7801934430/lightbox/


Good grief, if people feel that the Lumia 900 had the worst phone camera on it, they clearly weren't around for the first feature phones that sported VGA cameras. All things considered, the camera on the Lumia 900 is serviceable. Unless you fancy yourself a professional photographer and documentry film-maker, it will get the job done for about 65% of the situations you will come across in life. If you want to look at horrid phone cameras, try the Motorola Q, the Palm Centro, the Huawei Ascend II, etc. There are more - there are always more. But to say the Lumia had the worst camera is like saying the Virtual Boy was the worst portable gaming system without having poured salt on snails.

The differences are obvious. Nokia can only go up from here.

This article is simple: the 900 vs the 920. And for us who have both its a clear statement the 920 is better. I would never state the 900 had the worse but now knowing how much better the 920 is its great to know that yes it only gets better from here.

I'd like to see a proper comparison between the Lumia 900, 920 and the Titan II's 16MP camera, especially when taking pics of text. I've personally compared all 3 and the Titan II still wins out on text sharpness by a huge margin compared to the atrocious 900 camera and by a decent margin over the 920.

I'll see what I can do over the next few days. I've got the HTC 8X's camera to test out first though...

Could you throw in a Lumia 820 to the mix? As that is the phone that will be competing against the 8X in the near future.

How about you reproduce this with an iPhone5 vs 920 ? And like someone said above, take some pictures of moving objects, pets, babies.
I have a 900, and I think it takes very fine pictures now (after the firmware update). Certainly better than side by side photos i've taken with friends and their iPhone 4/4s devices.

I totally agree with the article. The camera on the 920 is incredible for a phone camera. The night shots and low light shots are simply awesome.

Any settings to recommend to make day and night photos look their best? I've got a 900

Interesting to see that the backgrounds of the 920 daytime photos are all more blurry soft than the 900!

Yeah but that's actually a good thing... I like the look of background de-focusing.

I have a Lumia 900 and the camera of it was/is a big disapointment... The only reason I would change it for a Lumia 920 is the camera... I know about all this new stuff on the 920 and W8, but I could live happy with my 900 for a long time... but the damn camera...
Thank you for this article.

wow, shows how poor the 900 shots really are.

A test between titan or titan 2 against nokia 920 would be great

Annnd in 6 months you guys will be bashing the 920's camera because it's not the new toy....

What i really need is a camera faceoff with 820 vs. 920. anyone else?
could you do that for us, too?

A regular phone camera vs. an OIS PureView? That's not a fair fight. What's the point?

The point is its fricking awesome!

So, this time I didn't notice any "washed out" photos from the 920. I don't know if it is because of the comparison but the daylight shots are really nothing to complain or whine about. Actually it's damn impressive on a device with 1cm depth.

I'd like to see an 820 vs 900. I think that's a bit more fair to show the under the hood improvements that Nokia has made. They're virtually the same stuff. I think the 900 has very capable hardware, but there's lots of problems with the software algorithms. Like that blue hue that appears in almost every photo.

That camera is amazing!!; but is the phone reliable enough to be worth buying??

I wish cameras would give the option to save out RAW+JPG file for those who might like to rescue a shot they feel was ruined by sub-optimal auto post processing.

Raw files from a Windows Phone? I'd be game for it. Then again, I'd also be up for manual exposure and shutter speed controls.

I really like the Titan II's day time camera performance. Is there any chance of a comparison between the T2 and L920? Thanks!

Am I the only one having problems with the Lumia 920 camera. Here are the tests with EOS 550D , N8 , Lumia 800 , and Lumia 920 .
Above all worst is Lumia 920


Sorry files link , https://rapidshare.com/files/1899584695/TESTS.rar
Windows Central Newsletter
Get the best of Windows Central in in your inbox, every day!
Thank you for signing up to Windows Central. You will receive a verification email shortly.
There was a problem. Please refresh the page and try again.