From the Forums: The Off Topic area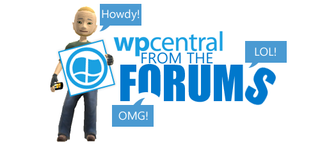 That's right people we have an Off Topic Forums and you should check it out. This is the area of our site where we kick back, share and relax. In our Off Topic forums we have mini-adventures like in this thread: Ban the post above you! Game! If you want to take a shot at me, come get some, just remember it's all for fun. We also take time to share our personal lives, like this example from forums member Se1fcr3ation who is bored at work this week and needs help staying awake (we are helping him by posting up some good YouTube music videos). Forums member baseballbert is keeping us up to date on his daughter's life. He is a proud poppa and wants us to know "My daughter had her first real meal!!!"--now that some great news to share. It's all about community and friendship in the off topic area of our forums--it's where we share our lives and adventures.
We also share more serious non-Windows Phone topics in this section. Did you know that the Windows Logo will be Redesigned for Windows 8? Now that's an interesting non-WP7 discussion. Forums member muvolt Shared this thread with us: The truth about Greece... catching up on some current topics in the world.. It's interesting for us to read what our forums members have on there mind, so post a thread and let us know. Forums Super Moderator TheWeeBear posted this thread: Ketchup Graffiti Now that's is amazing and everyone should go check it out.
The Off Topic Forums at WPCentral is for you, our Members, to post what ever you want, all non-Windows Phone topics are welcome, so come tell us what's on your mind.
Remember, the forums are more fun when you register, so sigh up today.
Windows Central Newsletter
Get the best of Windows Central in your inbox, every day!