Windows Phone grows to 4 percent market share in Q3 2013; Android, iOS stay flat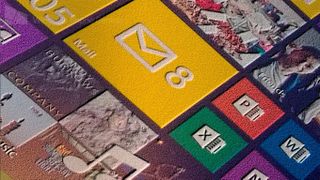 According to Canalys, and independent analyst firm, Windows Phone grew its share of pie to four percent in Q3 2013, while Android and iOS stayed static.
The report cited that nearly a quarter of billion smartphones shipped in the three-month period, a 44 percent year-over-year increase. Windows Phone accounted for 9.2 million of these units, a growth of 185 percent.
It is interesting to note that Windows Phone emerged as the second biggest mobile operating system in 19 countries, including Finland (39 percent), Vietnam (16 percent), Italy (15 percent), Thailand (11 percent), Turkey (11 percent), and Russia (8 percent). An earlier report pointed out the platform's growth in US and Europe.
The firm also threw some insights into the ecosystem. Samsung and Apple managed to maintain their leadership positions for smartphone shipments in Q3 2013, with market shares of 34 percent and 15 percent, respectively, and Huawei, Lenovo, and LG rounded out the top five.
Via: The Next Web
Nokia lol. Really shocking since symbian

If you are trolling, gtfo as you are in for some eye openers for life!

i tried symba. if i want a knock off, id go with android. But even android is a POS.

Shocked windows phone is great..brands Like Nokia kill it with their weekly intros. Oh and shit batteries

These aren't the trolls you're looking for...

Gdr2 helped alot, I have a great battery now. What WP do you have that has a terrible battery?

Oh. Compared to an iPhone or Samsung android phone though, Or just in general?
I was also trying to see if the troll was an uninformed iPhone or android user or an actual WP user, which I highly doubt.

Battery is awful in my Lumia 920. It doesn't last a whole day if I use my phone as a modem for my laptop and use it for navigation for streets that I know. Why it can't last at least 24 hours of use?

And yet company developers still don't support WP enough (I'm looking at you USAA, Google, Zynga).

Pfft, who needs Google!!!

Seeing as how Google is going to break its connection to MetroTalk in 2014, I want an official Google Talk app. Every other Google product I can do without.

The more WP grows the more hostile Google is going to get.

Seriously. If you're on the Windows Phone bandwagon, you probably need to get off the Google one. You're going to need to choose: It's that simple. Google 1st & foremost wants information, then it wants both endpoints to gather that information from and endpoints to advertise to. Without control over the OS (Android) they can't gather that information. You don't expect Apple to ship iTunes on Windows Phone, do you? The bottom line is you'll really never see Google supporting Windows Phone... ever. It reduces their endpoint control & redirects users to Microsoft accounts instead of Google accounts, Outlook.com instead of Gmail, Bing instead of Google search, etc. etc. They already hate iPhone but it's a necessary evil for them with iPhone marketshare, unlike Windows Phone which is a meager 4% (sob) and besides, Apple doesn't own an ad engine. (At least not a good one) It's not out of the question that they'd start blocking services like they did with Google Maps to retard Windows Phone growth. While they certainly know how to drive shareholder value, these people at Google bend rules where laws aren't clear & if caught & put on trial, simply say, "oh-our-bad-we're-sorry-we'll-never-do-it-again". Lather, rinse, repeat. USAA... they'll come along. I've spoken to them at the Banking Administration Institute Retail Banking conference before & they're reasonable people (they had remote deposit capture i.e. check imaging ready long before WP had manual focus APIs) but I get the feeling their budgets are tight these days as compared to before. Something about redistribution of funding... possibly having to do with all that costly TV advertising you see these days. While you might not think developing & supporting an app is costly, it is. Even if the app is initially subsidized by Microsoft, which many are. Zynga... they're so strapped for cash these days, I'd be surprised to see any innovation from them, much less new platforms development. They'll probably wait until the opportunity threshold is met then ship a ridiculous number of quick & dirty ports, negotiate some sort of co-marketed press release to espouse their presence on Windows Phone to create a big splash, and gobble the profits from their freemium model. But I could be wrong on this one. They might need the cash now and might jump on WP sooner rather than later. Either way, we'll be fine.

Maybe mobile nations should launch something similar to gawker's kinja to help us fellow commenters to post.

I'll admit, I couldn't care less about google, I know YouTube is still a de facto and might detract switchers. I know a bit about development and O&M costs so I get that it costs, but they save on those costs with limiting their physical branches. I don't know internal funding but the savings in staffing and building leases should cover another mobile wrapper using backend API's. Zynga only mattered because of Words With Friends, but my wife and I switched to Words By Post, so it's more in line with my YouTube statement above.

Whoa. You are supposed to comment on a article. Not write another article for it. xD

Doesn't the report say WP grew TO 4% and not BY 4%?

Yup, its just grammar and excitement etc.

WP Central is among the blogs most in need of copy editing. Rich writes at a third grade level, while others are marginally better. I'm hoping the new staff additions lead to an uptick in overall quality.

A great writer is not judged by number of typos or errors. That's editor's job. If Einstein's paper is full of grammar error, it is still a great paper. It still won Nobel.

Just remember that they are doing research daily REALLY early in the morning( and sometimes publishing at 1-2 AM), and regularly publish articles at 6:30 AM- 10 PM on a regular basis. on a smaller community (less news) while cranking out about 10 articles per day. I'd be so stressed. Support our editors!
(plus they usually correct mistakes users point out)

Were you laid off from a print publication?


I was trying to figure that out too. This is a case where grammar matters.

Android is still the evil incarnate on this planet, i'm afraid they will stay like this for many years

And they should. They played their cards right. But they will see an ugly end.

So glad I sold my BlackBerry stock at 14.00. It is crap now. I mean $6? Even Nokia is higher! Go windows!

I can't believe it is that high at $6, Nokia dropped to $1.63 at one point and I don't think Blackberry is in any better position than Nokia was at the time.

You do know the stock price has nothing to do with how well a company is doing? One company being at 6 and another at 1 does not mean the company at 6 is 6x better...

But company valuation should roughly equate to the total perceived value of the company. It's just that valuation = stock price X the number of shares outstanding, not just stock price. So if Blackberry has 1M shares outstanding and Nokia has 5M shares outstanding, than it is worth 5 times as much as Blackberry at the same share price. I haven't checked their filings, but as an older company, I would expect that Nokia has a lot more shares outstanding than Blackberry. Age definitely doesn't always mean more shares, but frequently it does -- stock splits, selling shares to raise money, etc. all tend to increase the number of shares outstanding over time.

The figure you want is the market capitalization.

Market cap and valuation are the same thing for publicly traded companies. They can be different for private companies, because there isn't an open market on which to find the equilibrium point.

Im guessing it will decline next quarter to account for the new iphonesales and back up the following quarter. I believe this is only the sales percentage for that period, WW marketshare for people using wp devices is probably close to 5%. I think wp8 is selling over 10 million a quarter, next goal is 15 millioon per quarter. I think wp8 is two quarters away from that, but eventually will get there hopefully after the merger with nokia/MS.

Wohoo, that was surprising! Didn't expect US share to grow that much.. Go WP go!

Wohoo, that was surprising! Didn't expect US share to grow that much.. Go WP go!

Windows phone 8 L920,925,928 & 1020 gain 3 medium tile rows oh wait... Dang it

My ATIV S can have three columns of tiles ... with an interop unlock, so you could do the same on those Nokia devices ... oh wait!!!

#2 in 19 countries. It will be fun to watch that number grow.

Wait until the phones drop with 8.1. Not even Meineke could make brakes strong enough to stop this.

Just visited NYC for the first time and I did not see one Windows phone for the whole trip. Nothing but iPhones....it was insane. I then visited the pathetic Microsoft Store which was nothing but a small kiosk in a mall on their 3rd floor. I then realized why...lol The increased market share is definitely not from NYC. On a positive note they did have alot of advertisements for the Surface 2 all over the subways though.

Yeah.. Over here in my city (Corvallis, OR) I've only seen around 3 WPs around campus, 4 counting me. One guy with a Surface Pro in my programming class.

I live in NYC and it's definitely an iPhone stronghold. The Surface ads you see on the subway are brand new. I just started seeing them this week.

I'm surprised at how windows phone actually has a foothold in my little town (Rapid City, SD)

that was partially my fault. I spent part of a summer there before they all started making the switch to smart phones and I demoed how easy it was to use it in many public places. Working for Microsoft at the time, and I could resist experimenting with my version of experimental marketing.

Wasn't it 3.9% in Q2? So 0.1% increase isn't that impressive.

Agreed. While any improvement is welcome that increase is still a very minute drop in the bucket. Now that Android plans to begin attacking the low end market more with Kit Kat and future updates, our struggle for market share will be increasingly more difficult.

In Q2 was 3,7%, Windows Phone market share has dropped 0,1% http://i.imgur.com/VjgL9qu.png http://i.imgur.com/0M0HHyP.png

While it's all great to see increase, how long will it take til we see say.. A 25% market share? This is gonna take some goood time and that's if it doesn't go Blackberry's way.

Hope it continues to rise the more the better for us all

If it's growing, keep doing what you're doing! btw, that's what she said...

10% is a very important marker in market share. It is an indication of general acceptance. Provided things progress like they have been, we should see larger gains in markets that have hit that in the next year.

My country (Cambodia) used to be a big Nokia fan, but now everybody turns to shitty Samsung and iPhone

Ah, another Lumia hipster!!

haha, I choose Lumia 'cause it's different from others lol

This shows that we can do it! Don't give up on such a smooth and versatile OS

I'm in a really reflective mood right now. I'm happy that windows is up 4% and all. But how can IOS and android remain flat after that?!? I mean, if WP + IOS + Android = 100%, then if WP increases by 4% shouldn't there be a corresponding decrease in either IOS or Android? Right? RIGHT? or did math change while I was asleep last night. Wolverine : I'm the best at what I do, but what I do isn't math. ;)

Blackberry decreased, your maths skills remain unchanged

Has anyone seen the picture in the article (email icon/tile) with bevel n emboss, or with shadow? (not just flat)

Actual livetile wallpaper for homes!!??

If not, someone should consider producing this :P

Has anybody saw the "phoneblocks" yet? I say MS should snap this up before apple or google

It would be nice, except if the screws came out: "auughh! My phone is everywhere!" I like the idea, and it would go perfect with Nokia and WP8. Geometric phone, geo. OS, and indestructible but stylish blocks.
Windows Central Newsletter
Thank you for signing up to Windows Central. You will receive a verification email shortly.
There was a problem. Please refresh the page and try again.