Windows Phone could top Android in emerging markets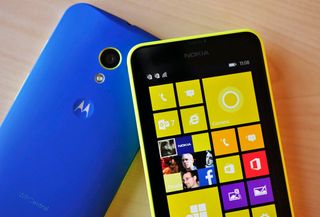 Windows Phone and Android have a lot in common. Both are competing for second place in app revenue against the juggernaut that is Apple, and both types of handsets/tablets are more affordable than iOS devices. Although Android has a leg up over Windows Phone worldwide, Microsoft's mobile platform has a great opportunity to surpass Android in a number of emerging markets like China and Brazil.
There are many factors at play in the ongoing mobile battle between Microsoft and Google. To get a better idea of how each side stacks up, we spoke with Martin Koppel, COO at mobile payment specialist Fortumo. If Martin's predictions are correct, Windows Phone's continued growth in developing markets will soon put it on much more even footing with Google's mobile OS.
Why should developers choose Windows Phone?
Image
: Asymco
During April's BUILD conference, Microsoft CEO Satya Nadella pushed for developers to build apps and games for mobile Windows platforms. Creating software for Windows Phone and Windows 8 has just gotten a lot easier thanks to universal app support. And Microsoft has significantly increased its marketing budget for Windows platforms (as shown in the image above), although many of us would like to see Windows Phone marketing taken further still.
"But why should developers care to build for it rather than Android when Windows Phone runs on a small fragment of smartphones?" Martin asks.
We're leaving iOS out of this discussion because it's not a true competitor for Windows Phone and Android in emerging markets. These markets matter because they're nowhere near saturated yet, thus providing the largest potential for new revenue for app developers. Consumer income in emerging markets tends to be lower than in North America and Europe, so customers in India, China, and similar regions often can't afford devices from Apple. That makes Windows Phone the biggest competitor to Android in several key markets.
Still, Windows Phone can't compete with Android's popularity just yet. Android smartphones outsold Windows Phone by a 20:1 ratio last year, according to device shipment data. With numbers like that, it might look more reasonable for developers with eyes on worldwide sales to focus solely on Android instead of Microsoft's mobile OS. But device sales aren't the only factor that matters. Let's look at this breakdown of Google Play (the de-facto Android software store) revenue-versus-downloads, courtesy of App Annie:
Notice that the top paying countries don't line up with the top downloading countries. India, Brazil, and Russia are all among the top six markets for smartphone shipments this year. Those countries should be at the top of the revenue chart for Google Play, but they're not. Even though Android devices sell in significantly larger volumes, Android revenue per app download is 8x smaller than Windows Phone.
Selling to Android customers is harder than Windows Phone customers
Image: ExtremeTech
The reasons for Android's relatively diminutive app revenue are fragmentation and payments.
Fragmentation on Android is a big deal because Google allows any device manufacturer to create its own version of the OS. They don't have to use Google's version of Android or even Google Play for app distribution. One third of Android device manufacturers opted to use a custom Android build last year, and shipments of those phones grew four times more than official Google Android phones. More importantly, Google Play isn't even supported on half of the different Android devices in existence!
That puts Android developers at a big disadvantage because the number of Android phones entering the market is nowhere near the same as the number of users who can be captured through Google Play. Where do these Google Play-less devices end up? Emerging markets – the ones with the most substantial market growth.
China is clearest example of the problem – even though Android reigns supreme over there, Chinese devices generally lack Google Play so the average app developer can't sell to those customers. And yet any Windows Phone shipped will offer the Windows Phone Store, in China or elsewhere.
Payment methods are also a major challenge on Android. According to Martin Koppel:
Google's attention might be elsewhere, but Microsoft is quite interested in grabbing more market share in these regions. Microsoft also wants app developers to make money from emerging markets, hence the Windows Phone payment ecosystem has opened up substantially since the Windows Phone 7 days.
Windows Phone developers are not required to use Microsoft's commerce engine for In-App Purchases, which allows them to fully support carrier billing or use other payment methods like e-wallets, scratch cards, and other regional variations. Google Play developers on the other hand, must stick with Google's approved solutions. In fact, one report indicates that Google has threatened to remove apps from Google Play that implement third-party payment solutions.
Why access to payment systems matters
Access to payments might not seem like a big issue for developers living in the US. "After all, there are 177 million credit card owners in the US, roughly [the same number] as there are smartphones," Martin reminds us. Basically, any adult in the US who wants to pay for an app can do so.
But things are totally different in emerging markets. India has an anemic 1.55% credit card penetration, a number often evidenced by comments from our Indian readers. Credit cards are more prevalent in other emerging markets, but far from omnipresent – Russia has 17 percent penetration and Brazil 31 percent. Assuming that less than two percent of Indian smartphone users can actually pay for Android apps, it comes as little surprise that those apps don't make a dent in the revenue charts.
That's not to say that Indian payments aren't an issue for Windows Phone as well. With so little credit card penetration, mobile payments in India must be handled by carrier billing, bank transfers, and store vouchers. Neither Windows Phone nor Google Play can offer carrier billing just yet, entirely due to government red tape. But both platforms are working on it, with Microsoft and Nokia showing the harder push. Until then, India occupies a weird dead zone for app sales – the only real money to be made is for device manufacturers, not app developers.
The ball is in Microsoft's (and developers') court
India-specific payment issues aside, Microsoft still offers more robust payment method support worldwide (including app-specific support for Fortumo payments) while avoiding the store fragmentation issues that plague Android. Windows Phone developers enjoy a constantly growing potential for revenue acquisition as a result.
Initially, many developers overlooked Android because iOS had such dominant market share. But that wait-and-see attitude just allowed other app developers to step into the Android space and make big profits without the fear of competition (before emerging markets became relevant, of course). Now Windows Phone and Windows 8 developers have that same opportunity, especially if they focus on Brazil, Russia, China, and India.
"There is a land grab going on right now in Windows platforms," Martin intones.
Mobile developers who want to sell to emerging markets have a choice. Do they stick with the highly saturated Android market until the Windows Phone market matures, at which point they will face the same kind of competition they already have? Or do they bring their best work to mobile Windows platforms now and sell to users from countries which widely outpace North America and Europe in smartphone growth rate? According to Fortumo, small and medium-sized developers will be missing out on a valuable business proposition if they wait much longer.
Get the Windows Central Newsletter
All the latest news, reviews, and guides for Windows and Xbox diehards.
Paul Acevedo is the Games Editor at Windows Central. A lifelong gamer, he has written about videogames for over 15 years and reviewed over 350 games for our site. Follow him on Twitter @PaulRAcevedo. Don't hate. Appreciate!