Windows Phone's "Best of 2012" features a local favorite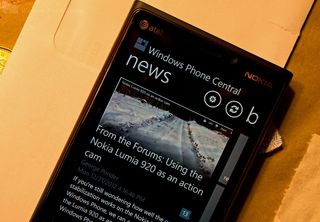 Microsoft has posted a "Best of 2012" app collection in the Windows Phone Store. The "Best of 2012" list includes thirty apps and games such as Wordament, Weave, ARMED!, Weather Flow and a local favorite... the official Windows Phone Central app!
We have to tip our hat to Jay Bennett for burning the midnight oil on several occasions to develop and update a really nice app. We also would like to thank you, our readers, for helping make the app and the website as successful as it is. 2012 has been a whirlwind of a year and it's nice to see it end on such a high note.
You can find the Windows Phone "Best of 2012" collection here in the (opens in new tab) Windows Phone Store and if you want to jump straight to the Windows Phone Central app you can find it here (opens in new tab). There's a trial version available and the full version is just $.99.
George is the Reviews Editor at Windows Central, concentrating on Windows 10 PC and Mobile apps. He's been a supporter of the platform since the days of Windows CE and uses his current Windows 10 Mobile phone daily to keep up with life and enjoy a game during down time.
And the rest of the staff rocks too

I second that! Great staff and a great app.

Congrats. Well deserved mention. WPC is the most used app on my phone, checking it every 5 min.

Agreed. Best and most used app

Your'e doing it wrong. If you pin it and enable notifications you don't have to check it every 5 minutes.

There notification use to work before. Now it don't work. I have not gotten no more notification and have open app now every certain times to check for updates. Still buggy. Anyone having same issue? I also uninstall it and reinstall and still no notification. Again it use to work before.

First app I purchased when I bought my phone. You deserve the kudos!

This is a very good app. Lots of functionality with beauty to boot!

Whenever I'm asked what's the best app on Windows Phone, I say WP Central. Which is weird since it's about the phone but it's the blueprint of what every blog news site should use as their app.

This app deserves all accolades. Only thing missing at this point is a double wide tile and more importantly some instant resuming from the start screen.

As I've always said, WP Central is my favorite app. Good job Jay keep it up

This was the first WP app I bought, and is the most used tile on my phone great work y'all.

Well done with the app. App dev has, I believe, a large portion of the blame with 'playing nice' with WP8 - your live tile always on, always checking in, and I have no issues. So kudos on this app - even from a dev point of view.

Without a doubt, the absolute best Windows Phone app on the market for getting relevant WP news! Now Daniel and Jay, just be a little more consistent with your podcast timeframes and you've got a true winner!

Congratulations. Well deserved.

Well done, to both Jay for the app and the rest of the WPCentral staff for such excellent content.

Congrats! You deserve it for all the hard quality work you guys put in! Well deserved!

more content this year. congrats. keep up the good work.

I'm on my third Windows Phone, and this is the first app I reinstall and use daily. Love it, thanks :-)

Congrats to the WPCentral team. You guys have done a great job this year. Looking forward to 2013.

As a fellow lead developer and company CTO, I also strongly agree! The WPC app is a shining example of what a metro app can be. It's highly functional, very intuitive to use, quick and feels lightweight. The developer should be congratulated as that balance is not easy to obtain! A counter example is the official Facebook app which is the absolute opposite. If Jay has any spare time he should have a stab at doing an FB app replacement! ;)

Love keeping up with the news here. Great job guys.

WPCentral is my favorite app on my 920. Had it since my dvp, then 900, now the 920. Can't wait for the windows 8 verison!!

Great!! Most used app on my phone...

Funny thing is this article has revealed a bug I'll need to fix today :D thanks for all the congratulations though guys!

WPCentral app is great, and I love it.

Happy New Year Jay, Daniel & WPCentral team. Well deserved plaudits all round.

congrats, the app is solid, and this is the best site for WP info

Way to go Jay and well deserved. It's an awesome app and I have it pinned to top so it shows as soon as I unlock my phone. And thanks very much for the ablilty to chose a custom colour for the icon.

congrats guys I'm a big fan of this app.

Hats off to the WPCentral team! May 2013 be the year of WP!

Anyone using the weave app? Love the app. But there live tile don't seem to work. Meaning whenever I open the app. That's when app gets updated.

Mega-Congratulations to Jay and WP Central!!! I'm curious to know the income numbers for such a popular app. :)

Good job Jay and the guys. Love the app, one of the most used things on my phone!

The very first app I purchased for my first Windows Phone. Looking forward to what you have in store for 2013.

I also love this app, very well done!

Your app is considered a must have for me. Congrats

Congrats and thanks on a great app and great website.

I have owned the HD2, HD7, the Focus Flash, Focus 2, Lumia 900, 820, 8X and now the 920 and every since I had the HD7 as my first WP device (the HD2 came later more as a hobby thing) I have had this app. I have seen it grow so much and I even got an AT&T store employee to use it and refer to it when he wanted to know something about the platform that AT&T did not provide info on. Bottom line wpc rocks and I support it as much as I support wp7.x/8. Keep up the great work! "WPC #1 in Windows Phone news!"

I get most of my news on the go from Weave and News360 but I bought the WPCentral app to show my support.

I was reminded to buy the app after reading this article on the ad-supported version. You guys could do with an easy upgrade option for the paid version within the app though. If there is one there, I couldn't find it.
Windows Central Newsletter
Thank you for signing up to Windows Central. You will receive a verification email shortly.
There was a problem. Please refresh the page and try again.