WordPress.com launches desktop Windows app for direct blog management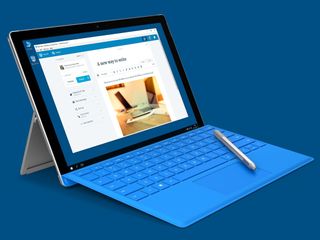 WordPress.com, one of the biggest blogging service in the world with hundreds of millions of blogs, has launched a dedicated desktop app for all versions of Windows. It allows users to write and manage their blogs without having to access a web browser.
Here's what's included in the Windows app:
The My Sites dashboard for managing multiple sites, whether WordPress.com or self-hosted WordPress with Jetpack.
The new WordPress.com Editor, with in-app previewing and draft auto-saving.
The Reader, which lets you follow and read any of your favorite sites, and the all-new Discover, which recommends outstanding content from across all of WordPress.
Insights and Stats, which show you exactly how your site and posts are performing.
In-app notifications, so you can see comments, likes, and new follows all in one place.
You can download the new WordPress.com Windows desktop app from the company's site.
Source: WordPress.com; Via: Neowin
Cool! Will have to check this out to manage my blog

This would be such a perfect candidate for a universal app with continuum support. I feel like they missed that one.

They will use on of those bridges in future.. In case continumm and windows catches up..

What are you talking about? Astoria is gone, and islandwood isn't all that useful when you already have an app. Not to mention the fact that NO ONE has actually announced what you said. Don't make **** up.

Bridges are not just Android and iOS. It's about Win32 apps and web apps.

I think you mean Project Westminster (HTML JS )...yes that would have been really good just for a web wrapper.

Where do you think the recent Figure app came from that is now on ios and windows only? There's a lot of movement in the app world recently. Lots of updates too. porting with some code additions results in quality. And which system is best known for quality. iOS.

I disagree. BBOS has highest quality, maybe also Symbian, followed by iOS and Windows on one level.

People seemed to have forgotten project centennial.

Exactly. I used to use a phone app for moderating comments and maybe starting a post. A universal app and continuum support would be awesome.

Indeed, especially considering that WP has been on WP for a while now.

Apps keep commin and commin :)

That doesn't carry much weight when the apps are PC only.

A desktop app? Sh*****************t....... What's wrong with them?

They're partying like it's 1999. :-P

Nothing. They did the right thing. A 'desktop app' is better than the universal poop.

Yes, runs lovely on a phone.... :S

Not if you want to use it on your phone it isn't lol

Meh. Not enough features compared to other systems as with every Win app. Smh. I h8 that. Posted via the Windows Central App for Android

Desktop client to do this...? Happy 2009, wordpress.com :)

Hopefully a Universal app soon too.

Is this a web based app wrapped around a desktop window? I haven't tried it yet but it looks something like that and if it is, then meh...

Bummer they didn't do a universal app that would have worked on Windows 10 Mobile and desktop. I have held onto the old mobile version that has been abandoned. I would love to see it updated.

No store UWP app supporting mobile and continuum. Boo!

Waiting for official Windows mobile app.

Waiting for official Universal Windows App for this. Trying to move away from Desktop apps except in certain power user situations, like programming tools, system monitors, etc. Oh, and Skype. Microsoft won't let me have that one as a UWA. :\

Mobile please i've been looking the mobile apps and didn't find good one for wp blog management

Apps are streaming to windows this day

Used to be a Metro one ...

So now how viable is the Open LiveWriter project?

Maybe for those using blogspot lol.

I think I should move away from blogger to Wordpress since my adsense proposal has been rejected.

Same here. It really is a pain to use the browser to upload articles. Its also bad that they dont support the edge browser. I really don't know why I chose google to host my blog.
Windows Central Newsletter
Thank you for signing up to Windows Central. You will receive a verification email shortly.
There was a problem. Please refresh the page and try again.