WorldMate Has a Flavor, er, Free Version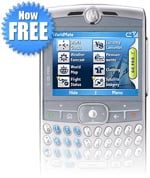 So point your Smartphone/Standard edition device at https://www.mycwt.com and your PocketPC/Pro at https://www.mycwt.com - because WorldMate just became free. We're guessing they're hoping the free feature set, which includes an "itinerary viewer, global weather forecast, world clocks, a clothing size and measurement converter, a world day / night map and a tip and tax calculator" will entice you to pony up for the paid version, which gets you "real-time flight status, flight schedules, packing list, animated satellite weather imagery and global dialing code guide."
The subscription is $6.95 per month, which is a little steep for a bunch of info you can find on the web for free. We're not complaining, though, because we're going to give the free version a shot here right quick... nom nom nom. (Excessively corny "has a flavor" and "nom nom nom" jokes brought to you by icanhascheezburger)
Ooo...it's pretty.
If I were important in this world and had to be places to meet people and do stuff, I could use this and write it off as a business expense or something.
But I'm not. :-( lol

er... you could write off the *free* app as a business expense? :p

lol, free app is lame! but pretty.
Windows Central Newsletter
Get the best of Windows Central in in your inbox, every day!
Thank you for signing up to Windows Central. You will receive a verification email shortly.
There was a problem. Please refresh the page and try again.