WorldMate Has a Flavor, er, Free Version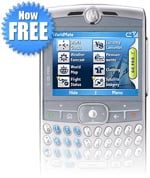 So point your Smartphone/Standard edition device at https://www.mycwt.com and your PocketPC/Pro at https://www.mycwt.com - because WorldMate just became free. We're guessing they're hoping the free feature set, which includes an "itinerary viewer, global weather forecast, world clocks, a clothing size and measurement converter, a world day / night map and a tip and tax calculator" will entice you to pony up for the paid version, which gets you "real-time flight status, flight schedules, packing list, animated satellite weather imagery and global dialing code guide."
The subscription is $6.95 per month, which is a little steep for a bunch of info you can find on the web for free. We're not complaining, though, because we're going to give the free version a shot here right quick... nom nom nom. (Excessively corny "has a flavor" and "nom nom nom" jokes brought to you by icanhascheezburger)
Windows Central Newsletter
Get the best of Windows Central in your inbox, every day!
Ooo...it's pretty.
If I were important in this world and had to be places to meet people and do stuff, I could use this and write it off as a business expense or something.
But I'm not. :-( lol

er... you could write off the *free* app as a business expense? :p

lol, free app is lame! but pretty.