The world's most badass Windows 8 computer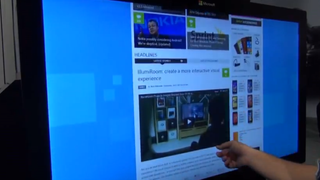 While CES may not feature a ton of Windows Phone news, Windows 8 made quite the impact at the show with Lenovo, Samsung, Acer and others all showing off their new computers for this year. Heck, Corning with their awesome Gorilla Glass booth (more on that in a bit) had a huge Windows 8 computer that was provided by Microsoft.
We're not sure on the size of it, so we'll just call it a BFC (if you ever played the game 'Doom' you can extrapolate on our meaning there). The display features Corning's glass on board resulting a very low resistance screen, which is important when you're swiping all around with those new gestures (and demod by WPC's Sam Sabri in the video).
In short, it was quite fun using Microsoft's new OS on such a ginormous display and yes, we want one for Windows Phone Central HQ.
Daniel Rubino is the Editor-in-chief of Windows Central, head reviewer, podcast co-host, and analyst. He has been here covering Microsoft since 2007 when this site was called WMExperts (and later Windows Phone Central). His interests include Windows, Microsoft Surface, laptops, next-gen computing, and for some reason, watches. Before all this tech stuff, he worked on a Ph.D. in linguistics and ran the projectors at movie theaters, which has done absolutely nothing for his career.
Yeah he meant BFG of Computers BFC.

Doom, best game ever !!! Lol :)

Shouldn't it be BFT for BFTouchscreen? lol Now all I need are some shoulder straps and I can mount that on my back and be a walking touchscreen billboard lol Could be a nice way to supplement my income...
Very nice indeed; I've got a Dell XPS One 27 Touch (AIO) on order and due next week. Just in time for a looong weekend :)

Techiedude

Who need a girlfriend if I have of those in my bedroom

It can be your girlfriend... ;) hint hint

Of course it can. It supports touch...

I'm still waiting for that kind of stuff in a Kinect game. The possibilities are endless.

What App is that he is using at the :36 mark? Looks like the original Surface Table.

This was in the Corning Gorilla Glass booth - that was some demo app from Corning.

Actually, I think there might be Surface technology in that as I also saw a table sized tablet from CES that has Surface capabilities and they said it would be available later this year for less than $2K. So Microsoft may have given them a prototype unit.

Almost as cool as the 4k prototype Panasonic 20 inch tablet.

Sweet, I bet this is a taste of what Perceptive Pixel are bring to the game


BFC. Big... F-Ing... Computer...

My choice for Most Badass Windows 8 Computer is still the Razer Edge.

Mount that stuff on the wall play movies. bauce

WOW TAKE THAT TIM COOK LOL

It looks so good I would lick it

They have these in Tysons Corner mall in Virginia outside the Microsoft store.

Wow. Windows 8 is even more graceful on larger touchscreens. It just really comes alive.

Windows 8 is incredibly beautiful and impressively fluid.

Screen awesome OS awesome

First thing I'll do - start Armed

Proper..

I am really liking the verasitly of Win 8.. bravo MS

This reminds me of the WPC 2012 where Perceptive Pixel demonstrated a huge touchscreen. 82" multitouch HD screen. Here's the video if you guys forgot: http://www.youtube.com/watch?v=hbS3Z7fYTPo

The demo looks nice. It's great to see win8 work flow on such a huge device. But i noticed thr speed of app lanches that are not cached already is really long compaired to the rest of the operating speed. It feels like ages :(


InFocus has been selling something like this at the 55" size for around $5500 since 2011:
http://www.infocus.com/mondopad

But like most (all?) large touchscreens, the touch-sensing is not capacitive and doesn't work as well as what we're used to on phones and tablets.

When I saw bfc I thought of a monster bfc, big effin can, which is more or less what they were getting at

I think I've seen these at the mall outside the microsoft store. My kid played fruit ninja on it.

What was that program with the pictures he was rotating and resizing?

The article subject says "most badass Windows 8 computer" , but I can't find in the article any specs to this badass computer. Very bad journalism if you ask me.

Wow. I need to take a shower now.

Not convinced really, imagine my 60"+ HD TV with kids fingerprints all over, NO thanks! Why not use Kinnect instead?

Big friendly computer...yes