Xbox chief Phil Spencer joins Microsoft's Senior Leadership Team
Microsoft's Xbox Chief, Phil Spencer, is now a part of its Senior Leadership Team as an Executive Vice President.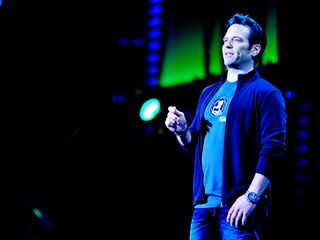 The Senior Leadership Team (SLT) at Microsoft now has a new member. As reported by ZDNet's Mary Jo Foley, Microsoft CEO Satya Nadella has informed employees that Xbox chief Phil Spencer is joining the now 16-member SLT as Executive Vice President of Gaming at Microsoft.
Spencer has held several roles at Microsoft prior to his new role as Executive Vice President of Gaming. In addition to his previous role as head of Xbox, Spencer also held positions as the Corporate Vice President of Microsoft Studios and General Manager for Microsoft Game Studios EMEA. According to his new executive profile (opens in new tab), Spencer is now "accountable for leading Microsoft's gaming business across all devices and services."
Aside from being a move up for Spencer, the move signals the increasing importance of gaming for Microsoft as it prepares to launch the upcoming Xbox One X and looks to burgeoning platforms like Windows Mixed Reality for future gaming initiatives.
The news also comes as Nadella informed employees that the Microsoft's Enterprise Mobility and Security (EMS) team will move from the Cloud and Enterprise unit to Windows and Devices, ZDNet reports. Corporate Vice President Brad Anderson will still head the team and will report to head of Windows and Devices Terry Myerson.
Windows Central Newsletter
Get the best of Windows Central in in your inbox, every day!
Dan Thorp-Lancaster is the former Editor-in-Chief of Windows Central. He began working with Windows Central, Android Central, and iMore as a news writer in 2014 and is obsessed with tech of all sorts. You can follow Dan on Twitter @DthorpL and Instagram @heyitsdtl.
I wonder what kinda mobile device he uses.. I wonder if he has any desire, or even just a little passion, for the concept of Windows on pocketable devices.🤔🤔🤔
......
I wonder if he realizes Windows could be a killer mobile gaming platform if MS tried hard for once.

I recall Phil, in an interview many months back, felt Xbox (and gaming) could rejuvenate Windows. Time will tell if his efforts pay off, but it does appear MS is making a more conscious effort with gaming on Windows these past 12 months.

The days of making a difference in handheld gaming are over. You're either Nintendo, Apple or someone making an Android phone.

Said the old man back in 1962 who said nobody could ever make a better TV than Zenith.. SMDH.
The world will be using iPhones, and Android devices, until eternity. Right. Lol.
You young guys have not been around long enough to witness change. 🙄🙄🙄

How about XPA gaming on a win10.arm docking on a xb1 Bluetooth gamepad?
Differences are,
WinPhone runs uwp.phone SKU and people are busy QA iOS and Android.
win10.arm runs uwp.pc SKU (same as win10.pc, win10s), and there's no alternative unless, a startup / freshman wants to giving up win10, win10s and win10.arm all together.

Give it up, Rod. Windows on a pocketable device has no audience apart from you and a handful of people here. Consumers aren't interested in it. And as for "mobile gaming"...if Sony, who has the vastly more popular platform - PlayStation - didn't manage to get an audience for their Android-powered mobile-gaming oriented devices, it sure as hell won't be Microsoft with a platform no one wants that will build it around a console that is in a distant second place.

So, DJBS says "give it up, Rod"
And, Rodney just gives it up. Ok.

Hey, you DJBS! You empty out your bank account into mine, I tell you!
Wow! Didn't know it was that easy!
Waiting😒

I'm a Nexus user.
I also own $2k desktop, $2.5k Alienware, surface pro and always carry a xb1 gamepad in my bag. I also own ps4 and xb1.
PsStore and Steam are abandoned due to xboxes and pc's becoming a more complete ecosystem. People still carry phones right?
What if, a phone that you can dock onto your gamepad, runs XPA games and win10.pc apps? Will xbox user use it?
I would.
(And... it's not like there's anything new to try on, Android and iOS has became quite boring right now...)
* xbox live MAU is around 53m and Steam is around 11m.
* XPA cost no extra $$.
* xbox live cloud sync is free, unlimited and cross-platform enabled.
* store region how swap is a neat feature. It is also a market which Apple, Google and Sony cannot enter. Talking about uwp.
Q: A freshman or startup, would you want to code your own mechanism to install, update, crack-proof, uninstall, advertise, etc, traditional way? Will you cleanup the mess you left in the registry during uninstallation? Can people believe your no-name-app won't do any harm to their system?
Unless, you are giving up on win10.pc, win10s and win10.arm. what other choice you have besides MsStore?

"xbox live MAU is around 53m and Steam is around 11m." LOL when will your lies stop?

53m <- from https://www.statista.com/statistics/531063/xbox-live-mau-number/
11m <- from https://www.statista.com/statistics/308330/number-stream-users/
Where I googled months ago.
Alright, they maybe wrong. Mind show me a better chart?

Are you serious?
Do you know the difference between active user and concurrent users? For someone who claims to be a lot of things, I'm surprise you don't know this basic difference. LOL You must also understand whats the meaning of "active users" the way MS counts it.
From the definition I got from MS, that figure includes the number of users that have logged in to Microsoft's service at least once within the last month of the quarter. When I tried out solitaire on my Win10 PC I was probably counted as a XBL active user for that quarter. Anyway here are some numbers:
https://www.geekwire.com/2017/valve-reveals-steams-monthly-active-user-c... Oh and finally please educate yourself about the difference between MAU and concurrent users...

Ha, my bad, didn't really look at the title. My apology.
Well... I guess there's no statistic / chart then... the only MAU number is from AUG 2017...

What kind of dumb question is that? All company heads use the iPhone.

About damn time! Maybe Phil Spencer can shake some sense into the SLT and get them to see neglecting consumers is suicidal. There is a tonne of money to be made in gaming suchas franchises, movie franchises, merchandising 1st party or third party licensing, IOT accessories suchas the Cortana speakers. Sure there is some in the pipeline... but beyond that? Which is why xbox entertainment studios was pivotal in winning consumer AND enterprise mindshare. Shutting that down was a big mistake, for example they could have showcased the surface studio in a movie franchise or show case the all the amazing concept videos on youtube posted by Microsoft in gaming and movie franchises - That is how you win mindshare and perpetually free marketing. Microsoft is fortunate they have a foothold in the enterprise sector, as if any other company went they route they are taking? They would be struggling. In regards to Phil Spencer, he has done a phenomenal job with xbox after the initial xbox one fiasco. I have nothing but praise for him and his hard working team. The rest of Microsoft should be taking notes from them when it comes to consumers imo.

Seems the XOX being the fastest selling and the one s strategy may have moved him up. Seems his strategy has been very successful of late

Phil Spencer has embraced the same openness that Satya has implemented with MS more open to other platforms and vendors.

Phil needs to be head of Windows Mobile 😁

Huh!... He wouldn't have a job. Why would you wish this on him, and his family?

I'm very happy for him, I have nothing but respect for the work he has done as head of Xbox.

Xbox never was at the big boys table. Now they are. Satya Nadella made this happen. Where are the haters?

Satya Nadella may have influence but you cannot downplay the effort Phil Spencer and his team have done with Xbox - that is where credit should go to. Sure, I was disappointed when gestures were removed but with lack of utilisation of Kinect? It made more sense to give developers access to Kinect's reserved resources as opposed to limiting them. No creative artist likes to be limited when resources are available and can be easily accessible.

Promoted by his good job spamming Xbox users with ads. If he continues the good job he'll soon get a position in Alphabet's leadership team.

Well... On the home tab of xbox dashboard.
There's roughly 4 little square on your right, 1 is newest games, 1 is Gold Deal, 1 is random stuff (movie, gamepad, new game, etc), 1 is What's On Xbox (content only change once in a while).
You see nothing if you don't click it. Just 4 small still images. On the ps4.
After login, your first stop is the "What's New" tab and the ads starts loading on its own.
If you stayed till the loading ends, there goes ads for you.
(Even if you move away instantly, bandwidth is spent)
Not just that, on the main dashboard, sometimes games-you-don't-own hidden in with your recent activity. On the Steam launcher.
When you launch Steam, there's ads popup. On the Store tab, there's big banner ads right in the middle, and then there's Featured & Recommended (with scrolling tabs) -> Special Offers (with scrolling tabs) -> Your Discovery.
Windows Central Newsletter
Thank you for signing up to Windows Central. You will receive a verification email shortly.
There was a problem. Please refresh the page and try again.