XPERIA X1 To Use MicroSD After All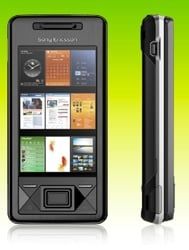 As surur notes in our forums, the Sony Ericsson XPERIA X1 won't be using the hateful, proprietary, Sony-Only Memory Stick format. It'll use microSD, like a proper smartphone should, assuming that the updated spec sheet is to be believed.
Surur also notes that the X1 might actually be running
Windows Central Newsletter
Get the best of Windows Central in your inbox, every day!
A little note for the people who was disappointed by the news that the Sony Ericsson Experia X1 only used proprietary M2 memory sticks, Sony Ericsson has again revised their spec sheet to say MicroSD.
Thank god for that. I would have gotten it regardless, but now at least I can re-use my 8GB memory card.
BTW, despite having been seen to run Wm6.1, insiders are still maintaining the device will be released with WM6.5.Size 110 x 17 x 53 mm
4.3 x 0.7 x 2.1 inches
Weight
145 gr
5.1 oz
Available colors
Solid Black
Screen
800 X 480
65,536 color TFT
Memory Up to 400 MB Phone Memory MicroSD support
Actual free memory may vary due to phone pre-configuration Networks
GSM 850
GSM 900
GSM 1800
GSM 1900
EDGE
HSDPA
HSUPA
UMTS 850
UMTS 900
UMTS 1700
UMTS 1900
UMTS 2100
Battery performance may varyhttp://www.sonyericsson.com/cws/products/mobilephones/specifications/x1?cc=us&lc=en
Surur

*dribbles* This would be the only handset to make me turn to the darkside!
It's unusual for Sony to break away from their own memory cards...

I wouldn't be surprised if it has a dual loading slot that takes both M2 and micro SD, similar to SE's K850i.
Aren't the two the same (albeit with minutely different form factors)?

Is just because Xperia is not a Sony but an HTC
http://www.engadget.com/2008/02/10/no-wonder-sony-ericssons-xperia-x1-is...