Yahoo Mail app for Windows 10 will shut down on May 22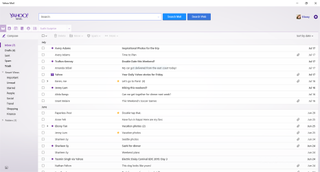 If for some reason the Yahoo Mail app for Windows 10 was your go-to email app (hello, Outlook?), you'll soon have to turn elsewhere. As spotted by OnMSFT, the Yahoo Mail app has started alerting users that it will stop working on May 22. And though that leaves around a week before the shutdown, the report notes a number of people have already reported that the app has stopped working.
In visiting the Windows Store, the Yahoo Mail listing is still up (opens in new tab), but it's no longer available to download. In its message to users, Yahoo Mail recommends using its website instead, but the Windows 10 Mail app should also work just fine.
Given the damage Yahoo has suffered to its brand over the past year after disclosing security breaches that affected millions of accounts, it's not likely that the user base for the Windows 10 Yahoo Mail app was particularly high to begin with. That said, let us know if you were still hanging on to the app — and what you'll be switching to — in the comments.
Thanks, PalZer0, for the tip!
Dan Thorp-Lancaster is the former Editor-in-Chief of Windows Central. He began working with Windows Central, Android Central, and iMore as a news writer in 2014 and is obsessed with tech of all sorts. You can follow Dan on Twitter @DthorpL and Instagram @heyitsdtl.
Joined by the WP Bing rewards app, good times!

Tens of people are now devastated over both.

Of course, wouldnt expect anything else....

Yahoo was **** since the early 2010s when Bing took over in terms of search results and even other competitors were better (including Outlook). There really shouldn't be a reason to use Yahoo except for spam emails :)

Or if you've had your account for a long time (as it's a PITA to transfer the contact email for everything you ever signed up for).

I wasn't aware that the Bing Rewards app was being shut down until I read your post. As a Bing Rewards member who has redeemed a couple hundred dollars worth of gift cards since the Bing Rewards program first started, I have never found much use for the app itself.

Might as well just close the store, right? Brown nosers everywhere....

More like the recognition that "apps for everything!" is not the solution nor cure, especially if the underlying service is lacking, or uninteresting. Now, if you can sell me on the advantages over using a dedicated Yahoo web wrapper over Outlook or Mail on Windows 10, I'm all ears. However, seeing as no one used this app my guess is there is much in its defense in 2017.

Or just pin the app to your Start Screen! The fact that Windows affords that option is not too bad, though I understand the frustration.

I didn't think Bing Rewards was a thing now?

Android Microsoft rewards app too

good....I was not a fan of yahoo mail
anyway...

Can we use it in outlook mail windows 10 app?

We literally state that in the article.

Does anyone even use Yahoo except to forward junk mail to?.. Its quite possibly the most unsecure email service on the planet

The only reason I still have my accounts with Yahoo/Gmail is to forward it straight back to my junk folder on old faithful, Outlook mail.

Stangely, yes lots of people still seem to. At work I see all the new hire info, which includes personal e-mail for initial info. Although I haven't done a scientific study, I would guess that yahoo.com is still one of the most used domain names.

people just can't be bothered to read the articles these days.

I use Outlook.com as my primary email these days. I still have a Yahoo account, but mostly for junk mail. I hate their web app and the Windows app is just a wrapper for it, as mentioned. Not much of a loss. Just use the default Mail app.

There is absolutely no need to have an app to access one email account. That's what app craze has brought us and thank God its winding down finally.

Thank god? Please, he's still rocking the Prodigy.net email he's had since 1997, apps are way above his comfort level.

I'm agree with the app craze - There are many cases where one doesn't make sense. I won't really download an app that I might use twice a year (Not talking about Yahoo Mail, but many apps in general)

Who cares are people still on that hacked email system.

Amen to that, pls try to bring back ebay amazon aliexpress uwps and local olx

Can any one help me to find out the issue which i faced during installation apps from store giving error code 0x8024401C

Banks, news, companies and more are not considering W10M worthwhile. Why should we? Still hanging onto nothing.

and why are you talking about W10M? This app was not for mobile

Just one question. What the hell are you talking about ?

Yeah okay cause soooo many people use yahoo lol

Well, given that the app is just a very poor container for the very poor Yahoo! Mail site, I doubt anyone will miss it.

only the people who use Yahoo Mail for junk/spam emails will miss it.

Still yahoo mail has some very nice features Outlook lacks. Outlook is so basic is like sleeping in a tent except outlook for iOS and Android. Why keep W10M? No more waiting for me. It is like driving a beetle still. Oh yeah. It's got a radio and heating. Goody

Altogether now, "YAHOO HAD A MAIL APP??!!!!"

i was thinking more along the lines of "yahoo still provides email?"

Moreover it was an app from the Windows 8 days and it was crap from the very beginning. Useless and and not worth the time to get it. Plus for a while (before Window 10) it was only available on laptops with touchscreens on W8

Lol. I used it for one of my old school accounts. I'll just switch that account to outlook mail. No biggie. I just used it cause it was there.

Thorgal Aegirsson and why are you talking about W10M? This app was not for mobile Why? Because this is Windows Central where the comment thread of every article turns into a rant session about Windows Phones.

Stay home baby. You are lost completely. What's MS now? Should I repeat it? Mobile and Cloud.

How much you getting paid and how can I join ?

No mobile you don't exist

Hahahahaha thats the dumbest thing I heard so far in 2017

This was my go-to app for email as I still use my Yahoo Mail address that I created way back in high school as my default contact email (I do have an email address from my ISP which I use for websites that don't allow Yahoo email addresses - mainly forums).

Every time someone applies for a job and their email ends with @yahoo.com I toss their app immediately in the trash

A lot of HR professionals do this I've heard.

Wow, that's very pretentious and ignorant of you.

If you are still using Yahoo at this point. You must not care about your information. After multiple major breaches it does not appear that Yahoo is serious about protecting your information, passwords, or any other data. Yahoo was relevant at one point... It is time that organization goes out of business or does a very public complete overhaul of their security practices.

Yahoo is merging with AOL to form "Oath"

Was that "thing" an app??? I'm happy it's gone.

Are they bankrupt or why do they do that?

just burning their cash reserves!

What the hell is the yahoo Mail app? Do they have other apps for Mail that can easily be read on the website you signed up on as well?

I installed it once a while back to see what it was and was unimpressed with it so it never got used. I had expected people app integration or calendar integration or something. Not that i particularly use yahoo mail for anything nowadays

It was a Windows 8 app so none of the integration for Windows 10 would work. Also it is a web wrapper which is the laziest type of app to build.

Windows 10 S is in trouble already, what with all these apps shutting down.

but there will be better quality apps coming in a few years. Project Centennial and W10S will help with this.

oh can you hear it? "bada dum dum dum, another one bites the dust..." *sing*

The Windows 10 mail app is stupidly unreliable for syncing my Yahoo account. For whatever reason, it just takes forever to sync. Switched back to Outlook 2016 after trying the frustrating built-in app.

So what. Yahoo mail shouldn't be used by anyone ever again. They should have a class action lawsuit brought against them for not notifying users, for years, that their accounts were compromised several times.

I had three Yahoo accounts, closed then one at a time much before the security breaches because I found myself never logging in. After hearing about the breaches, I was glad I closed them but I never needed the app.

Wow, I don't even know that there's a yahoo mail app in the marketplace, I always use the default mail app to manage all my email accounts, including hotmail, gmail, and also yahoo mail.

Well I'm not surprised! Microsoft is as we all know concerned only with the ENTERPRISE MARKET!!!

Not really. Only concerned with money. Productivity tools are few and limited.

The only reason I use yahoo is because my btinternet email address uses it.

Uuuu keep waiting like they care. Even desktop is lagging. Check OneDrive, CRM and real business solutions. So many people only concerned about games

Yahoo Mail won't work Windows 10 mail app either. At least Yahoo stopped posting error message everytime you use a different browser than firefox.

I used yahoo for years and has lots of emails I still need. Is there good software or an app I could use to download all my emails & attachments into, so I don't lose information I might need in the future. Years ago, when on a HNC university course I had the student version of Office 2000 Pro and used the outlook software. I am cannot afford office these days, so need another option. Thanks

Thank goodness for my Aol and CompuServe accounts !!
Windows Central Newsletter
Thank you for signing up to Windows Central. You will receive a verification email shortly.
There was a problem. Please refresh the page and try again.