What is your favorite news/RSS reader for Windows Phone?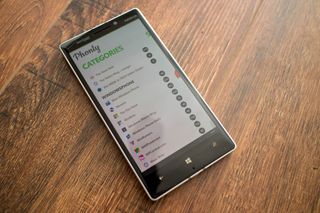 There are several apps on Windows Phone that let you keep track of news or topics of interest. Which one should you download? WPCentral forums member, sguy156, needs your input. Let him know your favorite news/RSS reader for Windows Phone.
A few apps have already been mentioned in the responses:
Weave – One of the oldest and most popular news reader apps available
NextGen Reader – A fast, clean, and supports both Windows and Windows Phone. It also connects with Feedly.
Phonly – A third-party Feedly app that looks great.
Forums member, Clodderes, also mentioned Magnify, but feels it's slower and that it uses a lot of data. Everyone has his or her own favorite. Which one is yours? Head over to the forums and let everyone know.
Get the Windows Central Newsletter
All the latest news, reviews, and guides for Windows and Xbox diehards.
If you like tech news Geekbyte has them all beat.

Nextgen Reader and Phonly. Two exemplary apps.

Last time I tried those they both lacked the ability to download an entire article in the app, meaning I'd have to click every stupid rss link after reading the snippet. Rubbish that Weave doesn't have. Since that clicking link and opening website rubbish costs a lot of time, I'm still Weave, until I find an app that's faster AND can do full article. On a sidenote, I can't use nextgen anyway at the moment because connecting my feedly account to it gives me a certificate error.

For the feeds that only show a summary, open an article from that feed and hit the three dots on the bottom. Go to edit source and change from mobilizer to ie. It'll grab the full article instead of just the RSS summary for that feed from now on. I think weave even syncs that setting across the two platforms.

You can change that in settings in Phonly. Download full article.

Phonly only does that since a short while and this doesn't always work, not like Weave. Beyond that I have an amoled screen and for Weave I can set colours and fonts to my liking; Phonly not so much. Phonly isn't bad, but from the start it's been playing catch-up with weave in terms of features. Most new features are pure copies of what Weave has offered for years. I've used Phonly for a bit when Weave was down for a few days, but I just missed out too much in Phonly that Weave could offer. Only downside is that Weave is Windows8/WP8 only for sync. But I ditched most of my Android and iOS stuff for WP8/Win8 anyway.

Yup cant live without it XD

Agreed... I've tried most of them and always return to NextGen, it's just the best of them IMO

RSS central has been serving me very well for over a year now. Highly recommended if you want minimalism and fast content.

News, it syncs and belongs primarily to the platform...

Does that actually work well now? felt pretty terrible last I tried it, and loading full articles felt slow.

Those are the main 3 I use, although Weave had a serious issue not too long ago and I had to drop it.

What issue did it have? I only use Weave. I like that it syncs with my computer and tablet.

A full weekend without servers.

weave beautiful but too slow... nextgen faster more than twise.

agreed. Weave used to be super fast, but I think with the win 8 app and more users now, they've scaled back the speed ridiculously. And yes, often server issues, and they don't have a public log to notify of maintenance or issues so it makes it even more frustrating. You pretty much need at least two apps, weave and nextgen if you're serious about your RSS.

Weave but not anymore. App is not reliable and gives wrong count. Has lots of issues.

Yes weave was, but it is only getting worse. Doesn't refresh anymore on startup and loadingscreen looks fucked, and so on.

They fixed it a few weeks ago :-)... it refreshes properly on startup now... and refreshes faster than before!

Yes. And live tile and lockscreen never work reliably. Updates are scarce too.

Weave. Though it annoys me they haven't yet provided a transparent tile...

I so wish they'd finally as feedly support

Yeah, they are kind if slow when it comes to adding new features and stuff but it has the best reading experience compared to the other ones I tested. Everything in this regard is right: Text size, layout, controls. It's just fun to read in collector.

Nextgen Reader all the way. I flirt with others, but I always come back to it... On a completely unrelated note, #1 ToolKit has been unpublished from the Windows Store. I had to reset my phone today, and only found out when I tried to reinstall it. It's quite irritating as I only bought it a couple of weeks ago, and it was one of my favourite apps. :-/ Does anyone know why?

Haha...even I wanted to understand why #1 toolkit was removed. It was a great app. I wrote to them a couple of days ago. Here's what they replied. Thank you for loving # toolkit. Dont worry, now we are making big updates with 20 languages & fix bugs . Toolkit will publish in the next few days. Next time, we not only publish the toolkit, but also many other apps. Please wait to see the exciting software from ccoolmedia. Best Regards, CcoolMedia team. Good to see a positive response from them.

You beat me to replying! :-) I emailed them too, and got a similar response. It's actually pretty awesome that they're adding multilanguage support.

Bing News. I'm simple. :)

Can you in bing news add your own feeds though?

You can add watched terms, but not exactly other RSSs. It is good enough for people who only watch certain topics.

That's a shame, microsoft should implement this feature for sure

Not true. You can add rss feeds to Bing News. just go to the site you wish to add, get the rss feed (right click the "subscribe" hyperlink and select properties, copy the url and paste it into the search bar in the add a source section. I've done it and just added another to be sure it sill works. Hope this helps.

You can add rss feeds to Bing News. just go to the site you wish to add, get the rss feed (right click the "subscribe" hyperlink and select properties, copy the url and paste it into the search bar in the add a source section. I've done it and just added another to be sure it sill works. Hope this helps.

Didn't work for me... It says the source wasn't found.

Message me, I'll help you out.

Phonly is my main reader. I wish they had a Windows 8.1 version too.

Nextgen reader is good.. And news hunt too...

Dude. Seriously nextgen reader. Has a win 8 version.

I know, but I like Phonly design better. I know, my preference here is totally subjective..

Feed Me I'm using Newsblur instead of Feedly.

Nextgen Reader here. I always prefer apps that I can install on my phone and my laptop.

Used to love Flux but they took forever to add non google feed login. Now using Nextgen reader and Flux.

With Cortana/Bing News serving to personal taste, I've been using those two together.

Magnify News Reader of course! The best so far. http://www.windowsphone.com/en-us/store/app/magnify-news-reader/82f68ad7...

I really don't know why I had to scroll this down to find Magnify... It's a great reader. IMHO, better than Weave

Its the best non google account backend rss ive tried yet. & today they remove the beta tag in an update & gave those users a free copy no more feed limits. Only feed ive had problems with was major nelson's blog rss feed(their site as it is needs a rendering update for wp)

Weave is the best. they need to update it though.

Nextgen for me. I used to use Feed Reader until Google Reader shut down. They switched to some other solution as Feedly apparently would work with/for them. I use Feedly online and Nextgen for both Windows RT and WP.

i use Feed Reader on Windows Phone and Windows RT and love it still. It uses NewsBlur as the back end which has a real nice web interface. i know there is a paid version of Newsblur, but the free version covers everything i use. i wish Feed Reader did a better job with the charm bar "share" command.

I simply rely on Cortana. I find most RSS to be worthless.

Nextgen Reader, the best hands down

The Old Reader. In the browser....no extra apps required.

next gen reader works best for me.


Amen. Been using it since WP7.5.

+1. Started to use Weave which has a few interesting features but I found missing is to view individual feeds. So for now I'll keep using Fuse plus it has a really nice layout.

For news? BaconIT is my door to the outside world.

Used Phonly but now I'm using NextGen Reader and it's very good. It'd be better if it added sharing to other applications.

News Live Tiles - an universal app that creates the most beautiful live tiles! http://www.windowsphone.com/s?appid=cb079a04-9c05-4679-a1da-46faac39beb1

Mainly Fuse, sometimes Magnify.


Readit (Readdit client) ;)

Phonly. It has a cleaner design and UX than nextgen reader and the readability function works well.

NextGen reader on my phone and tablet. I've tried most of them and just keep coming back to NextGen.

Nextgen for me... Works great on Win8 tablets, too

Flipboard, please come to WP8!

Nextgen Reader on both WIndows Phone and on WIndows 8.1.

RSS Central is the best for me!!!

Magnify. Closest thing to Flipboard there is and the developer genuinely listens to feedback. He can design a fine looking app too. It is a bit sluggish sometimes and its prone to the odd crash, but its won my heart and will only get better.

Magnify is nice but lags alot. Still haven't found an app that replaces weave.

Fuse!! Rudy Huyn for the win ;)

+920 Ipsum is the best layout possible for a RSS reader ever

I used to love Fuse, but then Rudy abadonned it. Weave all the way!

For me it's working flawlessly,so i don't need any other updates. Love it

NextGen! Works on Phone, Surface, and PC

NextGen reader on my phone and tablet. I've tried most of them and just keep coming back to NextGen.

Too bad nextgen doesn't have as much news sources as weave.

Don't want to bother finding dozens of feed links from sites I don't even know or remember.

Fuse. Rudy Huyn all the way.

NextGen here on phone and tablet, hooked in with Feedly.

If you like tech Geekbyte had them all beat. Hands down my place for all tech news.

+920. Meanwhile, "Collector" needs some enhancements in dealing with custom feeds (saved collections disappear). Nevertheless, donated to/bought both.

This is the most stable and flexible of all readers out there. Go NewsSpot!

I enjoy RSS Central quite a bit. It doesn't sync with a service, but it is simple and clean.

Magnefy and BDW it just exited beta so lets hope for its better future

My Feeds by Patrick Robin. It's by far the most simple of them all. Fits my RSS needs perfectly.

I mostly use nextgen reader, but a very close competitor is flux. Others don't even come close.

Modern Reader for me. It works with feedly, so I can sync it with the cloud. And I just want to read the news headlines. So I don't want all those images and unused space. Just a list of my feeds so I can see if there's something new, and a list of articles when I tap the feed name. Just perfect for me :-) Available for Windows Phone and Windows 8

I now use nextgen, its faster and have more support, i used phonly alot but the lack of updates put me off, i would love the official feedly though...

I hate that all use the webbrowser control for articles, if you scroll with finger on screen (not flick) scrolling is super choppy, like it's 10fps or something. I really hope MS will do something about that soon...

And everyone is posting here rather than in the forum, because???

Where's the damn poll? NextGen +920 +520 +521

Nextgen Reader all the way.

WEAVE... here's why: - Universal app (on both WP8.1 and Windows 8.1)
- NO STINKING GOOGLE ACCOUNT REQUIRED... Syncs flawlessy with OneDrive
- After the latest update, it refreshes so fast now
- OneNote integration
- Fav articles sync

Headline Tile !!!! Shows up to 20 of the latest rss headlines in a customizable livetile!

weave on windows and windows phone :)

NextGen Reader is not just my RSS reader; it is my favorite app! It does a fantastic job, it is continually updated, and it is on my phone, my Windows 8.1 tablet, and my Windows 8.1 desktop. We need more apps on WP and Win8 that are as high-quality as NextGen Reader.

If Zite falls under this category, that's what I use mostly.

None... All seem to have annoying issues whether wrong count on live tile, poor design, or whatever... I use specific apps like wpcentral app many others that are very well done.

Newsspot, because It supports newsblur and feedly

The only RSS I need is wpcentral.

Global news reader. Love reading the user comments on yahoo news. Live tile is really nice too

Definitely nextgen. Small player, big quality.

Weave.... best app ever..

Pheeb (feedly client)... done.

I am sad that Rudy Huyn has given up on his Fuse. It was the prettiest newsreader out there. it only needed feedly support. As it is, now I use Nextgen because it's the fastest one.

Didn't see your comment right above me as I was posting. Glad to see someone else likes it.

No one ever mentions Fuse. It's the only one I've kept on my phone.

Nextgen Reader is just amazing. The Windows 8 version is even more awesome.

Feed Me is the only one I've found that plays podcasts well from my feedly subscriptions. So I can overlook its other limitations (occasionally unauthenticates itself from feedly and has to be reconnected, slow sync, limited control over list format - I'd love to be able to get rid of the images on the lhs, unexciting workmanlike appearance)

I've used weave and nextgen, there latter is better for formatting content but neither of them sync properly with Feedly.

I use weave news reader!!

If you wish, you could try my app, Feedsea, it currently a closed beta, but anyone can join. http://www.feedsea.com

I have been using RSS Central since WP7.

NextGen is by far the best reader on any platform.

Nextgen Reader! But i like Feedsea too.

NextGen Reader on both my WP and Windows 8.

Another NextGen Reader fan. When Google chlorophormed Google Reader and gave everybody the kissoff, I migrated to Feedly and that keeps me tethered to NextGen on its own. But NextGen is an excellent app if you have a long and varied list of feeds and need to access and share them quickly. And its one of those developers that work to make their product better.

Flipboard..... Wait....f-them, I mean Weave

Magnify..Weave..Apply Geek.

I tried them all. Love phonly

+1520 After nearly trying all the RSS readers Flux is my weapon of choice.

I use MetroBlur which is a newsblur.com client. Superb RSS client http://www.windowsphone.com/s?appid=2585d348-0894-41b6-8c26-77aeb257f9d8

awesome2 is nice, but still lack of features as it is still new.

I use NewsBlur for all my RSS reading on the web. I've found it a great replacement for Google Reader. I've been very happy with MetroBlur the WP8 client for NewsBlur.

Couldn't agree more! Never been a big fan of Feedly.

Weave. Doesn't rely on Google services.

NextGen Reader is mah dawg yo

Divided between nextgen and magnify... Decisions decisions decisions...

I never see Flux getting the atention it deserves here. The best for me.

The only RSS reader I use is feedly, which like everything else is not available on Windows Phone.

Weave, because of speak article.

Does twitter count, if so then Mehdoh.

Nextgen Reader! Been using it for as long as I can remember .

Next Gen Reader by a mile

I'm a big fan of Global News Reader, which provides customizable feeds from Yahoo News, a great news source with a lot of breadth. The app takes a really clean and simple approach, yet is feature-rich in terms of sharing, saving, and live tiles (it supports multiple live tiles representing different feeds). Pretty awesome.

Can we safely conclude FlipBoard is never coming to WP?

Nextgen Reader - for both WP and W8.

Using NextGen Reader and NewsSpot at the same and now a very long time. Both of them have advantages. NewsSpot is faster, a little bit more stable and more Sharing Options like direct Integration with Evernote. But NextGen Reader is more feature complete with feedly, here i can change my Subscriptions. I switch between both in a daily manner :-)

NextGen Reader all the way. Best thing since sliced bread, eh.. Google Reader .

Best news readers for buisness news is the Simple Rss Reader http://www.windowsphone.com/s?appid=c938bd19-75c1-4ee1-a29c-ec7defad795f all you need

my favourite(and only) newsreader is The Fifth. It is available for Windows Phone 8.1 and Windows 8.1. The feeds/subscriptions sync between all devices. They are located at http://apps.microsoft.com/webpdp/app/e741b66c-cb4c-4e64-9ed0-5e35267a377a. (windows8 store) http://www.windowsphone.com/s?appid=5942cf5c-f4b0-4ab1-b2a4-69608a06572d (windows phone store)

Problem with Nextgenreader is the way it handles starred items. You star an item but it is not immediately synced, which is unacceptable IMO. You have to manually refresh the feeds to perform a sync. On Windows 8 they sort of botch fixed this by having feeds sync when the app comes back from being tomb-stoned. Which mostly worked. But I cannot think for the life of me why starred items aren't treated like regular feeds and synced properly when you star the item. This is how Phonly works and is one of the advantages to that app.

Yeah, NextGen is great when you need offline capabilities. I designed Phonly to be an online-only app. I've personally never been a fan of manual synchronization. But I've also come to realize that I'm extremly spoiled with great WiFi and cellular connection (4G), which is a prerequiste for using apps like Phonly. The next version of Phonly (Universal App) will most likely be a hybrid, where you can select which feeds that should automatically be synchronized to be available offline, but the default mode is online.

I've been using next gen reader for some time now.

I like the simplicity of Zite. Free and no ads

The only problem i have with these apps is the following: i use feedly's web version when i'm at the office and nextgen or phonly when on the go. when i read through the apps and go back to the feedly the articles are still marked as unread and have to scroll through them again! is there a way to get it fixed? or we have to live with it? Thanks

Having started off with NextGen then moving to Phonly, I've now found myself using FUSE for the past 9 months and can not fault it.

NextGen Reader. For dark background and no nosense feedly sync.
And its free.

RSS Central all the way. Tried others but they just just aren't as good. Nextgen is a non-event as a Google account is required.

Netvibes Reader here. This third party Netvibes client appeared on WP long before the official app ( recently) launched on iOS. Android doesn't even have anything similar right now.

Weave all the way. The worst I've used its Newser.

I use Magnify on Windows Phone. I own Weave but I like Magnify a bit better.

NextGenReader. I love apps that just work. Simple and always reliable. Love this app.

Anybody know of a Feedbin client for Windows Phone?

Nextgen reader is my choice if you need to be able to sync your feeds and read/unread in the cloud.

Weave, simply because of its ability to read articles to me in a pretty decent voice.

I went for a web-based Flowreader in the end, gives both RSS feeds with web news and social (Twitter and Google+ at the moment). Sharing and posting directly from Flowreader page is also available. At http://www.flowreader.com

I cant believe these responses. feedsea iNi Reader Seemply SilverReader(discontinued after lack of public interest.WP native app)

good information formula turned out by Google will likewise https://iplaystoreapp.com Disk room and app sizes has actually been just one of nice.