ZTE plans to make Windows Phone devices again in 2014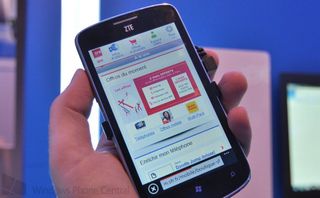 We can expect ZTE to continue making Windows Phone devices again in 2014. He Shiyou, executive vice-president and head of the handset business of Shenzhen-based ZTE, tells the Financial Times the company would again begin producing phones using Microsoft's Windows platform after the acquisition of Nokia is completed.
He Shiyou says:
ZTE only made two devices running Windows Phone. There's the ZTE Tania, and the ZTE Render (also known as Orbit) that were picked up by US Cellular. The two handsets both target the low-end market.
The ZTE Tania features a 4.3-inch display, 5-megapixel camera, and 4GB of storage. The ZTE Render features a 4-inch display, 5-megapixel camera, and 4GB of storage.
We were expecting a new device from ZTE earlier this year, but it did not materialize. It looks like we'll be hearing more from them next year. The Chinese handset maker is also working on brand awareness to western phone buyers through improved distribution as well as sponsorships and advertising.
If ZTE is planning to release new low-cost Windows Phone devices, they need to take a close look at the Nokia Lumia 520. Nokia's most affordable Windows Phone is selling like hotcakes globally in emerging markets. The Lumia 520 features a 4-inch display, 5-megapixel camera, Qualcomm Snapdragon processor, and 8GB of storage. It also runs Windows Phone 8. The Lumia 520 can be bought for about $80-100 without any contract.
ZTE also needs to be wary of the Nokia Lumia 520's successor, the Lumia 525. The device is rumored to have 4-inch IPS LCD WVGA (800x480) display, 5-megapixel camera, dual-core 1GHz Qualcomm Snapdragon 400 processor, 1GB RAM, and 8GB internal storage with microSD support.
If ZTE is going to be a company to watch in the Windows Phone space, we'll make sure to keep our eyes wide open. Have you purchased any ZTE devices? Let us know your feelings about them in the comments!
Source: Financial Times
cool ! WP is on the move xD

Its good to see the windows on different handsets. I still love my 920 but if making low end windows phones is what the people need then do it up. Never even heard of ZTE to be honest...

ZTE is the fourth largest smartphones manufacturer in the world just behind Apple and LG, they are huge in China, their support is very important for increasing the windows phone marketshare.

I have a ZTE 4G hotspot from Verizon, and have had no complaints. I'm glad to see them back on board.

These guys were huge in Russia for WP7 (at least pre-Nokia) The Megafon SP-W1 sold pretty well from what I hear. That was a rebranded ZTE Tania IIRC

Why the Lumia 520 plug? Anyway, more competition for Nokia is a great thing.

The 520 is basically THE low-cost Lumia, so most budget windows phones get compared to it.

Sure, but there are more details given here about the Nokia devices than the ZTE.

Because the 520 is pretty much the standard bearer for WP low end market, which ZTE is probably set on competing for.

The article is about ZTE though, no? I mean Nokia does not need to be mentioned in every dying breath.

Nokia owns some 90% of the WP market. So anytime another OEM releases a WP device in a certain category, its going to be automatically compared to the comparable Lumia alternative. This is standard for any market. If someone releases a new MP3 player, it will be compared to iPod. If someone comes out with a new search engine it will be compared to Google.

Great. I see more OEM will gain interest. Especially in the China market

Other companies have tried to make low cost windows phones and they all suck compared to the Lumia 520.......now enter Lumia 525 and nothing else can compare....especially on build quality Good luck zte you need it

"Industry support" aka reduction of licensing pricing.

Good to see other OEMs now looking forward to WP. The android race has to be stopped.

Good to see ZTE coming back to windows phone, the more OEMS the better for the Windows phone platform.

ZTE Tania was what got me to the WP camp - for the price at the time it was unbeatable. I'm looking forward to more devices from them.

Just bought a 520 for my son for 77.99 on Tiger Direct a couple of days ago. How do you beat that?

I am using a Blade 3 android handset DONT BUY THIS CRAP EVER My brother is using v967s it is suprisingly good so BUY IT if you want its cheap and offers good specs for the price

But is it the hardware or crappy Android that's the issue?

So that's the second Chinese OEM to come to return to WP after Huawei. I wonder how's the competition between them in China and the Eastern markets.
I have no particular feelings towards ZTE. The only thing I ever recall about them is the branding being similar to HTC. I'm waiting to see what Samsung will do (if they'll do anything at all, now that they're focused on replacing Android with their own OS). And HTC, specially now that they're starting to struggle.
Windows Central Newsletter
Thank you for signing up to Windows Central. You will receive a verification email shortly.
There was a problem. Please refresh the page and try again.