1:CLOCK for Windows Phone 8, keeping track with World times and more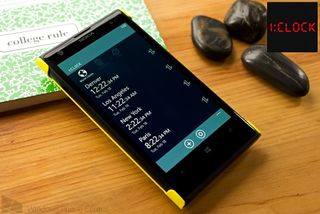 1:CLOCK is a relatively new Windows Phone 8 app that will help you keep track of global times, keep time with a stopwatch and countdown the seconds with a timer.
1:CLOCK can display times for over 3,700 cities worldwide, save stopwatch times and double as a nightstand clock. The app is in its infancy and while there is still work to be done, 1:CLOCK has a certain level of appeal. To help push you off the fence and give 1:CLOCK a try, the app is free and ad-free through February 24th.
1:CLOCK World Clocks, Stopwatch and Timer Screens
The main pages for 1:CLOCK will display your world times, stopwatch feature and countdown timer. You can either swipe left/right or tap on the icons at the top of the screen to switch between features.
World Clocks: 1:CLOCK's world clock page will track the time from over 3,700 cities around the world. Just tap the + button at the bottom of the page and enter the city you would like to monitor. 1:CLOCK will display a list of cities that match the keyword and you just need to tap the city to add it to the page. World clocks can be sorted by tapping/holding the arrows that line up along the right side of the screen and dragging the city to the desired location.
Stopwatch: 1:CLOCK's stopwatch feature is straightforward with a "Start" and "Reset/Lap" tile buttons at the bottom of the screen and your time running across the top. Stopwatch times can be saved, recalled and shared through the control buttons at the bottom of the screen.
Timer: Again, a straightforward interface is in place for the countdown timer. Just tap the time display to set the duration for the timer and then tap the start tile.
Settings for 1:CLOCK are accessible through the gear button that is present at the bottom of the main pages and time display (more on this in a second). Settings currently include time format (12 or 24 hour) and the clock style.
1:CLOCK Nightstand Mode
Along with the world clocks, stopwatch and countdown timer 1:CLOCK will also double as a nightstand clock. When you rotate your Windows Phone horizontally, a LED styled clock face will appear. The clock face will display your battery level along with controls to:
Lock the clock face in place
Adjust the brightness
Access the 1:CLOCK settings
Turn on/off white noise to drown out the noise of the world and relax you
1:CLOCK is a well-designed app for Windows Phone 8 but there is some room for improvement. First, you cannot pin individual world clocks to your Windows Phone Start Screen. This would be a nice feature to monitor these clocks without constantly jumping into the app. We would not mind seeing Live Tile support for the stopwatch and timer as well.
Second, 1:CLOCK currently lacks an alarm feature. We say "currently" because an update is in the works that will add alarm management to the app (check the update below for more on this).
While there is room for improvement 1:CLOCK has potential and is worth a try. The app is currently free through February 24th, after which it will still be free but ad-support will kick in. You can get rid of the ads after the 24th through a $.99 in-app purchase.
1:CLOCK is available for Windows Phone 8 and you can find your copy here (opens in new tab) in the Windows Phone Store.
Update: An update just pushed out for 1:CLOCK to take the app to version 1.5. The update adds a fourth page to the application where you can set and manage alarms. You can set alarms to repeat on specific days of the week or just one and done. The update helps bolster 1:CLOCK's appeal.
Windows Central Newsletter
Get the best of Windows Central in in your inbox, every day!
George is the Reviews Editor at Windows Central, concentrating on Windows 10 PC and Mobile apps. He's been a supporter of the platform since the days of Windows CE and uses his current Windows 10 Mobile phone daily to keep up with life and enjoy a game during down time.
Ah! No Atomic Clock option? I hate that I adjust my phone only for it to be a minute off the actual time, need auto setting that keeps me with the actual time to the second and/or milisecond.

Hope this app tells the correct time! I installed the MS world time app and the dst times are off for America and Russia both. So odd!

Please let us know if there is a time zone that is off! We worked very hard to ensure that each time zone was respected. You can reach us on twitter @PinnacleApps

Everything works for me, got it pinned, great app, my fav feature is how it goes into bedside mode when you turn your phone to its side..

I prefer Alarm Plus. It may not have world clocks or the nightstand mode, but it has everything else but with voice commands and a better design!

So you tried this new one already?

Yeah I did. While I like the fact that it has the world clock, I'm just not a big fan of the UI.

Voice commands will be coming in a future update. As George states, this app is very young

How du You activate snooz on This ?

Can you explain what you mean by snooze? Thanks! You can also reach us on twitter @PinnacleApps

When you hit snooze you turn the alarm off for a set amount of minutes then it turns on again

Because the app integrates with the phone alarms, snoozing is already built in!

Very nice app, going to try it! Thanks.

Very nice app - just tried it, and nice to see you guys are responding on here. The time zone for places on the middle east is wrong, like Lahore. Seems an hour off from timeanddate.com and other web time services.

Thanks for letting us know about Lahore. We'll get that fixed. If anyone else sees any problems please let us know!

Just more colours to bedside mode :)

Great feedback, and I agree it needs a few more. Are there some colors you had in mind, or just a generic color picker instead?

A generic palette would be great..
I'm about to use the bedside mode now for the first time :) Goodnight world!!

Thank you for supporting windows phone - and being responsive! I just picked it up while checking the timezone for Dubai, where we di business! Anyhow, thank you!

Why do you need photos library access for the app?

Hi bulb, This is a requirement when you have ads in the app. If you install before midnight of the 24th you will not have ads, but for those who install after that, they will have ads. The app is not accesing your images :)

Pls provide snoozing to be set up manually. Otherwise great app.

I used it as a night stand clock last night!! It was perfect!

Great app, no feedback yet just got it a few minutes ago but I have a question since a separate stopwatch app also does this. How exactly does the app keep up the time on the stopwatch even after you close the app or turn off the phone? I know all kinds of tech does this like laptops or even Gameboy Color games keeping the time, but I don't quite get how 3rd party apps can. Do they get clock info from the OS and compare it to the last instant the app was opened? Thanks to anyone who takes the time to answer!

I'm missing something. I set my city, pinned to the start screen and all it shows is 1:CLOCK. How do you get it to show the local time?

The app currently does not have any live tiles. We will not be adding tiles for the time zones as they could be off by 30 minutes or more based on when the phone allows background agents to work.

Thanks. Realized the time delay after my post. Thanks for prompt response. Refreshing.

Crap app. Incorrect time for Hyderabad and Cape Town. Cannot trust the app
Windows Central Newsletter
Thank you for signing up to Windows Central. You will receive a verification email shortly.
There was a problem. Please refresh the page and try again.