#2InstaWithMassiveLove, an Instagram client not to be overlooked, especially for Windows Phone 7.x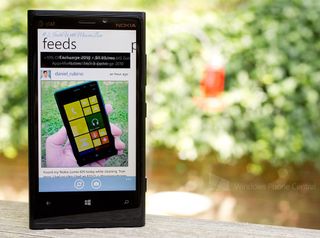 Instagram has been a hot topic of late with the Windows Phone community. We have Instagraph that was the first to find a work around to let us upload photos to Instagram by loading images to their servers first, then to Instagram. Instance (formerly known as Itsdagram) was the first to crack the code and allow for direct uploads.
While all this was going on we had another Instagram client following along in the shadows. #2InstaWithMassiveLove is a fully featured Instagram client for Windows Phone 7 and 8 devices. You can view your feeds, view your profile, upload images and even order prints.
We did run into a few bumps in the road while giving #2InstaWithMassiveLove a try, but overall it's a fair option to consider when looking for a Windows Phone Instagram client.
The main pages of #2InstaWithMassiveLove covers your Instagram Feeds, Popular Instagram submissions, and a keyword search for members and hashtags.
Up under the three-dot menu you'll find options to log in/out of Instagram, view your profile, change your password, view the about screen and print your photos through Pixaroll (opens in new tab). At the bottom of the main pages are two control buttons. One to refresh the screens and another to start the upload process.
As with most Instagram clients you can choose to upload existing photos or capture a new image to upload. When you decide on a photo, you'll be sent to an Aviary Photo Editor where you can crop, adjust, add filters to, and tackle other editing tasks. Once complete you can upload, save the image to your Pictures Hub and choose the Pixaroll printing option.
For the most part, using #2InstaWithMassiveLove was a pleasant experience. There were times where I experienced a little bit of lag time with page refreshes but that could easily be due to my data connection.
I also had problems launching the upload menu. There were several times that I received a "can't connect to Instagram" errors when I tapped the upload button. It took a few times to log out and back in to clear this error. While the error cleared, I can see this being frustrating while your out and about snapping photos.
All totaled, #2InstaWithMassiveLove is a decent option to consider. Having the Aviary Editor is a nice touch and an option to get your images printed could come in handy. I just wish it had a shorter title.
There is a trial version available for #2InstaWithMassiveLove to let you try things out before buying. The full version is currently running $.99 and you can find #2InstaWithMassiveLove here in the (opens in new tab) Windows Phone Store. Windows Phone 7.x and Windows Phone 8 supported.
George is the Reviews Editor at Windows Central, concentrating on Windows 10 PC and Mobile apps. He's been a supporter of the platform since the days of Windows CE and uses his current Windows 10 Mobile phone daily to keep up with life and enjoy a game during down time.
#2instawithmassivelove has better filters than Instance, but i don't really like the design.
I don't know, there is something rough in its design. Instance is more elegant.

The app is just poor. It screams amateur rush-job. True aviary filters are better than instance but I'll choose sophielens+instance over #2instawithmassivelove any day. Avoid this app at all costs.

Amateur. Exactly. In all realism, how hard would it have been to make a real icon and move the panorama controls?

agreed '-' that icon screams "amateur" everywhere! not even close to the professional look of Instance or Instagraph!
it's hard taking an app seriously when not even the icon is serious lol this is an app i would just ignore while scrolling thru the Store!
the UI is not bad but it's extremely unpolished!
definetly a no-no! i would expect a more professional, polished look from a paid app!

For a second, I thought you were talking about #instawithlove

I'm liking Instance enough to not feeling up to trying this. Wishing it had more filters though.

one more hour for the next thing i heard :)

You think they'd announce this RIGHT before the official app...? Nah. Don't think so.

Well sam said something big is coming :) - edit: probably that halo thingy

I'm thinking so. I also think that if they announce the official Instagram app (which will most probably be free), they'd not announce yet another paid-for app like this one right before it.

Just wish #2instawithmassivelove had something that would make it better than instance.. We need something to separate these, they can't all be the same!!

Not bad. Instance is smoother

Guys, considering we, wp 7.x users, only had instagraph (paid app) this is a great alternative.. I use the new app to upload pictures and metrogram for the rest.. Yes, it might take two apps but thats what we have! Hahah

I've been using this app for a while (since around the time Instagraph came to 7.x) and I've never been able to get the upload working.

Try logging in and out a few times, it worked for me.

Gave it a try, hmmm not much exciting. Could be better metro style but i see so many blurrr things... Cant upload...

Cant upload...it keeps on giving an error: Error acquiring Instagram authentication ...and does not allow to upload..!!
Dev ..fix it plzz..

EDIT: after a couple of log out - log ins..the upload feature is working !!!

Instance took too long to make for 7.x. Sadly im purchasing this one.

Hold on !! seems none are able to upload using this app..I read a few reviews on the store also...that since last update cannot upload any pics !!

EDIT: log out log in a couple of times, and then upload worked for me !!

It just needs to authorize a few different things with instagram and can only do one per login. Login a couple times till instagram stops asking you to authorize and it works just fine.

Do it, instance doesnt want us. This app is awesome. Dont worry about problems.... If happens, just reinstall. I never had those issues.

Too bad none of the indie instagram apps have filters, which come even close to the real app. Even the Nokia app seems like a poor attempt.

Next version of Instagraph will add the original Instagram filters, but don't tell this to anyone, it is a secret ;)

Tour Secret us safe with me. It sounds really great.

Honestly, I'm not too impressed with the instagram filters from the official app. Maybe because I was already spoiled by the awesome Fhotoroom. I also like the filters from instance better than instagram's, but that's just me.

Fortunately WP is plenty of awesome filter apps, I agree with you :)
Many users wrote us asking for original filters, so we are adding this option too.

Instance filters are ass!! Are you crazy??

Is there an #toinstawithindifferenceformethoughIthinkitwouldbegoodfortheplatform app?

Crash frequently on my HTC Titan

i prefer WPGram! Beautifully designed! It just needs the ability to upload :D

Seems like a nice app but terrible/unoriginal name

Well I downloaded the trial of the app, tried to register an account (as it said in the description, you can register) the app told me the username was already taken, then I tried a different username it gave me that I can't register more than one account on my mobile.
Conclusion: Utter Rubbish.

Same here. Error your instagram software is out of date.

to be honest never been an instagram user nor an instagram fan, but everyone having it and for it not working on my WP7.8 device is really irritating.

I'm all instagrammed out.

Someone can please explain me why my paid version of instance doesn't show me any notifications? Of course I set it in background and enabled all the option under setting....what else I can do? I tried also to uninstall the app and reinstall it again but no lucky!!!! Please help, other than that great app!!!

I use this app since Instance, itsdagram, doesnt want to develop for wp7.x and i can say is really good experience. Never happend all those problem than everybody said. Best thing: its free, works! And now, i will not going to wait for Instance any more.

I can not understand why wpcentral.com never write about this. This app its older than Itsdagram and works for wp 7 and 8. Mmmmm

I like this app, i have it on my Lumia 800, but i can't comment photos, search friends, search tags, etc... The developer should change the title and the logo... Something like "Instagram client". Waiting for a big update.

Is on the way with comment etc :)

This app is cool! The ui should be changed a little bit, something more atractive. :)

Its practically a free app since the description says trial has no limitation. Buying I guess lets you donate if you think the app is worth it. At least now, pre wp8 phones get to upload too!

Won't let me register account via app option.

I cannot upload the photo ......

It says too many users registered on this device O.o

I came here looking for reviews of the app, but had to give a shout-out to the picture of Samford Hall. War Eagle!

Why I can't connect this app to my FB? Keep receiving Error: Given URL is not allowed by the Application configuration...

same problem here, ANYONE HELP¨! can't connect to FB. Given URL is not allowed by the app config!?

One of the major problems with Instagram is the fact that it Does Not upload videos. A lot of fans of windows phone like myself are very disappointed with that Simple fact. Change that and we will really Appreciate It. Thanks
Windows Central Newsletter
Get the best of Windows Central in in your inbox, every day!
Thank you for signing up to Windows Central. You will receive a verification email shortly.
There was a problem. Please refresh the page and try again.