Acer Aspire One Cloudbook 11, with Windows 10 and 32GB of storage, launches for $189.99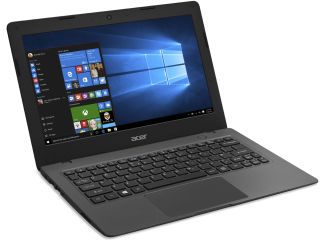 Acer has started to sell one of its Aspire One Cloudbook 11 laptops that was first revealed by Microsoft in July at its Worldwide Partner Conference. The notebook, with Windows 10 pre-installed, can now be bought with 32GB of storage for $189.99 at Acer's website.
You may remember that Microsoft and Acer promised to launch a version of the Aspire One Cloudbook 11 with a price of $169.99, but that version is supposed to have just 16GB of storage. The model that's on sale now has double the internal storage for $20 more. There's no word on when the 16GB Aspire One Cloudbook 11 will go on sale.
Both versions weight 2.54 pounds and have an 11.6-inch display with a resolution of 1366x768. Both also have the same hardware specs, aside from the storage. There's an Intel Celeron N3050 dual-core processor with a clock speed of 1.6GHz, 2GB of RAM, a VGA webcam, a USB 2.0 port, a USB 3.0 port and an HDMI port. The 4,200 mAh battery is supposed to last up to eight hours. Acer is also offering buyers a free one-year subscription to Office 365 Personal, which normally costs $69.99.
Acer also plans to launch a 14-inch version of the Aspire One Cloudbook, with 32GB of storage, for $199.99 sometime in September.
Check out the 32GB Acer Aspire One Cloudbook with Windows 10 (opens in new tab) ($189.99)
Via: Liliputing
Windows Central Newsletter
Get the best of Windows Central in in your inbox, every day!
Waiting for one that is less than a kg!?

its cheap, plastic is heavily

With the inability to sync OneDrive to separate storage these 32GB devices have become irrelevant to me.

thank god, we have a Universal Onedrive app coming soon :-)

And the source for that info would be?

Microsoft outed a development plan for OneDrive on Windows, W10, iOS and Android some months ago.

A universal app isnt going to solve the Onedrive problem until they bring back placeholders.

Oh my god I don got a place holder its stupid

Yes, it is stupid and many of us dont like it.

That's so true! With all the great changes, they really damaged OneDrive in Windows 10. Everyone is complaining, is Microsoft listening now?

Dont know about you. My onedrive is on a different hard drive then my os in my desktop.

On my laptop, I can keep all Onedrive files on my HDD (OS on SSD), but this is not something I can do on my SP3, so there really is no solution other than the web browser right now, which is a horrible solution to something that was intimately integrated before.


Noob question..How did u do that

You'll probably be left with less than 10GB of space after the OS and updates have installed, then your own apps and data. Complete waste of time.

Windows 10 only consumes roughly 9GB. These types of devices are rather good for those who are on a tight budget, or those in emerging markets.

You're saying 32GB Win tablets are a waste of time as well?

It's called a CloudBook. You're supposed to use the cloud for storage, not the device.


And yet OneDrive for Windows 10 took a huge step backward by requiring full copies of everything in the OneDrive folders be on your local drive. How the heck are you supposed to manage 15 of music, photos, and videos, nevermind the small collection of other documents? Constantly change OneDrive settings to select which folder to sync? Sorry, but this is a breaking change for anyone with a 16/32 GB Windows PC.

It's not required at all. You can choose not to sync certain folders. It works just fine, even without placeholders.

Choosing not to sync a folder means you don't see it at all. That's not even close to the solution offered by placeholders where you could see the file and it was downloaded on demand to prevent excessive disk use. Additionally with no syncing of the folder you can't add files on your laptop to be auto-uploaded to the cloud side of your OneDrive and have to rely on the browser based solution which is no where near as integrated as the old OneDrive placeholder solution. I understand that there were issues with the placeholder solution too but I agree that it's short sighted to completely remove it (not even offered as an option) without an acceptable replacement. Offering small disked devices such as this with Windows 10 branded as a "cloud" device without an integrated cloud solution is not a good play for the manufacturer or Microsoft as it will just breed frustration.

I would not rely too much on the cloud for frequently used files. I mainly deal with office documents plus some images. So I can live happily with a 16GB device. Why complain not enough storage for a budget device???

after the upgrade , it keeps the old windows files in case you want to downgrade. You can completely wipe them in manage storage space apps. Mine around 14 gb got free. DVP8 here

I'm syncing without issue to my 128GB micro SD card....
Just requires some symbolic links to get OneDrive to function properly. V.easy to do (go and look it up on Bing)

Shouldn't have to do this, not when Win 8.x let you sync without creating symbolic links.

this is a poor substitute. for one thing, it still occupies space on drive C even with symbolic links. Microsoft knows this is a problem and have officially said they're working to add external card support. And some normal guy is going to buy one of these machines, stick in a memory card, get the message that you can't install OneDrive on the memory card, realize that the machine will have so little space after a few files, that he's going to return it ASAP. This should've been a priority from day one if they want Windows 10 on machines with so little storage. Windows 8.1 is still the best OS for small footprint machines.

You can sync to SD card. You need to add the card as a folder into a main disk, some say it works with VHD, too. The best of course would be if MS went back to the 8.1 solution with placeholders.

My OneDrive is now on my SD Card.I followed a tutorial I found on the net: www.surfacetablethelp.com/2015/03/change-onedrive-folder-location-to-sd-... (the second option works with me)

This is pointless without OneDrive Placeholders. Innovate and then backtrack. How stupid. Can't tote this as a cloud device with small storage when OneDrive doesn't sync like it did in Windows 8.1. Oh and even if you wanted to access files all the time and still didn't want it local eating up space, you could! Used to have full access to the entire contents of my OneDrive which has close to 100GB of data. Look at a 16gb Win 10 tablet and your screwed. Budget devices which sell more than expensive ones, has small storage. At least in Windows 8.1, it worked flawlessly with that much data because of placeholders. Now..... ROFL

and touch screen with ips display.

And an NVIDIA graphics card

And a faint smell of urine

And a gold plated keyboard.

Im no everyone. Just 4gb RAM

It needs faster processor. Surface 3 runs great with 2GB of RAM. Quad core processor would be great.

You know a lot of programs don't benefit from more cores. Better performance per core would be better for all day use like web browsing and office tasks.

If it's using 100% CPU doing basic tasks then it's not fast enough. I have better chance not hitting that 100% with a quad core.

And came with a free surface pro

Will there be a #askdan for this week?

For this? Seems cut and dry, speaks for itself.

Ive been looking for a 14" Office machine for around 199, I think this might be it..

Except if you read the article, they're launching a 14" one for $199

Waiting for the hp version.

Hmm...might be good for my youngest niece...

Well it my work for Primary students! But I doubt about 32GB, might be coming with 24, 22GB around!

I never understood how it works for students. They need Office, AutoCAD, Maya, TV show and movies occupy 1 GB and 4 GBs respectively.

Primary students using AutoCAD? What school are you talking about?

Spent a while missing place holders but not anymore, they take up loads of space. Sync folders is better and I mapped a network drive for one drive to be like the place holder system - the spacebl

Not really, each place holder is roughly a few kilobytes.

And yet, loads of android and chrome devices ship with 8 or 16. Apparently SOMEONE buys them.

Funny, because you would expect cloud utilization to increase over time as data networks develop. So really, you should be like, "32 GB? What is this, 2019?"

Yes, but not everyone has superfast LTE or unlimited mobile internet. If anything unlimited internet is going the way of the dodo, less and less carriers are offering these at consumer friendly price points.

It's 190$, what do you expect?

Is there an SD or mSD slot? Even budget W8 tablets had that.

According to Acer's site.... "expandable using the SD card slot"

I have hp stream 14.its more like a Chromebook than actual laptop and I wouldn't expect that from a 199 euros device.after installing win 10 and even resetting device you are still left with barely 16gb of free space.if one can say battery life I pretty great for nearly 5 hours of moderate usage.

That's pretty poor Imo... 5 hrs with moderate usage. As what you deem as moderate would most likely be interpreted as low usage by some.

This device has Windows 10 pre-installed and it's using smth called WinBoot to make the OS occupy less than 4 GBs. Doing a clean install if W10 will occupy 15 GBs usually.

Anybody know how the Intel Pentium's and Celeron's like the one used here compare in performance to the BayTrail Atoms (Z3xxx series) and the even newer X3, X5, X7's? Are they generally better?

Yes, as long as it runs windows 10, which it does. All you need is the Xbox app installed.

Wondering if this will come with the quick boot up time, and built in virus protection like a Chromebook. Posted via the Windows Central App for Android

Windows has had Windows Defender built in since W7.

Beefed up in 8.1 to be a true AV

2gb of ram..... My phone has more. Posted via the Windows Central App for Android

Your phone likely cost more too.

But can it run Fallout!? /S

Yup it can even run gta 5 at 60fps

When is MS supposed to release the update allowing Win 10 app installs on an SD?? Then I'll feel better about even 16GB devices...

Hopefully coming in the fall update.

Are Acer laptops still having that Pokki adware pre-installed? Because it took me several hours to get rid of all the traces of it (over 3 user accounts). A real pain in the arse.

Just curious, how long ago was that? I'm typing this on a 2009 Acer laptop and I've never heard of Pokki

I gave up, I just wiped it clean and went signature edition style..

Old asus x205ta is lighter, better battery, keyboard is bigger and looks better. The only thing is 1 usb 3.0 port. And new eebook models from computex 2015 gonna be even better.

I agree, the Asus x205ta from last year is a much better device.

Until they fix OneDrive in Windows 10, these 32GB and 16 GB machines are worthless. I can't believe you can't put OneDrive on external memory cards any more. Add to the fact that they removed placeholders...

1980 wants its display back.

I've been testing a 16GB/1GB 8-inch Archos 80 Cesium tablet for the last week, upgraded from Windows 8.1 to 10. Never mind the update procedure which was a hassle due to the lack of storage, the fact that you only have 16GB is just ridiculous. I have only 1,5 GB of free storage left having installed only 10 Windows Store apps and no desktop apps at all. The upcoming Windows Updates will probably fill up the 16GB in the near future. Yes I have a 32GB sd-card installed, but that storage should integrate seamlessly with the onboard-storage without the user needing to manage the location where files or apps need to be installed to avoid filling up the main storage and turning the tablet into a useless slow computer. Also the 1GB of RAM is really not enough, having also used a 2GB tablet before the difference is enormous. Apps are slow to open and switching between them is one big stuttering experience.

i am using Asus eebook x205 with 32GB SSD and Windows 10. It has more than 15GB of free space with office installed. the system run super fast for basic task like internet browsing, wathcing movie, editing docs...I have 32GB microSD card installed too and I am more than happy. My last laptop had core i3(2nd gen) and I dont regret buying this laptop which has more than 8 hours of battery backup.

I have the same laptop for movie watching, travel, etc and I agree it was an excellent purchase for the price and windows 10 runs with no issues.

At least it should have sd card slot .. Posted via the Windows Central App for Android

If you look at the specs on Acer's website, you will see that it DOES have an SD card slot.

This looks like a great starter laptop for elementary level kids. Once my niece is of age I'd look at getting her something like this to use until high school age when she'd be ready for something beefier. Too many of the people commenting here are completely missing the point of a product like this. Not everything is about you, the power user. No one is expecting you, with 80 gbs of photos, videos and music in your OneDrive, to use a 32 gb machine. They make laptops for that. You guys are falsely conflating the idea of having to use this with your normal life. This is for emerging markets, the child market and possible the senior market who only shares chain emails, watches videos emailed to them and plays Facebook games. There are other needs in the world besides yours.

This product makes no sense without place holders. More or less useless

When can we expect a review? My saved up lunch money is burning a hole in my PayPal account and I'm losing way too much weight.

Windows 10 keeps disconecting from WiFi. 2) Windows 10 has to be signed into a microsoft live account during setup to get to the desktop. You must have a Windows live ID to even access the your machine whether you are online or not. You can enable Administrator account after setup. You must have a windows live ID to complete set up. They're taking over the operating system. 3) will not set chrome as default browser. 4) Has problems wit midi (Windows 10) I must try to experiment and backtrack to 8.1 Windows 10 is the beggining of microsoft trying to force the world to run everything through them. Windows 10 watches everything you do and relays it back to microsoft.
Windows Central Newsletter
Thank you for signing up to Windows Central. You will receive a verification email shortly.
There was a problem. Please refresh the page and try again.