Acer Aspire One Cloudbook with Windows 10 coming in August for $169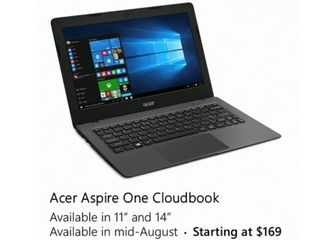 Microsoft used its Worldwide Partner Conference to reveal that Acer will launch a new budget-priced Windows 10 notebook, the Aspire One Cloudbook. The notebook will go on sale sometime in mid-August for the starting price of just $169.
The notebook was revealed as part of Microsoft's second keynote address at WPC 2015 in Orlando, Florida by the company's chief operating officer Kevin Turner. Other than the fact that the Acer Aspire One Cloudbook will be released in 11-inch and 14-inch models, no other details about the notebook were revealed.
Turner used the example of the Acer Aspire One Cloudbook to show that Microsoft's OEM partners can produce cheap Windows 10 notebooks to compete directly against Chromebooks that use Google's Chrome OS, while still offering more features than the typical Chromebook.
Source: Microsoft (opens in new tab)
Thats sure cheap! It wil give those Chromebooks a run for there money in the low end segment

I still don't understand why people buy them. They are locked down, with no programs and barely any features.

I personally don't like them - however, I have had to factory reset my Asus T100 twice now. & I need to keep on top of temporary files with Glary etc on a pretty regular basis.
Chromebook needs no maintenance at all.
Good for some users out there (just no good for me!)

Asus T100 owner here. Zero problems. Regards.

The T100 was terribly unreliable. I had one with a bad SSD, then the replacement had a bad wifi card, they then turned down my warranty claim. I now have a useless T100. Last Asus product I will ever buy.

Sound like a manufacturer problem to me. That's why the cheap unit are for children kung of like most people purchase their children a user car instead of a new one the first time because children can be careless/reckless

Consider someone that want's to do nothing but use facebook, brows the web, and get email. They work well for that group.

The problem is that you go into Best Buy and you see 50 PCs that would also work well (and in a lot of cases better) for that group. The Chromebooks in my local Best Buys are always on the back wall in a corner, and I never see anyone go back there to look at them.

Well it's about time someone else got the treatment Windows phone get in cellular stores. Sound familiar anyone???

If those are the only thing they use, I think a powerful tablets (midrangers which sub USD200 will do) are more useful. Lighter, more portable, and has next-to-none maintenance effort.

Next to none, as opposed to none with the chromebook. I tried to get my grandmother to get one because she regularly messes up her PC and I am sick of having to travel to her house to fix it. They have their place.

Set granny up with a non-admin account in Windows. She wont be able to mess it up and she will still be less locked down than a chromebook user. On a side note, it always amazes me how many people give their kids admin access to the family PC and then complain about Windows when it gets trashed.

Again why someone will use shitbook where he can get Windows at lesser price but with outstanding performance

People buy them? ChromeBook sales in 2014 (last year) totaled 2.1 million for the year. Most of those went into the education channels. The Google sponsored press may gush and spin, but in reality Chromebooks make up less than 0.1% of interent attached computers and are perpetually lumped in the "Other" category on market share trackers. Even if all 2.1 Million of them went to the US education market it would be barely a blip there. They are pushed hard by a few zealots and are used by almost no one. Microsoft is right to head them off early.

Ya Google tries hard to make people believe windows phone is a failure that should not be supported, yet compare the number of windows phones out there with the number of chromebooks and you see who the failure is.

Excellent man... I really like your idea

Who buys Chromebooks...? Never seen one in real life.

Schools and Unis love them. They're cheap and they know where the data is going. And kids can't piss around with them.

You talking about Windows phone ;) just kidding!

Locked down... yes you can not run win32 programs on them, this is true, but you can run chrome apps on them. As Web 2.0 matures you have to understand that the need for locally run applications will slowely start to deminish. You can do almost all tasks in a web browser, unless you play hard core video games. I bought my wife a chromebook and its awesomely fast always - no slowdowns. In contrast I bought a PC for my step-father and the thing is crawling, even with better specs. Chromebooks are great unless your playing games or doing video editing. Gimme a chromebox that can hit three screens and you have sold. Just my opinon though...

Not defending it, for any reason, because these days, Google is defanitely evil............but if you dont need a computer for anything other than using the internet, then a chromebook is not a terrible thing. But, and its a BIG BUT........if you could get a full Windows PC for the same price, or even less, there is no compelling, and i mean, not a single reason to buy a Chromebook over a full Windows PC.

comparison of Windows to shitbook is a sin..

Yup. Chrome books are crap

I might get one of those for my little sister. It will be useful + really cheap

The race to the bottom, the post-netbook edition. Either way, screw Chromebooks

The issue is if it's only 32gb, they need to make it so that you can install onto Your SD card, the option is there in window 10 but not activated yet.

I'm looking forward to this feature (I use an Asus T100 as my main/only computer. The lack of space for apps & HERE offline maps is a real pain!)

I'm doing fine with three 32GB Windows 8.1 devices. If you don't store large amount of videos or install gobs of big games, 32GB can be sufficient.

Chromebooks suck my pants

$169 = ₹10730 .. It costs only ₹1000 higher than Lumia 640 .. This thing will sell like hot cake in India for sure.. Way to go MS

This is great news. I'm sure other vendors will follow suit too. We got our daughter an HP Stream and she absolutely loves it. These kind of devices and a successful Win10 launch will really kick MS into a whole new level of success.

Why buy a Win10 license when this is roughly the same price?

licenses can't be transfered from one machine to another...

Ah ok. But what if the hardware breaks, should the purchaser not be entitled to the software they paid for?

NO.
As long as i know ( not an expert ), if you have warranty they replace the whole hardware. I don't fully get licenses management since windows 8, but i get your idea, and it should be an option. Mean while, better try to do it with a Windows 7 license and do the free upgrade before is gone.

you didn't buy the SW... you bought the HW which was licensed for the HW...

Windows with Bing. OEM cost on screens smaller than 10" is 0.00 larger than 10" is 19.99. It's rolled into price but technically you only paid 20 for the non-transferable license.

Windows 10 vs Chrome OS? I would obviously choose Chrome OS, best thing ever made!

App gap is there in Chrome O.S , Why should Google have all the fun...?

I think he was joking. At least I hope

Okay, we got it, you are dumb if you are serious

After 7/29, 'W10 compatibility' would become the most important feature for any computing devices.

I wish that were case - I do. I like the vision of Microsoft and windows with an adapatable operating system. Unfortantely i think they are two years too late.

If its the best thing ever, why are you in a windows forum instead of Android/chrome book forum...... Enough said!

We need to get touch screen models down to these prices.

We're all forgetting one important issue: Chromebooks don't really work offline.

Chromebooks would be useful if people knew how to use Ubuntu, there is a way to turn Linux on these machines, but unfortunately, the majority of population would not know how to use a OS like Ubuntu which is more familiar with the geek/developer community.

I'm not sure I'd say Ubuntu is difficult to use. If anything it's easily one of the simplest to use of Linux distros.

It's Acer, so it probably will die after 3 hours off the plug. Seems to be the usual case with their Laptops.

It will probably give only 2-3 hour battery life. The main advantage of having a Chromebook is battery life. A similarly priced Xolo Chromebook gives 10-12 hr battery life, boots up in 10 seconds and mostly performs well with web browsing. These are the only things one would prefer a Chromebook over a Windows laptop.

I guarantee it will have more than 2-3 hours of battery life. It's basically a cheap tablet with a bigger screen and keyboard, so, less battery life than a tablet, but probably decent compared to a chromebook, especially considering the added performance and features vs. a chromebook.

Guess what, my Acer Aspire One from 2008 with Windows XP is running fine as my secondary device (portability). My primary device is a brand new Dell Inspiron 5548 with Intel Core i7 5500U CPU, AMD R7 M270 graphics with 4GB of memory + 8GB of RAM and 1TB of hard drive space. But for a secondary device I can use something old from Acer that just works. It has 1GB of RAM, Atom CPU (1st generation), 250GB of storage space. I use it as my secondary device since it runs full desktop programs I cannot run on a Windows Phone device (Spotify, last.fm, Windows Media Player) and I also play some old games which were very popular (Age of Empires and World of Warcraft).

I have a $240 Acer Windows 8.1 laptop that gets about 6 hours. It's super thin too. You need to upgrade your experiences from the 2007 era when you last had one and 3 hours battery time was normal.

Nice to see Acer is going to the starting PC market with $169 devices, this probably means Intel Atom Z3735G, 32GB eMMC storage, 1GB RAM, 1280x800 display. Windows 10 is much better than ChromeOS so this should put an end to Chromebooks which are just a browser, a Windows device with this specs on the other side is very useful at school since it runs Office, math software like SciLab, design software like Blender/Gimp, etc. Great job Acer!

Here lies the problem....,"cloud......" I do not expect a lot of internal memory with the thing,

Oh how I wish cloud was only secondary. I really prefer my local storage. For many many reasons.

Exactly. People are expected to store their data in the cloud if they're gonna use this device. Anyway for the price, it should be a decent computer.

So many solutions:
USB memory, USB hard drive, SD card, NAS ( not a fan, but it can handle storage in home as a champ ), even your phone can relieve a little to that, and because your phone is always with you it can be very useful

Any comparison of Windows to shitbook is a sin..

Hope it has 5ghz WiFi band for some Xbox one steaming

Are there any Windows netbooks with a battery runtime of 12 hrs and above?

my library all have chromebooks and ipads and they all work very well

It would make me so crazy happy if these New Aspires used one of AMDs new LV APUs like the new Carizzo which can steam h265 video - ie, the same format the Xbox One uses for streaming games to Windows 10! (I am a dreamer)

If they can offer the 14" version with 4 gigs of ram and a bigger hard drive, i could really see that as a good selling point. Too many devices with 32gb system memory and only 2 gb of ram.

Please, pretty please let it have a decent resolution like 1080p, 1366x768 and lower belongs back in the 1990's...
Windows Central Newsletter
Thank you for signing up to Windows Central. You will receive a verification email shortly.
There was a problem. Please refresh the page and try again.