343 Industries confirms Halo 6 in development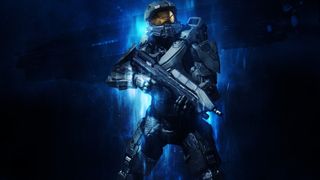 A few days ago, Microsoft announced that Raw Thrills and Play Mechanix were building a new arcade Halo experience called "Fireteam Raven". Even though Fireteam Raven is effectively a licensed product, somehow many individuals thought that 343 Industries was building arcade cabinets now. Luckily, Brian Jarrard, the Community Director at 343 Industries, clarified the situation. GameSpot compiled his posts on Twitter.
Jarrard assured fans that Halo 6 — or whatever the game might be called — wasn't impacted by Fireteam Raven because the cabinet is not being manufactured by 343 Industries. He also confirmed that the studio was working on the next major console game. Just like the Halo books and toys, the arcade product wasn't being created instead of the next major installment in the franchise.
PSA: Fireteam Raven has zero impact on the 343 development team which has already been working on the next console game. H:FR is built by an external arcade developer. Just like the Halo books or toys aren't being created _instead of_ the next Halo game. Plenty to go around 😉PSA: Fireteam Raven has zero impact on the 343 development team which has already been working on the next console game. H:FR is built by an external arcade developer. Just like the Halo books or toys aren't being created _instead of_ the next Halo game. Plenty to go around 😉— Brian Jarrard (@ske7ch) May 18, 2018May 18, 2018
Hopefully Microsoft will announce Halo 6 at E3 2018 with proper gameplay footage. Halo 5: Guardians launched in 2015 and the franchise typically follows a three-year development schedule.
If you can't wait for the next Halo game, be sure to check out Halo: The Master Chief Collection. The complication was quite a big deal when it came in 2014. For the first time ever, Master Chief's entire story was available on one console. The game features a remastered Halo 2: Anniversary, along with Halo: Combat Evolved Anniversary, Halo 3, and Halo 4. If you love Halo, or love first-person shooters in general, this is the definitive package to own.
Keep an eye on WindowsCentral.com/Gaming for all the latest in Xbox and Windows 10 gaming, accessories, news, and reviews!
Asher Madan handles gaming news for Windows Central. Before joining Windows Central in 2017, Asher worked for a number of different gaming outlets. He has a background in medical science and is passionate about all forms of entertainment, cooking, and antiquing.
Hopefully a Play Anywhere title. Then it will be my first Halo Game ever, besides the strategy one

Considering that all new games published by Microsoft Studios are Play Anywhere, I would say that it will be both a Play Anywhere game, and available on Xbox Game Pass.

I don't know if they'll do that with their flagship franchise.

Do you think that Halo is really ant different from Forza keep Gears to Microsoft and the Xbox brand?

I hope for, but the problem is that halo franchise itself sells xbox consoles, so I think a play anywhere it will never happen.

The original and 2 on PC aged quite badly. You can still play on PC both RTS and both shoot-em'ups, which are quite good.

Well they need exclusives...

Hopefully get a Sneak Peak at E3!!!! 😛

They said to be working on Halo 6 for years now. :)
http://arcadesushi.com/halo-6-in-development/
http://whatculture.com/gaming/halo-6-confirmed-343-industries-planning-u...

I hope E3 brings the announcement of Xbox games on Windows, making Windows 10 PCs able to play Xbox games. It would be a true expansion of Play Anywhere. Windows 10 could have an Xbox mode, like Steam Big Picture, that brings up the Xbox One UI on your computer, allowing you to play any installed games. I have Halo Master Chief Collection and haven't played much due to not being on my Xbox much but I am always on my laptop and it would be nice to play any of my Xbox games on my Windows PC and not just the Play Anywhere titles. Having the entrie Xbox family (Xbox, Xbox 360, Xbox One) on Windows would be huge! Side note: I wish Sega would release a Dreamcast emulator or virtual console to purchase the games or atleast re-release their own Dreamcast games for new consoles, Windows, Android and iOS. Many IP. So waste. Wow.

This has been known for a long time now... Bonnie Ross and other 343 employees have openly mention the "next Halo FPS" (i.e. Halo 6) as far back as E3 2017 on Twitter, HaloWaypoint, and various forums - and even farther back than that.

To be fair it's Asher Madan who wrote this article.
So in my opinion, either he really was clueless about or didn't know that MS were working on this. (which would not surprise me) or he is just trying to create fake hype and excitement around this game (which would not surprise me).

Fireteam Raven doesn't concern me anywhere near as much as how bad the Halo 5 campaign was. That 343 IS working on Halo 6 makes me more worried about the game.

Same greviances here, I hope that the campaign will not be bad like last time and... maybe bring back the fighting spirit of humanity, I cannot see anything hapening with the marines it is only the Spartans you have to clearly separate them from the normal troops to show that the Spartans are the badasses not any of this IV stuff.

Also, Blue Team? Scrap those guys. They just normalize the Spartans, not very interesting like a clouds on a sunny day just doesn't work in my mind. Same with IVs.

When you wish you could delete a comment sorry bad mood

They have not even fixed MCC, bit salty on that... and for the remastered version they did not redo the blow me away song... sorry guys a bit salty.

No chance halo 6 comes out this year. We'll probably get a nice teaser trailer though.

I'm still enjoying Halo 5, but looking forward to 6.
Definite pre order / vacation day planned for launch...

Give this video a whirl
https://youtu.be/gDqiYii_-pw
Compromise for Halo 6
Windows Central Newsletter
Get the best of Windows Central in in your inbox, every day!
Thank you for signing up to Windows Central. You will receive a verification email shortly.
There was a problem. Please refresh the page and try again.