Halo: Fireteam Raven is the new arcade game you never wanted
Microsoft has announced a new Halo title arriving this summer – but don't get hopes too high.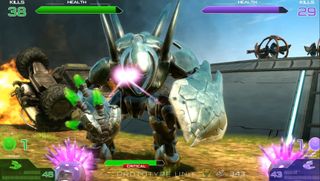 Halo fans, rejoice – Microsoft has announced a new entry to its hit shooter franchise, scheduled to launch this summer. Three years since the last major title, "Halo: Fireteam Raven" lays its focus on a group of ODST soldiers during events parallel to Halo: Combat Evolved. Featuring iconic scenes at 4K resolution with four-player split-screen, the game offers a variety of features desired by long-term fans. Move over Halo 6, here comes the… Halo coin-operated arcade machine.
While development on the next Halo game is firmly under wraps, Microsoft continues to expand the Halo universe following investments in mobile, virtual reality, cinema and now, arcades. Developed by Raw Thrills and PlayMechanix, Halo: Fireteam Raven is a paid arcade cabinet under a collaboration with 343 Industries. Capitalizing on established Halo lore, the game offers a casual spin on Master Chief's origin story.
With a 130-inch 4K display and four turret-mounted guns, like many arcade shooters, Halo: Fireteam Raven is built for four-player cooperative play. Players will work together to defeat enemies through an on-rails experience, across locations from the first game. Halo Waypoint users can also share high-scores on the service, using a scannable QR code presented after a session.
This move likely won't sit well with veterans of the Halo franchise, as Microsoft continues to cater to a market outside of its Xbox One console. Halo's competitive scene is in disarray, Halo: The Master Chief Collection is still being fixed and with little on the franchise's future, it's hard to maintain faith. Despite involvement in this project, 343 Industries' resources are still concentrated on the next major Halo – but it's still not a great image for one of the biggest names in gaming.
Microsoft is gearing up for a launch of Halo: Fireteam Raven in the coming months, at Dave & Busters across the United States and Canada. Expansion to further locations is also planned for later this Fall.
Matt Brown is Windows Central's Senior Editor, Xbox & PC, at Future. Following over seven years of professional consumer technology and gaming coverage, he's focused on the world of Microsoft's gaming efforts. You can follow him on Twitter @mattjbrown.
" you Never wanted" got to love articles that tries to speak for u. An arcade version literally has been feedback from fans for a while now. And i am one of them.

So you're going to go to an actual arcade and put coins in this thing then, yeah?

eh yeah... I mean it is something I wanted :/

That's fine then :) Be sure to tell us what it's like. Personally, the nearest town that might have an arcade that may ever have this is half an hour drive away. Which seems completely dumb. Might be different in the US but I can't remember the last time anyone in the UK was excited about a new game hitting an arcade.

America is pretty behind in a lot of things.

Wish this to come to Japan!!!

@ISO_117
"An arcade version literally has been feedback from fans for a while now. "
Really? Is that in the XBox feedback? Do you have a link?

Thanks for your opinion, but i'm a Halo die-hard fan and i'm interested in this.
Wtf is going on with articles like this?

You mean the arcade cab you "didn't know you wanted"? Because that headline is insulting as hell lmao

Yeah, as a halo fan, I'm not in the least bit offended by this. Next time I'm at D&B, if this is playable, I'll happily swipe a few credits to give it a try. I don't fully understand how this harms the franchise in any meaningful way.

"Move over Halo 6"? Why? Are you telling me that the development of this game is directly related to the development of Halo 6. How can you be that sure?

It is not. This is the issue here ppl thinks this replaces any other major announcement on next halo game, it doesn't. It is a side project has nothing to do with Halo 6 development resources.

He was being tongue in cheek.

Microsoft has got to focus on delivering strong console content at some point. It's unbelievably brutal.

Amen. Especially after Sea of Thieves and State of Decay 2 are pretty dull and repetitive in their own ways. I do however think that this will all change, I think they have learned a lesson. But it should never have gotten to this point.

This is a reason for me to go to Dave and Buster's for the first time in my life. Please stop assuming our opinions.

So instead of just being salty at Matt for having a little fun writing, does NO-ONE see this as something of a massive troll? Classic Halo, 4K60, local co-op and arcade mechanics. Except very few people will actually be able to play it.

@Richard if Making people mad is ''fun'' for Matt, that is again.. someone speaking for another. then he is doing something wrong. also who in any of the comments mentioned the word ''Troll'' ?.. NOBODY. so nobody sees it as a troll attempt.

You completely missed my point. I'm suggesting this a troll by Microsoft. Hey, here's this awesome new Halo experience. But you have to go to an arcade to play it.

There is fan around the world and I can't access this game , so to me it feels like a wast of time and money (FOR MY POINT OF VIEW) I've waited a Halo Game of long time now , and seeing this game that isn't for me and not at least on the console I've brought to play Halo ... It make me sad and I hope they announce a side Halo game at E3 👍

You heard the gaming journalist guys, you don't want that. Shut up, he knows better, he's one of the best gaming journalists out there, he finished Cuphead tutorial in under 14 minutes !

I look forward to seeing all of you posting reviews of this game you're all running out to play at your local arcade with a bag full of change.

Local arcade ? I never step a foot in those things in my life and never will. So I'm not even concerned, neither do you apparently. But you seem okay with random people telling what you want and don't want... So let me tell you what I think you want : you want a man in your life, to keep you warm in the cold nights of winter, you want him to be by your side when you're sad, you want him to confort you, you want him to tell you what you want, you want him to brutal with you sometimes... And even if you didn't know you wanted that, let me tell you, YOU DO WANT THAT !

There's no problem on releasing an arcade game, which, btw, looks pretty cool. It is just a side project and a fun one and looks like ppl are wrongly taking it as their big next game announce. The issue here is that they announced it first than whatever they doing for next Halo in a moment that fans are dying fresh news. In the middle of all this they announce a game that wil alienate a good share of halo fans, looks like a disconnection to me. This project is super fun, the time or the way they announced it was bad, imo. I would love to play it on a arcade near my house, but living in interior city outside US i know my chances are zero to none.

Yup. Would have been better to announce at E3 as a bit of fun tagged onto a "hey yeah, we are actually working on Halo 6" announcement.

I see a lot of upset people here. While I agree that the article sort of making a generalization, tries to speak for everyone and that isn't great.
But I do agree with the author. It's all about priority. I think this would have been a welcome addition if they were doing brilliantly in terms of providing exclusives for their customers who invested on XB. That would have been a cool bonus. Also, I can see few people are just fans of a company so it is just about defending MS no matter what. I really hope these people demand more from a company instead of blindly supporting them... Like someone said when it comes to exclusives we should have NEVER been in this kind of drought.
I believe people defending MS no matter what got some responsibility for that.

This might come to Ireland in about 20 years so ill ask my kids what it's like.

You hear that? That's the sound of all Halo fans crying out in sheer disbelief.

Seriously I do want this. When we go to Dave and Buster's I usually watch sports in the bar while my kids to to find hacks to get more tickets.....now I can play something too

Chances of this being released outside of North America are pretty slim which means yeah, this news is useless. Also the article is just having some fun. You know, that thing people did before they decided that everything upset them? Seriously people, get a sense of humour.
Windows Central Newsletter
Thank you for signing up to Windows Central. You will receive a verification email shortly.
There was a problem. Please refresh the page and try again.