Upgraded Halo: The Master Chief Collection preview build rolls out soon
The updated Halo: The Master Chief Collection is getting a preview version very soon.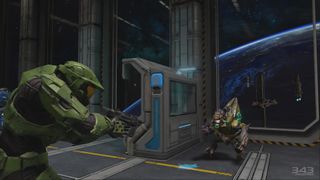 A few months ago, 343 Industries said that Halo: The Master Chief Collection was getting enhanced for Xbox One X. Aside from upgrading the resolution, the team would fix matchmaking and all the other online issues the title still experiences years later.
In an effort to let the community participate in development, the team is about to roll out a preview build to a select few Xbox One owners who signed up on 343 Industries' website. You don't have to own Halo: The Master Chief Collection to participate because the download will be unrelated. However, the developer did stress that invites would go to people who had experience with the game.
Hopefully 343 Industries will fix Halo: The Master Chief Collection this time around. The whole network code has to be redone. Accumulating all of the games featuring Master Chief is easier said than done. However, given the release of the Xbox One X and updated tools, it seems like it's finally possible.
Halo: The Master Chief Collection was quite a big deal when it came in 2014. For the first time ever, The Master Chief's entire story was available on one console. The game features a remastered Halo 2: Anniversary, along with Halo: Combat Evolved Anniversary, Halo 3, and Halo 4. You can also purchase an Halo 3: ODST add-on for the title if you like. Many owners who bought the game during the launch period got it for free. If you love Halo, or love first-person shooters in general, this this is the definitive collection to own. Plus, the Xbox One X upgrades aren't bad either.
Keep an eye on WindowsCentral.com/Gaming for all the latest in Xbox and Windows 10 gaming, accessories, news, and reviews!
Asher Madan handles gaming news for Windows Central. Before joining Windows Central in 2017, Asher worked for a number of different gaming outlets. He has a background in medical science and is passionate about all forms of entertainment, cooking, and antiquing.
Seriously? Could they be dragging their feet any more with this? If they don't know how to properly code a game, just give up and get someone else to do it.

Wow, really? There's at least 6 different game engines from 3 console generations in this game, the fact that it exists is a miracle. Not to mention they are undoubtedly working on the next main Halo at the same time, and you call them lazy? I wish it would be here sooner too, but I know they are doing their best working on these patches.

This kind of work doesn't happen overnight. At least they are doing something and not just leaving it.
MCC is not a normal title it's essentially 4 campaign games and 4 multiplayer games all linked together but running separate from the main interface. +1 for ODST.
From what I've read the scope and milestones to update the MCC title look very achievable within good time. I see no dragging of feet here, they probably have a very strict deadline to get this all sorted.

No, it doesn't happen overnight, but one could safely assume it could happen in THREE YEARS.

Can't wait to play Halo 2A with the Xbox One X patch :D

I see this upcoming update being quite special and very surprising to fans and haters alike. I've high hopes for it. Also I can't wait for it in 4K 💪

I have a quick question that hopefully someone knows the answer to. As I recall in the MC collection, Halo 4 split screen on XBox One had a reduced screen size compared to the other three games. My assumption was that as this had a lot of extra modern graphics that they needed to letter box it in order to maintain frame rate. I could be completely wrong and imagining this though. However, if I am not then does anyone know whether split screen Halo 4 on the XBox One X will be full screen?

I hope they fix the campaign cross-game playlists.

When will they release the collection on PC? Halo 2 was the last one we got, and it's locked to only working on Vista. I'm not an Xbox person, but I enjoy the Halo campaign.

After a decade of waiting, a big part of my decision to purchase an Xbox was to play the 3 Master Chief games I'd missed on PC.

I doubt it will come to PC any time soon as Halo is the biggest draw for xbox.
Windows Central Newsletter
Thank you for signing up to Windows Central. You will receive a verification email shortly.
There was a problem. Please refresh the page and try again.