Xbox One S review: Smaller and better than ever
By Daniel Rubino last updated
The Xbox One S is a significant refinement to Microsoft's gaming and media ambitions. While gamers won't find much new, those who love to watch movies are in for a treat.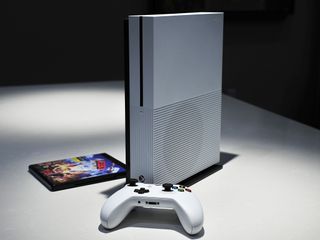 Back in 2013, Microsoft announced the Xbox One. Billed as an 'all in one' media and gaming console the $499 successor the Xbox 360 already started on the wrong foot by deprioritizing gamers. Combined with that higher price point and Microsoft had a small disaster in the face of Sony's cheaper PlayStation 4.
Since then Microsoft has done a fantastic job in righting their wrongs. They are now prioritizing gaming and they decoupled the Kinect as a requirement. In 2016, you can now buy a 500GB Xbox for just $249 (opens in new tab).
Starting on August 2, Microsoft continues this strategy with the Xbox One S. While it is not a next-gen console , the One S is an evolution of the Xbox One product line that gets a lot right. Ironically, the new iteration does little for the core gamer demographic, but for those looking to start a 4K theater, the One S is tempting.
About this review
I tested the Microsoft-provided Xbox One S over the weekend leading up to the public release of the console. The version I review here is the Xbox One S Launch Edition ($399) with 2TB of storage.
Since the benefits to the One S rely so heavily on 4K environments, I connected it up to a 2016 Samsung (UN65KS8000) 65-inch 4K Ultra HD TV with High Dynamic Range (HDR10).
I also tested numerous 4K HDR Blu-ray DVDs including Star Trek (2009), Mad Max: Fury Road (2015), and The LEGO Movie (2015). For streaming, I used Netflix 4K UHD, which is now available on the Xbox One S.
See on Amazon (opens in new tab)
Xbox One S unboxing
Want to see the box the Xbox One S Launch Edition comes in? How about me tearing it open to show the new console? This video is for you.
Xbox One S video review
New Xbox, New OS
Xbox One Summer Update is here
The original Xbox One and new Xbox One S will both benefit from the new Xbox One Summer Update (aka 'August Update').
Since there are so many improvements, new features, and changes with this OS refresh we have a separate review done by Jez Corden.
Xbox One Summer Update review: Apps and Cortana come to the big screen
Read that to get an idea of how Windows Store apps, background audio, and Cortana will continue to evolve the Xbox experience in exciting ways.
The best — and cheapest — you can buy
Xbox One S 4K Blu-ray
The biggest draw with the Xbox One S is not for gamers, but movie aficionados. That is because the One S features a 4K Blu-ray player making it one of the few options available to consumers in the summer of 2016. Samsung has a standalone native 4K Blu-ray player, but it costs $319 (a drop from its $399 introductory price). When you compare it to the starting price of the One S ($299 for 500GB version), the Xbox is a steal. Not only do you get a 4K Blu-ray player, but you are getting an entire gaming console for less money.
The 4K Blu-ray player works well on the One S. It is a relatively no-frills experience leveraging the existing free Blu-ray app available on the Store. Menus are all accessible, and it can even resume where you left off if you power down the One S.
Of course, you will need a 4K TV to see any benefit. Does it make a difference? It does especially with the HDR-enabled titles (more on that below). Still, the difference in going from HD to 4K is less than going from standard definition to HD. It is only on TVs 60 inches or higher that you can appreciate the difference with 4K. However, the technological wizardry fades the more you watch it, just how we came to accept HD as a standard rather quickly — at least until you ended up having to go back to a standard definition screen.
If you plan to use the One S with a non-4K TV, good luck on perceiving differences when comparing it to the current Xbox One.
All the colors
HDR and the Xbox One S
The Xbox One S features HDR media playback and gaming. Here is why it matters.
HDR for video is different than HDR for photography. Both stand for High Dynamic Range — in photography it means combining multiple varied exposures of the same photo to bring out details in the murky shadows and blown-out brights to create a photo that more accurately portrays what the human eye can see. Once the province of high-end photography, you can find HDR on practically ever smartphone these days.
Today, HDR is now on TVs. But instead of combining multiple exposures, HDR essentially boils down to more data being piped through to the display, allowing for finer detail — brights may be brighter and darks darker, but there'll be more detail there, too. The Samsung TV used for this review has a peak brightness of 1000 nits but can also do 'Ultra Black' to replicate the absence of light all at the same time (they call this HDR 1000 for marketing (opens in new tab).
TVs with 4K HDR support can stream content from Netflix or display 4K Blu-ray DVDs giving extreme levels of image contrast. The Xbox One S can not only play video in 4K, but it can also leverage HDR10 – the industry standard for HDR streaming and DVDs (the competing Dolby Vision standard is not included here).
Moreover, for the first time, the Xbox One can do HDR gaming. Forthcoming titles like Gears of War 4, Forza Horizon 3 and Scalebound will all feature this technology. The One S, thanks to its new AMD hardware, can handle the extra processing required for this feature. As of our review, however, there were no HDR-enabled games to test.
The downside with HDR is simple: it's cost. Here is what you need to make it all come together in your living room:
Xbox One S
HDR-enabled TV (2016 and newer models only)
HDR-enabled media content (4K DVDs, Netflix, Amazon Prime)
At least a 25Mbps internet connection for 4K streaming
You need an HDR-capable TV ("Best 4K HDR TVs for the Xbox One S"), and that is a hardware-level feature, not something that can be turned on via a software update. TVs with HDR10 support only started hitting the shelves in March 2016. Samsung, LG, and Vizio are a few of the brands that support HDR10 and already have TVs on the market (I used the Samsung UN65KS8000 for this review). Vizio has a few models that support both standards, but Samsung only embraces HDR10.
Netflix features HDR10 and 4K streaming, but you need to bump your monthly subscription from $9.99 to $11.99. Luckily, all of Netflix's original content like Orange is the New Black, House of Cards, documentaries, and more stream in 4K HDR.
In other words, if you want 4K HDR for movies, gaming, and media, prepare to not only get the Xbox One S but a new TV as well. You'll also want to bump up your Netflix subscription and have a fast and reliable internet connection. None of that is cheap, but if you wanted a reason to get into 4K, the One S might be it.
The Xbox One S does a great job with 4K HDR playback, and it is something to witness if you are a movie buff. Mad Max: Fury Road (2015) is already a visually stunning movie, but it takes on a whole new dimension with 4K HDR.
For gaming, it remains to be seen just how much of a difference it makes.
Moar pixels
Xbox One S 4K scaling and gaming
The Xbox One S does not do native 4K gaming. That feature will come with Project Scorpio in late 2017. What it can do is upscale your games to 4K from 1080p. In fact, the entire Xbox experience can upscale to 4K under settings.
Does it matter? I played Doom on the Xbox One and Xbox One S and kept the same scene on while changing between HDMI outputs to the 4K TV. The TV recognized the One S as sending out a 4K picture and the One at 1080p. Nonetheless, even at 65 inches, I would be hard pressed to tell you I saw a difference. After all, Doom is 1080p game, and the One S does not upscale the game's assets, just the output resolution.
Overall there was nothing better with the One S and scaled 4K gaming except for maybe reduced lag since the TV is not doing the scaling. Contrast may be slightly better, but at this point, I am willing to attribute that more to the TV than the Xbox One S. A lot of this comes down to how good your TV is at scaling 4K content. Some TVs have excellent scaling algorithms, so the difference between it and how the One S scales may be minimal. Other TVs may have poor scalers so that the One S may do a better job. Either way, it is not likely something you will be able to perceive on a regular basis.
In the end, the 4K scaling feature is nice in theory, but the reality is it should not be a consideration when buying the One S if you expect an improved gaming experience.
Smaller is better
Xbox One S Design
You cannot start a conversation about the Xbox One S without commenting about its size. The 'S' likely stands for slim and with good reason. The One S is 40% leaner than the original Xbox One, and it makes a massive difference. Where before the Xbox One took up a shelf in an entertainment center it can now share the space with a cable box or another peripheral. Even better, users can go vertical by placing the One S on an included stand (Note: The vertical stand comes with the 2TB Launch Edition Xbox One S, but is a $20 add-on for the 1TB and 500GB models).
The color has changed too with a matte white offering instead of glossy black. It makes a difference. The old Xbox was prone to visible dust and fingerprints, none of which happen with the One S.
There is also now a USB plug in the front instead of the side, which makes it much easier to use a USB thumb drive or attach a peripheral. The sync button to pair a controller is also much more accessible.
I'd also be remiss to not mention that the Xbox button on the front is thankfully not capacitive. Instead, it is a physical button that you press lightly — the Blu-ray disc slot also has a physical eject button.
On the back you can find the usual assortment of ports, including HDMI In and HDMI Out for TV/Cable, Ethernet, two USB ports, IR out, and S/PDIF for optical audio output. The IR blaster is superb on the One S, and you can now use the Xbox One Media Remote without having to point it directly at the console. As someone who uses that remote often, it is almost worth the upgrade just for the relief! There is still no built-in Bluetooth wth the One S, which is slightly disappointing.
Finally, the giant power brick is gone, swallowed into the console. Everything is internal to the Xbox One S leaving just a single, two-prong AC cord and no clutter. For those with big AV centers or those that desire a clean and uncluttered set-up, the One S makes it a breeze.
Overall, the Xbox One S's design is unique and it almost has a retro vibe. It lacks the ostentatious elements that usually afflict gaming PCs with hard angles and glowing lights. Instead, the One S is subtle, muted, and it reminds me of the work by German industrial designer Dieter Rams. Indeed, less is more.
Motion tracking let-down
Xbox One S and Kinect
Is the absence of any Kinect hardware a negative with the One S? Well, that all depends on your feelings about the 3D camera and microphone array. In 2016, you won't be missing many games that leverage the sidelined technology. You can still add your existing Kinect to the One S, but you need an adapter that Microsoft will give you for free (once you prove you own everything).
While I can understand not including the Kinect and even leaving out any port for it to save space and reduce costs, I think not including any microphone array for voice commands is a wrong decision — especially with the addition of the Cortana voice assistant in the Summer Update . If there is one use for Kinect, it is the voice commands to tell Xbox to turn on, off, pause, play video and jump around to apps and games. Even changing the channel on cable is very easy with 'Hey Cortana, watch Comedy Central'.
Microsoft's "Hey, Cortana" (which replaces "Xbox…command") can be used with a headset and microphone it becomes useless without it. Was adding a microphone array just not technically feasible? Cost prohibitive? I am not sure, but it makes using voice commands on the Xbox One S a hurdle to be crossed and seals the fate of Kinect going forward.
Maybe not the Xbox for you
Xbox One S: Should you upgrade?
The Xbox One S has a lot going for it, but not necessarily for current Xbox One gamers who are looking for something new. The benefits for the One S are really for those who do not own a current-generation gaming console.
If you are a gamer I find it hard to recommend upgrading to the One S. The console is stellar, make no mistake. Everything about it is better than One, but only at the superficial level of design, looks, and some minor functionality. Scaling to 4K sounds impressive, but the experience is virtually the same as it is today on 1080p. HDR gaming could be exciting, but it is unlikely going to be a revolution. It's just something nice to have to go with an expensive TV.
For those who use the Xbox primarily for watching movies with some gaming, the decision is different. If this is the year you want a 4K TV and you already have high-speed Internet, the One S could be the linchpin to getting you to switch. That is how I am using it having upgraded from a previous 55-inch 1080p TV from 2013. With the One S, I now have 4K Netflix, the ability to watch 4K HDR Blu-ray movies, and I even get to try Forza Horizons 3 in HDR later in September.
Consumers who have no immediate plans to get a 4K HDR TV anytime soon would be better to stick with their current Xbox One until later in 2017. Saving space and having a prettier console is admirable, but probably not worth a the investment.
4K, HDR, and a chic design
The Bottom Line: Xbox One S
The Xbox One S as a standalone product is really well done. The design is clean and minimalist, but also modern. The value is huge if you are into 4K Blu-Ray or still using an old Xbox 360. For streaming 4K content, the One S is sufficient, but since most 4K TVs come with Netflix, Amazon, and HBO Now built in it makes streaming on the One S a matter of convenience, not a necessity.
There is also value in owning an Xbox One S with 2 TB of internal storage for $399. Not having to use an external hard drive is a benefit as you do not have to worry about transfer speeds, cost, and using one of three USB ports.
The new Xbox One S controller is also fantastic. The range is improved, build quality is improved, and you get Bluetooth for pairing to a PC for an expanded gaming environment (sadly, the One S itself does not have Bluetooth). But the controller you can buy separately and use on an existing Xbox One setup if you really want just it.
Microsoft already announced their real successor to the Xbox One with Project Scorpio for late 2017. That console will do native 4K gaming and supports virtual reality hardware as well. By contrast, the One S seems like it is all that Microsoft could do with today's technology and still have it be relatively affordable. HDR is extremely new to home theater setups, and Microsoft is already there with the One S.
While the One S does not offer a reason for hardcore gamers to upgrade, it's not supposed to either. It is, however, a product that new gamers or those coming from an Xbox 360 would be proud to own. For those looking for a cost-effective 4K Blu-ray player, just grab the One S and get a free gaming console as a bonus.
The Xbox One S is a outstanding mid-stream release from Microsoft. It adds some excellent bonus features that are really impressive for movie fans, but they are not must-haves for current gamers. What really makes the One S shine though is not one specific feature, but the culmination of many smaller improvements over the original Xbox One.
See at the Microsoft Store (opens in new tab)
Pros:
Beautfiful design
4K HDR DVD and streaming
Great value
Many smaller improvements
Cons:
Expensive to get full HDR experience
4K upscale for gaming does little
Not much new for gamers
Need more?
Check out our other articles for more info on the Xbox One Summer Update.
Best 4K HDR TVs for the Xbox One S
Xbox Discussion Forums
Daniel Rubino is the Executive Editor of Windows Central, head reviewer, podcast co-host, and analyst. He has been covering Microsoft here since 2007, back when this site was called WMExperts (and later Windows Phone Central). His interests include Windows, Microsoft Surface, laptops, next-gen computing, and arguing with people on the internet.
I have to admit the Xbox One S is much nicer than I had anticipated. The design choices made here continue to demonstrate MIcrosoft's hardware ambitions whether it is the Surface, HoloLens, Band, or Xbox. Shorter version: it just looks great in your living room. It doesn't scream "I play video games". Considering my generation of original console gamers is, ahem, older, the appeal here to a more grown up design works very well. For my final score, I judged the One S as a standalone product i.e. If this was the only Xbox available how good is it on its own? The question of Should you upgrade? is a bit different and why I highlight it in the review, but considering the One S is not meant to be a replacement for the Xbox One, merely an iteration, I did not think it was fair to ding it for that. Taking money out of the equation the One S is fantastic, and there would be no reason to not get it unless you are really adverse to using an adapter for Kinect for whatever reason. Choosing between an Xbox One and One S is only a $50 difference, and buyers would best be served in getting the slightly more future-proofed One S due to the 4K abilities. Project Scorpio is, of course, the actual successor to the One. But since so little is known about it, the price is likely to be significantly higher, and we probably won't see it actually shine with 4K titles until Spring 2018, it is hard to hold it really against the One S. Nonetheless, we all obviously have budgets to work with.

When I pulled mine out of the box you finally realise how much smaller it is, pictures dont really do it justice. The only issue I'm going to run into is USB ports as my headset, tv adapter and kinect adapter, I've run out for external storage.

It feels about twice as heavy as the old one though. A lot of that is the internal PSU, but the reduction in size tricks the brain to think its a LOT heavier too.

Xbox hits sweet spot for those who are looking for good gaming console and Streaming media box. And with Universal Windows Eco system, we will see more apps coming in.

They didn't have any of those design aspirations with the original Xbox One it seems...

Definitely not, but I believe all hardware, including Xbox, is under Panos now hence the change in direction.

And we can all be happy that Dan Mattrick the epitomy of gaming failure is no longer in charge.

Where you able to test Cable/Sat input on the One S? I was wonder if it also upscale to 4K at all?

You can enable 4k scaling for all content including cable. there is no difference though as your 4k TV would upscale it anyway. Instead, this lets the Xbox do it incase it's better than your TV.

>You need an HDR-capable TV, and that is a hardware-level feature, not something that can be turned on via a software update That's not true I don't think. Vizio for example released a firmware update that added HRD10 I believe.

It is ture. The 2016 P and M tv's have the hardware for it. They supported DV out of the box. Where the 2014P doesn't support HDR or DV, and no firmware will be able to add it.

That's not true I don't think. Vizio for example released a firmware update that added HRD10 I believe.

Right, but they could do HDR via Dolby Vision already. So technically they were already HDR TVs they just needed firmware to enable the other standard. You definitely need a TV though that supports HDR hardware.

I can't recommend the new S.
After 1 day I am so burnt with my new 2TB console!
Agreed its a beautiful device to look at and seems beautifully made as well but it only had 1.5 TB of space fresh out of the box !
Several hours to install a game, that is if it doesn't fail 10 times in a row, is unacceptable. Why the hell can't you play from the disc, why are we forced into installing the disc and having to wait for hours to play!!
Add to that the woefully bad and cluttered mess that is the UI and I am bitterly disappointed. I think I'll return it, there must be something wrong with it, it just shouldn't be this slow, it's like trying to download a movie using dial up, beyond frustrating, especially for a modern piece of equipment.

Its as fast a drive as the Elite, especially with it's cache. So you definitely have a dud or ID10T error. #nothingtoreadherefolks.

I will hold out for the better Xbox successor later next year. But to say dive in an buy something I already have is not going to happen. I don't even have a 4k television so you know how that is. On top of that here in the Bahamas the internet providers have really, really, really slow internet speeds.

If you don't have a 4K TV next year, then it's likely you won't have much use for the Scorpio, either.

Any chance you were able to figure out if the S is dual voltage or not?

I preordered the Gears of War 4 special edition so I now cannot wait until October 7 to get this. I am one of the few people that DO use Kinect so I hope I can get the adapter free and yes, it is too bad that a microphone is not included in the unit itself

I spoke to a guy at MS this morning to arrange my free kinect USB adaptor and he said the free offer will be for a limited time. I even asked specifically about the GoW edition (which I have pre-ordered too) but he couldn't say that the offer would still be around then. What may be your best bet, and what I'm going to do, is find a friend who also got a One S and registering its serial number to my MS Devices list. I'll then contact MS again and using THAT serial and those of my other original One to snag a second kinect adaptor just in case the offer has expired before the GoW edition ships. After that I can deregister that serial from my account and then register it back to the friend (provided they're never going to get a kinect) no harm done.

Great review. I'm gonna upgrade from an xbox one to the s. My question is can ik play 4k hevc video files? Posted via the Windows Central App for Android

I haven't tried 4K hevc video files, but in theory, it should. It is more likely dependent on support thru the media app and whether MS has added H.265 support. But if MS wants to add it, the One S should be able to handle it, can't see why not. I'll look into trying it later today.

The big issue last time I checked (which was before RS1) what that Microsoft didn't support 10bit HEVC videos... but maybe since this is an HDR machine they've added support for it.

Microsoft did say this: "First, we added a 4K HEVC decoder to the SoC to render the compressed video streams efficiently in hardware." But not sure if that means the media player can see them.

There's always that nagging desire to have the latest thing, to get your hands on a slicker design. It's slightly irritating to have to dismiss. Well, until you think it through. I have to agree, for me, there's no need to pay out to replace my current Xbox One. No need/ability for 4K, it doesn't move so size isn't much of a concern (it'd be nice, sure, but no biggie), my only wish is the matt colour so the dust doesn't show as much (and the gloss doesn't scratch - real problem in certain lighting).

Some fine grit sandpaper can sort that out for you... The One S looks great though.

Very good and informative review, thanks Daniel!

Great review! However, I was shocked when you said "The Xbox One S is not for gamers". Are you serious? This is the same Xbox One plus 4K and HDR. Games like Gears of War will benefit hughly on this addition. Not to mention, it has been conformed games will be upscaled to 4K. THIS IS THE REAL DEAL PEOPLE!

When I say "not for gamers" it is in the context of upgrading from the current Xbox One. There is no benefit here. HDR gaming may be nice, but it's not like a must-have feature. Load times are not faster, the frame rate is not higher, image quality is not improved. I mention in the review there is no discernable difference with 4K upscaling. Your 4K TV already does this. What is different here is the One S is now doing it potentially reducing any lag, but that all comes down to how good the upscaling is on your TV. Many high-end TVs upscale to 4K just fine. Either way, even if you pause and pixel peep there is no difference between 4K scaling on One S vs. 4K TV.

Thanks for the clarification Daniel. It's really hard to justify the buying of this console with Scorpio on the horizon. I'm going to trade in one of my two Xbox One's just for the TV part.

Comes down to costs, certainly. Scorpio though, even with the 4K gaming and VR, will take many months to ramp up before people feel the need to switch. Sure, there will be day one content, but you know how it is when next-gen console stuff comes out, etc. Plus I bet Scorpio will be $499 making it a bigger investment. Ideally, you could own both, but if you had to only have one, Scorpio is preferred. Too bad the One S didn't come out last year.

Still not a fan of the white, and the holes remind me of those Connect Four iPhone cases that got mocked for their circles years ago. I personally can't stand this design, and hope they go back to a dark case for Scorpio.

I'd have preferred a hexagonal layout for the holes than a grid, but it does look very nice in person. Black is really going to show up dust where the white one not so much.

Really can't see a reason to buy one personally especially when in 1 years time it'll be overshadowed so basically you'd buy this to play limited content for a year then start being told how Scorpio is the REAL Xbox One successor, and how many teraflops is has over Sony's next gen console. And it only comes in white. I'll pass, thanks.

No bitstreaming of audio from UHD and streaming services means no Atmos or DTS:X support, making it a kinda' gimped UHD player. Let's hope that Microsoft can update the console to fully support the features of UHD and Blu-ray.

Not sure I follow. I have bitstream selected in Settings to my Onkyo 7.1 system and it uses Dolby Digital.

This bitsream option is not truely bitstreaming the HD version audio (That's why you saw Dolby Digital not Dolby True HD OR DTS Master Audio). Instead, the Xbox One S was trying the upmix your HD audio back to a low-resolution sound Dolby Digital, which is disappointed.

I thought DD+ was ATMOS. Am I wrong on this?

They're both Dolby properties, but Atmos is object rather than channel based and needs a 'clean' bitstream to the surround processor. For non-atmos content I'm not sure the difference is going to be all that noticable given the quality of most peoples' audio setup.

I am also very dissapointed that the Xbox codes the audio itself and not enables pass through from BD-discs, apps (like Netflix) and videofiles. Even when choosing 5.1 or 7.1 uncomressed the sound is re-coded and sounds very bad. Therefore i have a dedicated BD-player for movies, and used Netflix app on my computer which both supports pass through sound.

Sounds very bad? 99% will not hear the difference. And when it would, I guess the price would be higher.

True, but it's all in the head.... When your receiver says Dts HD master in stead of Pcm, it just feels right. But to be able to hear the difference you should test identical movies on both the Xbox one and a dedicated Blu ray player on exact the same sound system.... Posted via the Windows Central App for Android

Indeed. I know the feeling.

Is it quiet? My Xbox One doesn't make a sound.

It's quiet, haven't heard it.

Silent except when reading a disc.

Well, putting aside the horrible colour choice, the reason I'm even remotely interested in the XBoneS is actually the 4K video playing capabilities. HOWEVER, there's something I need to see answered and I hope you can help with: is the XBoneS capable of playing BD-R discs or not? The PS3 is able to do so and it's always baffled me that the original XBone can't. So, if the XBoneS keeps that incapability, I will have to reconsider it as I don't think it's admissible that a console in 2016 is incapable of doing something so basic that a 2009 console could do. If I'm retaining the same media playing incapabilities, then there's no real reason for me to buy the XBoneS when I already have the original XBone.

No idea. I don't own any BD-R discs nor do I know any other one who does. Seems like a very pre-2012 kind of technology. If I were to rip stuff, it'd stay digital and I'd stream it to my One S with Plex.

It is pre-2012 tech indeed. Which is why it's pathetic if it's still absent right when most people are finally upgrading to 1080p TVs (specially when you also consider the PS4 can do it). Here's an example on why you use BD-R discs: You go on vacations. You film them. You record the film on a BD-R disc and archive it. You want to play it one day. Oh wait, you can't, the Xbox can't read a simple BD-R disc. (alternatively, you can waste storage keeping vacation films...) Another: you buy a digital versions of films. Your storage is limited. You have two options: you burn the film unto a BD-R and re-rip it when you need to (or simply play it), or you keep deleting and downloading it and having to stream it. Well, not to mention, good luck watching anything if your ISP acts up and you lose service because "reasons". And then you simply have those of us who don't like digital. I'm one of them. I prefer to buy films in Blu-Rays. Music on CDs. Games on discs. As you can see, many reasons to use BD-R discs and tons of people who use them ;)

Tons of people? I can the count the ones that do on 1 hand. Just stream. I stream 4K movies from my NAS.

Yeah this is what Sony is thinking by not including 4K blu-ray play-back. Instead they're relying on Netflix and Amazon Prime for 4K video. Source: http://ps4pro.co.uk/4k-netflix-and-youtube-but-no-4k-blu-ray/

BD-R isn't a good achive media at all. Its better than DVD but not by much. If I have stuff I need to keep long term it goes onto a NAS with at least RAID5 or 6, or to the cloud.

Next, you will whine, why the One S doesn't have a 3.5" floppy disk reader, when even 90s computers did have one :D I don't know if the One S can play BD-R or not, but come one, who uses them anyway? :D Technology is moving forward, not backwards :D

"but come one, who uses them anyway? " Tons of people. For example, people who don't like to be dependant on their ISP's whims to be able to watch films, for example. Or people who DON'T like digital? Technology is indeed moving forward. Which is why we now use BD-R discs instead of CDs.

No, we're not using BD-R discs. They're much less popular than DVD was in its golden age. Everything is moving towards cloud and streaming. Btw, if you don't like digital, use tapes :P :D BD-R discs are also digital :P :D And have you heard about pendrives or SD cards, or others? :D You're stuck in 2009 or 2010 :P :D

Do you live in a 3rd world country? I'm assuming you do. Because in first world countries barely anyone is using DVDs anymore.
Pen drives? That's even worse than streaming. But I don't even see why on earth are you talking about this seeing as you don't even own an Xbox One (and therefore I'm assuming neither a high class 1080p TV or 4K one...). Posted via the Windows Central App for Android

And what if I don't have a 4K TV? I'm not living in a third world country, I live in Europe. But you don't even understand what I'm talking about. I didn't say, that anyone uses DVDs. I said, that blue ray isn't nearly as popular, as DVD WAS WHEN IT WAS IN IT'S PRIME TIME. Learn to understand what people are saying, or GTFO, and go back to elementary school. You moron... But what do I expect from someone, who thinks, that BD-R discs are for people, who don't like digital media... Like if a BD-R disc wasn't digital at all... And I don't know why is it important, that I don't have an Xbox One, when we're talking about the One S... Go to hell with your "first world high class" snob bullsh*t... Do you really think, that if someone doesn't live in the U.S., than he is instantly living in a third world country? Or if someone doesn't have a 4K TV, he is instantly so poor, that he barely can afford food?...
And why would be pendrives or SD cards worse than any type of discs?... At least they don't scratch... And almost nobody installs Windows from a disc. They do it from pendrives, or SD cards...
You see, that why people don't like you here. Because you are an arrogant prick... Guess you're the same IRL too... So move your "first world high class" *ss out from here, and troll somewhere else... Or go to a Blockbuster if you can find any :3 You *******... :D

If you don't have a 4K TV, shut the hell up as my entire point was about the OneS only being interesting to me for the 4K capabilities but not if it still lacks basic stuff like the ability to read simple BD-R discs. "I said, that blue ray isn't nearly as popular," Which is a lie. Besides, Blu-Rays are only now reaching their prime as most people are only now getting full HD TVs because they're now accessible to everyone. Perhaps your parents should give you a better education. And you're as dumb as you're ill-educated. Do you even know what a BD-R is? Do you even know what "going digital means"? NO. You know nothing of the sort. So I'll explain it to you as if you were very stupid, because you clearly are: BD-R are recordable Blu-Ray discs. They are used for you to record HD content and reproduce it on HD players. "going digitial" means you no longer use a physical disc but only the file and you stream it, for example. Of course, since you don't own any of those things because you've barely left your diappers, you don't understand any of that. You have no idea what limitations the original Xbox One has and so you can't even compare it to the One S and understand the argument. "And why would be pendrives or SD cards worse than any type of discs?... At least they don't scratch... And almost nobody installs Windows from a disc. They do it from pendrives, or SD cards..." LOL You clearly don't know what a BD-R disc is. They scratch as easily as the copper pins on a pendrive or SD card. And Windows on pendrives or SD cards? Maybe the versions you illegally download because up until Windows 8.1 at least, Windows came in discs. And Office comes with a card with the code to download. None of that comes in pens or SD cards. And in case you haven't noticed, I don't give a f*ck if people like me or not. This isn't a popularity contest and I'm not a child like you, trying to get peer approval or upvotes from the other kids. In real life I don't have to deal with pathetic little kids like you who think the world works the way their mommy and daddy told them it does in their bedtime stories. Now go finish your education and calm down you silly little peasant. The French Revolution was over 200 years go.

Nobody cares about you. Let's face it... I know what BD-R discs are. But nobody cares about them. They just make transferring files harder. Physical discs are a thing of the past. It's not a basic thing, it's a legacy bullsh*t.
And yeah, I don't know how the world of djcbs works. I don't know how hard it is, to be stuck 6-7 years in the past. Go to sleep grandpa, it's already so late :D (No I don't know how old you are, and don't care either. You just behave old, that's it.)
I don't care either what you mean by going digital means :D You're wrong.
But I already wasted too much time on you :D I just wish you were banned from here, so I don't have to read your stupid comments everywhere, because they are always just negative, and you're always just whining :D

That was awesome all in one game console. Nice review.

I still only have a 360, but I'm thinking about upgrading to this, or the original One (because it's price will go down). I'm okay with white, but a black one would be better. Anyway, nice review, although I really don't like this "click here to continue reading or post comments" thing :D

You might want to consider the 1 or 2 Tb version of the S, because unlike the 360 games have to be installed. I have one game thats over 120Gb and several that are 75gigs each. You can always use USB 3 drives, but its nicer to not have to.

Thanks, I was thinking about this too :)

What's up with the articles that are just links to the web?
Two in a row makes me wonder if it's a trend.

It's been that way for years for big reviews. Nothing new.

I'm pretty sure you get this question a lot but why doesn't it work the same on your Android app? I just read the entire review in the app and didn't even know that links to the web were even a thing. Not trying to bash just a legitimate question Posted via the Windows Central App for Android

Hey guys! One question: If I have a 4K receiving cable box, does the HDMI pass through handle 4K too? Or is it just for the video apps? Thanks! Posted via the Windows Central App for Android

Shout out To Window Central and Daniel for recognizing the total appeal of the One S. Also taking the time to let us know what TV you used to review the HDR content. The big thing I was looking for heading into these reviews was how well does it perform and a 4k Blu ray player. You shared plenty of insight on that. Though I'll have to wait and see if sombody on the internet compares it's movie performance versus the samsung and panasonic 4k blu ray player. Great revieww by the way. More importantly honest.

Thanks! Yeah, as someone who uses their Xbox mostly for media, I was pleasantly surprised how much the One S does for consumers (especially since we hear MS is playing down the media part for gaming). Since I was new to the HDR thing figured I would incorporate that into the review for others. We'll have more on those topics soon too.

Hey Daniel, can you remember if your original xbox One came with a micro USB cable for the controler? I'm pretty sure mine did and was a bit surprised to not get one when I opened my S.

As far as I remember, no micro USB cable came with the controller (I have 3 Xbox one's, 2 of them are launch editions). I think it did come with AA batteries however. When I bought the plug and play kit for the Xbox One controller, that did come with a micro USB cable, and it has an orange/white light indicating charging or fully charged. The light only works with their battery though. The Elite controller however does come with a mico USB cable, braided black and green.

I enjoyed that part of the review as well Daniel. Picked up my first 4K UHD TV during the recent Amazon prime day on a whim then was surprised by the high cost and limited selection of 4K blu ray players. So as you suggested I'll buy the One S as a blu ray player with the free gaming add-on.

What about a Consumer VR headset? ... Microsoft nto working on any? ... they gonna get their butt kicked by PSVR this xmas season. ... and what about Kinect, do they still support it? any news on Kinect future? ... as a Tech Dad I was thinking about Xbox One S for my kids, but without Kinect?!

Actually Xbox sales are already plummeting. -33% last quarter while PlayStation sales were +14.5%. Seems people opt for future proof console and hard to blame them on that.

Actually Xbox sales are already plummeting. -33% last quarter

False.

Revenue

dropped by 33% due to lower sales and lower pricing. CFO Amy Hood clarified that lower unit sales are mostly related to Xbox 360 and lower pricing to Xbox One. Please get your facts straight before posting such things. Your claim could not have been more wrong. Confusing percent

sales

with

revenue

split over two category SKUs is sophistry.

I did not say units as those MS did not disclose. By sales I meant revenue ( they are the same thing..) and same goes for PlayStation.

Excuses. Just admit you were wrong. A grown up would.

Also, its not in system sales that sony/MS make money. Its in software/game licenses and at the moment, even with sony selling 2:1 as many systems, actual game sales are close to the same on each platform. For every 100 games bought for PS4, 89 are bought for xbox. Thus revenue per console sold is quite a bit lower for sony.

Sales =/= revenue in any part of the world, they are absolutely different concepts Posted via the Windows Central App for Android

No. Sales ~ revenue in common vocabulary but I try to be more clear in the future :) Not exactly the same thing but not in anyway about how many items were sold. Unit is money. One thing I missed is that Sony number included game revenue as well so correct comparison is Xbox -9% PlayStation + 14.5%. PlayStation revenue being double of Xbox revenue.

There are a lot of great Kinect games on Xbox One (Fantasia, Fru, Dance Central Spotlight, D4, Kung-Fu for Kinect, Fruit Ninja Kinect 2, Kinect Sports Rivals, etc.). If you buy the Xbox One S and you don't own an Xbox One with Kinect already, you'll need to shell out another $40 for an adapter. Personally, I'd choose the original Xbox One model, which has a dedicated Kinect port, instead of the Xbox One S. It's much cheaper for Kinect users.

All three Kinect users still clinging to their dead gimmicky parasite. Good riddance. High five, bro! (if you can!)

Actually I reconnected my Kinect. Cortana and camera to play with. I think a lot of people will have done the same.

And the adaptor is free if you already have a kinect (though not for ever). I use it for logging on and voice commands. I've tried a few kinect games but they never last for long. Just yelling GPS commands while playing NFS Rivals is far easier than using the D-pad to navigate through small popup menus while you're being chased by the cops.

Thank's for your review, Daniel! One question: What about noise? The original Xbox One design is known to be very silent. What About Xbox One S noise emissions?

As far as I can tell it's so quiet I didn't even think to mention it lol. I never heard it. It has very good venting.

Good to hear! Thank you for this very fast reply

Don't worry another one is coming... https://www.youtube.com/watch?v=ngEhgqGlyjQ Yes, they are coming out with new ones too fast.

WC app still has many limitations. Like we can't read this article in the app :(

Well written and beautiful article. Should you upgrade ? It depends, if you really like Xbox, I think it's worth it, definitely an improvement from the first one. Yeah there is the Scorpio, but the 4k capable next Xbox is not going to be cheap for sure, so take that in consideration. Personally I'm going to stay with my current Xbox One, I prefer to wait for the Scorpio to see. But I will admit, playstation is getting more and more my attention nowadays. All of that Xbox S, Scorpio, is good but (just my opinion) the ps4 exclusives looks so much more appealing, so for me what's the point if there's no interesting games to play on it, that's the problem...

Go away or start a topic in the forums. It's Daniel's review. So move to the forums. Thank you.

If only it came in black to match everything else I own.

HDR10 is not DolbyVision. Dolby Vision (LG) is the competiton of the HDR10 Standard (Sony, Samsung)

Plays 4K but doesnt bitstream high res audio, right?

It has Optical out so it means it also supports hi res audio, you can connect the Xbox One to a Hi-Res audio receiver from Onkyo that has optical In and you're set up for a great hi-res audio experience.

Optical out doesn't support dts HD master, dd plus and other HD audio. HDMI does, but it's not implemented to work like that.... Inexcusable IMO.... Posted via the Windows Central App for Android

Its being introduced in a future update.

Right.... No excuse for that.... They need to fix that ASAP, and still no proper cec HDMI control... Posted via the Windows Central App for Android

Oh my god! So beautiful! Mine hasn't arrived yet. Can't wait.

Daniel - Can you add a USB microphone to handle the Cortana voice commands? Is that even possible?

Great question! Unfortunately, I just tried and no, it does not detect the microphone :/

Why the hell not? ;) This is a largely Win 10 box. Why can't you just hook a web cam with mic to talk to Cortana. Maybe a Real Sense camera to recognize me. Penalizing me $40 (the adapter) for buying an XBOne Slim and Kinect seems capricious. (the free adapter is only if you already have an XB one and Kinect and buy a One slim)

My guess is even though it's partially Windows 10 they have not baked all the USB type drivers into it. I agree, you kind of would think it should be there and I was hoping it would. My guess is as the Xbox becomes more like a PC we'll see those things come over, much like how Mobile just got Ethernet support with AU.

I wonder, would a 3.5mm mic like the ones you can use on your smartphone work, at least for kinect stuff plugged into the controller rather than a full headset? http://76.12.22.162/images/bank/iPhone-and-Mini-Capsule-Mic.jpg Something like that.

huh, interesting. I may try that.

Excelent review, glad the unit was tested with TV that supports HDR10 and with real UHD Blu-ray discs. Thats the main reason I want to buy this console, because of the 4K Blu-ray disc capabilities.

Thanks, yeah, that was the area I was most excited about and had to study on.

There's a part of me that'd REALLY like to have this! I do hope to get into 4K later this year or early next. I'd also like to have a second XB1 so I can put one in preview, while keeping the other one production, and lastly, the thing is just totally a great big piece of eye candy. And it's not much more money than buying a new original model for the purposes of having a secondary preview machine. But I think I'm probably just going to be unable to justify it unless my original one breaks. Even if I do get a 4K TV, I'll probably still just live with upscaling until Scorpio drops and then get in on the 4K action at that time. ....but that doesn't mean that I'm not tempted!!! :-)

Can do the trade in deal, get $125 off to help lessen the cost

I might have missed it in the article, but does the OS seem faster at all? I know the improvements are minimal, but I was wondering if it made any discernable difference in responsiveness.

No discernable difference at all.

What a shame Daniel do you know why Windows 10 on Xbox is kind of slow? Is it the processor which is 2013? Or it it isn't optimized. Posted via the Windows Central App for Android (LG V10 or Nexus 5x)

Short answer: It's complicated. Xbox One runs three OS's at once, IIRC, so it's jumping between various layers. I know they are doing some big changes, but it is slow. The processor is definitely a party of as well as trying to hit a $299 price point.

Wow I forgot about the switching part haha. Posted via the Windows Central App for Android (LG V10 or Nexus 5x)

I bet Scorpio and one s have design lab support to be announced at E3 2017. How could they not. I also bet since they are touting vr for scorpiothere is a Kinect tie in and the Kinect port is replaced by usb even on newer Kinect devices. Good Money is also on Dolby Vision support for the premium HDR experience.

VR pretty much REQUIRES something like the kinect. The PSVR needs the PS equivalent, and both the vive and rift have tracking cameras (or lighthouses) for the same thing. Hopefully scorpio will bring kinect back again.

Based on the reviewer's cons I'd have guessed a 4.5 star rating.

Well, the no 4K gaming thing is a bit unrealistic I think. By that I mean, I'm not sure the ability to mass produce a 4K gaming console at a certain price point is feasible for today. That and it's not like Microsoft said it could do 4K gaming and it does not. In fact, everything Microsoft said the One S can do, it does very well. It's more of a con because we know Scorpio is coming, that and people confuse upscale with native 4K.

Are u going to review one of the Xbox one s units with the color paint job. I'd be excited to see a video of the finish it comes with.

Quite possibly. I need to take a closer look at that, but will consider it tonight.

Great review Daniel. One question though, does the Xbox One S happen to support 2K (2560x1440)? I play consoles on monitors and my monitors are 2560x1440. My Xbox One S arrives today, so I can test it once I get home. I'm hoping it does support 2560x1440, along with upscaling, because that would be really sweet.

Honestly, I'm not sure. I think you can choose between 720, 1080 and 4k for scaling. Not sure what happens "in between" those.

Daniel Is the stand exclusive to the 2TB XBox that was shipped today or is it included in the lower capacity ones?

You are correct, it's exclusive to the 2TB Launch Edition, but anyone can buy the stand for the lower SKUs for $20.

Samsung has HDR TVs available from 2015. Including the JS9000 and JS9100. Not sure if it was "patched" in or not, but they do have 10-bit color.

Noted. I guess I should rephrase that HDR10 TVs in the mid to high range are now available as I think before it was in the ultra-premium level.

Basically the Xbox takes audio as packaged and repackages it adding in system sounds. The pc does this too. Power dvd on the pc bypasses this rerouting of audio by taking exclusive mode. Otherwise analogue can be used. The Xbox has no such options. So when the audio is resent it is sent at 48khz 24 bit Dolby digital. To get atmos up and running you need at a minimum of Dolby digital +with meta data support. For dtsx u need the full losless codec dts master hd. Ms has actually adressed this in an article last week. I forget where but I think they said it was being worked on. Maybe one solution is a power dvd uwp. Not sure though if uwp or Xbox would allow exclusive mode audio. I'm not a dev so I'm not sure.

Just curious, what is the brand and model of the audio device in the review? The big black block in the middle

That's the center channel speaker. It's an Onkyo 7.1 THX Certified system.

I also wanted to clear up hdr10/DV confusion. All Dolby Vision processors support HDR 10. Weather the mfg uses that feature or not is upto them. Vizio,lg and tlc all offer both now. Hdr 10 however only requires an hevc decoder. It is firmware upgradable. Example 2015 Sony tvs adding support for HDR10 in Jan 2016 and vizio just recently. If u buy a TV that does not support Dolby vision....then it never will. Ms stated at launch of Dolby vision they would support it with Xbox video. That was 2 years ago and a lot has changed. Including that Dolby may not allow them to use DV with out Atmos. Finally DV support up to 4096 luminance values (currently only on the Vizio Reference Series 65". Including color gradations with per scene dynamic tone mapping and a golden reference for calibrators. Other tvs like lg g6oled use the 10bit values for hdr 10 below. HDR10 supports 1024 shades of luminance with alpha full on but only 960 for video. It supports that meny color shades. The entire game or movie is tone mapped once and that metadata is adjusted across the entire media. There is no way to calibrate HDR10 and no standard or point of reference for professional calibration. Pro calibrators can change things but at this time anyones guess is as good as anyone elses. That said. Please bring support for DV and allow audio reformatting to dd+ for atmos support at minimum so we can have a full vudu/game/netflix/uhd bd(when available) uhd e,patience. At that point the Xbox really will be the all in one it should have been and then I'll pick up an s. See user voice to post your votes.

I have a feeling XBox has been making the wrong moves with XB hardware. The One S is a nice buy if you want 4k or smaller size XB. But nothing outside of those two reasons would compel a current XB1 owner to get one. Gaming still lags the PS4. There really is nothing moving me to buy one. Plus a large majority of existing XB1 owners that may have a need will potentially wait for Scorpio. Sony's Neo is coming out this Fall. A whole YEAR ahead of Scorpio. That's gives Sony a HUGE advantage that will keep XB well behind Sony into the next generation.

I don't disagree, but I really do not think Microsoft is positioning the One S to replace anyone's current Xbox One. Sure, there are a few reasons to consider, but they are not making that case to the consumer either. It is what it is: a mid-stream update to bring on some new features as well as make it smaller. Nothing wrong with that. It's just the first thing that pops into any owner of an Xbox One is "Is it better than mine?", which is natural. I think Microsoft's real intent here is for those on the 360 who are looking to upgrade, new gamers (kids, young adults who don't have an Xbox One), etc. They wanted something for back to school (this would be awesome for college kids) and for the holidays.

There are some justified buyers, for sure. It's not for me, I'm waiting for Scorpio or possibly Neo. Neo especially if one year into it being out before Scorpio hits 20 million units.
Personally, I was hoping MS would of came out with a $200 digital download only XBmini at E3 in conjunction with the One S. Then followed that up with Scorpio being delivered the same time as the Neo.

Neo is a half measure that has been poorly recieved by the playstation community vs the relative excitement about scorpio. Sure, people will buy Neo but if leaked specs hold true the system simply won't be a true 4K system. I think if one is looking at what the Scorpio is being raw specs wise..and if people really will continue to go with the power argument, then neo sales would collapse at scropio. TO be clear...i think the power levels are are a false reasoning used by people who were buying a PS4 regardless of actual power because if you look at past generations power has never been the main selling factor. I just think Microsoft stumbled at launch and never got it back. Scorpio vs. Neo whole new ball game.

I hope you are right. I never fell into the spec hype. Sony is still riding that horse. They probably will try to ride it into the Neo and compare Neo to XB1 when it comes out. Make the XB1 look like a tiny weakling and drive sales from XB1 for a year until Scorpio comes out. I hope by that time it's not too late for Scorpio. That's my fear.

For one thing, the Xbox One S and Scorpio will have HDR gaming. Something the PS4 will never have. And Xbox games are forward and backward compatible. HDR games for Scorpio will function fine with Xbox One S. Neo HDR (assuming it also has HDR and that's likely because they're buying the chipset from AMD as well) will not work on the PS4 which lacks HDR. Let's be clear. They will work but not with HDR graphics whereas Xbox One S can display that beautiful HDR color. Remember, HDR10 is 1 billion colors versus the normal 16 million colors (Dolby Vision is 68 billion colors but I digress). Neo is at a huge spec disadvantage compared to Scorpio. Neo was designed to make PSVR usable. But it's not a major advancement. And it's in serious trouble now because Sony probably pulled it back because of the Scorpio specs. 4.1 TFLOPs versus a 50% faster 6 TFLOPs Scorpio is serious trouble.

Neo is for VR, thats it. It doesn't have anywhere near enough power for 4kbut will be fantastic for 1080 stuff without devs having to cheat and cut corners to achieve 60fps. Scorpio is built specifically for 4K.

TYPO ALERT: You guys missed the T in "the" in the third paragraph in the article. Posted via the Windows Central App for Android

Another nicely done review. Thanks Daniel. I purchased the One S to replace my 360 S that is now 6 years old and has been heavily used- first as our home console and media device and since the original One launch, as the family office game player. I would not upgrade the One to One S, but a 360 to a One S, particularly as the One S can sit vertically like the 360 S, makes a lot of sense. And then there is that 2TB of storage. I plan to take games off the original One and use it just for media, freeing up lots of space on its 500GB drive. You should note that all of the One S versions don't come with the vertical stand, only the 2TB launch version. The Microsoft Store website doesn't list the stand as an accessory as of this weekend, but close reading of the descriptions of the 3 models shows the stand isn't included with the 500GB and 1TB versions. I also second your comments about voice control. I'm hoping Microsoft will release an updated Media Remote with a microphone for use with Cortana on the One. There are a few suggestions for this on the Xbox feedback website.

Yup, will make a note about the stand, thanks, and glad you enjoyed the review.

Does the new S-model finally support HDMI-CEC? Couldn't find any info on that so far...

No, I answered that question somewhere in the comments..... Big mistake on Microsoft's part.... I use this feature, it works perfectly on my TV, Shield, receiver etc.... Posted via the Windows Central App for Android

OK...now you've got my attention.... Smaller is very good and better is excellent, sounds like a great value...

It's all about that 1080p for me. Sold my XBone... got a PS4, sold that. Now, I'm going back to the past with a PS3. Getting that TRUE backwards compatibility and that awesome high def Blu-Ray experience.

I got it for HDR video and HDR gaming. HDR is awesome! Much better than 4K

Nice review, Daniel! I agree that not having a microphone array inside of the console is a missed opportunity considering the addition of Cortana. Maybe adding a microphone to the media controller to receive voice commands could help?

Thanks! Yeah, that's a brilliant idea with the media remote. I hope they do that as that's be quite useful. Fingers crossed.

xbox one looks great in the eyes

I have the tv you reviewed it with and notice pretty bad lag when not in game mode. With 4k scaling and HDR on does it affect gameplay in game mode?

If they had put a over the air hdtv tuner in this device wow this device would shine like the stars. I was kind shocked when Microsoft gave out info about the coming scorpio. I wonder how much impact will have on cutting down on the sale of the Xbox S. People may get a shock if project Scorpio console looks jusy like a Desktop PC and gives a person an option to buy a low cost version and upgrade it by buying cards and opening up the console case and replacing the old ones
Windows Central Newsletter
Get the best of Windows Central in in your inbox, every day!
Thank you for signing up to Windows Central. You will receive a verification email shortly.
There was a problem. Please refresh the page and try again.