How to claim your free Kinect adapter for the Xbox One S
Just picked up a new Xbox One S? Sadly, it doesn't include a port for the Kinect motion tracker — but you can get a free USB adapter, so it's all cool.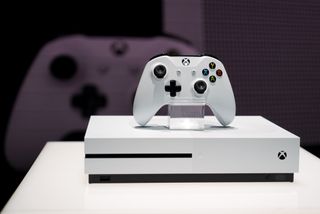 When Microsoft announced the latest iteration of its flagship console, the Xbox One S, it was noted that a Kinect port will be absent on the slimmed-down unit. With the company's focus on motion controls quickly diverging elsewhere, users will need a separate adapter to use the Kinect sensor on the console.
Updated November 28, 2017: The free Kinect adapter deal has now ended for Xbox One S. Instead, users can purchase a Kinect adapter from the Microsoft Store (opens in new tab) or Amazon (opens in new tab).
Updated May 29, 2019: It's no longer possible to get an official Kinect adapter, but there are many third-party solutions that do work like this one (opens in new tab).
The Kinect sensor no longer ships with the latest Xbox One units, however, can be purchased separately from a number of retailers. If you choose to go out of your way to use the device, an adapter can be purchased directly from Microsoft for $39.99. (opens in new tab)
If you're an early adopter of Kinect, Microsoft has set up a program to provide free sensor adapters to those with older consoles. For a limited time, Xbox Support will be distributing these complementary adapters upon request.
Here's how to request your free Kinect adapter for the Xbox One S:
Collect the serial numbers for your original Xbox One console, Xbox One S console and Kinect sensor. If you plan to trade in your original Xbox One console, it's crucial you collect the original console's serial number beforehand.
Contact Xbox Support

(opens in new tab)

and request your free adapter. You'll be asked to hand over your three serial numbers, so make sure these are nearby.
Before contacting Xbox Support, it's recommended that you register (opens in new tab) your two consoles and Kinect sensor online. If registered prior to the call, the Xbox supervisor can quickly pull the serial numbers from your Microsoft account.
Are you planning to pick up a free Kinect adapter for the Xbox One S? Let us know in the comments!
See Kinect at Microsoft Store (opens in new tab)
Matt Brown is Windows Central's Senior Editor, Xbox & PC, at Future. Following over seven years of professional consumer technology and gaming coverage, he's focused on the world of Microsoft's gaming efforts. You can follow him on Twitter @mattjbrown.
What's the offer for trading in your original Xbox One console!?

Not something offered by Microsoft, AFAIK. EB Games here in Australia offer a trade ... you get roughly $180AU for your XBox One (they originally retailed for roughly $550AU). Given they're an affiliate of Gamestop in the U.S., I'm guessing they're offering a similar trade?

I'm in Australia as well. I'm definitely not trading in my original Xbox One for $180...

I was fortunate, picked up new old stock when KMart got out of consoles around October last year. Original boxed unit *with Kinect*, for $219!!! So I can live with a devaluation of $40 over 12 months :-D

Considering a new Xbox One retails for $250 USD now (probably close in AU), $180 is actually not a bad deal. That being said, I see no reason to get an Xbox One S if you already have an Xbox One. You're better off just waiting another year for the Xbox One Scorpio which will be the true upgrade.

The aussie dollar is around .70USD, so that 250 is about 340 AUD. $180 is insulting!

76c to the US dollar. Also keep in mind US pricing stated is plus tax, Australian prices stated include tax.

I already have *3* XBox Ones. Call it an aesthetic upgrade cycle ;-) The XBox One I'm trading is the plain vanilla version, which I'm trading for the Gears of War 4 limited, to go with my other limited editions. Buying the extra "Fenix" controller as well. Scorpio is a bit of an unknown at the moment ... I figure there's going to be a fine line between one of those, and a reasonably powerful gaming PC, especially if Play Anywhere takes off. Either way, $100 a month into an envelope between now and release will boil that frog...

"For a limited time" ... I've pre-ordered the Gears of War 4 Limited Edition XBox One S, which isn't due out until October. Hopefully the offer is still valid at that stage. I'm one of the 7 people in the world that actually uses and loves the Kinect unit for games :-)

So you have to own an original Xbox One if you want to get the adapter? I'm not sure I'm following. They expect people to have bought two systems from them to get the adapter. Why don't they give it to you if you buy a Kinect for your brand new Xbox One S if it's the first console you bought?

To keep people who didnt buy the Xbox S from getting a free adapter only to sell on ebay.

Sure, I can understand that, but purchase of a standalone kinect and an XBS should entitle you to the adapter as well. In all fairness, the adapter should be inside the XBS box.

That's a good point and I agree. The fact that you can still buy the Kinect separately means that at the very least they should give you the adapter free with only the serial number of the XB1S and the stand-alone Kinect.

Wholeheartedly agree. Had waited to buy an XBO until now, (have a 360 w/Kinect) and would look forward to using Cortana. To do so I would need to buy a Kinect, $99, and an adapter, $39. Either that or wear a headset at all times. Since the biggest use of Kinect will likely be to talk to Cortana, and the XBO is largely a Win 10 machine, why doesn't it allow me to just slap a USB web camera with mic on there for this function. Should support Skype as well. Not sure OI care about Kinectimals or Dance Studio. If I buy an XBO and a Kinect, that should make me eligible for the adapter.

You can use Cortana with your regular mic on your controller it'll save you some money but isn't as good as the controller less function you get with the Kinect.

I think the idea is so that people who already own a Kinect aren't annoyed by the lack of a port. Those who choose to pick one up have to pay a premium.

Because Microsoft no longer has an interest in the Kinect. The deal is meant for those who bought the Xbone with Kinect at launch and bought Kinect games along with it. Besides voice commands, there's no real incentive for users to buy a standalone Kinect, as there are only a hand full of games which are becoming increasingly difficult to find Posted via the Windows Central App for Android

Well, voice commands (with Cortana) support headsets now, so even less of a focus is present.

Cortana is a joke though. "Xbox, record that", "Xbox, open that" worked seamlessly. Now with cortana it doesn't recognize jack **** and lowers your game volume. How disappointing.

The fact you are saying ""Xbox, record that" shows you are not talking about the upgraded XBox Cortana - I find it an impressive upgrade and extremely useful "Hey Cortana" is the trigger phrase and she recognises "natural language", so "switch off" works just as well as "turn off" for example. Watching a movie and asking cortana "Hey Cortana, who is the actor who plays <character x> in <film z>" is cool, as well as simple things like "what's the weather like tomorrow" and it tells you the weather forecast for where you are without you having to specify - I love my Kinect, if you only use the XBox for games, I can see the lack of appeal for Kinect, but I have always used it for voice commands and now its even more useful

I actually appreciate and enjoy the kinect. I don't, however, enjoy not being able to seamlessly record game clips anymore. I say "Hey Cortana" and there's a delay. This delay also cuts out the game audio while cortana is "warming up". I'm sure for regular things it's fine. For games it's a shame, but it doesn't work like it's supposed to. And yes, I have the S now and it still reacts slowly.

Yea for games its quicker to double tap the Xbox button and press x to record a clip.

Microsoft needs to release a cheaper webcam with microphone for skype and Cortana that is native USB.

They do. In fact, they should come up with a "Cortana device" of their own, for example for desktop computers which don't have a mic. Personally I got the Intel RealSense camera kit, which covers the Windows Hello compatibility and also works like a charm for allways-on Cortana. I recommend it. There's even a new version of the cam now. But yeah, ideally MS should have a device made by them for this, cheap mics usually are not good enough.

A little clarification please. When you say "original" does that mean the serial number of the actual original XB1 that came bundled with the Kinect (I traded my original Day One console for an Elite console last year) or will the serial number of my current XB1 suffice? Thanks.

By that, it means a bulky Xbox One console which has a Kinect port (:

I don't think you understood what I said.

By original he means not an Xbox 1s. The original Xbox one that came out. I don't think it matters if it was bundled you just need a kinect serial and an original Xbox one serial (non S)

I hope this offer is stll going when the Gears Special edition comes out in October, I can't claim my adapter until then :(

So I need the serial number from my kinect adapter to get a kinect adapter? Article makes no sense. I have an original Xbox one with kinect, a xbox one s and another kinect. What serials do I need to get my free kinect adapter??

The two console serials and the Kinect sensor serial (:

The Xbox One S should've had a Kinect port. If impossible, the adapter should come bundled in with every Kinect sold. Microsoft: screwing over Kinect developers and Kinect users since 2014.

Good riddance to Kinect. Aborting that deformed fetus of a gimmick peripheral was the best thing that could have happened for the Xbox One. #MyBroHasOneHand #9/11 #NeverForgetDeadUncle

Does anyone know if the XBox S has a built in mic? Would I be able to use voice commands without Kinect?

It does not. You either need to plug a headset into the controller to use voice or get a Kinect sensor.

I was surprised to learn that the S only has 2 USB ports where as the original has 3. Guess you could always use a hub.

It still has three. The newer console doesn't have a dedicated Kinect port which is why you need an adapter.

No it does not have an integrated mic, why would they do that? It's not as if they are launching a major update to all Xbox consoles and the first thing they talk about in any press is voice commands is it?? Anyway, you can always just plug in a Kinect and use the excellent mic in that which was designed for exactly that purpose and.... Oh, hang on...

Be prepared to make a phone call to complete this process. I tweeted @Xbox Support and was given a link. I sent a callback request because they couldn't do it via Twitter. They called me back in seconds and I was on the phone with someone right away. We registered my systems and my adapter should be here within 10 days. Very simple if you have 15 minutes.

I think we are all missing the point that the need for said adapter is rediculous.. this is taking backwards steps not forward moving technology.. if anything the damn thing shouldnt need any cord! The adapter literally has more cords cables and boxes then the whole Xbox one S combined!!!!

Why can't Microsoft build a microphone into the wireless controller? Surely it can't be that hard to do, then you wouldn't need the Kinect or a headset to use Cortana or any other voice commands, come on, why is technology stagnant at the moment and having to buy extra bits of wire just to use existing kit

What's weird is i have the gears edition and i think it had a speaker on the xbox one s cause when i turn it on it makes a ringtone noise and also when i turn it off to but they do give a free adapter but u do have to have the serial numbers for all three things and then it takes 10 days to get it after u register all 3 devices it kinda sucks it has a ton of wires just to connect the adapter u even have to plug it In for a power source...yes that sucks

I did exactly what you said and my free adapter is on its way. I did it all over chat too!

That's awesome! I suggest turning Cortana off and strictly using the Xbox commands. It's funny how when I swear and I'm playing COD the Xbox decides to listen. 😃

Went and registered my new Xbox One S, then straight away went to Microsoft Support Chat and when I typed out my question I included all the needed info. Once I connected to the support agent it all took about 10 minutes. The agent did tell me to expect 4-6 weeks to receive the adapter, "due to the popularity."

I did mine entirely online and it did say 4 to 6 weeks but it arrived week later.

Skype and voice control are key features for me on the XB1. That should be a cheaper add-on accessory going forward. What I really want is a media device that offers Microsoft services, sans games, in addition to other streaming services.
Windows Central Newsletter
Thank you for signing up to Windows Central. You will receive a verification email shortly.
There was a problem. Please refresh the page and try again.