The Xbox One Summer Update is rolling out today, here's everything you need to know
The Xbox One's Summer Update is finally rolling out to the public — here's what you need to know!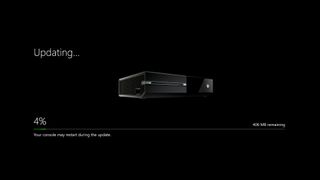 The biggest features of the new Xbox One Supper Update include the addition of Microsoft's digital assistant, Cortana, the arrival of Universal Windows Platform apps into the store, background audio support, and a revamped Games & Apps section.
Xbox Support (opens in new tab) noted that the Summer Update would start rolling out on July 29th, 2016, but it was slightly delayed through to today. You should see the update arrive on your console by 10 AM PDT / 5 PM GMT, but remember that usually these updates arrive in waves, so don't worry if your console hasn't received it on the listed time. To check whether your console is ready, follow the steps below.
Double tap the Xbox logo button on your controller. Or, if you're using a Kinect just say "Xbox, go to settings" and skip to step #3.
Select Settings. It is the gear icon.
Select All Settings.
Select System.
Select Console Info & Updates. Then it will inform you if there's an update available.
Here's the full changelog for the Summer Update:
While many will remember this update as the build that gave us background audio, it's actually a major milestone for Microsoft's Windows 10 vision. Developers will finally be able to target their UWP apps across Windows 10 PC, tablets, mobile, HoloLens, and Xbox One, finding an audience in living rooms traditionally available only to major companies working directly with Microsoft.
On both Xbox One and Windows 10, fans have helped shaped these updates with feedback through the Windows 10 Insider Program and on Xbox One's UserVoice page, making the platform a truly collaborative effort between Microsoft and its customers.
Future Xbox One updates will bring improvements to the console's support for eSports, new features for connecting to other players in the form of Looking For Group and Clubs, and, as usual, more refinements to the console's new and existing features. Find out more about what's in store for the next big update at the link below.
What's your favorite feature of the Xbox One's Summer Update? Let us know in the comments!
Need more?
Check out our other articles for more info on the Xbox One Summer Update.
Jez Corden is a Senior Editor for Windows Central, focusing primarily on all things Xbox and gaming. Jez is known for breaking exclusive news and analysis as relates to the Microsoft ecosystem while being powered by caffeine. Follow on Twitter @JezCorden and listen to his Xbox Two podcast, all about, you guessed it, Xbox!
does Groove support background play? how can another app be the first?

Yo, Pandora, I'm really happy for you, I'ma let you finish, but Groove's gotta be first! Sincerely, Kanye

Pandora is US only, maybe it's Microsoft tradition to have US only first.

Not tradition, just serving the most powerful country ever to exist first...as it should be. Don't like it, emigrate.

Then people still ask why there is terrorism in US... that arrogance! Sadly, that will last for another 5 years maybe? Hope China dont make the same mistake...

Maybe he is not even American. Some people just like to create trouble. However, one thing is sure, nothing justify terrorism.

What I stated is a fact. No one can take that away. It's in the history books.

China begs to differ :) Posted via the Windows Central App for Symbian

China will not be as powerful for decades, if ever.

Mine said update available, but when I try to install it says No Update Required. Rebooted and now the update button is grayed out and says no update available.

Got the You dont need an update message a few more times, but now it is downloading.

same, tried it "no update needed" read the help, came back and then the update was available... maybe the servers are just swamped and there is a queue to the server or something, if it doesn't connect it just says no update needed

Same here...I'll give it some time and check again later.

Every other source is saying it was delayed till next week

Downloading now in Costa Rica

I have the version on my X1 mentioned in the article OS version: 10.0.14393.1018 (rs1_xbox_rel_1608.160725-1822) Release date: 7/29/2016 But when I look at the update status screen it says: Last update: 27-07-2016 at 03:53h Also when I start Groove Music and play a song and then start Battlefield 4, the music stops playing. So are you sure the version mentioned in the article is the correct version for the august update everybody is so hyped about?

Groove still doesn't support background play, it seems. go figure.

Groove needs to be updated for background playback, it's coming soon.

Ok but what about the version in the article which has been on my system since early 27th of July? The summer update was not released until today.

Currently there are two versions of Groove in the store. One is the existing Xbox One app based on the old app model, the new UWP one still isn't ready to go live yet. You can find it in your "Ready to install" list if you've ever installed Groove on another device connected to that MSFT account.

They better not remove music videos. That would be yet another major feature lost from Xbox One.

Weren't music videos lost with Zune?

Still existed in Groove for Xbox. Would play whenever Groove found a video for the respective song, could be toggled on/off.

Mine it is the same build number but from 27th as well. Now I'm confused. Is this the final build or we'll be getting an update?

The UWP Groove Music app coming to Xbox One will support it. =)

Well I'm finally getting the update, but I had to try manual update several times because it was telling me I didn't need an update.

I am in the UK and at 91% one my one and the wife's is about 80% downloading, must go am now at 100% and want to have a look.

MSN Weather install fails

I keep getting the You don't need an update message, but I guess I'll just keep trying.

If it runs anything like the preview, have fun. I have some glitches with controllers not staying synced and pushing the console controller button sends the system into a head spin.

Took me about 5 times manually clicking on Update here in the US for the update to finally come through.... downloading...

I'm all for frequent updates, but "supper update"? So there'll be another one for breakfast? Or midnight snack edition? C'mon. ;-)

Really nice. Even cooler than description makes it sound! Smartglass and Cortana excellent. Looking forward to further updates. Open Insider like W10 please.

No update available for me in the UK as yet. Do we HAVE to say "hey cortana, xbox on" to turn it on now? It's a step backwards if we do, as I currently just say "xbox on".

I haven't used the update/new builds, nor do I have a Kinect, but I believe you can use the 'Xbox On' commands only if you switch Cortana off, otherwise, yeah, you have to do that (but you get Cortana, obviously). Bit of a trade off, really. Happy to be proved wrong, though, anyone.

You are correct. Old commands only work if Cortana is off. Shame as I liked the old commands better since the new Cortana commands aren't as reliable.

Well, Cortana worked pretty well a few preview version ago in France before MS disabled it. It only failed when I searched for some info about a game and got only "adult" related search results (and not soft ones)... They might have removed it from the final version because of this :-P

When will it come to Mobile and PC?

You don't read much, do you?

is there a way to force the update?

microsoft.. please remove the ads from the home screen. and for god's sake remove the recent app section. it takes up too much space and lowers the amount of pinned apps put the recent apps on where the ads used to be there should be a file explorer app where user have a folder for games, apps, videos, music, pictures, documents... the snap app tab should include "games and apps" with alphabetical lable like win 10's side bar app and they should give us an option to either "open, snap(if snappable), or pin/unpin the app let us group apps and named the group section...also if you're gonna put the weather app, can't you give us the ability to turn on live tiles for info or resize the dam apps like pc and mobile?

Become a Windows insider and give feedback to them. It is pointless to address messages to Microsoft people in here Posted via the Windows Central App for Android

It's say my Xbox is updated but it's still the same.

where are all the UWP apps that are meant to be coming? the store just has mostly the same rubbish like before, i was looking forward to using my app purchases on xbox one too, but it looks like microsoft nerfed letting all apps on and just chose a few new ones to add

App developers need to put in support for controllers to make their apps compatible. It's not hard from what I understand but it's not just something Microsoft can do for third party apps. You'll see plenty of UWP apps in the coming days I am sure. Most apps are touch or mouse and keyboard oriented in their current iteration.

Currently updating my Xbox here in Australia, ☺

Well.. as usual not many features that works in Sweden and other European countries Posted via the Windows Central App for Android

Cortana/Kinect is excellent.

Keep trying till it works

Cortana just in the US and UK? What about the other markets?

Looking forward to Deezer bring their UWP app over to One.

Cortana isn't working for me. She responds to "Hey, Cortana..." but then she seems to kind of hang on loading and eventually just stops listening altogether. Very frustrating.

So its basically the same as the insider builds then. Oh well.

And still no miracast support, so disappointed!!

Cortana is a joke. So much talk about anniversary here and there but so small changes for those living outside US and UK. Windows 10 is for desktop period! Rest is just crap.

You need to seperate Windows 10 from the UI. Ever since the update to NOXE last year the UI has just been broken, no change with this update either.

Downloaded in England. I really hoped they'd sort out the UI, still a shambles.

It's the a way to the it to recheck? It still says no update available for me.

Hahaha haha........"the Xbox One Supper Update"!!

Day later and mine still has nothing. Is there a way to force it?

Mine doesnt have either. As if now. Posted via the Windows Central App for Android

I got it over night. Woke up this morning and had already installed.

So I went into settings to turn Cortana on. It said it had to restart. Now my Xbox just sits with a blank screen. I think Cortana bricked my box...

Currently, Amazon or XBOX Store is only shipping the Xbox One S within the United States, and Microsoft will only ship to select countries. However, ShopUSA ship it to make international shipping to you possible. ShopUSA ship to all over the world. You can get the ShopUSA address for Free. www.shopusa.com help deliver in 1-3 days to your doorstep with 100% free insurance. Please make use of it
Windows Central Newsletter
Get the best of Windows Central in in your inbox, every day!
Thank you for signing up to Windows Central. You will receive a verification email shortly.
There was a problem. Please refresh the page and try again.