Here's what we learned about Xbox Clubs, Arena, Looking For Group, and Play Anywhere at E3 2016
By Jez Corden last updated
At E3 2016, Jeff Henshaw from the Xbox Platform team gave us a glimpse of Looking For Group, Arena, and Clubs for Xbox One.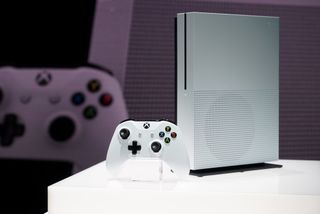 (Image credit: Windows Central)
Microsoft announced the features at their E3 2016 briefing on Monday but didn't go into much depth about how they work. We now have a better idea of what gamers can expect from these new aspects as they roll out across Xbox Live and the apps for Android, iOS and Windows 10 devices before the end of the year.
Henshaw was keen to stress that he wants these features to be seen as an inflection point, in a similar fashion to the way Xbox Live changed the nature of console gaming forever. It certainly seems as though the features could be a big deal, especially for games that are currently relying on third-party forums or other solutions for making groups and finding other players.
Xbox Play Anywhere: Halo 6 for PC?
First, we discussed Xbox Play Anywhere, which is essentially Microsoft's branding for games like Killer Instinct which see your content roam between Windows 10 PCs and Xbox One devices. When you see the Xbox Play Anywhere logo, it definitively means those licenses are valid on both Xbox One and the Windows 10 Store.
Henshaw stated that all Microsoft Studios published titles would be Xbox Play Anywhere from now on, which appears to indicate that games like Halo 6 will indeed hit PC. Henshaw said that third-party titles would be joining the program as well, but stated that they didn't have any announcements to make at this time.
Win32 gamers
Microsoft also gave us a look at how classic Win32 games typical of Steam will seamlessly integrate with Xbox Live after the update. Xbox Platform lead Mike Ybarra previously stated that they see a lot of World of Warcraft guilds using Xbox Live party chat to organize raids, and it certainly seems as though a lot of these features are targeted towards those sorts of gamers.
Henshaw used the examples of Counter Strike Global Offensive, DOTA 2 and League of Legends as games that would integrate with Xbox Live on Windows 10 – complete with their own game hubs, the ability to invite friends to parties and so on. The whole goal with Xbox Live seems to be trying to connect gamers across the entire Windows ecosystem. Presumably, Microsoft has recognized the importance of gaming to PC sales as it's the only segment of the industry that is seeing positive growth.
Microsoft has also updated Xbox Smartglass on Android and iOS to more closely to resemble the apps on Windows 10 and 10 Mobile. I asked about the possibility of iOS and Android updates outpacing Windows 10 Mobile due to their market share, to which they replied that it wouldn't be the case. They stressed that the company sees Windows 10 as a single platform now, and UWP would ensure the 10 Mobile version of the Xbox app would see the same improvements indefinitely.
Cortana
We didn't get to see a demonstration of Cortana's capability on their demo Xbox preview build, but I did ask about those gamers who hail from countries where Cortana isn't supported, even on PC. I noted that even in English-speaking countries like Ireland, Cortana has yet to see any availability – despite that Cortana'sr features work just fine if you swap your region to US or UK.
Henshaw stressed that the aim is to take Cortana global, and they're working hard to bring the functionality to more regions as soon as possible.
Looking For Group
Microsoft debuted the Looking For Group (LFG) feature during their E3 press conference. The idea is that players will be able to post and search for ads to accomplish goals in different games.
LFG is handled by Xbox Live's game hubs system. Each game has its own 'hub' on Xbox Live, which allows developers to post updates on the game into a dedicated news feed. Players can follow games they like and receive updates directly into their own activity feed on Xbox One or the associated apps.
LFG will appear as a new tab under an individual game's hub. In the tab, ads will automatically populate as cards, complete with unique backgrounds based on the game. Ad creators will be able to give cards both suggested and specific tags. It's up to the ad creator to decide who will be accepted into the game upon application. When you've been accepted, you'll receive an actionable invite on Xbox Live and the associated Xbox apps. When the notification is selected, you'll automatically get pulled into the game and party relevant to the ad.
Some of the tags players can create include things like "no swearing allowed" and "skilled players only", but also things like "casual players encouraged." A player could create a Killer Instinct training party, for example, looking to help out new players get to grips with some of the game's more complex mechanics.
Looking For Group seems like a powerful, intuitive and quite frankly necessary feature for Xbox Live. It feels like a natural progression of the network, and crucially, it eliminates the need for developers to build some of these systems directly into their games. In theory, Microsoft has freed up a lot of development time with this system. Games like Elite Dangerous, which have no in-game LFG system, will benefit immeasurably from it.
Clubs
Elite Dangerous and similar games will also benefit hugely from Clubs. This exciting new feature also enjoys its own tab in game hubs. Club owners can center their Club around a specific game or games, but also around specific activities or group ethos. Henshaw used the example of "parents who can only game after 10 pm", "mic required", "gender inclusive" and so on, as examples of tags people can attach to their Club, to seek like-minded players.
Like LFG, Clubs appear as cards under the relevant game hubs, allowing players to easily find and apply to join different groups. It'll ultimately be up to the Club owner and moderators to decide who joins the group, and it'll also be up to owners and moderators to remove trolls and toxic comments that appear in the group. The Xbox Live terms of service still apply as you'd expect, and any player can report content they deem offensive as usual.
Perhaps the coolest aspect of Clubs is that they also have a dedicated feed, allowing Club members to post game clips, content, and screenshots directly to showcase to the whole group. Additionally, Clubs will get chatrooms, accessible both on Xbox and via the iOS, Android, and Windows 10 apps.
Clubs almost feel like Slack for Xbox Live, allowing groups of like-minded players to band together, get organized and instantly create parties for venturing out online. Sea of Thieves developers Rare told me that Clubs and LFG will enhance their game as well, given the game's persistently connected nature.
Arena
Microsoft's big push into eSports begins with Arena, a system-level feature that allows people to create tournaments and challenges directly on Xbox Live. Microsoft is partnering with eSports groups like ESL, FACEIT, MLG, and more to create tournaments for both first-party games like Killer Instinct, and third-party titles like FIFA.
Game hubs play a part in Arena as well, as game developers will be able to share tournament opportunities to their followers. Those opportunities will appear directly in the feed of players who follow those games, and it only takes a single press to register to participate in the tournament.
The tournament screen lists the rules, whether there's an entry fee or prizes, and also dates of required participation. The system will also show you who your opponent is, using their Xbox Live avatar as representation. When you're registered to participate, a countdown timer appears on the dashboard of your Xbox One, and when it's time to join a match you'll get notification on Xbox Live that will pull you straight into the correct game and corresponding match lobby. The Xbox apps for Windows 10 devices, iOS and Android, will also serve notifications to participating combatants, to ensure that everyone who registered for the tournament shows up.
Speaking of people not showing up, I asked Henshaw whether there were concerns about competitions getting derailed due to the ease and availability of signing up. He said that it'll be up to tournament organizers to decide the rules on when non-participating competitors forfeit their matches.
The tournament page displays each bracket's winners and losers, all the way up to the overall winner and runner-up. It also presents clips, screenshots and other shared content from matches relevant to the contest, populating them underneath the bracketst for perusal.
Xbox One S and Xbox One Design Lab
Finally, we got to take a quick look at the new Xbox One S and its controller. The Xbox One S is indeed 40% smaller than the original Xbox One, and while that sounds like an impressive reduction, in reality, it's not really that much smaller. It can fit inside the original Xbox One, but I have a feeling that percentage is factoring in the removal of the power supply brick which is, of course, a hugely welcome development.
Owners of Kinect will be able to get a free adapter from Microsoft if they upgrade to the Xbox One S, but beyond the removal of the Kinect port, everything you'd expect of a Xbox One is still present. When I had previously asked whether the Xbox One S would ever arrive in black, I was told that Microsoft is always listening to feedback. So get voting on UserVoice if you want to see it!
Asked about the potential for airflow and heating problems, given that the power supply is now inside the console itself, Henshaw said that the Xbox One S has been tested through "millions of hours" to ensure airflow would be consistent. Considering the Red Ring of Death debacle of the Xbox 360, I'd expect Microsoft would go all out to avoid a repeat of that situation. The new Xbox One S also has a fixed internal hard drive, meaning you'll need to utilize the console's three USB ports to expand the storage.
The new Xbox One S controller has textured grips, similar to the Elite controller, but also features Bluetooth. The Bluetooth functionality will work with Windows 10 and 10 Mobile, but that it was up to developers to make use of the feature in their games. The Xbox One S controller also has improved range when compared to the current controllers, and Henshaw said there were no plans to launch an Xbox One Elite Controller with Bluetooth at this time.
Microsoft also gave us a closer look at the new Xbox Design Lab controllers, which allows users to customize the colors of the latest Xbox controller, and even engrave them with text. You can produce and order a custom design (opens in new tab), or save your designs for later purchasing. While the Xbox Design Lab is initially launching just in North America, Henshaw if there were plans to take the design lab beyond North America, and he said the goal is to expand gradually to offer it globally.
Bright, social future
The additions of LFG, Xbox Play Anywhere, Arena, and Clubs exemplify Microsoft's push to turn Xbox Live into the most accessible social platform for gaming. Microsoft expects that even those who aren't traditionally console gamers might see the value in creating Clubs and LFG ads for PC games that fail to support those kinds of features natively. It's plainly obvious how connected games like The Division, Destiny, and Elite Dangerous will benefit massively from those social aspects.
From Arena and eSports to the six teraflop 'monster' Project Scorpio, Xbox is fully resurgent and on the offensive in the ever evolving console war. We'll have to wait and see to find out if those bets pay off.
Jez Corden is a Senior Editor for Windows Central, focusing primarily on all things Xbox and gaming. Jez is known for breaking exclusive news and analysis as relates to the Microsoft ecosystem while being powered by caffeine. Follow on Twitter @JezCorden and listen to his Xbox Two podcast, all about, you guessed it, Xbox!
We only want 1 thing. The release date

"Before the end of the year"

If it follows every update they done before. Some of the features will arrive in July/August and the remainder will be in November.

Halo 6? Is that a typo or did they announce it as a future title already?

They haven't formally announced it, but when Halo 4 was announced they listed it as the start of a new trilogy. So, we've gotten the first two games from the trilogy (4 and 5), and 5 set up the storyline for a new game.

GGWP! Great article :). Can't wait to use these features!

Much needed article. I got what they were saying, but this helped answer some questions I had.

Cheers matey, hopefully that's why were here :)

i know this might be a much bigger overhead, but why not go the extra mile and allow us to also customize the colors of the actual console, the same way we'll be able to do the new controller, via the Designe Lab? even if it costs a little more i'd pay for some color on my controller and console!!

They should fire the idiot that came up with the idea of making th XBOX more like a TV DVR and less a videogame machine (less powerful than PS4). Remember first XBOX ONE E3? they didn't stop talking about TV, cable, DVR... that affected XBOX ONE sales a lot.

I like that fact the Xbox One can do TV and other entertainment besides gaming. I game alot so it is important but having one box do everything is very convenient. DVR would of been a great feature to add. I'm also a fan of the kinect. It's a shame it's pretty much dead now.

And they backtracked from that approach. Though you could argue that in the long run this may have helped; MS are now really focusing on gaming, using a platform that is very well built for media. With W10, that expands further. It's differentiation: The Xbox won't just be a great gaming machine, it'll be a brilliant all-in-one entertainment device that covers everything. Just like the 'One' was always meant to be.

I see people say this all the time and it is completely incorrect. They had a separate media event before that E3 where they dived deep into the TV stuff. Their initial E3 press conference with Xbox One (2013) was indeed FULLY focused on games. It even opened with Kojima-san demoing Metal Gear Solid. The only non-gaming stuff mentioned was the release of the Xbox 360E. Everything else was games.

The drm was more of an issue then this

The $500 price tag was what hurt X1 at launch.

Bridging Xbox and pc will dominate ps and Nintendo

LFG, Clubs and Arena: my favourite announcements!

All of which are solid strides in the right direction. The future looks bright for and I'm digging the fact Microsoft is consciously closing PC/Console gap more than ever while Sony plays "exclusive club". Their games look great, but won't be enough in the long haul.

I like this! Looking forward to meeting more gamers through the clubs.

Need to make a Windows Central club :)
Windows Central Newsletter
Get the best of Windows Central in in your inbox, every day!
Thank you for signing up to Windows Central. You will receive a verification email shortly.
There was a problem. Please refresh the page and try again.