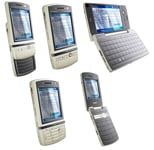 Although 3GSM has already given us some exciting photos of devices running WM6, some of the specs and details have been pretty thin. Now that we've had a moment to breathe, let's take a close look at what i-mate has dropped on us ("us" being "the world," as i-mate's history of shipping devices in the United States isn't what I'd like it to be).
Details after the jump.
i-mate Ultimate Line
We'll start with Engadget Mobile, who points out that the i-mate ultimate line is actually going to consist of 5 completely different form factors.
Read: i-mate goes deep with Ultimate line, five models promised - Engadget Mobile
Meanwhile, PocketPCthought's post about the 5 ultimate phones points out an even cooler nugget for you Vista owners:
PocketPCthougts also suggests we will see these monsters in the stores in June.
Read: Pocket PC Thoughts - Daily News, Views, Rants and Raves
...What about specs on this Ultimate line? PCMag has the specs, and they are the very definition of overkill:
The even better news from PCMag, in my humble opinion, is that these phones fully support the "Advanced Wireless Services" band that T-Mobile gobbled up last year - raising my hopes not only that we'll see these monsters in the United States but also that my own wireless carrier will support them. Oh, and i-mate is "keen to support the US Market."
Read: I-Mate Unveils Windows Mobile 6/Vista Sideshow Phones - News and Analysis by PC Magazine
JAQ4
The JAQ4 is no slouch, either. With a shape that says "I'm Standard Edition" but is actually the Professional Edition and a scroll wheel (it's the little things that get me), I can appreciate this little guy.
The specs are definitely not in the "Ultimate" category, but they ain't bad. Hello GPS! Goodbye 3G Data!
Microsoft Windows Mobile 6
GPS
Quad-band GSM/GPRS/EDGE
WiFi 802.11 b/g
64 MB RAM, 128 MB ROM,
Mini SD Card Slot
2.8" 65k Colour Transmissive Micro-Reflective (TMR) touch screen
Talk time 5 hours, up to 200 Hours Standby
2.0 Mega Pixel Camera
Bluetooth V1.2 Compliant
Read: i-mate Announces the JAQ4 and SPL Running Windows Mobile 6
Get the Windows Central Newsletter
All the latest news, reviews, and guides for Windows and Xbox diehards.