500px officially comes to Windows Phone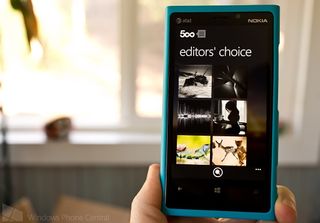 It was nearly a year ago that we started getting some third party apps in the Windows Phone Store for 500px. The popular photography website didn't have any plans to make official apps for either Windows Phone or Windows 8, so we were stuck with unofficial offerings. They weren't bad though, in fact a few of those independent apps were quite good. They just didn't carry that badge of authenticity that an official app can.
Today that changes. 500px is now available for Windows Phone 8 users in the Windows Phone Store.
500px (500px.com) is by far my personal favorite photography network. It's a great source of inspiration and creativity for photography. The emphasis is more on sharing your best work vs. a place to just store photos. So you'll find photographs from amateurs and professionals that are just all around excellent. The voting system also helps push higher quality images to the top of their respective categories.
We were pretty stoked here at Windows Phone Central when they released an official app for Windows 8 back in late September. It was then a month later when a Windows Phone app was teased by 500px over Twitter. No ETA was given, but we've been patiently waiting ever since.
The app is now available in the Windows Phone Store. It's pretty awesome. Photos load fast on both Wi-Fi and cellular networks. It's also a good sign when nearly every single feature from the 500px website is supported in this first app for Windows Phone.
You can view, comment, view comments like, favorite, and share photos within the 500px app. Tap any photo after signing in and you'll be able to view the description, tags, any available EXIF data, its pulse, number of views and more. View the comments to see what people are saying about that photo. You can also add your voice to the conversation with the app. If you really like a photo you can like it by giving it a thumbs up or add it to your favorites with the tap of the heart. Photos automatically rotate to landscape when you rotate your phone.
I don't have a Lumia 1520 yet, but I'm jealous of Dan and Mark playing with this app on that device. Photos look amazing on my Lumia 1020, so I can't image what a display like the Lumia 1520 would do for an app like 500px.
When you launch the app you can slide between various feeds from the 500px website. Your flow and favorites are both their, along with the feeds from those you follow and the current crop of photos that are popular or in the editor's choice section. You can of course view profiles (like your own) and browse a user's portfolio.
There are also some bonus features like a beautiful double wide Live tile and Lock screen support. If you set 500px as the app controlling your Lock screen you'll be greeted with beautiful images from the popular feed of 500px.
500px is a wonderful first app for Windows Phone, but we'd still like to see a few additions in future versions. For example, it'd be great to pin a particular feed (popular, editor's choice, etc.) or a particular user's profile as a secondary Live tile. It would also be killer to see support for the new Market section of the 500px website, but that feature isn't even available in the iOS app yet.
We're excited to see 500px bring their app to Windows Phone. This initial version is a great app and we can't wait to see improvements made to it based off feedback from the community. That means you've got to head to the Windows Phone Store (you can also use the QR code below) and download this free app for Window Phone 8 right now. Play around with and come back to the comments below and share your initial impressions.
P.S. The link is fresh, so if you're not seeing the app right away try again later.
Windows Central Newsletter
Get the best of Windows Central in in your inbox, every day!
Cool. Waiting for this app since it came to windows 8 some time back
Edit: performance is better on shoopix than this.

QR Code doesn't seem to be working.

Lame. I'll fix it. Use that link though! Edit: It's working now. Switched to a diff QR gen.

Thanks Sam, stunning app, thanks for the heads up.

Windows Phone is on a roll with the official apps! Just waiting on Flipboard and Pinterest.

Great!... good going for WP lately...

Sweeeeeeeeeeeeeeeet!!! :-)

hmm I cant seem to log in :/

Sam, is this what you teased on Twitter last night?

Great to see the official app from 500px. This week is simply rolling for WP users. Lotta apps, games and updates coming to the WP store. :)

Nice I've been using 480px as a locked screen all this time and this new app even has nude pics in da category

Yea I can't see them in da web browser when I select nude from da categories no photos or maybe is my iMac preventing me for watching nude shots

oops just sent a tip.. disregard. I need to refresh my browser. ha

I haven't checked this app or site out before. So is it more like Flickr or like instagram with selfies and all that stuff? I know it is said in the article that also amateur and professional photogs use the app

Another quality addition, Windows Phone 8 has finally come to stay and I can worry less about apps not available. But where is Path? We need that too

Love it! Question: Since I have this now on my phone, and wil lsoon be downloading for my Tablet and PC, will the lockscreen images be the same each day and update at the same time? Also, how often do they update? Before I was using Bing Images for my WP and Amazing Lock for my Tablet and PC but they often fell out of sync of one another.

I've gotta ask, with Instagram and Fhotoroom and others available, what's the draw of 500px? Just another similar service with its own community? Anything that makes it standout?

Instagram and Fhotoroom are nice, but their emphasis is mobile photography. 500px is aimed at serious hobbyist and professionals with their fancy pants DSRLs. Just head to 500px on your browser and check out some of the work and you'll see the difference vs. selfies on Instagram.

It's like riding a bike(instagram & fhotoroom) and a car(500px). Both will get you there, but which one will keep your hair and clothes clean?

SWEET!!!! Now Flickr needs to follow and update there crap.

I think i'm switching from Flickr (with a lousy 2yo WP7 app) to 500px.

Sheesh, does anyone else find it so frustrating trying to pinch to zoom on the photos, worse than reaching over to a monitor and touching it because you got so used to touch screens. Windows Phone is closing off the year with huge success. There is no longer a question about it, Windows Phone is a big player.

Please make a German Version!

Will simply get this just for the lockscreen support. Bing images are great, but I am almost positive this baby will have stunning photos to offer. Now with even more reason my friends are gonna say woah dude you have a new badass picture as your background everyday lol

Question: Since I have this now on my phone, and wil lsoon be downloading for my Tablet and PC, will the lockscreen images be the same each day and update at the same time? Also, how often do they update? Before I was using Bing Images for my WP and Amazing Lock for my Tablet and PC but they often fell out of sync of one another.

Would be great to be able upload from the great cameras on our Windows Phones. I have some awesome photographs I took of the St. Louis Arch that I'd love to share from my phone.

Try my app My 500px which has upload capabilities and more.

HOW TO UPLOAD ? offical app dont have upload capabilitie :/

Their focus is on professional photography, that's why upload is not there. No crappy mobile photos i guess.

Needs landscape browse mode...

Thats nice. What about flickr though? Can't they make a proper WP8 app? MS was in bed with yahoo so i don't see why they can't make it happen.

Nice app. It could use some optimization but very nice to have.

Very nice application, but for now on my Lumia 925 ,8.1, seems to crash on open photos...please if somebody can do something for solving this.... Thanks
Windows Central Newsletter
Thank you for signing up to Windows Central. You will receive a verification email shortly.
There was a problem. Please refresh the page and try again.