500px photo sharing app lands in the Windows 8 Store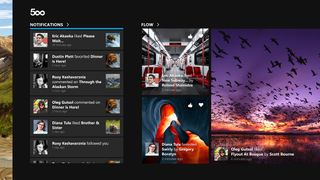 Photography fans can rejoice as photo-sharing site, 500px, hits the Windows 8 App Store. 500px is a service similar to Flickr, which allows users to share their photography, receive critiques, and join groups of similar interest.
As of now, there is no official Flickr app for the Windows Store, but users who are avid about photography should take the time to experiment with 500px – it makes a great alternative or secondary site for showcasing your work. As an amateur photographer, I use a collection of sites to show off my work and 500px is definitely a great site if you are looking to share your creations.
Just as the site is designed, the application is beautiful and is a joy to use. When you first launch the app, users can gain quick access to popular feeds including "Editor's choice", "Upcoming", and "Popular". The application will even allow users to sign in to their own account and receive notifications in addition to being able to access various private photo streams. Users can go about liking and saving any new of your new favorite pieces of art.
The 500px app will even display Exif data, so you know all the geeky camera statistics about the shot you are viewing. Exif data includes what camera was used along with the shutter speed, aperture, ISO, and format.
500px is not new to working with Microsoft, as Bing had announced a partnership with the company to deliver fresh and beautiful photography to the front page of Bing. Now would be a great time to get your photos up on 500px and enter in a chance to have your work featured to Bing users around the globe.
Click here to download the new 500px application from the Windows Store.
Do we have any photo geeks in the house here at Windows Phone Central – is your Windows Phone a part of your shooting collection?
Source: Microsoft
Get the Windows Central Newsletter
All the latest news, reviews, and guides for Windows and Xbox diehards.