500px photo sharing app lands in the Windows 8 Store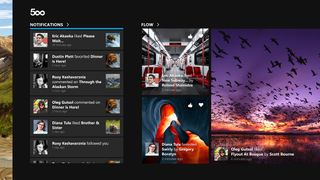 Photography fans can rejoice as photo-sharing site, 500px, hits the Windows 8 App Store. 500px is a service similar to Flickr, which allows users to share their photography, receive critiques, and join groups of similar interest.
As of now, there is no official Flickr app for the Windows Store, but users who are avid about photography should take the time to experiment with 500px – it makes a great alternative or secondary site for showcasing your work. As an amateur photographer, I use a collection of sites to show off my work and 500px is definitely a great site if you are looking to share your creations.
Just as the site is designed, the application is beautiful and is a joy to use. When you first launch the app, users can gain quick access to popular feeds including "Editor's choice", "Upcoming", and "Popular". The application will even allow users to sign in to their own account and receive notifications in addition to being able to access various private photo streams. Users can go about liking and saving any new of your new favorite pieces of art.
The 500px app will even display Exif data, so you know all the geeky camera statistics about the shot you are viewing. Exif data includes what camera was used along with the shutter speed, aperture, ISO, and format.
500px is not new to working with Microsoft, as Bing had announced a partnership with the company to deliver fresh and beautiful photography to the front page of Bing. Now would be a great time to get your photos up on 500px and enter in a chance to have your work featured to Bing users around the globe.
Click here (opens in new tab) to download the new 500px application from the Windows Store.
Do we have any photo geeks in the house here at Windows Phone Central – is your Windows Phone a part of your shooting collection?
Source: Microsoft
Finally! I've been waiting for this app for a long time! Glad to see it here.

Nice maybe this will lead to a WP8 app!

I use a third party app called Shoopix to access 500px. I find it quite good.

I use a third party app 480px. That is also very good.

"Do we have any photo geeks in the house here at WPCentral"
I think Nokia has turned all of us WP fans into "photo geeks".. Lol❕❕......
Question, why aren't sports fans called "sports geeks",, or culinary artist called "culinary geeks"❔❔
How about "gun geeks", or "NASCAR geeks"❔❔❔❔❔❔❔

Would Photo Phans be better?

Photo otaku, sports otaku, gun otaku :p

Can't say much about Flickr. Yahoo isn't exactly supporting Windows Phone, and by extension, windows in any way. Did you try the redesigned yahoo home page on windows phone?

Yahoo at least has a mail app on W8. Which is more than that other company has contributed to the new OS.

There is an offical Flickr app for Windows Phone.

Yes, but it needs some updates. It even reads Flickr for Windows Phone 7!!

Yes, that's right, but it's painfully out of date compared to other platforms. I hoped it would appear along with Lumi 1020. A Win 8 app for Flickr important now, especially for PR reasons as much as anything else, to stop people jumping to 500px

What's all this nowadays with sharing? Maybe I want to be selfish and keep my photos personal...

Then be selfish. Who cares?

Its not correct,there is an official flicker app.

This looks cool. I'm going to check it out.

Thank God, I've been waiting a lot for this!! :D

I installed this this morning quickly and was able to log in to my account etc. no problem, saw my photos, but could not find a way to upload. Now, I only played with it for about 3 minutes, so maybe I missed it. Can anyone confirm 100% that I can also upload photos to my profile?
Windows Central Newsletter
Get the best of Windows Central in in your inbox, every day!
Thank you for signing up to Windows Central. You will receive a verification email shortly.
There was a problem. Please refresh the page and try again.