6snap 3.0 hits the Store, brings Snapchat messaging functions to Windows Phone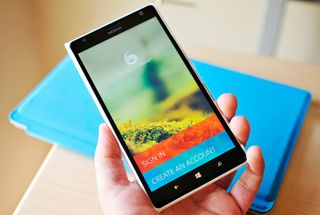 Although an official Snapchat app is still missing on Windows Phone, Rudy Huyn and his app 6snap have done a nice job of filling in the gap. It was only 3 weeks ago that Snapchat announced their new text chat and video calling service, and Windows Phone users wanted some of that action too.
It was no secret that Huyn was working on porting (and re-coding) his app for the new feature, and today it is now live for everyone. Heading into the Windows Phone Store we can see version 3.0 is ready and willing for your secret-ish chats to friends and strangers.
Let's see what's new.
6snap 3.0
Chat conversation with your contacts
Display more snaps, you can scroll to see old snaps
Search snaps
That sounds like a win-win for Windows Phone users, who can at least have conversations now with those on iOS and Android.
If you're a big fan of Snapchat, you have no reason not to grab 6snap, so pick it up here in the Store. Let us know in comments how you like the new features!
Thanks, Neal R., for the tip!
Windows Central Newsletter
Get the best of Windows Central in in your inbox, every day!
Daniel Rubino is the Editor-in-chief of Windows Central, head reviewer, podcast co-host, and analyst. He has been covering Microsoft since 2007 when this site was called WMExperts (and later Windows Phone Central). His interests include Windows, laptops, next-gen computing, and for some reason, watches. Before all this tech stuff, he worked on a Ph.D. in linguistics, watched people sleep (for medical purposes!), and ran the projectors at movie theaters because it was fun.
Why no video of a demonstration? Or is that Mark's job? Love his videos.

So this has video chat as well?

Now I think only few need the official snap chat.

For those who don't know that 3rd party apps exist, yes, there still is a few. :-/

Rudy apps needs to be kept separate under his name in the windows store.

Rudy Huyn. This guy is amazing !

Awesome! :) Now do we get instant push notifications? Or does it still update once every half an hr?

Since 6snap is a 3rd party app, it is impossible to have instant push notifications

Tons of 3rd party apps have push

Hmm.. Well I'm just glad we even have snapchat. Without Rudy, I probably would've gotten a new phone. His apps are amazing.

Thanks Rudy ! You are awesome :)

so at this point . do we really need the offical snapchat app ;)?

Yes. Can you make video call with this one? No? So yeah, we need an official app

We need official everything because potential wp buyers will only care about first party apps :P

I don't understand why Rudy doesn't have push notifications in 6snap and 6tag. These apps are perfect just push notifications are missing.

Push notifications are there. You just have to activate them in the settings. You will see it as: Enable background Agent.

Those aren't push, those are pull. Push notifications are sent from the nserver to the phone. Pull notifications checks for notifications every half hour.

But it refreshes once every half an hour right? I mean they're not instant like other chat apps such as whatsapp,viber etc right?

Instant = push
30 mins = pull = 6snap

That's not push notifications, those are "pull notifications"

I meant instant notifications which are missing. App send notifications every thirty minutes instead of the time of recieving them.

It now crashes everytime I view a story. I'm on a 920 running 8.1.1

Uuuhhmmm can we video call now?? And push notifications?? That 30mins thing ain't working for me

Yes then it will be even better than the iOS version of wats app. I'm ready to pay for that app.

I do it for free . . . lol.

I am fed up of facebook they screwed fb app.. Messenger is also laggy and so what's app... They are way to behind the android version... I hate it... What are the team... Jst release features for IOS and android what abt us... Messenger doesn't have video calling... What's app is broken doesn't have audio upload... Even hike, wechat better in stickers and backgrounds and faster as well

Even android version all phones including their stupid nexsus have scroll lags in all their apps. All android devices are worst while scrolling.

And what abt features... While messenger and what's app works better and faster then wp8/8.1 on android

Scrolling lag is on entire is..wp is smooth ... Still here we face issue with specific apps

Messenger works fine for me.

Rudy Huyn is the man! Great job!

6snap doesn't have push notifications because Rudy can't register the app with snapchat's push server. The shortest interval that a background agent can check the server is 30 mins

Rudy could use Azure as a go-between between the Snapchat server and the Windows push notification server to get it working. I hear there's another Snapchat client in development which uses this method to enable proper push notifications.

It could be made available for a price as an in app purchase. There are people who will gladly pay for it.

I know i am not a robot. How to get through that validation process?

I don't even care if they get an official app now.

2 HUGE ERRORS. APP breaking. 1. the select the ghosts in the picture message is missing from the validation process . 2. You cant link your phone number in app. IT comes up with an oops sorry about that error message. 3. if you unselect the check mark in the phone number validation it closes the app.

I had that problem too, had to use 1-(area code)-phone-number
1-234-567-8900

Formatting the phone number that way still doesn't work. I'm wondering if it's a busy service issue.

Rudy's update just hit the store and I can now verify my phone number. Fyi

Can't add my number nl720 user

Why can't we upload videos through 6tag yet :( or download videos from OneDrive! I swear I'm starting to think 8.1 really didn't fix the annoying video issues in WP.

Yes It did, just look at the file picker in OneDrive, any app can use that.

Use AERIZE to save 6tag and oneDrive videos to phone

yeah I don't get the point of chatting when you get notified every 30 minutes. tbh Rudy turned us down this time.

If Rudy is reading, is the beta version dead now or are you going to continue to use it as a testing tool?

I need help! I updated 6snap and can't remember my password. How do I go about resetting this? I can't seem to find anything. :(

Rudy, a little help with the Dropbox app dude. Its broken and missing features like "delete".

No video chat yet? Should I keep the Beta installed for whenever Rudy puts that in?

can any one tell me? how to validate for 6snap? m just not getting through those pictures while doing register there :/

The app crashes when you load and view someone's story. Lots of bugs. Probably should have kept it Beta a little longer.

Right, same problems here.

Can't see comments on Surface Pro

Am I the only one that's having problems with my 6Snap closing out by itself?? It closes after watching a video or seeing a photo.

Rudy makes some great apps, but he needs to work on the stability. This app has some major issues currently and TVShow has had some bugs for quite a long time.

Yes same here.. Mines always closeout by itself and it lags a lot.

Decided to try it but it suck on "just making sure you not a robot" screen. It just shows a 'Validate' button and if I press it, nothing happens.

Same with me, I cannot sign up. T_T

App is very buggy after update. It closes out whenever I try to change a setting, view a friend's story, and after opening a snap.

Haven't been able to post anything to my story since the update. I'm looking forward to trying the video chat, though.

My password wont work and i don't know how to reset it. PLEASE HELP ME!!

I signed up and my friend had the real snapchat but couldn't send anything. I have a problem with the phone number too. And loading issues.

How do you clear the snap feed? Or delete snap threads with an individual contact so it doesn't show up?

You can't now since this shitty update.

Rudy has done and amazing job and is to be commended, but we STILL need an official Snapchat app. Every time I ask a friend for their Snapchat handle they're like "Oh, Windows Phone finally has Snapchat, huh?" and while we've had 6snap for months, we still technically DON'T have Snapchat, and it's a perception problem Microsoft CAN'T afford to ignore.

Rudy Huyn's efforts are well appreciated in the Windows Phone community. But the recent 6Snap update, i.e, ver 3.0.0.0 has lots and lots of bugs. For instance; 1) Crashes too often. While changing either some settings or viewing a snap. 2) The Snap opened icon doesn't come now, it stays stuck on "Snap Delivered" only. 3) Removed the clear feed option so now if you have snapped a person long long time ago it appears in your feed which can't be cleared and is a nuisance. [which actually causes the scrolling lag] 4) Heats up the phone which the earlier version didn't. I don't know whether Rudy actually considers any of the bugs/feedbacks given to him (through the 6snap uservoice or the bug reporting feature) but he needs to work on the stability of his apps. I had to reboot my phone 6-7 times since the update because after 6snap crashed, it started hanging and the apps started loading very slowly. Only option was to take out the battery and put it back in. Device: Lumia 620 OS: WP 8.1 DP

Yeah, RE: your #2 there-- I have noticed this as well. At first thought people weren't seeing my snaps, but then realized the icon must not be updating. It seems to update fine in the full list of recent snaps, but in the 'chat' view with a specific person, it isn't showing that the person has opened any of the snaps.

why on earth cant i get it working...creat account... dont my email and password accepted policy my age as well all good
get to validation with 9 images.....what on earth is this i dont have a clue how it works at all

This app is garbage now. Rudy, please fix it.

Fun tip: If you slide to the left (your snaps list), tap your name to see your snap score.
Windows Central Newsletter
Thank you for signing up to Windows Central. You will receive a verification email shortly.
There was a problem. Please refresh the page and try again.