6tag and 6sec get updates for 8.1, CloudSix support and more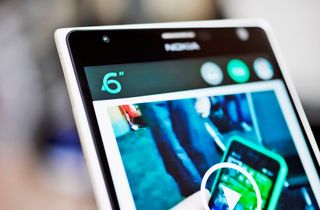 It's been awhile since we've seen updates for 6tag (Instagram client) and 6sec (Vine client) from developer Rudy Huyn. Today, we're getting updates for both, including a 2.0 release for 6sec.
6tag has received CloudSix integration, which is Huyn's other pet project. CloudSix offers an unparalleled experience for cloud hosting companies on Windows Phone, including Dropbox (Huyn mentioned that he plans to expand CloudSix coverage to OneDrive, Mega, Google Drive and more in the future). Today's update includes that along with support for "phablets under Windows Phone 8.1".
6tag 3.x
8.1 phablet devices – Appbar and keyboard size are different sizes, adjusted to reflect that
Save videos to CloudSix
The app update has not gone live for us, so check back later. You can find 6tag here in the Windows Phone Store.
Likewise for 6sec, which has hit 2.0 today and that is live in the Store. Like 6tag, that too has CloudSix integration, so that when you flip the Vine around and tap the cloud icon, you can now save the video to OneDrive or CloudSix (Dropbox).
6sec 2.0
Support for Vine Direct Messaging
Save videos to CloudSix
8.1 phablet devices – Appbar and keyboard size are different sizes, adjusted to reflect that
The other big addition is 6sec now has Direct Messaging support, like 6tag does for Instagram. That will allow you to send Vines directly to people, instead of posting them publicly. Finally, like 6tag, 6sec gets some 8.1 support, which includes the new smaller Appbar and keyboard for large screen devices.
Pick up 6sec version 2.0 here in the Store and let us know what you think below!
Windows Central Newsletter
Get the best of Windows Central in your inbox, every day!
Daniel Rubino is the Editor-in-chief of Windows Central, head reviewer, podcast co-host, and analyst. He has been covering Microsoft since 2007 when this site was called WMExperts (and later Windows Phone Central). His interests include Windows, laptops, next-gen computing, and for some reason, watches. Before all this tech stuff, he worked on a Ph.D. in linguistics, watched people sleep (for medical purposes!), and ran the projectors at movie theaters because it was fun.
So Rudy, now I think the SDK limitation gone for uploading videos from the gallery. Did you managed to implement this feature in 6tag?

Need to fully migrate the application to 8.1 SDK, need some works

I can't wait for this for all WP apps. I wonder how long will it take for most apps to migrate to 8.1

Transparent tile support, rudy??

It's already available. Check in the options, you have the option to have the tile the color of the app or you theme color. Select theme color.

Oh duh! Wow I can't believe I didn't notice. Thanks! Keep up the awesome work Rudy, you are an inspiration to young and old devs everywhere!

That should take you an entire morning to figure out :-)
Seriously, thanks for your constant support to WP.

Rudy! Maybe now a real File Manager ... 6File or 6 Explorer or 6One ... Please :) !!!

Rudy, you're a machine man. I am always anticipating your next app. Good work.

We heard at build that u are working with Microsoft for that dynamic lock screen feature. Any word when its gonna release??

you do a very very good job mate. very nice app 6Tag is, i really hope you hack being able to upload a vid straight from the gallery i'd be one happy bloke

Hey Rudy, I have seemed to have lost follow requests? I have a "private" account, where followers have to request to follow me. I opened up Instagram Beta, and I was surprised that there was a bunch of people with requests. This function used to work fine in 6tag, but at some point it stopped working.

Omg, that is huge. I had no idea that limitation was gone in 8.1.

I have 8.1 so it will update when available

the Rudy.. (in ice age 3 buck voice)

Now I can get back to making my vines. :) I'm glad to have vine direct messages. Hopefully we can get the profile customization like the official vine. I love 6sec.

Cortana do u know Rudy.
Ans:- He's one of the talented developers in Microsoft who makes apps better than its official applications

Here's a question for you all out there. I have about £20 of app credit to spend in the next 5 days )
(Nokia promo stuff)...since this is free money designed to give app developers a boost, where would you send that money?
I would try out Xbox Music/Video - but they seem to be pretty awful at the mo! & I cant pay my MixRadio subscription with my MS account. So I'm stuck for what to spend it on :)

You can buy some coin bundles on Avoider. ;)

I've already bagged my infinite runner - Into the Dead! I'm not really much of a gamer, but I do like that one.

Instagram? Rudy Someone who you believe in

I've already bought Rudy's full suite...including 6tindr (RIP). Just bought Blue Skies, Moliplayer and Uber Racer too!
I would definitely buy a video editor if one were available...
The problem with WP8.1 - the core functionality is so good that I no longer feel a need to buy any of the productivity apps that would once have been of interest!

Video upload is there if you pay for the app, as it needs a server to convert the video to instagram format. It's just 1,49$

I think he means uploading videos that are already on your phone. The option is not currently available in 6tag. I would love to have that option!

The limitation has been taken off in WP8.1 read a comment above, Rudy reply's about it...

Was there a limitation before 8.1? I already have a couple of apps, like Whatsapp, that allow to upload videos from our gallery. Anyway, thanks for the reply, I can't wait for that update!

Microsoft gave certain official apps the API (O think that is what it is called) , Whatsapp for one. But now it is available for all developers. Don't really know why they ever limited this tbh

Oh ok! Thanks for the info!

Rudy is the best, he deserves all the praise. I'm still using 6tag over official instagram....and recently I paid for the app as he really does a great job

Rudy we want transparent tile options please

Its already on the app...atleast for mines

Already there got to settings in the app.

Speaking about Rudy, any word on when the slick LockScreen animations app will be released?

You read my mind ! I was gonna ask the same thing

Update isn't live in my area yet.

Hey Rudy, will you be able to incorporate 6tag into the people hub as well as the individual profiles?

Yeah. I was just thinking about that. People hub having all social info from all social networks will blow away iOS and Android by miles i.e. link contact from all networks (FB, Twitter, Instagram, Vine) and have posts from all networks in one page. I just hope the 8.1 SDK will allow apps to have control to that extent. :P Waiting for the next update for this function!

Update isn't live yet but I'll wait. It'll update automatically

Hey Rudy how about a metro style facebook app?

Rudy should do a Facebook and a YouTube app.

Rudy, our most respected person. Always a nice work !

Rudy, Any news for 6tindr? Are you working in an official app for them?

Can somebody please answer me this as I'm not sure where to ask this question..... Why is it that when my photos automatically upload from my iphone to OneDrive they are full res and fill the whole screen on my surface yet, when they upload from my wp 1020 the files are not as big and crops its self down on my surface? I dont understand it, have this awesome camera phone and yet my iphone seems to sync better with my one drive????

Go to settings/backup/ and choose good quality for image upload.

Now if only i could send videos with 6snap... :) Rudy you're the best! I love you :)

Why does both 6tag and instagram show me random unknowns(no offense) on my explore page instead of popular pics? How do I change it back to normal?

Are we going to ever be able to post videos stored on our phones to 6tag -- rather than just live videos?

I'm sure I'm not the only one.. but the recent notifications in 6tag aren;t showing how many minutes ago (NEWS TAB) a like or a coment was posted, after 8.1 preview and that seems to be the case even after this update.. it shows fine when I'm viewing other people's activities ( FOLLOWING TAB )..

6snap updated as well. No changelog, however.

Was this updated for 8.1? It wont open on my 920