6tag for Windows Phone updated with Instagram's Direct messaging improvements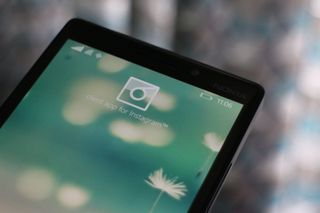 While the official Instagram app for Windows Phone might have been recently updated, the client of choice for users of the platform remains Rudy Huyn's 6tag. The app has been updated to version 5.7, which adds a beta of Instagram's recently launched improvements for its Direct messaging feature.
The improvements include allowing Instagram users to begin direct conversations with friends based on a specific Instagram post, along with support for threaded messages. In a Twitter post, Huyn stated he has added support for "list directs, list pendings, see text/images/video/post shared/likes, send text, send likes" to the 5.7 version of 6tag. Since he considers these new features to be in beta, users might encounter some bugs.
Thanks to everyone who tipped us
Download 6tag from the Windows Phone Store (Free)
Windows Central Newsletter
Get the best of Windows Central in in your inbox, every day!
When does this guy sleep? He keeps churning out more awesome stuff particularly for 6tag. I get so many envious looks when I tell my iOS and Android buddies that I can manage instagram better on a Windows Phone with multi account support! Thank you Rudy!

According to Wikipedia he doesn't sleep :D

He also code when sleep :3

Am I I the only person having problems when trying to upload videos? Whenever I try to upload a video my phone starts bugging out and even locks my phone, I never hear about anyone having this problem so I can't find a solution, I've already tried uninstalling it and even hard reset my phone and nothing works, im on Lumia 925

Don't forget to charge your phone before checking out those new features!

can you untag yourself yet in 6tag? that is one feature I've always had to go back to instagram beta for

That has been there for a very long time.

I looked all around the app for a way to do this about a month ago and nothing

You're kinda blind my good friend.

Thanks for the comment, but that doesn't help me at all

you guys could have just told him how to do it instead of insulting? sorry indieimprint, I would have told u if I know how.

https://www.change.org/p/instagram-instagram-for-windows-phone-needs-upd... #WindowsPhone Sign and Share the petition...
NB:SHARE TO OTHER SOCIAL NETWORKS.

Oh for God's sake stop posting it, we don't have to beg to those who don't care about WP, just buy 6tag

Why ? Why we need an official instagram, 6tag is more beautiful! Posted via the Windows Central App for Android

How can anyone give this guy's apps bad ratings when he continually updates his apps and supports the platform? Posted via the Windows Central App for Android

Great! The only think ​I'm not liking is the "Crop to no Crop" feature. When you select a picture you go to the Crop page and there are only two options: add border or, apparently, crop to 1x1. But when you select to crop to 1x1 if your picture are in Portrait or Landscape aspect the picture are no croped to 1x1. Is worse if your picture are in Portrait or Landscape aspect, but not in the aspects that Instagram accepts, it is automactly croped to these accepted aspects but you dont know how will be croped until you go to the Filters Pages, is a blind crop. Is not intuitive. Instagram managed this flawlessly in their official apps.

Wow that was fast, Rudy is the man.

My notifications for 6tag haven't been working since a long time. Don't know what's the problem. Checked action center and all the settings. :-/ 6tag is the best app for Instagram though. Keep it up Rudy!

This guys should be head of chief for the WP department at Instagram.

Is 6tag going to be a universal app soon?

He also updated 9gag app today. He is really awesome. I don't use 6tag, but is there any link to donate him?

Unfortunately no changelogs, and saving long post (including the potato) still crashes the app.

That guy deserves some wind in the back!


You could buy any of his apps... Most are free and have an in app purchase to removed ads.

I'm just waiting for it to run in the background without having to refresh, just star from where you left out at. That's all for me, other than that keep up the great work Rudy! You're the best developer I've ever heard of.

Awesome, great job Rudy. Now, if only notifications worked, and if only you were the one that managed Microsoft's Facebook app. But hey, this is great too!

But why does it take up to 5sec to open this client(6tag)?

All hail Rudy.
You're awesome, mate.

This 6tag is getting me error what to do it says try again first it says installing then it says try again ...i have donee this for several times ...but the error is same...plzz guyss help mee

I'll name my son Rudy... in the sims

Meanwhile, Instagram beta lost the ability to mention people's name..i mean, link of their accounts..which was earlier possible..

How to Message someone in 6tag ? can't find it anywhere !
Windows Central Newsletter
Thank you for signing up to Windows Central. You will receive a verification email shortly.
There was a problem. Please refresh the page and try again.