6tindr receives extraordinary update before being pulled by Tinder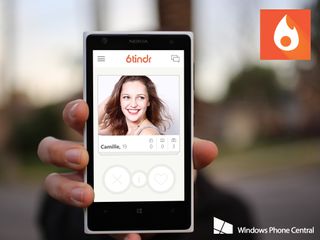 6tinder was an impressive app that just launched a little over a week ago in the Windows Phone Store. It was Rudy Huyn's Tinder client for Windows Phone. It just went to version 1.2 in the Windows Phone Store earlier today, but has since been pulled by Microsoft at the request of Tinder. Details below.
First off, let's go over what you're going to be missing out on. Besides missing out on Tinder on Windows Phone, version 1.2 of 6tindr brought an impressive set of new features to the mix. Here's what you would have enjoyed:
Review last passed persons to like them if you made a mistake or changed your mind
Select manually your geo-location on a map without GPS
Send message using voice recognition
Be able to save photos of your contacts on your phone
Open directly your friend profile from a picture saved on your phone (rich media extensibility)
Sort automatically and dynamically all conversations by date of the last message
Open directly the chat page when you tap the notification toast
Optimization for 512Mb devices: smoother animations, less network and CPU usages
Access to Facebook tagged photo
That's pretty incredible. 6tindr, an unofficial Tinder client for Windows Phone, had features that the official apps lacked on other mobile platforms. Most notable was the ability to change your likes in case you made a mistake or changed your mind. Another cool feature was the ability to manually select your location. Update 1.2 of 6tindr was awesome, but it's no more.
Head to the Windows Phone Store and you won't find the app. Tinder has asked Microsoft to pull the app. Unfortunate news for users wanting to become new Tinder users or those wishing to continue their experience on Windows Phone. Rudy has sent a letter to Tinder in hopes to appeal their wishes and work together. You can read Rudy's letter to Tinder on SkyDrive.
We'll update you all on whether or not Tinder is willing to work with Rudy or if they have their own plans for a future Windows Phone app.
Get the Windows Central Newsletter
All the latest news, reviews, and guides for Windows and Xbox diehards.