Aava Mobile to unveil 8-inch Windows 8.1 tablet for businesses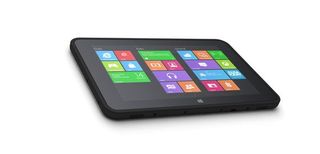 Finnish startup Aava Mobile is believed to be showing off a Windows 8.1 tablet, sporting an 8.3-inch HD display and powered by the Intel Atom tablet processor code-named Bay Trail, at the IDF (Intel Developer Forum) next week. So what will we be looking to see in this latest product powering Microsoft's OS?
The HD screen will feature 1920x1200 pixels and will join a growing group tablets with screens under 10 inches. The real kicker with Aava Mobile's tablet is that it won't be sold to consumers, but will instead be built to order for vertical markets, including health care, education and public services. That's not to say the average consumer won't be able to purchase one as it's reported Aava will make the tablet available through other device makers.
No price has been revealed, but Intel has Bay Trail CPU tablets priced at between $350 and $400. The startup estimates battery life to be around 10 hours and will include features that will make the product more appealing to enterprises, which is something that will surely please Microsoft with its Windows 8 OS being packed for business to take full advantage of. As well as the 10 hours of juice, the battery is also swappable.
Find yourself low on charge? Simply get the spare out your bag. The image above shows the removable rear cover.
Docking capabilities will be supported and the device itself has been tested to withstand drops of up to 1 meter, as well as performing well in both high and low temperatures. Piotr Frasunkiewicz, co-founder of Aava Mobile, notes that while Windows 8 adoption has been poor so far in tablets and the PC world, demand will pick up.
He states that "in vertical markets, the legacy of Windows is a benefit," explaining companies will look to upgrade to tablets that support exiting applications and deployments.
Source: PC World; thanks, Tavia, for the heads up!
Rich Edmonds is Senior Editor of PC hardware at Windows Central, covering everything related to PC components and NAS. He's been involved in technology for more than a decade and knows a thing or two about the magic inside a PC chassis. You can follow him over on Twitter at @RichEdmonds.
What a nice tablet. It seems to be built to last and the display resolution is top notch too. I'd easily pay $500 for a 128gb one, or $400 for 64gb.

Since it has Bay Trail, and build quality that can survive a one metre drop, expect to pay more than that. This is not your typical craptastic plastic Samsung device, after all. You get what you pay for.

What I can understand from the pages, this company is making products for industrial use( building sites,hospitals...). I dont think thease products will be sold in apartment stores.
http://www.aavamobile.com/index.php/en/products

"...will be sold in apartment stores."

lol @ Apartment stores.

I have an apartment store...open from midnight to 2am...

Apartment store, oh that's the next new store right by Good Buy.

LOL had to pause a bit there - probably "department stores."

I want enterprise adoption of W8 and tablets. I wish my company would!!!!!

Why can't other companies make tablets like this for consumers. This is something I would actually buy, if I had a need for a tablet.

Very nice specs, great to see some decent devices targetting business. Only Dell's Latitude 10 seemed to consider them in 1.0 devices. A shame it won't be avalable at least directly from them for consumers as I can imagine it ticking a lot of boxes for people, especially the removable battery (though with a ten hour battery life that's not always needed) and other TPM etc. enterprise features.

I'm hopeful we'll see a few more 8" (I wonder why no one is making any 7" tablets? An RT version of the new Nexus 7 would be lovely) tablets announced closer to October 18th.

We should have the Surface Mini. I'm assuming this will be RT based though, and while I do believe RT has a good value proposition, I don't think Microsoft will price it to sell. It needs to match (or ideally beat, even if only by $10) the new Nexus 7 to stand a real chance.

Lenovo also have their secretive Miix 8 too, this is the one I'm most interested in as it's clearly aiming to be a higher end model and also includes a digitiser. I was surprised this wasn't shown off at IFA. It was name dropped as something very special by Microsoft at Computex the other month so it's absence since has been rather conspicuous.

There were a few other smaller brands showing off some very cool smaller 8.1 tablets at Computex too, a couple seemed to take notes from the Surface RT's touch cover and kickstand and a couple of them were very much based on iPad Retina and iPad Mini.

Honestly, the first one to market with 1920x1200, Baytrail, and a Wacom-based digitiser gets my money. I don't really case who makes it so long as it has those three specs and ideally comes in at $400/£350 or less.

Same here. I don't mind the brand/manufacturer either, as long as it uses decent materials.
This "Bay Trail generation" W8 tablets seems to be more promising than I was expecting. The only thing I am missing is tablets with 16:10 or even 4:3 aspect ratios, as I found 16:9 really bad to read magazines on Zinio and ebooks.

Looks like an oversized Lumia 620 :D. I like it

I like that manufacturers are taking advantage of Windows 8 and the smaller tablets will definitely be good for enterprise. Not sure how well it would be to work in desktop mode on that size but if it works, it works. For me, I am still waiting for the right Windows 8 8inch tablet simply to fit into my car as a CarPC and allow me to do tuning on the fly as well as serve as music, GPS, video player, etc. Basically a fully featured "double din". :)

What's new and different about this "baytrail"..? Is it like haswell for laptops..?

It is indeed like haswell for laptops.
This chip should be alot faster and better graphics.
http://www.anandtech.com/show/7263/intel-teases-baytrail-performance-with-atom-z3770-cinebench-score



Increased battery life, over twice as fast as the current atom processors and better gpu (hd4000). The top one is gonna clock in at 2.3ghz quad.

if its over 2ghz, will be nice. This is what i was hoping Nokia would make instead of the RT quadcore thing , loads of people might buy it. enterprise , anyone .
the virtual keyboard.from win 8 isnt bad.
and hopefully runs silverlight directly, no needed to use the app store or ( "jail break ") to deploy all stuff. I like it.. give them what they had and put RT in front of them. Cant expect to force devs and users to go through Windows Store only..

Nokia lost their minds with RT! Need to offer: Phablet>quad core Bay Trail, 256GB SSD, 4G/LTE, 1920x1080 Display, Surface-type Type Cover(& stand), full W8.1! I'd pay for that value @ Market Rate!

Plus replaceable battery, great Digitizer Pen, etc.

Too bad that Microsoft isn't listening to the people who buy their products that RT is dead as a door nail. Move on and correct this mistake, so you screwed up don't make it worse by doubling down on dumb.

perfect to fit in my car. great to setup logging ecu maps. too bad ii cant get it

At what point will bezels begin to shrink a bit? It seems like as soon as they go from phone/phablet size to tablet size the ratio of bezel to display changes quite dramatically. I was curious about what was in back of the bezel on a tablet so I watched an iPad teardown and there is nothing I can see which makes the large bezel necessary on all four sides. On one side there is the camera and on the other the is the button, but that's it. The internal components don't go to the edge at all. I don't know that this is the case here, but the trend does seem to be on tablets to have large bezels all the way around.

Much easier to hold a tablet with some bezel without interacting with onscreen elements inadvertently.

I understand that, but the bezels on the tablets are about an inch all around. I think it would work OK with just a half inch.

Ah, ok. I thought you were going for zero bezel.

Is it possible to get a Samsung w8 tablet and downgrade it to w7? If not, then the bosses at my company are starting to adopt w8 tablets for their work. But if you can downgrade to w7, then I would assume they did that because all our desktop workstations finally moved to 7 this year. Just wondering.

So they are making these in batches for Enterprise, how about we get a "Enterprise" group buy together for a WPC version?

That's really nice. I hope W8 tablets will catch on.

I been doing my research and I narrow it down to two tablets that are 8" and they are the LG G pad and the MII8 Lenovo, both are very good, however, this changes everything because I know this is full Windows 8.

OMG. I portable Windows tablet with a removeable battery. Put full cellular capabilities in this and I will pay a grand. No questions asked. Now I have to wash the floor from all the drool. I know gross but it was an involuntary reaction.
Windows Central Newsletter
Get the best of Windows Central in in your inbox, every day!
Thank you for signing up to Windows Central. You will receive a verification email shortly.
There was a problem. Please refresh the page and try again.