Acer Spin 1 is a new Windows Ink supporting laptop heading for Computex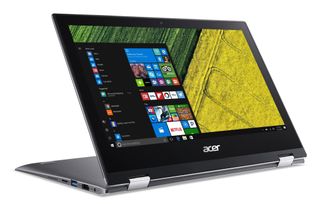 Acer's second pre-Computex laptop announcement is a new convertible called the Spin 1. And it supports Windows Ink thanks to the Acer Active Stylus.
Powered by either a Pentium or Celeron processor, the Spin 1 isn't your super high-end convertible, instead bringing premium features like inking to a more affordable price point. Also inside you'll find up to 128GB of eMMC storage and 4GB of RAM.
The 11.6-inch touch display is 1080p Full HD and folds around so you can use it like a tablet, or propped up to consume your media. You'll also find a precision touchpad and up to 8-hours of battery life, both of which are great to see on a small laptop like this.
Connectivity isn't left out in the cold, either, with a USB 3.1 port, a USB 2.0 port, HDMI out and a microSD card slot as well as integrated Bluetooth 4.0.
The Spin 1 also has an ace up its sleeve, and that's a great price. It's due to go on sale in July in North America and the EMEA region with prices set to start at $329 or €399. Which isn't bad at all for a small convertible laptop with Windows Ink support and a precision touchpad.
Richard Devine is an Editor at Windows Central. A former Project Manager and long-term tech addict, he joined Mobile Nations in 2011 and has been found on Android Central and iMore as well as Windows Central. Currently you'll find him covering all manner of PC hardware and gaming, and you can follow him on Twitter and Instagram.
hey thats super cool! this looks like a good laptop for a high schooler to use windows 10 s with.

In the connectivity part of the article i see wifi no where so no wifi ??

I mean, it has WiFi. When has a laptop launched in the last like decade without WiFi?!

Also no mention of a keyboard, so no keyboard and no Wi-Fi!

You type using your mind. It's the first telepathic keyboard.

The price is very nice, with the right advertising ++ more Windows 10 S devices to grow store, i can't see why would a student buy an Ipad!!!

Two reasons: 1. They're still trendy, and 2. Some apps just aren't on Windows.

That said, this looks like a great deal

Actually is a pretty decent price

Good light productivity model, especially with an active stylus. What tech is the stylus?

Nice song choice Richard D..... "I want your looooooveuuhhhaahhhuuhhaaaahuaauuuuvvvv!"

Awesome device. Acer firing a shot across the education bow! I think they scored a direct hit too. Any word if the memory and storage are upgradeable?

Unlikely. It's eMMC storage for starters so it'll be soldered to the motherboard I expect.

ahhhh. Even still at least it's not one of those 32gb eMMC versions. Great device there!

There is a 32GB version I think but there are options to have more. With 128GB I reckon this sounds like a neat little budget laptop

yeah. thats not enough for pretty well anything with windows 10 devices. Even RT you lose half your storage with 32gb. but 128 is very useable! awesome device, thanks for the heads up!

Really? what whiney little fanboy got his panties in a bunch because of this...you are tooooo funny...32gb windows 10 devices are not ideal. you lose to much space with just the OS. Come on. free box of tissues for every downvote...waaaaahhhhhh..sniff sniff

I'd rather have this than an Android based laptop. With something like this I can run both Windows apps and with Bluestacks I can run Android apps.

exactly...sniperboywc. Bluestacks is pretty slick. I use it on my dell computers for texture, since their windows UWP app is **** and does not work.

OOOOO MORE DOWNVOTES FOR THE TRUTH....Textures UWP does suck and Does not work...check it out....it's *****! However, the android app in bluestacks works fine...I LOVE FANBOY DOWNVOTES....WAAAAAAHHHHHH. Wow sniperboyWC you got hit with residual fanboy downvoting for me agreeing with you! ha ha ha!

Looks good and Interesting price.

Yes, it looks like a great maching for someone who is looking for a nice basic computing machine. You get ALOT of features for your money there. I wonder will it be offered with 10s for the education side of things.
Windows Central Newsletter
Thank you for signing up to Windows Central. You will receive a verification email shortly.
There was a problem. Please refresh the page and try again.