Activision re-hires Titanfall defector to direct Call of Duty's multiplayer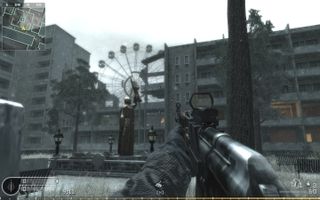 Following the launch of Call of Duty: Modern Warfare 2, Infinity Ward bosses Vince Zampella and Jason West were unceremoniously ousted from the company for 'breaches of contract and insubordination', (what the BBC would call a fracas). What followed was a mass exodus of what was seen as Infinity Ward's core talent, the majority of which joined West and Zampella's new venture, Respawn Entertainment, who went on to launch the successful Titanfall with EA backing.
At least one of those early defectors has now returned to Infinity Ward. Todd Aldermann is now Infinity Ward's multiplayer project director after spending time with Respawn, League of Legends' dev Riot Games and his own studio Scary Mostro.
The re-hiring follows reports that Activision's flagship franchise may have peaked. Despite being an arguably better game, it looks as though Advanced Warfare failed to outsell Call of Duty: Ghosts, which is thus far MetaCritic's lowest ranked Call of Duty on Xbox platforms.
Speaking with Polygon, Aldermann noted his excitement to be working on Call of Duty again.
For me, the hiring is telling of internal concerns that Activision may be losing its primary cash cow. With Call of Duty sales down year on year, and facing increased shooter competition from Activision's arch-nemesis - EA, you have to expect some degree of anxiety on the part of Activision. Battlefield is not heading to annualization, but seems to be enjoying a more rapid release schedule, Titanfall II has been confirmed, and the upcoming Star Wars: Battlefront enjoys a launch window (and thusly, a deep well of hype) with Star Wars Episode VII: The Force Awakens.
Infinity Ward head David Stohl spoke on Todd Aldermann's hiring, noting that "This is about hiring the best talent for the right position." It's no surprise to me that Activision may be looking to recapture the magic of Call of Duty 4, and that's a good thing. Competition leads to better products, and right now the competition is hotter than it's ever been.
Source: Polygon
Windows Central Newsletter
Get the best of Windows Central in in your inbox, every day!
Jez Corden a Managing Editor at Windows Central, focusing primarily on all things Xbox and gaming. Jez is known for breaking exclusive news and analysis as relates to the Microsoft ecosystem while being powered by caffeine. Follow on Twitter @JezCorden and listen to his Xbox Two podcast, all about, you guessed it, Xbox!
That should remove 7-year olds, right?

I bet Activision didn't see this coming :P.


Call of duty has run its course its time to let it rest.

This....make it stop already

Agreed, if they can somehow make it compelling again I'd be all for it.

I've never even bothered buying a Call of Duty game because it is an annualized release. It just burns me out thinking about it. It's too much, too often. I like the Halo model of releasing a follow-up every three years or so. I can handle that.

Yeah, Assassin's Creed is another offender here. I'm hoping Battlefield doesn't go down the same path.

Bf wont but hard line was a pretty good twist. I was afraid at first but they pulled it off

Remind me again why anyone should support such a company?

The last good call of duty was black ops 2, then it all went to crap.

That's what we said back in World at War and Black ops 1.

World at War is my favourite, hoping the Treyarch release will be in that vein.

It went crap at BLACK Ops 2, & onwards

In my opinion it started getting crappy after modern warfare 2. That doesn't mean I didn't enjoy black ops, but I felt as if things were starting to not be as good anymore. Posted via the WPC App for Android!

They should just remake Call of Duty 4 for the new generations and include all of the maps from that one and select maps from MW 2 and 3. Then call it a day for a few years. I was never a fan of the Treyarch rendition of Call of Duty.

Call of Duty Commander in Chief Collection similar to Master Chief Collection

Is call of duty still popular? ...ugh...

Not for much longer if current sales trends continue downwards, its still a crazy cash cow though.

Ghosts was fun. I hated Advanced Warfare.

"Fifty thousand people used to live in this city. Now it's a ghost town... I've never seen anything like it." — MacMillan

Best COD, MWF2, BO2. I just want those two games to come to Xbox One and I'm good, forget all the other ones.

I'd love Treyarch to release a remastered bundle game of all their zombie maps from WAW, BO and BO2 on the new consoles. Spent countless fun hours playing those games. Always prefered the zombie levels to the actual game, strangely, but I'm sure I'm not the only one.

Funny enough, I was just thinking about how much I miss zombies but not on console, on ios. I had an iPod touch in high school and would play via Bluetooth with other people and it was so much more fun than playing online with the same people on Xbox. I wish they'd rerelease the zombie games for windows phone or even windows 8.1. I'd buy in a heartbeat.

COD4 was excellent. Everything after brings only yawns to me.

If the get back to the roots of Call of Duty 4 multiplayer then COD may be good again. After that game it all went downhill.

IMO the jet packs killed this version. I went back to the previous version and deleted this one. No map packs for me

The thing that saved this game for me is the fact that they added the Classic game mode. I just wish they had made it more extensive with game types.

They really should hire a half decent writing team

Probably too late to get back to the glory years they ruined the franchise for the almighty $$$ post MW3

The last cod I ​played was mw2. I'm a big fan of cod2 and big red one. My franchise I dig was the brothers in arms.

Black ops 1 and 2, ghosts was fun and advanced warfare is awesome

MW3 was ok, but nothing will top MW2 or Black Ops 1. The search and destroy modes actually required skill, the guns had recoil. Gee, what a thought. I really hope they get back to that.

I am getting fed up of all these call of duties

I didn't think that anyone that was apart of that original Infinity Ward team would go back to Activision after what happened. Oh well, I guess money talks.
Windows Central Newsletter
Thank you for signing up to Windows Central. You will receive a verification email shortly.
There was a problem. Please refresh the page and try again.