Windows Phone 8.1 now on nearly 12 percent of Windows Phones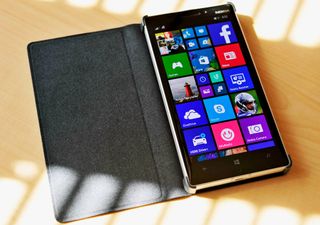 It's hard to believe it's nearly August. As another month goes by I'll take a look at the Windows Phone landscape thanks to data from cross-promotion network AdDuplex. Every month AdDuplex CEO Alan Mendelevich ( @ailon) gathers data that gives us insight into the Windows Phone ecosystem around the globe. During the month of July, we're looking at an even bigger jump in the percentage of handsets running Windows Phone 8.1. Read on for more details.
11.9 percent of Windows Phones have Windows Phone 8.1
Last month, only 7.7 percent of Windows Phone handsets were running the latest version of the operating system. We're now looking at nearly 12 percent of devices running Windows Phone 8.1 during the month of July. That's a nice jump seeing as how the Lumia Cyan update has just recently started rolling out to handsets and isn't available to everyone just yet. Marketshare of Windows Phone 8 dropped to 70.4 percent, most likely because of the new operating system.
King of the World – Lumia 520
No surprise here. The least expensive Windows Phone, the Lumia 520, is still the most popular. It holds onto the top spot around the globe with 30.9 percent share. It'll be interesting to see if the newly announced Lumia 530 can live up to potential and someday dethrone the Lumia 520 as the most popular Windows Phone.
Speaking of new handsets, how are the Lumia 630, Lumia 635 and Lumia 930 doing? They haven't been out long, but they're starting the slow process of steadily moving up in share. The Lumia 630 moved up to take the number thirteen slot while the Lumia 635 is at twenty-seven, and the Lumia 930 is in thirty-first place.
Nokia / Microsoft still top OEM
It feels like just last year we were waiting for Nokia to cross the 90 percent threshold for OEM share. Now they're nearly at 95 percent. That's insane, and hopefully we'll see a little more variety in the worldwide manufacturer picture for Windows Phone once these other OEMs get up and running.
Top Windows Phones around the globe
Here are the top three Windows Phones for a handful of countries around the globe. You'll want to note the dominance of entry-level models for nearly every single country
United States
Lumia 521 – 30.6 percent
Lumia 520 – 18.6 percent
Lumia 920 – 8.4 percent
Argentina
Lumia 520 – 33.9 percent
Lumia 720 – 23.2 percent
Lumia 620 – 15.2 percent
Hungary
Lumia 520 – 27.6 percent
Lumia 625 – 14.6 percent
Lumia 800 – 14.6 percent
France
Lumia 520 – 39.6 percent
Lumia 625 – 15.2 percent
Lumia 925 – 5.9 percent
India
Lumia 520 – 36.4 percent
Lumia 720 – 11.4 percent
Lumia 625 – 8.8 percent
Germany
Lumia 520 – 17.2 percent
Lumia 920 – 13.4 percent
Lumia 925 – 10.4 percent
United Kingdom
Lumia 520 – 37.7 percent
Lumia 525 – 11.2 percent
Lumia 920 – 7.6 percent
New unreleased devices
AdDuplex is a great source for finding devices that haven't been announced yet. Here are three new phones:
LG D635: Mid-range phone with 5-inch 720p display
HTC HTC6995LVW: Likely HTC One variant with Windows phone 8.1. Has 5-inch 1080p display. This is an exclusive Verizon model number.
Nokia RM-1038/RM-1039: 4-inch phone with 720p display. Has been seen on AT&T in the United States. Could be the Lumia 720 successor.
Data
The data above was collected from 4451 Windows Phone apps running the AdDuplex SDK v2. The raw data analyzed was collected over the day of July 24th, 2014.
For more info on AdDuplex, visit their website.
Via: AdDuplex
1520 for me. Strange thing is that 8.1/Cyan release causes more issues on my phone than the DP did. Still have lags when unlocking the phone and getting stuck in "loading" or "resuming" state, even with Cortana unpinned. Well, maybe another update will fix it. Overall though, 8.1 rocks.

Which version of the 1520 do you have?

I have the 1520.3, so I'll see if it's similar like the AT&T version.

Happens for all 1520 my one is the 1520.1 and is facing the same issues, also the screen goes Black while gaming and fc the running game. I has to downgrade and currently im running wp 8 again. Wp 8.1 and the cyan update brings more bugs than improvements to this Phone.

Hey can you guys do us a favor and report the issue using the Diagnostics app? If you both are seeing it, maybe others will too. What you do is open Diagnostics and then choose to report an issue. Then duplicate the issue while the app is running, then submit it. I did that with the lock screen beta and 8.1 developer preview on my 8X.

Did you recently uninstall the Lock screen app from Microsoft? If so, try reinstalling it then uninstalling it again. That worked for me to get rid of the lags on Lock.

I'll try that right away. Thanks!

Check back a couple of days on here, I think there was a post about that lag also and how to fix.

Also try turning off WiFi Sense. That helped reduce my heat/slow unlock issue.

Me too! I thought I was crazy!

I think you should hard reset your phone.

Sad how you're having problems with the most basic functions of a Windows Phone and they took a long time "under testing"

Same here. I have a 1020 and its obvious they are in no rush to release a successor after reading this pie chart

Let me know when it's at 50%.

Hey Sam, mind if ask what case that is in the picture?

Nokia CP-637 flip case for the Lumia Icon and Lumia 930. More info here.

I just got my first Windows Phone Lumia 930 yesterday. I think it's a great phone, however coming from an iPhone, I found the UX to be lacking in some areas. I think it will be great if we can make some noise in the community which should hopefully get things sorted out. I've made some suggestions via the UserVoice feature. There are no sound profiles, for Silent, Indoor, Outdoor, etc. To put the phone on vibrate, I have to turn down the volume all the way. Opening an email from a notification means you can only view and act on that specific email. There's no way to move back to all messages, because hitting back takes your back to the Start screen. Entering a wrong Wifi password doesn't prompt you. It just sits there as though it's still trying to connect. A feature I sorely miss is the ability to tap the top of the screen to scroll all the way to the top. Scroll inertia doesn't seem to be natural as it reaches a point where scrolling stops abruptly. These are just a few from the few hours that I've had the phone. I'm hoping that Microsoft works on polishing the UX a bit more.

You can put your phone in vibrate without having to turn the volume all the way down. Hit your volume keys and tap the little downwards arrow to get to more advanced settings. Then you can just hit the symbols in front of the two sliders to either mute media or notifications

Thank you so much CrazyQwert! That's a really helpful tip. :D

Yeah, this is really helpful. Thanks!

You're welcome! Also when you tap the heading of a notification (email for example) it takes you directly to the application. From there you can then read all your emails and navigate thought them.

The weird thing is many of those 520 users might not buy a new phone.. By which I mean a high-end phone.. Btw I said "many" not "all"

Do you mean that they will switch to a other platform or what? Not sure i follow what you mean

I mean.... The whole idea of the 520 is to be a stepping stone into the WP world, but the 520 and others are so spectacular in their own ways that some might think this is all there is... Those would be the ones who don't keep up with tech news lol the uninformed if you will

Uninformed!!!??? ;[
I have been following tech news since i was 7

That's a bit true. I have a 520 and I won't be upgrading since I'll be saving 'til I have enough money to buy a Lumia 930 when it hits Mexico

L520 and his 512 ram friend still ned more respect ;)


I have a feeling that with at least the highend phones the Lumia line will start to fall away more and more. Esp if companies like HTC bring there m8 over.

If I didn't have such a hard-on for Nokia devices, I would 110% pick up the M8 if it comes to WP. As it stands, I am waiting for one last high-end Lumia which hopefully will come before 2015. If an actually impressive device doesn't come near the release date of the iPhone 6, who knows where WP is going to end up. This push for low-end devices on WP is so frustrating when every new 5xx, 6xx, and 7xx is uninspired both in design and tech specs.

I know what you mean. Some people are interested in the lower end devices. And some people like me and you who have only interest in high-end devices get no love from Microsoft. I'm waiting for the 1030.

I don't see the high end Lumia falling off, just think with Asha out of the way, Microsoft will concentrate more on the low end in order to balance the books.
I also think it gives the other OEM's incentive to make better phones. Win win all around l.

Agree... Well, just hope that they do better after all that mess cleared up

I am a other. Are you a other too?

No! Down with the others! :P

I don't understand the way MS updates its phones. Why not just release it to everyone at once a la iOS? Is there a reason for this?

Apple is the boss of the carriers, but the carriers are the boss of google and microsoft

I don't understand why carriers always get the blame its not even available on most unlocked phones.

I don't see why it has to be tied to a carrier at all? I had an iPad that didn't have a sim and I'm not in the US, and when iOS 6 came out I got it the same day as everyone else. If they can update Cortana without any input from the user, they can do the same for the OS, surely.

Myth: Because cariers don't work with Microsoft. Myth no 2: Because carriers want to control phones. Popular Myth no 3: Because carriers don't want to lose reputation helping their customers because of Microsoft's fault. Fact: Because Microsoft produces lots of bugs in their OS and they want to filter out angry customers from updating the new OS.

"PlayStation Plus memberships are up more than 200% since the launch of PlayStation 4" Yeah, you want to know why memberships are up? Because they're required for online play on the PS4 just like Xbox Live.

I to don't understand this. In the us and UK i get it because they have weird carrier restrictions, but s far as i know, other countries (mine included) ask phones are unlocked no matter where you buy them. I can buy a Phone at MTN and then insert a Vodacom still if I'd like. So i really don't understand why i can't get the update

I guess South Africa does have its perks, ey? ;)

One of the reasons is because, when something goes wrong with your phone, the majority of people go to their carrier for support. So, they want to make sure that the software doesn't have any major bugs. Apple's costumers usually go to them for support, so carriers don't need to test their software. However, I do also think that it's mainly about carriers wanting to have more control and thus power.

The carrier can't help you with your phone's OS issues though, they didn't make it.

True, but consumers would still go to their carrier before they go to MS or Google, even if it a software issue.

You're right about this
+1020

Well, Apple has a quite easy job when it comes to updated. They have like 4 different phone models they support? That's nothing.

I have the Lumia 520 I'm the king of the world ahahah making it funny best phone selling ;)

It's the best smartphone and have a good design

Is true really a good phone faster and smoothly for the price its really great and economic

A long way to go yet just make sure the lumia 1020 in UK on get updated next lol

Where did you buy your Lumia 1020? I am wondering if it is worthing switching to 1020 from 920.

I still think it's not a very enticing upgrade... Maybe you should just get the 930... It's much more of a viable option, especially since 1020 itself is already a year old device. Great photos but snail slow when taking one isn't a great story... If you insist for great camera.. We really need to wait for its successor.

Got mine from phones4U, they even replaced it without quibble for the Amoled black dots issue (which apparently isn't a fault). I'm pretty happy with it and can't afford to change it anytime soon. I do miss being able to use an SD card though.

Please release 8.1 for the 1020 and you can increase that percentage.

Release it for 920 and it'll increase even more! ;)

The only thing stopping that is not releasing 8.1 on the 520.

Well if Microsoft/US carriers started pushing the update out faster there would be a higher percenage

At&t started to release the update lazy week. I'm sure either the 1020 or 920 will get it this week.

Pretty much all with the official update are Nokias i know what im trading my SE for........

The Cyan is taking forreverr!!....

Funny how in Germany the 920 AND 925 are in top 3 ... Seems like we got too much money xD

I have a 1020 in Ireland. Seems like I'm the only one xD

928 probably not tell next year

I wish Windows Phone 8.1 was now on my phone 100 percent.

I'm sure a lot of that is 8.1 Developer Preview, which is not WP 8.1 proper, so those % are skewed.

Yep, that's not mentioned is it? The dev is still larger percentage than Cyan & WP8.1...

Agreed. I'd be interested to see the proper 8.1 numbers, but considering the OS versions are the same it's probably both tricky and less relevant. It's the same code anyway (except for the firmware obviously). But it would show how far the official rollout has come which would be interesting to see.

The first sentence is like a knife through your back. Summer is coming to an end.

I'm pretty sure it's the Lumia 625 that has 11% share in the UK, not the Lumia 525.

How is 7.x gaining ground? Are phones still bring manufactured?

920 on me, older and stay strong.

The 630 is flying off the shelves at Cricket, according to reps here in Boise, with the discount and mail in rebate.

Just not on my 1020 running the developers preview (O2 UK)

Anyone taking bets on next month's 8.1 distribution?
If the 52x lineup starts getting carrier distribution then I would guess perhaps 30% by the end of next month? I guess it depends on how companies like ATT update their Go Phone devices.

why would a person develope a WP app exclusively for a 1gb ram phone these days?

Because there are more app buyers in that segment, maybe? Not saying there are, just saying that would be a motive.

and because the 520 is most used selling windows phone, Microsoft should release WP8.1 updates to that phone first, even though i'm a 1020 user, i think it's better to use strategy to release to most used phone first as to keep customer satisfaction and gain more people by doing so.

I was thinking the same exact same thing. The whole time for weeks now I'd see how the 520 is the best phone so far, so wouldn't it make sense for it to be one of the first ones to get the update?

New phones get update first. That's how it usually works.

MS NEEDS to take the high end. High end wins mindshare... Low end buyer are almost all Nokia legacy buyers they will gradually lose. MS can't let the focus on the low/midrange drop but they MUST take the high end in the US... Low sales don't matter any more than low sales of Ford mustangs in GT500 trim matter... That shit sells V6 cars all day long.
They have to resources to have multiple irons in the fire... The lack of even rumors /aduplex sittings of a flagship portends very poorly for MS... If they miss a holiday season with no flagship they might just have well and truly shot themselves in the foot.

Agreed but MS is starting to see that they have no market for high end phones. I fear that the only high end phone probably coming this fall is the One just announced by HTC. Nokia phones will probably continue to be some variation of the low to mid range 5xx-8xx line. Sucks!

I'm sure the fact that Microsoft doesn't offer a significant portfolio of "high end" Windows 8.1 phones on ANY US carrier right now has nothing to do with it. I'm also sure that the fact that there are no decent high-end offerings on two of the four largest US carriers has nothing to do with it. And I'm sure another round of carrier-exclusive, slow-selling high-end devices will fix things this time. Really, I am. Let's just keep repeating the strategy of the past... it will work eventually!

Market doesn't matter. High end wins converts, tech pundits, opinion leaders... Without it they will never gain much low/midrange market share... Remember much of the 520 success (probably a huge majority) outside the US comes from Nokia fan who's loyalty now I questionable at best. In the US it comes from non platform loyal, low monetization prepaid customers these customers are not loyal for the same reason they are not very easy to monetize for developers: They are mostly non techy people who don't buy many apps, etc thus don't really get tied to a platform... Good luck with razor thin margins and uncertain growth competing head to head with android on price alone.
Before wpcenteral users jump on me to "disprove" me by explaining how they have 20 bazillion apps and have been a MS fan for 287 years but have a 520... I am talking statistically... You're a WPcenteral reader... You don't fit that statistics by definition.

I have never seen a person with a Lumia 520/521 here in the US. Maybe they just don't stand out.

I bought a 520 just to try WP since it was dirt-cheap. I wouldn't recommend it for a daily driver though, it's just so slow when switching back and forth between even two or three things. I.e. reading something on 9gag, get a Whatsapp. Tap on the toast, "Loading...." Reply to message and hit back, "Resuming...." and now you've lost your place, etc. The 925 I just got is infiinitely better in this regard. I don't understand why so many people say the 512MB phones run WP just as well as the high-end ones because to my eye it isn't even close.

Ms is doing the right thing by concentrating on budget phones.. If they succeed in getting it done .. Then.. They will have a major share of the budget ongoing phones.. And with a proper stand on budget phones side by side they can c concentrate on high end devices

So 12% of all WP users will need to roll back their OS to get the newest version?

Sad. Looking at these numbers and judging by MS recent decisions, I would not be surprised if MS gives up on the high-end market all together. I mean why should they continue to develop and release high-end phones when they are clearly not selling? The biggest market for high-end spec'd out phones should be the US and they don't sell here unless they are Apple or Android phones. Really sad. Might not see a true successor to my 920, like ever!

Updates should stop until the Preview for Developers problem gets fixed. Over one million downloads and one million frustrated users. Where is the news on the fix Sam ???

Replace 'nearly' with 'only'... Hurry up Nokia!

A month into the availability of 8.1 and it's only on 12% of devices? That means it will take almost eight more months for every device to get 8.1 at this rate. Sad. If Microsoft doesn't fix the DREADFUL update experience, Windows Phone won't make it. There's no point in advertising Cortana and other features if they never arrive for users (or users are told "be patient, it will arrive in the coming months.")

12% is pretty good, since WP8.1 has not been released before some weeks ago. Just wait until the stats for august come, then it will be over 50% ;)

I am sorry but you are out of reality. MS is not successful in comparison with world sales figures globally and they have no clue how to improve their position MS made a lot of mistakes especially their process of decision making is not consistent. There is situation when main players in the field of cell production have announced new strategy (Apple, Samsung, LG, Sony) every 6 month new device with appropriate software support. My guess is MS would no be able to compete with such strategy.

Yeah, i wait this freaqin update two months now. Shit they are lazy

4-inch could be 720 successor. ??? Are you serious that's impossible at least it would be 4.5

Yet it's still not out on the 1020.... one of their somewhat recent flagships....

So it's on like 5 or 6 phones? Posted via Windows Phone Central App

Would love to see some stats about Norway. Norway is a high-end market, so I think Lumia 920, 1020 and 1520 will be on the list.

If this is true, remember that there are abaut 12 millions 520 out there. That means there are 6 millions 720, 820 and 920. In the world, putted together. And this gives a hint why they stopped 1020 production. It really wasn't moneymaking device and we will wait 1020 successor heck of long time. I might missed something really bad and I really hope so. Or else this is depressing. Posted via Windows Phone Central App

If you want a low end phone WP is your best bet. I'm going on have my insurance replace my 1020 with a 1520 and then this November when its time for a upgrade, I'll get the new iPhone.

Come on, bro. If you're gonna talk about South America, you should always mention Brazil, the biggest market there.

And 90% of that will have to downgrade to 8.0 for Cyan Update.

I think the device share speaks well to the economy of this markets and/or their preferences for inexpensive vs expensive.

Verizon Nokia Lumia Icon still running non 8.1 Smh

12% people now have Battery problems, the title of the article should be this.

What? My WP8.1's battery life is about same as WP8

There are three rumoured screen sizes for the 730? Others say it has 4.7" or 5?, WPCentral says it has 4" only.
This is the only time I hope WPCentral is wrong. Edit: Oh ok I think I'm talking about different RMs.

L520 tops all and we aren't getting the update by noowww?

Good question... Probably smart not to for that reason as well... Could have experienced the most negative feedback... I'm in no rush to downgrade to upgrade though... DP is awesome as it is

I would love to see data on how many folks who have WP as their 1) only device, 2) primary device - meaning you own& use an Android/iOS device, n if any of this correlates to the type of phones listed here. I got a HTC Surround 7 because I loved the Unique WP OS UI, I used my LG Android more; but I got a 520 for brand, price n dev, and now I use it more than my LG. WP8.1 has already seen people wanting to switch!

Me and my wife own four nokia phones, a 820, 925, and two 520's. We are beginning to think the only way we will see 8.1 before we die is to go buy a 635 from the Microsoft store or AT&T. At 99.99 seems like our best bet. LOL.

Still waiting for Cortana's awesome voice on Lumia 928 with Big Red. Got the phone off contract scott free so I can't really complain...

I wonder if it kills battery, and freezes all the time

MS need to release phone faster. I waited and waited for the 930 until I absolutely can't wait any longer. Ended up with a 635. I'm pleasantly surprised how capable this little phone is. That said, I found not having a dedicated camera button really annoying. Hopefully there will a new handset out in Dec. Will upgrade then.

Micro behaves much too slow,It keeps everyone waits for too long!By the way,I'm a Chinese,you foreigners are brain washed by your govt too.China is not so horrible as you think.RALLY.

This website is to phones not polotics

Hey the day the update hit the 520,the 8.1 users will increase rapidly, I am very curiously waiting for the update,hope that it arrives within a week or so.

It's sad to see top range Lumias like 1520 not being as popular.

What about Lumia 520?? When is the update coming??

Why is not on my 720 yet? :( Damn!

The slowness of these rollouts seriously has me thinking about looking elsewhere.

Madar chod ms cyan update tho release karo Lumia 525 kay liya

Real shame not to see the 1020 taking a share worth listing, guess it's in the 'other' 25% and this is why we probably won't see a successor! :(