Adobe offers better Windows 8.1 touch support for Photoshop CC and Illustrator CC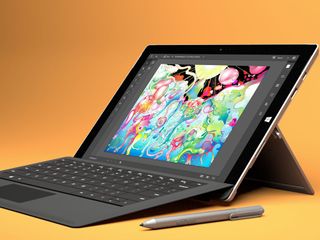 Adobe made a number of announcements today as part of their Adobe MAX 2014 conference, including the launches of new desktop versions of many of their powerful applications. Two of them in particular, Photoshop CC and Illustrator CC, have received improvements for touchscreen devices running Windows 8.1 such as the 12-inch Surface Pro 3.
While Adobe has released apps made specifically for Windows 8.1 in the past such as Photoshop Express, these new versions of the Photoshop CC and Illustrator CC desktop apps will allow more touchscreen gestures to be supported. For example,. Photoshop CC lets users pinch, zoom, pan, and rotate the app with their fingers.
As far as Illustrator CC, the app now allows touch-based users to select objects in the app and even to join lines with a finger touch. The company also offered up some new features in the Curvature tool. It states:
Today's updates to Creative Cloud are expected to be available to Creative Cloud members by the end of the day as part of their membership at no additional cost.
If you use Photoshop CC and/or Illustrator CC, what do you think of these improvements specifically for Windows 8.1 touchscreen device owners?
Source: Adobe (opens in new tab)
Windows Central Newsletter
Get the best of Windows Central in your inbox, every day!
I do love this. It was in the experimental section of PhotoShop for awhile, and I have been using it for about a week. Pretty slick.

Yes, for sure, that's very much more precise to make arts on Ps

Is there a special way to get to it? I have a sub but never found it before. I haven't used PS in a couple of weeks..

I really don't like their subscription model, but that's just me.

Soooo much cheaper than their outright purchase model. The only people I usually see complaining are the ones who pirated CS6 and are now worried about not getting all the new features in CC (not accusing you at all!).

No, their pricing structure sucks. It's either PhotoShop or Everything. So it's either $10/month or $50/month. I know it sounds silly, but I would be fine with CC for personal use if I could do $30/month for 3-4 programs (PhotoShop, Illustrator, and InDesign). But $50/month for those 3 is too much. And while I can download the other applications for that $50/month, I don't need them or use them. They need to structure it better and provide better price points. Most people don't need 10+ programs of theirs, just a couple. So basically they're trying to pull a cable provider move by forcing you to pay for things you don't need, just so can have the things you do need.

Last time I checked is was $30 for PhotoShop, Lightroom and Illustrator. $9.99 for PS and LR plus $19.99 for AI. Not to say I wouldn't enjoy the price being cheaper...

It's... $10 PhotoShop/Lightroom
$20 Any single App
$50 Everything https://creative.adobe.com/plans If I want to Illustrator and InDesign I have to do the $50 plan. They need to make it more flexible. $15 for any 2 apps
$30 for any 5 apps plus Type Kit
$50 for any apps, Type Kit, Web services The way they do it now is way to structured as if they know the best. They should let their users pick.

I want to learn Illustrator so I've been thinking about pulling the trigger on the Adobe Sub. service. It would be an out right purchase which I'm not willing or capable of doing right now. However I plan to eventually. I want to work from home and was thinking of becoming a graphic designer.

They often have sales around Christmas time. You can save alot. It will be a year long auto renewal, but it is half the regular price, and you get access to a ton of awesome programs that you might not even you could want, like Muse.

People pirate it due to it's expensive price. Now it's cheaper people don't have to do again

Awesome news, I have been waiting for this. Great timing too, since I will be getting my pro 3 next week

Hope Audience, premiere and after affects will follow soon up! :)

Was this the update they showed at the Surface launch event or was there another one prior?

I think this is the one, it was just in preview for a while.

Nope, they've never implemented half of the features they showed... You cant even switch layers in the touch view... They've given up and spent all their resourses on Apple and their mobile apps....

Awesome news! I would love to see this extend to Lightroom.

I just wish they'd get Lightroom better optimized for high-DPI displays. Using it on my Pro/Pro 2/Pro 3 has been a huge headache because some of the interface elements are absolutely tiny and too close together. Even with the pen, I'm constantly hiding panels when I try to scroll.

satya nadella was just on stage at the adobe event anouncing a lot of stuff. They also just gave away a surface pro 3 to the entire adobe max audience . Needless to say, the crowd was pleased

"You get a Surface, you get a Surface, EVERYONE GETS A SURFACE!!!"

New desktop versions?!? You mean they haven't converted everything over to Universal Apps? Have they not heard Microsoft's pronouncements that Universal Apps are The Future???

It's not that simple to move over a set of programs as complex as the Adobe CC suite into the new universal app system, you know? Even Microsoft hasn't done it yet with their own Office suite. Also you have to take into account that these apps have a lot of functions that right now are probably not supported by universal apps (like drag/drop from window to another). Maybe in Windows 10 this will be possible but... until then Adobe does well in making their desktop versions better for touch and pen support.

I guess I should have put <sarcasm></sarcasm> tags around my comment ;-). Yes, I am unfortunately all too aware of the massive cost involved in porting a desktop app to a Universal App, the fact that many things Adobe needs to do are not supported in Universal Apps, and the fact that there are entire classes of desktop app don't even make sense as Universal Apps. But to hear Microsoft describe desktop apps as "legacy" and that we should all be writing Universal Apps makes me wonder if *Microsoft* understands any of that.

I don't think we should expect Adobe to port the entirety of Creative Suite to the Universal App platform, but can't they take a 'middle of the road' approach? Think about it, do most people need the full power of Photoshop or Illustrator? I just want a pretty robust image creation, enhancing and editing suite that lets me produce great material for use on my PowerPoint slides, Word documents, etc. I don't need access to the GPU or whatever, I just need the ability to create something that just looks really nice for a prospective client, but I don't want to depend on my company's creative department. I want them to focus on really difficult projects. Maybe seeing a 'Photoshop Lite' or 'Illustrator Lite' akin to Office for iPad or Office Gemini isn't out of the realm of possibility.

I have been using PS CC 2014 on my Surface Pro 2 for about 2 weeks and what an improvement. I can actually read the menus.

Im really excited!!! Once I get my surface working again this is top on my to do list!!!

I'd like to see a WinRT version! Maybe with the Surface 3 announcement!

The Touch Apps works great on the iPad and iPhone. It would work just as well on Surface RT as well as WP. I hope we get those apps soon..

I have an employee at this event. Attendees are getting a Surface Pro 3. Not sure if they get to keep them.

Sounds promising. One of the reason why I unsubscribed to CC was how terrible the PS-Surface experience was.

did anyone else notice the smaller version of the kinect v2 on top of that chicks display??

Sweet! I have the CC subscription on my SP3, so this is very good news.

People that are interested in a purchase of Photoshop CC ( even with the Patch life ) while using a Wacom Cintiq might want to reconsider because THIS is what I get out of it.

If you want to see the Surface Pro 3 in action with the new Adobe touch features watch the keynote from the Adobe Max 2014 conference fast foward to 1hour 38 minutes http://max.adobe.com/sessions/max-online/ Satya Nadella comes on at 1 hour and 50 minutes

Here is a longer video with more stuff that's in the works. https://www.youtube.com/watch?v=tR5JPw4HiTY The UI on both the Surface 3 at times looks like the Touch App version of Illustrator. The phone also have the same UI. Hopefully thos Touch Apps are coming to Windows because Photoshop Express is the gimmped down version of the Touch experience. http://tv.adobe.com/watch/adobe-touch-apps/adobe-photoshop-touch-overvie...

This is only a "vision" demo render though. After the video, onstage Satya joked, "You should ship it!" and the guy laughed nervously. I'll eat my hat if Adobe ever uses bluetooth 4.0 and Windows Phone together that way.

YES!!!! Now just give me a touch interface for Lightroom and I'll be happy as a clam.

Looks good. Better than that streaming Photoshop crap from Google.

that commercial was so dope.....these are the commercials microsoft needs on television. name another device doing this.

Did they fix the DPI scaling in Photoshop with this release? On the previous release with HiDPI support enabled, the UI looked like it was 640x480 on a Surface Pro 3. Sure, it's usable, especially with the pen, but a second scaling option would be nice.

They did but very lightly, in that drop-down menus seem a bit more refined now. However, the most important part, i.e. instrument panels remained the same. In fact, the scaling feature is still under 'experimental' preferences and still allows you only 200% scaling which makes the whole thing, as you rightfully put it, look like it is 640x480. Same concerns Camera Raw 8.6 which currently doesn't support scaling at all. You can install version 8.7 beta (not part of yesterday's announcement) where it does support scaling but it looks even more ridiculous (huge) where you have to scroll through the menus on your right. All in all, I'm more dissapointed with the update that otherwise. Hardware like Surface Pro 3 is not the major tool for professionals, being the main customers of Adobe, but still, you can't ignore this segment at all. And I don't think that producing a proper scaling option is such a big deal for programmers at Adobe...

Is the video for real? Man, this is so cool. MS, please please market this well.

Adobe and Microsoft are my two favourite companies at the moment!