Adobe Photoshop Express now available for Windows 8 and RT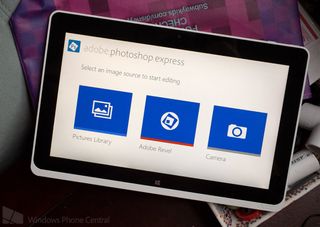 Adobe has released Photoshop Express for Windows 8 and Windows RT. If you've been around digital photography for any amount of time, Adobe Photoshop should be a familiar term. The Photoshop editing software has dominated the digital photography market for years.
It's nice to see a Photoshop editor land for Windows RT and 8, especially for the tablet devices. Photoshop Express could be the answer to a lot of photographers who are looking for a mobile solution or an entry level editor for Windows 8/RT.
Photoshop Express supports Adobe Revel (cloud service) and key editing features includes:
Basic Edits: Crop, straighten, rotate, flip and remove red-eye.
Auto-Fix: One touch adjustment for brightness, exposure and shadows.
Color: Controls for exposure, contrast, clarity, vibrance, white balance.
Filters: Fifteen color filters.
You also have two in-app purchases to add a "Looks Pack" that adds twenty additional creative filters ($2.99) and a "Noise Reduction Pack" that is a very nice noise filter ($4.99). The noise filter eliminates the grain that high ISO images can produce. Both packs are reasonably priced, especially when you consider the main app is free.
We've only had our hands on Photoshop Express for a short time and our initial impressions are good. Photoshop Express may not have all the bells and whistles as...say...Photoshop Elements or Photoshop CS but it's a nice option for mobile, on-the-go editing. I could also see Photoshop Express being a nice entry level editor as well.
The one feature missing is RAW image file support. The RAW format is used by many and lacks the in-camera processing JPEG files have. It gives the photographer more control over the image by handling the processing manually. It's not a deal breaker and hopefully this will be a feature added with future updates or maybe as another add-on pack (hint, hint).
Photoshop Express is a free app for your Windows 8 and RT device. You can find Photoshop Express here in the Windows Store (opens in new tab).
Thanks, everyone, for the tip!
George is the Reviews Editor at Windows Central, concentrating on Windows 10 PC and Mobile apps. He's been a supporter of the platform since the days of Windows CE and uses his current Windows 10 Mobile phone daily to keep up with life and enjoy a game during down time.
WORD! Full Adobe support to Windows 8 and WP should be a major move!


Nice, just the thing I needed for my Surface RT tablet. We are flat out on a roll here lately!

One more thing we need now is a WPC app for RT :)

Cool. Need to see more major developers make apps for windows 8 and phone. I will get, even though I want fantasia painter on windows 8 rt more :)

Cool. Where's the WP8 version?

Probably getting finished :) they'd need to adjust the UI for a phone screen

I just downloaded it in my Surface RT. But it is not that cool guys, I'll stay with Aviary Photo Editor. ;)

No RAW support is sucks. Does the Android one have RAW?

No, Neither Photoshop Express nor Photoshop Touch for android support raw files.

If you're working with RAW, you should probably have a Pro vs RT machine.

I'm waiting for Autodesk DWG

Cool. And Fantasia Painter should be hitting Win8/RT any time now as well!!!

We want the paid Photoshop touch app also.

Now that Adobe has gotten their feet wet with this effort, the likelyhood of more W8 App love is high.

I really hope we continue to see this trend. Windows 8/RT app, followed by WP app. Once a shop like Adobe has gotten their feet wet with the coding tools for Windows 8/RT, it's alot less resistance to take that code and tweak it for WP.

All part of Microsoft's plan I am sure :o)

Adobe will not invest anything unless they think there is a profit to be had on RT. As they will also readily point out, they already offer products for Windows 8 - they are called Photoshop and Photoshop Elements. Even on that front tough, they did little (actually nothing) to take advantage of touch capabilities in Windows 8 tablets. As for a WP 8 app, I would rank the prospect as being very low.

Me too. Those are the apps from Adobe I really want. Express will do for now.

I prefer Paint Shop Pro, but I'm glad they're releasing these kinds of things (and for free!) on RT. I'm inclined to buy one and I'm glad to know I'll have this kinds of stuff available. (Now all I need is for f*cking Microsoft to fix the Microsoft Store here to be able to buy it with the promotion...)

I'm with you. PSP is great.

Paint shop Pro is a good program but, I prefer Photo Shop...

Getting the Dell RT tablet next week so this will definitely be downloaded.

Awesome! Now just bring me a video editing tool for free as well :)

I'd take a video editor as a paid app, especially on WinPhone.

Personally, I consider this to be a very poor effort. The quality of the algorithms for effects and corrections are typical of Adobe - very strong. Unfortunately, the app is lacking even the most basic of tools. If you want to do anything that is not at the level of the entire image, good luck. There is not a single brush to be found and touch controls are, other than changing the size of a crop box, non-existent. This is not the equivalent of PhotoShop Touch for any platform, even the lousy version for Android. This is just a port of a weak (and free) app available on other platforms that should have been out in November or December. This is still worth it if you want better quality image level corrections than you will find in other apps, but do not confuse this with any version of PS Touch. The lack of any CS Touch apps is certainly not addressed by this release.

Lighten up. Its free and carries the official Adobe name. Never seem so many ungrateful babies in my life.

Yep...they all want everything to be top notch and free and it better not have ads. They're entitled to that.

I kind of agree, You use a name from a high end product so people will download it but, strip it down to the basics.

If your going to strip it down, call it something else. Would this app even fully qualify as a full photo editor ?



Do you know how much it costs the normal version of Photoshop for PC? Probably not 'cause you probably used a crack on your computer. But the software is pretty expensive...So...they're giving you this version for FREE and you STILL complain? Jesus Christ...

Sure, it's not cheap, I have had to use it many times but, this is NOTHING like photoshop, that is what he is complaining about. Use the Name and it should have a good % of the features...strip it down, call it something else even IF it's free

No .nef file support so now raw editing :( was hoping for something a little quicker than lightroom but I don't want to convert to jpeg just to edit!

Very nice. Getting this for my PC.

Just an honest question...is anyone else downloading official apps for the sake of just downloading official apps?

I have CS6 registered on my home mainframe. This is going on my laptop.

I did just to support the iniative :D

Shame the only thing I really needed from this app is £4.99

I encountered it asking me to charge me a few times. £3.99 for noise reduction pack or something.

Photoshop??
Ehh... I have a Lumia 920, so why...? ;)

Because no photo is perfect. I use Canon DSLRs and still edit with Photoshop.

Downloaded on my laptop, but I really want it on my Lumia.

Disapointed that they use the PhotoShop name for a basic editor...as others have pointed out, even if it's free. I would rather pay $20 for a full editor, if I needed it.

WIth that being said, I will try it...I know Photoshop fairly well but, I know I am not going to get even half of what I had

Sorry, it was £3.49, but still.

Just downloaded this. Love it!
Windows Central Newsletter
Get the best of Windows Central in in your inbox, every day!
Thank you for signing up to Windows Central. You will receive a verification email shortly.
There was a problem. Please refresh the page and try again.