The affordable Lumia 435 makes its way to Kenya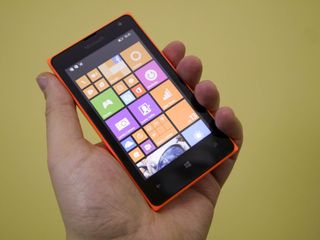 Microsoft's entry-level Lumia 435 is now available in Kenya. The device is priced at KES 10,200, which comes out to the equivalent of $110.
The Lumia 435 is a dual-SIM handset that features Windows Phone 8.1 with Lumia Denim out of the box. You get a 4-inch display with a resolution of 800 x 480, 1.2 GHz dual-core Snapdragon 200 CPU, 1GB RAM, 8GB internal memory, microSD card slot, 2MP fixed focus camera at the back, 0.3MP shooter at the front and a 1,560 mAh battery.
Interested in finding out how the Lumia 435 fares? Check out our hands-on video of the entry-level handset:
Via: Techweez
Thanks for the tip Latiff!
i think the price should be reduced

I think that would be due to high import duty... not sure though

Price will naturally decrease and after a few months you can see that this is the best budget phone in the world.

At least it went to where it belongs.

Ballsak your saying may offense people you know

In Kenya we spend money luxuriously, bing us boy, 1520 sent this comment!

It is due to import taxes & VAT.

Is VAT included in the advertised price in Kenya like in most countries? Or added to the price when you pay like in Canada and the U.S.? If it's the former, then the 16% VAT should be removed from the $110 estimate. The article should ideally also specify what currency they mean when it says dollars since there are U.S. dollars, Canadian dollars, Australian, etc. Windows Central likes to say it is a global site after all. :-)

i think by now you should understand the general rule, that "dollar" is meant US dollar unless specified. Majority of the people understand that, and I am not from the US.

In Kenya VAT for all imported electronics increased tenfold when the current government got into power.. though 530 is cheaper than this phone here

I assume you are familiar with price levels in Kenya, at entry to market, then?

Too expensive? It's the cheapest windows phone in India with 1GB of ram.

The future of windows phone. Cheap phones. Owner of which never will spend a 1$ to apps. Bravo Microsoft!!!

I own a 520 and have spent sufficient amount on apps and games to disprove your statement.

i have 530 and I know this is very low end phone by all its features and parameters.

You're the exception, not the rule.

I'm with you. Never spent real money on apps.

But we are not losers like you guys, we spent money for amazing games and apps. You don't have to spend a fortune. I have spent only 15€ last year. Damn

stfu you're not entitled cause you have a nice phone

625 owner here, spend tons on apps. My friend owns a 520, spends tons on apps

Why do you spend so much money on apps? I spend money on android apps. Because I expect a certain quality from them.

That's why Windows Phone isn't growing. If people spend money on Windows Phone apps, developers will be more encouraged to make quality apps for the platform. Talking about me, I'm unable to pay for any app as I do not have a credit card, there is no option for Paypal account payment in my region, no carrier billing. So HOW DO I PAY?

Which is your region? Here in Kenya we can pay locally, available via the leading mobile operator but I use a visa card it works flawlessly

My region is India. Carrier billing is available in only one operator and those people are thieves, so do not want to switch carrier, for now.

Implying that on play store every single paid app is a quality app? Even if there are paid apps that don't do absolutely nothing?

You have the statistics at hand, presumably?

The future is gaining large market share in growing markets. So a few years from now these people will buy Lumia 950's. That's how Samsung did it. Got my Nephew to buy a Galaxy Y, now he's on a Galaxy S4 (after he got his first job).

Yes, but if MS didn't make cheap phones, WP's market share would be well lower than 1%.

Apps on Android are exactly the same way. A majority of its users won't pay money for apps and instead download the freebies. That's where ad revenue like AdDuplex comes into play to compensate. Apple is the exception, as very -few of its apps are free, but then again, iOS coined the idea of apps. Windows 10 will change a lot of that because of the availability of an app on MANY platforms, not just phones :)

the problem isn't they won't spend money on apps ... there are no quality apps to spend money on outside of a couple games .... once you download the social apps there isn't much worth while in in the store

I have a 1520 and don't buy apps.

And wasup with these phones without a camera flash, thers is too many of them now... and also the Lumia low end series is getting more confusing... There is still no 6 series phone with 1Gb ram :(

flashless phones take over the world! tinfoil hats on everyone!!

Ddnt know about these just checked them out ... No flash!! oh well guess will have to save up for that 730 or the 830

These entry level lumias are cheap in the US and UK but when they come to Africa the prices are very high

Its because of taxation issue. For this reason Lumia phones prices are low in India and China, because factories are there.

If you want cheaper phones then speak with your goverment to reduce import taxes...simples.

That always works so well... and such a swift response.

when will be available here in philippines?

I can't help but think if MS focused on releasing just three phones (low, mid, high end) they could reduce their R&D cost by not releasing the dozen different models they have now, and just release the three new models for a lower cost. Add to this all the confusing they cause by having so many with the current naming convention. Seriously, if you aren't a WP fan or phone techie you not only are confused by the names/model numbers, but it's a turn off. Hell, you're probably still calling it a "Lumina" like all my non-WP friends.

When I go looking for a phone I don't really care about the model number unless I'm interested. I go by the looks and specs. If I'm budget conscious then the price.

I agree with you both. I buy a phone based on specs and price. But, if a 435 has better specs than a 520 and so on...why not just do 3 phones a year. High end - Surface Phone. Mid range - Lumia 830. Low - 530. I really don't get releasing so many different model #'s. I'm thinking this will get sorted out real soon.

Consumers care about model numbers. They know they want the galaxy S5, or the iPhone 6. They go into a carrier and ask for a Cortana phone (as thats how its advertises), or even a Lumia and they'll say "which one". Then they dont know the answer and they'll just say the want the phone that's most popular.

No different on Windows if a person knows what he wants he will ask and get what he wants. I have a friend who seen the 520 and bought it because it was going for $30. He knew the name because of the price. No confusion there. Same thing with the 635. A lot of the other numbers people don't know about because the phones never makes it to the USA. I believe most number are just exclusive the certain countries. Lets face it how confuse can you be when it's only so many windows phone in the store or with carriers.

I'm hoping Windows 10 fixes that. Simplification will help...along with standardization of one OS that can run any apps made for the platform on any type of device. :)

532 released in India today for 6499rs... Good price.... But no one is here to report the news...wcentral now a days late to post the news... Too bad..

Looks a bit like the early Nokia Lumia 800.

I suppose they cannot cover each and every phone that releases every other day.

I think 525 is a bit better than this one as it definitely has better processor (s4 pro)

Looks like a great phone but the camera kills it.

I thought the 435 was being sold for $25, not $110...

Phones here in Kenya are 2x or more than the price in US. Especially the WPs & IPhones

You two are so wrong.. In USA the buy phones on contracts in Kenya nobody offers this... In US they will pay that $25 then must spend certain amount of money monthly for a specified period. Actually in the long run they end up paying more

Not bad, fair price for us in Kenya, will definitely try it

Its expensive of the spec they are offering!

Better than 520 specs.windows Phones here in Kenya are so expensive

It cant be better than 520. Never ever.

The Lumia 520 in Kenya has been very popular I think because it has a good camera as compared to the cheaper android phones. A good camera is more appealing to the class targeted by this phone. In Kenya, the first thing people tend to check is the camera, how many megapixels...

This is 2mp rear & 0.3 front. Very poor!!

Don't underestimate this camera, they say megapixels mean little in photography!! Ironically I can't buy a phone less than 20MP hehe

Not necessarily but the most important part is the sensor size and quality of the pixels as well as software. Why do you think Apple has one of the best cameras on the market yet with a 8 megapixel camera. Posted via the Windows Central App for Android

Kenya believe that price!
Windows Central Newsletter
Get the best of Windows Central in in your inbox, every day!
Thank you for signing up to Windows Central. You will receive a verification email shortly.
There was a problem. Please refresh the page and try again.