Image editor Afterlight makes the jump from iOS to Windows Phone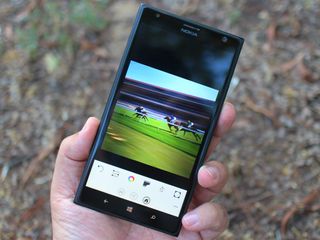 Afterlight is now available for Windows Phone. Looking for a new photo-editing app on Windows Phone? Then you're going to want to check out the brand new app Afterlight. It's a very popular image editing app on Android and iOS that recently made the jump to your favorite mobile platform.
Here are the highlights of Afterlight (Oh yes, he did)
8 adjustment tools
57 filters
66 textures
Cropping and transformation tools
Frames
Download Afterlight for Windows Phone, and you'll find eight unique adjustment tools to enhance your images. You can change the brightness, saturation, contrast, exposure, temperature, vignette level, grain level and sharpness using these adjustment tools.
You'll also get 57 filters and 66 textures in Afterlight. You'll find 27 fully adjustable filters from Afterlight, but then you'll also get 14 guest filters from popular Instagram users and 16 filters in the Seasons pack. The 66 textures will help you make your photos unique with the various film emulators and light leaks.
You can of course crop and transform your photos using the various tools inside Afterlight. You can crop with various ratios already included in the app. You can also make other transformation adjustments like flipping the image or rotating.
We're looking forward to playing with all the frames you get with Afterlight. We see some unique frames inside Afterlight, like those that put your photos inside letters or numbers.
Afterlight also syncs up with your Instagram account. So you can view your Instagram photos, likes and comments from inside Afterlight.
Speaking of Instagram, be sure to tag your photos with #Afterlight and follow @afterlightapp for a chance to get your photos featured on the official Afterlight Instagram account. They have over 197,000 followers, so a feature on their account can bring some publicity your way.
Afterlight is available in the Windows Phone Store for just $0.99. Though there is a free, three-day trial so you can play with the app before buying. Take it for a spin and let us know what you think!
Thanks for the tip Anthony and Nikkole!
Windows Central Newsletter
Get the best of Windows Central in in your inbox, every day!
Cool, we have more choice now,..spread it!!

Adobe is 1,000,000,000 times better unless hipster light leak filters are your thing.

I'll end up using 'em both...and more! :)

I have photoforge2 in ios devices. Is this similar?

Cool, this is gonna be awesome. .. Posted via the Windows Phone Central App for Android

Thank you developers. Bring more good stuff

Has 5 stars from almost 10K reviews in Apple's App store. Looks legit!

Yup. Very popular and powerful. Glad to see it on Windows Phone.

Fantasia Painter Free is I think the best photo editing app. Also Camera 360 (both) have nice features

Fantasia is my go-to image editor on the phone. Amazing abilities for a phone app!

Have you used Afterlight? I will probably add it to my arsenal. ha ha. I have sooooo many photo editing apps and I find little things that I like about them all.

Yes...such an underappreciated app! I use it more than any other. The amount of options are insane and it is laid out so well that is is also very ease to use. Everything is presented in a way that you will never miss a feature as some other apps take you through stages of editing whereas with Fantasia it's all just there ready to access. And it's FREE! AMAZING DEV!!! 5*

Yes there are many image editing apps. But which is the best one? I can't download all of them

I have! ha ha. I use a combination of a lot of them: Fhotoroom, Adobe, Fantasia are usually my go to choices but I like features of other editors too.

Using Creative studio and lazylens.

Waiting for Retrica App..
anybody know if they plan on coming to us :/

Email the developer and ask them.

retrica is shit. absolute shit. use tile me.

Sure, whatever you say. That's why it has around 100,000,00 downloads.

That's an interesting number you got there, you must be right

It definitely can't be creative studio. Its a normal editing app, nothing special. Fantasia painter is good though, I still haven't found any app better than that

Don't be lazy, Sam. Go record a quick hands-on for us please! ;P

Everyone at least try it out. The more we use these apps the more apps we get. I download apps and try them for a few days just to get a good feel for it. If it sucks, I delete and try another couple. This I'll probably buy if the trial is good. It looks useful.

Ha, just bought this on my Moto X, will def pay again. Its light leaks are amazing. Posted via Windows Phone Central App

Hey Sam, what about photo contest results?

Will post those shortly! :)

Great to see on WP! Thank you developers. My favorite editor on Android/IOS is snapseed. But I dont see their parent company ever letting us get it. That's a rant for a different thread though. Very glad to have this great app.

Snapseed is by far my favorite standard photo editor on other platforms.

Yaii!! I was waiting for this app, a friend of mine recommended it to me

Fhotoroom is pretty good too.

Awesome! Now all we need is VSCO!

There are so many image editors for free, why people would interest in a paid app?

App is very good.. I liked all the features so purchased (I'm wondering why my money was not deducted from my account).. But it's very buggy and very very very very slow.. It takes too much time to save the edited images.. Also there is no landscape view.. The app needs lots of updates.. Hope the developers are working on it..

My Nokia creative studio is hundred times better than this.

*Lumia Creative Studio. So you've used Afterlight? What did you like 100 times better about Creative Studio?

Lol,he is just blind Nokia fan

Or his Nokia creative studio is a hundred times better

Any chance of pixlr and other Autodesk apps on windows phone?

I emailed Pixlr and they said that they've been getting a lot of requests for Windows mobile (that's what they called it) and they've put it on their "roadmap" for future support. I'm guessing if more people request it, that they might move it up the roadmap.

That's great news. Hopping to see asap, AutoCAD 360 as well.

Another app that lessens the gap. I am getting so weary of articles with headlines like "Windows Phone: the best mobile OS no one should buy." The guy then goes on about how he thankfully gave up using WP for a week and then blamed Microsoft for the lack of Google apps. How he can't broadcast to the Chromecast dongle. Sawdust for brains and give up all pretense of REALLY trying something out. "This is a great phone, but no one should buy it." Geez, with help like that, what could go wrong?

But, they seem to be balanced by the articles that say, "5 features on Android and Windows Phone we wish were on iOS."

i have in my #lumia1020
adobe photoshop exp
lumia creative stidio
4Blender HDR
Black
Levitagram
fhotoroom
lomogram+
HDR X
Fantasia painter free
Sophie Lens HD
Tiny Planets PRO what i use - LIGHTROOM (windows)

These apps all do the same things in one way or another,all really useless,just gadgets to fiddle around with.

Nothing better than fhotoroom. And it's free.

Do we really need yet another photo editor? It seems innovative app development has stalled of late. Endless clones fill the reviews....

AWESOME NOW WAIT FOR VSCO CAM AND I WILL BOUGHT THE LUMIA 930.

IT MIGHT BE A LONG TIME BEFORE YOU CAN BOUGHT THE LUMIA 930.

Would be interesting to see and compare the best apps out there. I personally find Fhotoroom to be the best choice.

You guys should do an app comparison on photo editing apps.. Both free and paid.. I know you've done one before but that one didn't really have a lot back then..

Wow... I was waiting from past one year... Thanks Alot.... BTW When VSCOCam is coming to WP????

Welcome to your platform afterlight

Wahhhh.. Really glad it makes on Windows phone.. It would be better if it's free..

I'm so excited for this app! For those wondering its worth the dollar. Posted via the Windows Phone Central App for Android
Windows Central Newsletter
Thank you for signing up to Windows Central. You will receive a verification email shortly.
There was a problem. Please refresh the page and try again.