AirAsia gets on board Windows 10 with its new universal app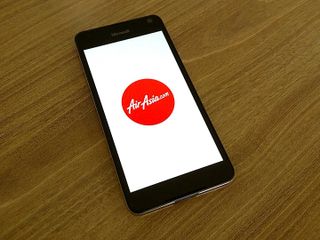 AirAsia is the largest low-cost airline in the Southeast Asia. While the airline has had a Windows Phone 8.1 app, it has now launched a UWP app for Windows 10 via Neowin, available for both PCs and Mobile. The AirAsia app also integrates with Cortana for an intuitive user experience.
The app allows you to search for flights and book new flights. You can also check flight status and view boarding passes — including QR code — that a lot of airlines now scan to allow you to board the aircraft. The app includes support for AirAsiaBIG membership accounts, the company's frequent flyer program. The app does not follow UWP design guidelines, but offers a neat, seamless UI. You can also switch between light and dark themes.
If you live in Malaysia, or frequently fly across Southeast Asia, AirAsia is a pretty handy app to have on your phone. Give it a whirl, and let us know how you like it.
Download AirAsia from Windows Store (opens in new tab)
App is released in March..Too late

In fact i was the one reposting this app in appraisin and then got neowin attention. I build the app for Airasia too

Then it need some immediate attention. It crashes most of the time and very slow.

@Ajikuriakose, first of all this is not the place for feedback. Secondly your tone is highly inappropriate and we should be thankful for the dev(s) taking the time and effort in making this app.

Keep in mind the dev was paid, and didn't just use his free time and the kindness of his heart. No disrespect as I am a dev, just saying Posted from Windows Central for Windows 10
on My surface phone

@Jason94, awesome will give it spin. Do you have a feedback platform so users don't spam the comments?

Not sure you can give feedback through airasia webpage or not.
You can always leave a feedback in the store by rating and review our app. Thanks

Can't login, keep saying "Password must be 8-15 characters with these requirements number (0-9), lowercase letter (a-z), uppercase letter (A-Z)"... Same sign in problem with the desktop version. The same id & password no problem signing in via browser.

Working on a fix for that

Any ETA on the fix. It is a very useless app if you can't log in using your credentials

Whats the use for these kind of apps on laptops and pc's

Easy to use, no phishing pop ups, no auto play adverts etc etc. You may be surprised alot of people don't know or use a adblocker.

Crashes on PC and phone for me... hmmmm.... Anyone can get it to work?

Now we need more Malaysian based apps which currently is woeful!

Totally agree. Malaysia needs more local app like banking app. GSC is a good rxample but its not a uwp

Yes I agree with that. If Windows is to gain any traction in Malaysia, some localized app would be a good place to start Posted via the Windows Central App for Android

Crashes on mine. Where's the QA these days?

Lol..been booking tru this app for a quit sometime

I'm glad to hear that uwp is going popular in Malaysia. AirAsia is the first launched universal apps in Malaysia I guess. Tony Fernandes is trendy.

It's not in the Windows Store in Singapore. Just the old win 8.1 app.

Now if only Malaysia Airlines would follow suit.
Windows Central Newsletter
Thank you for signing up to Windows Central. You will receive a verification email shortly.
There was a problem. Please refresh the page and try again.