Alaska Airlines to offer Windows 8.1 tablets for passengers on long flights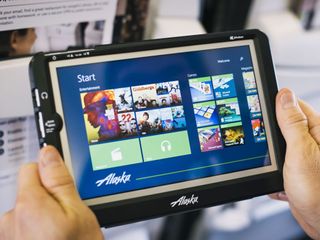 Alaska Airlines will begin to offer Windows 8.1 tablets to its passengers who are on long-haul flights beginning on February 1. The tablets will be given to First Class customers and MVP Gold75K members at no charge; everyone else can rent them for $8-$10 a flight.
The tablets will come pre-loaded with a selection of movies, TV episodes, music, games, and digital magazines. They can also be used to access the Internet if the plane has Wi-Fi installed. There's no word on how many Windows 8.1 tablets the airline has purchased. People who bring their own mobile devices on Alaska Airlines flights will be able to access free premium movies and TV shows from now until March 31. After that date, the content will be priced starting at $1.99.
Source: Alaska Airlines
Windows Central Newsletter
Get the best of Windows Central in your inbox, every day!
Makes sense. I was just on Alaska from Boston to Seattle and they had these mini-computers for movies. I wondered why they weren't Windows tablets, seeing as that company is so close to Seattle/Washington. Glad they made a deal.

May other airlines follow this service

Delta gives their flight attendants Windows Phones for using with passengers on board purchases.

I was thinking the same thing a few months back regarding the Dig-E players, so clunky and all that. Alaska Airlines is actually headquartered in SeaTac, which is where the SeaTac International Airport is! So, very close to Seattle

I prefer this to in seat entertainment. Those things never get updated.

I agree. The screen in the seat back makes me feel like a kid in a mini van.

Whoa, easy on my childhood. I grew up in a minivan. ;)

PIA uses Linux. I know because those things had to restart mid-flight.

Now if the flight has enough... Last long flight I was in with Alaska they ran out of the movie players

Just use your own device. You can stream all the content just as easily through your own laptop, tablet or phone. No more worries about the flight attendants running out of dig-e players!

As a Tech Preview user, I miss that Start menu already LOL

U can use it for screen, i prefer The look now.

emirates should be the main promoter. want them to use sp3.

We also offer onboard media streaming to your device using the Alaska Beyond entertainment service. You don't necessarily need to rent the 8.1 device, if you want to bring your own, though the tablets are nice and a big improvement over the former digiplayers. Should help to cut down in the chance of running out of devices toward the back of the plane.

But according to the Alaska Beyond web page, there is no windows app, though there is a browser plugin (which would hopefully work on the Windows tablets)

They give you internet access to download the plug-in (but only for that) which worked on my company Win7 laptop and on the HP Stream 7. Alas my trusty old Surface RT cannot install the plug-in. No love for WP. Hopefully W10 can change that.

Just use the browser plugin. Worked great for me on my last Alaska flight on my Surface.

Oh yeah but i want it too with emirates or another airlines

I haven't flown in 10 years, but I thought you could use your ipads and stuff on flights, is that really not the case still?

You can. But obviously that requires you to load up your own content. These will be loaded up with Alaska's content.

Yep, there goes Windows 10, fixing everything again.

Alaska is my favorite airline. This should be a nice upgrade from the DigiPlayers they currently have. They also have a very functional Windows Phone app.

great choice! good flight with Alaska airlines!

Good to hear the Windows tablet is taking off.

I wont be flying first class but $8-10 for rent is not bad...

Air Canada on Rouge will allow your iPad to connect or your Android or your Blackberry... If you don't have one they will rent you an iPad. Nope, no Windows or Windows Phone App. Canada loves App$e.. Go figure.

Pardon my ignorance as I haven't flown in a while, but in my international travels (mainly with emirates), there would be a screen built into the back of the seat in front of you loaded with movies, games, etc. There was never a charge for it and I remember watching some recent movies at the time. Has that changed? Or is this mainly for planes that don't have built in screens? I guess the latter makes the most sense.