All HERE apps are currently not available from Windows Store due to technical issue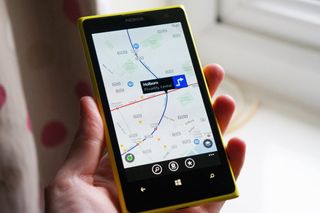 We have received a number of tips from Windows Central readers for the past few day stating that the HERE suite of mapping and navigation apps are no longer in the Windows Store. We have now received a statement from a HERE spokesperson confirming that situation, but the company says it is due to an unnamed "technical error".
Here is the full statement we received from the spokesperson:
We will keep you up to date and will post an update when the HERE apps are once again available from the Windows Store.
Windows Central Newsletter
Get the best of Windows Central in in your inbox, every day!
The Germans are messing it up though. It was freezing on me today

According to HERE.COM they just have apps for Android and iOS

90% of the app developers don't promote their WP version of the app. I don't know why!

http://www.windowscentral.com/nokia-rolls-out-updates-its-here-suite-win... there ya go!

Is the infamous #1 on my store tile finally gonna go away? It's been trying to update the Here Maps app for weeks now...

Waze still there but with a lot of BUGS

Tell Google then to update Waze in Windows Phone/10 Mobile.

You might just remind them that they have to remove it from the store

If you allready had this installed on previous builds then go to the store, open my library and search for the here apps. From there you can still download them.

oddly enough I never had HERE apps on my phone but once I upgraded it to build 10572 it automatically installed all 4 apps

Naff name but technically still the best mapping service than others... Microsoft, Google smoogle, and CrApple lol.

Although, Microsoft uses HERE...Maps 4.1509.50911.0 © 2015 Microsoft © 2015 HERE

Really? Oh that's good then. Its just Microsoft Maps didn't appear to pick up the location when the network was down, which Here does. Like the UI of Microsoft Maps.

While that's true, Here still provides better satellite imaging than Microsoft in some areas. Makes no sense what so ever but...

That I definitely agree with. Here locates you regardless, Microsoft Maps struggles

Just a dumb question, is HERE also uses their own sattelites? I'm so curious of what's behind their better navigation...

From what I read: They use about 80000 sources, including vehicle fleet with high resolution cameras and NAVTEQ's data that they have had since Nokia acquired it.

Exactly. I even disabled Google Maps on my secondary android phone and installed HERE maps on it. Its so good to see the same mapping service on both my lumia and my android, though the android phone has snapdragon 200 processor but yet it struggles to accurately locate me on maps.

The best mapping service? Maybe, I'd their apps didn't constantly freeze or crash! If the app doesn't work then it doesn't matter how good the mapping service is.

I hear it works perfectly well on a good amount of devices globally. The point is, I think the problem is not with the app, but with your very own device.

Yeah, my HERE Maps is useless, freezes after 1-2 minutes of navigation. Can't really start it back up while driving. Lumia 640 XL.

On my (late) L620, it works fine. Will try with the upcoming 950 XL.

They should've just bought HERE maps along with the Nokia's services and products division and just ditch the Microsoft map and start using HERE primarily.

Does this affect the default maps app? It uses HERE for its data... =[

Doesn't look like it... =\

Microsoft needs to make the viewable map on default maps thinner, heh. =/

The stock Microsoft map uses both HERE & Big Maps. And on top of that there's a beautiful layer of GPS navigation use interface to butter things up

Likely still available using sysapp......

Not in store for weeks .....

Microsoft should buy Garmin and stop wasting money on some.of these silly companies they are buying. They are crowbarred into cars already like the Ram trucks. You'd have your software already implemented in a lot of vehicles and it would cover you with map apps on mobile devices.

I think he's suggesting that instead of wasting money to license here's map data, they should just buy Garmin. Problem with that is that I don't think Garmin is for sale.

Where in anything did I say, did I reference Microsoft to owning Here? My point is, everytime they buy a company, I see five hundred posts asking "they bought who?". Buy something people actually use and helps with some of your issues for once.

Thing is Garmin still uses Here Map data themsleves so kind of defetes the point. MS should have aquired Here back in the nokia deal

They certainly could've afford it, I'm sure of that, but I guess some big people over at Microsoft didn't have the guts to take it thinking there wouldn't be more profit than trouble. So unfortunate.

HERE if not now will be in many European and other vehicles. They were sold to Audi, BMW, Daimler, sale to be complete early next year.

Two of those three companies are on the fence. Daimler has been shit for a while and if Audii (VW) gets hit with the fines it deserves, they will be bankrupt.

I'd not been able to search for the HERE Apps for a number of weeks, but could get to them via the SysApp Pusher....

They're all in an update error state, and can't even be used, let alone updated. Have been for a month or so... W10 mobile.

Well, Windows 10 Mobile isn't finished yet, I think that should be expected a little.

Y my l730 doesn't show correct location?

It could be HW/SW/signal related. Use the forums if you need more details!

Same problem on my Lumia 535... Always shows a large circle area

If you have downloaded a HERE app sometime in the past, you can still find it in Store-> my apps, even if you uninstalled it. This might do the trick for some. I also believe that a direct store link, might also work. (talking about WP8.1)

Thank you, truly, for this peace of mind. I have been worrying that if I bought the 950 XL and it wouldn't come with HERE maps suite pre-installed what'd I do. I don't hate other maps clients, I just don't wanna let this go.

They've been like this for a while. I contacted Here about it about a month ago and got the same answer.

I also commented on this, but I'm on some sort of WC blacklist.

WC posts no news tips of any updates that I send them. Seems like I'm in the same list as you. Well they actually do more of windows now, rather than windows phone so I find them writing less and less of it now.

I'm surprised it took them this long to report on it. I even made a thread on it back when I was trying to find out what the deal was.

What an interesting "technical issue" that makes only the apps of a single developer unavailable.
Did Microsoft's cleaning lady fatfinger-delete HERE from the list of registered developers?

I have a similar issue with another app (simple in/out) in that it is not available "now" to those in Canada or Australia, according to MS it is a bug on their end causing it, supposedly is being worked on yet it has been close to three weeks without any sort of resolve, needless to say developer and myself are getting a tad frustrated... In MS defence they have been giving the developer regular updates as to their progress, dev then passes the info onto me.

I was wondering when you would pick up on this; they have not been available for some time!

I have these apps installed (from my library list) in the latest insider build 10572. The apps work, but I'm unable to log in with my Here account information. It's kind of a problem as I have many places saved as favorites that I can no longer access.

My number 1 navigation app from the days of Ovi map to Nokia map to HERE maps.

I shouldn't have submitted that negative feedback. All my fault.

Nonsense.. HERE apps have been unavailable for W10m for months and the line was an update coming about two weeks ago..

Uhm... not really (??) - I have all three Here apps installed on my 10572-reset Lumia 920, they were actually available, at least from "My Library".

The apps have not been available for new users for a long time. Your 920 had the apps pre-installed, so it doesn't count. Posted via the Windows Central App for Android

You can find them by searching in internet explorer which will redirect you to store app.... Then hit install.

This has been going on for over a month... Not sure why only now is it coming to light

This "technical issue" has been going on for some time. I'm suspicious.

I cant find Subway Surfers in the store since many weeks ago, havent heard anyone about it. Here Drive+ doesn't install from 'My Library', it says its blocked due to some policy.

My commute also doesn't work.

Google and Apple got stuck in the cogs?

Never had a problem either. I must say I agree. I've 640's 640xl, 930, 435, 635, 1320 and a 535 in my household, and it works great on all of them!

This isn't news. HERE apps have not been listed in the store for more than 3 months. So new users were only able to download the apps using the 'phone system updater' app (or similar apps). Only those with HERE apps pre-installed could see the store listings. Posted via the Windows Central App for Android

I wonder how 'Technical Issues' last for months in year 2015

If u search for any Here Apps, then it's a bad luck that it's not available. But if you have the apps in Update Apps list in store and u didn't update then u can still be able to view as well as download the update. It's my case..

I found the following address to be very helpful. http://www.windowscentral.com/nokia-rolls-out-updates-its-here-suite-win...

I had to reset my phone yesterday and now Here Drive+ is not available :( . I tried changing the region in my phone to US and UK but cannot find the app on my phone store (Windows 8.1 update 2). But on the web, the app is listed but does not show up when i search through phone's app store https://www.microsoft.com/en-us/store/apps/here-drive/9wzdncrfhw6c
Windows Central Newsletter
Thank you for signing up to Windows Central. You will receive a verification email shortly.
There was a problem. Please refresh the page and try again.