Amazon buys smart doorbell maker Ring for more than $1 billion
Similar to Zappos and Twitch, Ring will retain its own branding.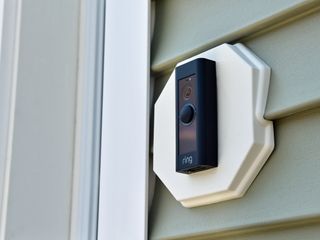 Ring is a fairly big name in the smart home gadget space, and it's most well-known for its doorbells and security lights. One of its biggest competitors is the Google-owned Nest, and according to a report from Reuters, Ring's just been purchased by Amazon for over $1 billion.
Similar to Amazon's acquisitions of Audible, Twitch, and Zappos, Ring will continue to operate as it currently does and retain its own branding while integrating Amazon tie-ins as the company sees fit.
Commenting on this, a Ring spokesperson said:
Both the Ring Floodlight and the Ring Doorbell Pro have received high praise from Mobile Nation's own Modern Dad, and it's likely Amazon will use this acquisition to create new features for Ring and Echo users.
On the other side of the octagon, Nest is expected to take on Ring with the Nest Hello this March, and now that the company is merged with Google's hardware team, there's a good chance we'll see exciting things come out of that partnership even later in the year.
Things in the smart home space are quickly heating up, and now that we're here, I've got to ask you – Team Amazon/Ring or Team Google/Nest?
Windows Central Newsletter
Get the best of Windows Central in in your inbox, every day!
This is so disappointing. I despise Amazon with every fiber of my being and I have been a big supporter of Ring for the past couple of years and have been looking to add even more devices to my home, but now I find myself rethinking that. Does anyone know of any other companies offering video doorbells and other outdoor security cameras that are comparable to Ring's products and the associated service? I also hate Google, so I'm looking to avoid Nest...

Hating Amazon is such a foreign thought for me. Here in Hungary, they're almost nonexistent :D But I do share your hate towards google btw :D

Hating and despising companies is such a waste of energy. Sure, don't like them or their products and services. But directing hatred towards a company? Gotta be a better way to use that energy.

So my hatred for the company stems mostly from the fact that they treat their employees like garbage, but also from the standpoint that I live in a city where I see more and more private businesses closing up because there is no way for them to compete with Amazon anymore leaving empty storefronts all over the place. Amazon is a scourge on society and we should all think twice before putting any more money in Jeff Bezos's pockets.

It's not a scourge on society tho. I'm sorry but who cares about private businesses closing? Clearly not the majority because they would rather shop at Amazon. People like you need to get over it. Your hatred is irrational. The future is coming whether you are grown up enough to like it or not

Your hatred for big companies is stupid and pointless.

I agree that they could treat their employees better, but no brick and mortar business can compete with an online giant. Its not the company's fault that those businesses are closing, times are changing. People would rather shop online and not have to leave their house, especially if that item is the same price or lower. The same could be (and has been before) of Walmart in the normal retail market. They had a better business plan, so they won. It might not be the most ethical way to do business, but thats how they operate, by undercutting competitors and squeezing suppliers. That makes them have the lowest prices, so people shop there. That is the way free enterprise works.

I hate google = I don't use their services, and have a (very) bad opinion about them :D I don't go to news and articles about them to troll in the comments :D

I'm all in on Ring I have 2 ring Pros front and backdoor as well as a stickup cam on the back of house, this will be interesting to see what Amazon does with ring. I wanna get the the new camera with the built in lights to put in place of my stickup cam. and put the stickup cam on the side of my house to cover my yard 360 Deg.
let's see if Amazon adds ring to work if u have a prime acct to activate service to use the cloud storage to store the videos too.

Not much left if you hate amazon and google. Maybe samsung.

Ring really made me angry when they pulled their completely functional app from the Windows Phone store. I asked "Why" and they said, "Because Microsoft stopped supporting Mobile in February. We recommend you buy an android phone.". Are you kidding me?!

They weren't lying. Get an Android phone.

Why are you angry with a company for no longer supporting a dead platform? It costs them money to continue supporting that platform for a user base that will continue to shrink. It's also unlikely they will get any new customers from that platform, so more than likely no new revenue to speak of for the financial investment. Companies exist to make money and nothing else. The fact that they even had a Windows Phone app at all was great considering all the companies that never released one even when the platform was still alive. Just don't get where you are coming from on this.

Because Ring gave no warning and they removed the app from the store so it can't be reinstalled.

If someone knows a way to save the appx from my phone I'll upload it for y'all

While they are supporting your dead mobile platform, they should support my windows 3.1 laptop with the trackball in my closest.

So you are mad at Ring because of Microsoft's decision?!

I would have also been angry if Ring didn't give me a 100% refund. I had installed the WM app and confirmed it worked and was about to install the device when I stopped to add the app to my wife's phone. But it wasn't in the store? I checked the installed app in my phone and it had stopped working. Needless to say, I didn't install the device. I contacted the CEO (his email is in fine print on the side of the box) and a rep called me right away and arranged for a shipping label to return it to them (I had bought it at BestBuy.com) and for a full refund. They even gave me a non-expiring credit to use for a future purchase if I ever got a "real" phone (my words, not theirs). As rich as Amazon is, they probably won't care but they are on the hook for refunds to any Windows Phone user who demands it. Maybe pro-rated based on remaining time of the factory warranty. Products have a waranty of merchantability which is not subject to the wims of the manufacturer. Banks can kill an app because they provide other ways to get your money. Coffee shops can kill their app because you didn't buy the app but if you did buy the app, you could still buy coffee. Without an app, the devices can't inform you when they are triggered which is their primary function and where the warranty of merchantability comes in. And they can't tell you you have to buy a different phone than you used when they took your money. They could provide a phone and pay the costs of ownership but a refund was easier, at least in my case.

They aren't lying tho. Get over it and get an android. I did.

I bet they will integrate Amazon Key with the Ring system.

I wonder if this explains why they pulled the app for Windows Phone 10, they should just have allowed a Windows 10 universal app which works on both Mobile and PC, it does vex me that they pulled it, no matter Microsoft has discontinued Windows 10 Mobile, we have people still using Windows Vista & XP!!!! I hope they come to their senses or embrace Windows Phone next iteration, feeling pretty lonely in the windows 10 Mobile space right now!!!

Take this from a MCSE... There will be no new iteration of Windows Mobile. So, why not switch to Android?

what's wrong with vista, just kidding. But don't feel to bad about win10 mobile there still quite a few of out here still really liking and using it. Waiting patiently for Andromeda to be launched. :-)

They pulled the app because of low usage, just like every other windows phone app that gets pulled. The ship sank, feel free to stay aboard but no one is on the way to rescue.

It doesn't, see my post above, the same applies. Guess what, no one is going to test their app with Vista or XP. If it works it works. If it doesn't, you won't see a single company investing development dollars to make it work. Time to accept reality, and switch to a current platform. You never know, you might be surprised in a good way.

Ring told me a different reason than Sully posted. They told me they had every intention to maintain a WM app but Microsoft changed things in a way that made it virtually impossible for them to publish a needed update.

I'm wandering why Microsoft wants W10M completely dead. I think I know why.

Lots of products fail. Palm, Blackberry, Symbian...

I also know why. It's cause no users (egg) no devs (chicken) and no devs no users. Plus, there's 2 mobile OSes in the market already. WinPhoen and Win10 PC had no synergy.
That is why porting full win10 to ARM is a smarter move. Also, it'd be a hassle if WinPhone somehow succeeded. Why code & QA for 4 OSes instead of 3?

Interesting, didn't they just buy Blink? They really want to take over our homes!

They did. As a blink user, great product btw, I am concerned as to Amazon's intent. But they have done a very good job with building their own hardware, AI, and helping to grow their other aquisitions, Zappos, so I will give them the benefit of the doing until I see what they do.

Question now is... How will this effect Cortana and it possibly intergrating with Ring?

Next step is to have Alexa answer the door on your behalf.....

Those guys on Shark Tank kicking themselves...

As a ring user, I'm ok with this, Id rather have Amazon and Jeff over Google.

Why can't MS ever buy anything cool.... Lol

Various reasons Rodneyej. Lack of foresight is one of them. Because what do you call letting team working on Cortana get surpassed to a point OEMs start pushing the competition over Cortana on a device she is available to connect with natively. Then when that happens we see a flurry of movement trying to regain lost momentum - without resorting to rather strong language? There is no way to fully leverage home automation without a mobile platform sooo yeah. As I've said many times before the consumer sector is where growth is to be found and money is to be made. But which sector did Microsoft forego - consumers that's what. You know they could have easily leveraged the Microsoft band and the health vault to work with home automation along with windows hello. As well showcasing what Azure can do in regards to home automation. So much for enabling individuals to do more and be more productive. At a certain point such a broad statement becomes a hypocritical statement.

Personally, I wouldn't touch home automation unless they have a quintillion Qbit encryption. Secondly, out of these options I'd pick neither right now until the ecosystem matures. But if I had to pick one as burglar deterrent it would be ring / amazon combo. As they can leverage AWS to provide (somewhat) secure updates to smartphones via apps and services.
Windows Central Newsletter
Thank you for signing up to Windows Central. You will receive a verification email shortly.
There was a problem. Please refresh the page and try again.