Amazon Kindle app gets new look, goes Windows Phone 8 in latest update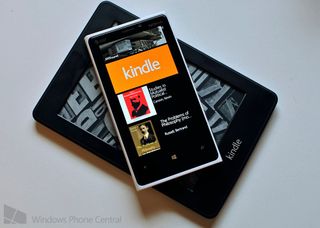 Amazon has rolled out version 2 of their popular Kindle app for Windows Phone devices. The update comes without a changelog but was long overdue as their last app change came with version 1.2 way back in July. That update brought 'Mango' support including Live Tiles for books and this one goes along the same path but for Windows Phone 8.
The good news is if you're on Windows Phone 8, the app now supports all resolutions and doublewide Tiles, including those for books, which is a neat twist. They will even flip to display some information, including the last book you read and where you are in a current tome.
The app is listed as Windows Phone 8 only though, which means for those on 7.x you can still download version 1.2 but you won't be getting the new look (or of course doublewide Tiles).
Speaking of that new look, Amazon has gone for a more barebones logo with version 2.0, though it is only skin deep as it is merely on the Tiles and not within the app itself. The new logo is orange with 'kindle' emblazoned across, keeping the design simple and bold (we like). The app though still looks exactly like version 1.2.
Surprisingly, Amazon did not opt for a fast-resume, meaning if you tap the Tile of an already "tombstoned" app in the background it won't continue as is but will instead re-launch the app. Hopefully Amazon can improve upon that in a future update as such functionality is crucial to the Windows Phone 8 experience.
Other than the look and doublewide tiles, we haven't found too many differences. There still is neither search ability nor read-aloud function, making this app still lighter in features than its counterparts on other platforms. Still, we're hearing that for some people some bugs have been alleviated with this release for syncing and opening of books, so that's a start.
Edit: Make sure you do a "clean install" meaning you uninstall the app then re-install it,otherwise it will crash.
Windows Phone 8 users can grab version 2.0 of Amazon Kindle here in the Store. Thanks, Seth H., for the tip!
Daniel Rubino is the Editor-in-chief of Windows Central, head reviewer, podcast co-host, and analyst. He has been here covering Microsoft since 2007 when this site was called WMExperts (and later Windows Phone Central). His interests include Windows, Microsoft Surface, laptops, next-gen computing, and for some reason, watches. Before all this tech stuff, he worked on a Ph.D. in linguistics and ran the projectors at movie theaters, which has done absolutely nothing for his career.
Ooo that looks nice. I hope they bring it 7.x, cause I use their app daily!

After the update I can no longer open the app. It crashs right away after breifly displaying the splash screen. HTC 8X on AT&T.

Given the crashing upon upgrade, you really have to pause and wonder what exactly the MS app certification team does.

Same for me, uninstall reinstall seemed to fix the problem though.

I also had to uninstall and re-install. Also having an issue where whenever I re-enter the app and start reading a book, the page is blank until I tap the bottom of the screen and toggle the settings a bit.

I still don't understand why Microsoft's joint venture 'NOOK' doesn't have an app. I've started using Kindle so I can read on my phone when I have downtime but still prefer the Nook's eReader.

Indeed, though b&n still hasn't even updated their mac os app to work with mountain lion so they do seem to move slow. The good news is you can install the kindle app on your nook ereader if you root it.

Just updated on my 920. It won't load. It just rolls back to the app list. The one time it tried to load it locked up and then rebooted my phone.

Uninstall and reinstall the app.

Uninstall / reinstall works but it registers on my account as a new device and nothing is synched. Bad user experience.

On Amazon.com, under "Your Account", go to "Manage Your Kindle". Then on the menu on the left, under "Your Kindle Account", select "Manage Your Devices". Then under "Registered Kindle Reading Apps", select the device name that was associated to the old Kindle app and deregister it. Next, select the device name associated with the new Kindle app (i.e. the "new" device), and edit the device name to what your original phone device name was. Easy peasy.
If anyone hasn't already installed the new app yet, open your current Kindle app, derigester your device, then uninstall the app. Then install the new app, and register your device. That should avoid the duplicate devices.

I did the uninstall/reinstall and it tells me there is something wrong with the app when I try to open it.

I just upgraded mine from the older version and now it crashes immediately after opening. About to try removing it and installing it again now.

I'd like to see the Amazon Mobile app get an update.

For sure. The Amazon mobile app just sucks since it doesn't allow sorting. It's easier to just go to Amazon.com in the phone's browser.

That lack of sorting is deadly. Crazy, because otherwise it's a tip-top app. Just add that one little button...

yup same thing happened to me. it crashed on the 920. then i uninstalled, reinstalled, and now the app looks exactly like the old version. nothing new. weird

ohhh i do like the double wide tile for my books. wish they would have made the app prettier, changed it up a little


Same here with the crashing!

Awesome. Usless, wont even load.

does it have subsciption access for magazines yet?

It still doesn't and that is all I care about.

After uninstalling it and reinstalling it twice it now seems to work without any issues.

Doesn't work anymore. Wonderful Amazon.

Uninstall and reinstall, it works just fine.

Uninstall, and then re-install worked.

Wonder if they've fixed it sometimes skipping words between pages when reading in landscape mode.

If the app crashes uninstall it then reinstall it

I don't understand why B&N hasn't done anything with Microsoft except for a windows 8 app! No wp8 app, no windows rt cheap tablet.

hate the orange tile, the re-install, and the need to download content again.

All of this especially the tile, bring back the old one.

Just got myself a Lumia 920.

Any reason to use this over Nokia Reading? I'd prefer to have my library all in one place - I don't have a Kindle (and find reading books on a PC straining on the eyes). What other advantages does Amazon have?

IMHO Nokia Reading drains too much battery as well as heating up the device.

Looks nice! Sure hope they get an Amazon Instant Video and Amazon Cloud app out foe WP8 soon!

Amazon Instant Video has always been on my wislist. I would love to see this happen!


Works great for me! Thank you Amazon.
Now just need the Prime Video app :)

I second that! Would love to be able to sideload books onto the Kindle app, but I've come to accept it (I have a Kindle Fire anyway, so no big deal).

Good to see high profile apps going WP8.

Finally! I am a heavy kindle user.

Hmmm it doesn't work. Doesn't even open. Not good. These are the types of issues MS & Nokia REALLY need to iron out and soon.

Uninstall and reinstall people! :)
Love that it fits my HTC 8x nicely. Looking forward to more updates but at least they got the look down.

Why they don't enable highlighting, notes and dictionaries???

I was hoping that this version would allow access to your documents similar to other versions of their apps, but no such luck - you only get access to items you've purchased on amazon. Grrr!

Unistalled and reinstalled... and it worked for about 5 minutes. Uninstalled and reinstalled AGAIN. Bug fix needed,


So they changed the logo.
Well, I'm keeping the old version then. 'cause I like the old logo and HATE this awful orange one. And since apparently there are bugs needing fix, I'll hold on for quite a while.

I would like a fix to the wp7 version so that you can buy books from it again, mine (UK) just goes to a website saying page doesn't exist

Try this: Open your browser, tap the menu icon. Tap Settings Under website preference, select "mobile version" Open the Kindle app, try to launch the store again

doesn't rcognize anything that is uploaded to storage, only amazon purchases. iPhone and android versions will work with uploads, but not WP version. can't read anything I didn't get from amazon. not an improvement at all.

The WP Kindle app is designed for people with a few books, not hundreds. I have to scroll for ages to get to anything that doesn't start with the first few letters of the alphabet.

Still no rotation lock! Unless I've missed it. Beyond a joke.

App won't open at all, and before someone tells me to uninstall and reinstall, I already did that, twice. When I first tried to open it, it flipped back to the start screen. Now when I try to open it, I get a "Problem with App" message on my screen, which then invites me to either uninstall it or buy the app.
Edit: After the 5th time uninstalling and reinstalling, it seems to finally be working. Now, I can say that I wish it had a read aloud function and a fast resume function as noted in the article above. Driving a great deal, the read-aloud function would be an awesome addition, and frankly one that I would shell out a couple of bucks for in the form of a paid app.

Like most I had to uninstall and then install the new version. Snappier performance, but that Tile! Ughh! It looks like someone tore a piece off the wall from "Welcome Back Kotter!" If I wanted my home page to look like the 1970's threw up on it I would choose a Colour Theme of mustard, brown or orange. I didn't. Take a hint Amazon, if you ever want to see your double-wide tile again make it us the theme color please!
For now, Kindle will have to remain in my App list. I'm too embarrassed to show that hideous design throwback to anyone. PS, My phone is a lovely deep red. Think that goes well with your Tile? Me neither.

Where is Windows Phone 7.x update?

It's disappointing to discover that the Read Out Loud Feature is still not supported in the Windows Phone 8 version of the Kindle App. Once they add that functionality I'll start using Kindles services.

Are you sure about the lack of fast resume? Mine appears to work perfectly if I go back to the tombstone.

I second the support for wanting rotation lock and the ability to email documents to the Windows Phone 8 app. I've kept my old android around as an ereader since it's not supported for WP8 yet. I've emailed the suggestion to Amazon, but maybe some of the Microsoft people reading this blog can more strongly suggest it to them than I can. I'd love to stop carrying around that android entirely.

Remember to un/reinstall AND remove the previous device info on your Amazon account. It's in Kindle -> Manage Devices.
Windows Central Newsletter
Thank you for signing up to Windows Central. You will receive a verification email shortly.
There was a problem. Please refresh the page and try again.