Amazon to raise cost of monthly Prime membership by $2 in February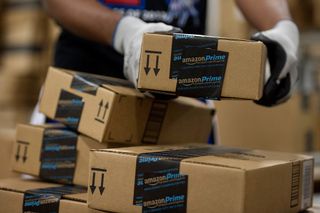 If you're paying monthly instead of annually for your Amazon Prime membership, it's going to cost you a bit more each month. Amazon will be raising the price by $2 (opens in new tab) per month starting on February 18, and the change applies to both new and existing customers. This will bring the monthly fee from $10.99 up to $12.99, meaning that you'll be paying just under $156 for a year of Prime membership. Those who pay the annual $99 fee will not see a price increase from these changes, nor will any of the awesome benefits of Prime be changing.
From GeekWire's report:
The cost for students will be increasing to $6.49 a month (opens in new tab) and the standalone Prime Video subscription (opens in new tab) will be $8.99. The best deal continues to be the $99 annual subscription, and this price increase just makes it even more valuable.
Jared started off writing about mobile phones back when BlackBerry ruled the market, and Windows Mobile was kinda cool. Now, with a family, mortgage and other responsibilities he has no choice but to look for the best deals, and he's here to share them with you.
The volatility thing makes sense if people just buy one month for Prime day or just to binge videos.

I've used the monthly thing a couple times, but this increase sure makes the annual subscription more attractive.

This is not a good news. As the CEO becomes the most richest this only entails corporate greed! The prime video service is a joke. Not only it is subpar to Netflix and Hulu listing rubbish, more than half of the movies are charged. You would end up paying more than 12.99 per month. The joking part: you see a movie for free tonight, three night later there is charge for it to see it again!

If you don't like the service, I'm not sure why a couple dollars price increase matters. Do you think it's worth $11, but not $13?

I think he means their video service is unlike others where even if you are a paid member, there is additional content you have to pay to access. It would be like Netflix saying "everything is free, except you need to pay to see Breaking Bad" I think it is something the are starting to realize because they stopped charging for Anime Strike but they have a long ways to go before they are really comparable to the other services who only have paid or free/paid tiers.

Amazon is offering a service to you for a price. Does it matter if Bezos is the richest man on paper? All it matters is how much this service is worth to you. If you think its value does not worth the price(since you say Prime Video is a joke), then don't use it. Is that simple enough for you?

people there are apps on the xbox to watch tv and movies for free. Even my 950xl has free movie, live sports, and tv apps. Wht are some of you still paying for these services. There is no reason for Amazon to raise their price.

The reason is People pay for a one month Prime service and get all the 2-day free shipping for the holiday. Why do you think that Amazon came out with this price increase for the monthly and not yearly right after the holiday season? Even this $2 increase cannot cover the loss due to the 2-day free shipping.

I think they just want to move everyone to yearly Prime. I got 2-Day shipping even without Prime. The package got to me on a Sunday from a Friday order. It was free shipping for an Echo Dot.

Could also depend on your closeness to an Amaxon warehouse. I used to get things in two days when i lived 15 minutes away from one, before i had Prime.

I think you get a free one month trial every year anyway.

Amazon Prime has many features. It is a great service compared to its price and it is a great value. I think people should step up and take advantage of the annual plan in order to support this great offer. Amazon is a business that needs to pay its costs. Support what you like, or be part of the problem if the "service" is eliminated someday. The cheapskates and cheaters will always complain "Why can't everything be FREE?". Please support business and economics education in our schools so kids can be taught to understand how HONEST business works.

The annual fee is actually LESS than $99 if you complain to them each and every time a Prime 2-day shipping package is late. During the holidays especially. I don't care if it's "the busy season", I'm paying for Prime and expect 2-day delivery. Make sure you call; don't email or chat. Complain about the delay, ask what they'll do for you, and they should give you an additional month of Prime free. I'm already a few months extended due to their use of USPS and packages arriving late.

Also people who are in college or have a kid in college can get Prime and many, many other things at a discount.

I easily solve the need to pay for Prime shipping by purchasing objects from a store. No waiting for it to arrive, and no worrying that it'll get stolen off the doorstep. I can use cash and not have to worry about credit card fraud, and in the end I'm happier because I didn't screw around with getting it delivered! What a boon!
Windows Central Newsletter
Get the best of Windows Central in in your inbox, every day!
Thank you for signing up to Windows Central. You will receive a verification email shortly.
There was a problem. Please refresh the page and try again.