AMD won't support PCIe 4 on pre-X570 motherboards after all
While PCIe 4.0 support was expected to arrive on older, compatible socket AM4 motherboards, AMD has decided to reverse course on that idea.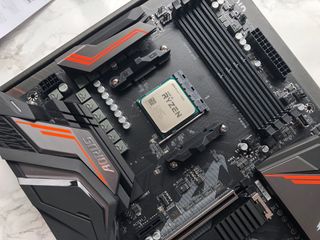 (Image credit: Windows Central)
What you need to know
AMD has decided not to allow PCIe 4.0 support on older socket AM4 motherboards.
The company says it made the decision because a lack of clarity on which motherboards could reliably run PCIe 4.0 would cause confusion in the market.
To get PCIe 4.0, you'll have to use one of AMD's new Ryzen 3000 series processors with an X570 motherboard.
AMD this week revealed that it won't support PCIe 4.0 on older motherboards with its Ryzen 3000 series processors. Though the new processors support the feature and are compatible with the same AM4 socket present on older motherboards, AMD says that it can't guarantee a reliable experience on motherboards that weren't designed with PCIe Gen 4 in mind.
In a Reddit post (via PC Gamer), AMD senior technical marketing manager Robert Hallock explained the move:
In a statement to TomsHardware, AMD elaborated further, stating:
If your motherboard has already received an update that added PCIe 4.0 support, AMD says that it will be pulled when the final BIOS updates are released to support the 3rd Gen Ryzen processors.
So, in order to take full advantage of the PCIe 4.0 support arriving with the Ryzen 3000 series, you'll need to have one of the new processors running on a motherboard with AMD's new X570 chipset. We've seen several X570 motherboards shown off ahead of AMD's 3rd Gen Ryzen launch, including a new collection from MSI.
PCIe 4.0 greatly increases the speed with which storage drives and graphics cards can send data on your PC. Some early PCIe 4.0 SSDs from Corsair and AORUS have teased read speeds upwards of 5,000 MB/s, which is incredibly fast.
The new Ryzen 3000 series is expected to go on sale in July with prices starting at $199.
Affordable accessories that'll pair perfectly with your PC
Every one of these awesome PC accessories will enhance your everyday experience — and none cost more than $30.
KLIM Aim RGB gaming mouse (opens in new tab) ($30 at Amazon)
Whether you're a gamer or not, this is an absurdly good mouse for the price. It's ambidextrous, has a responsive sensor, a braided cable, tank-like build quality, and, yes, it has RGB lighting, though you can turn it off if that's not your thing.
AmazonBasics USB speakers (opens in new tab) ($16 at Amazon)
These neat little speakers may only pack 2.4W of total power, but don't let that fool you. For something so small you get a well-rounded sound and a stylish design. And they only cost $16.
Razer mouse bungee (opens in new tab) ($20 at Amazon)
Use a wired mouse? You need a mouse bungee to keep your cable tidy and free of snags. You get no drag on the cable, and this one has subtle styling, a rust-resistant spring and a weighted base, all for $20.
Dan Thorp-Lancaster is the former Editor-in-Chief of Windows Central. He began working with Windows Central, Android Central, and iMore as a news writer in 2014 and is obsessed with tech of all sorts. You can follow Dan on Twitter @DthorpL and Instagram @heyitsdtl.
Question: is PCIe 4.0 not a hardware change? I was under the impression that PCIe 4.0 slots were necessary to use it (obviously PCIe 4.0 devices as well), not that it was purely controlled by the CPU/Motherboard chip firmware (ie. Just upping the clock speed). Or is it strictly a software change on the motherboard/CPU side? To my limited knowledge PCIe 4.0 motherboards hadn't gone up for sale previously anyway, so are there any other BIOS chips that support it?

Consider this train of thought:
We now have CPUs whose internal connections are now about 4x the thickness of an atom or smaller than the wavelength of light required to make them with problems from the quantum realm now being a thing of consideration ( or so I read ) and here they say that the previous' generation Motherboard PCIe traces, large enough to be hand drawn by a human, cannot handle signal integrity to support what appears to be a software-only achieved bump in performance ( otherwise they wouldn't say it might be possible on a case-by-case situation ). *raises an eyebrow*

I think your concept of 'software-only' is causing the confusion. If PCIe 4.0 was 'software-only' - it could be turned on for any older CPU on any hardware with the PCIe 3.0 wiring. (See how this breaks down the idea, and is not 'software-only'?) Mainboards are complex, and even a tiny change in something that would seem insignificant, like spacing as one tiny example, being the difference between working or not.

I'm actually surprised AMD even considered it would be feasible, although *technically* the wiring of PCIe 4 is the same as PCIe 3 (and 4 is backwards-compatible to all previous gens).

The very idea of getting a performance improvement, for free, is absurd. These companies are out to make cash. If it were not for that fact PC development, as well as most things in life, would be far, far more advanced than they are now. Sell the people the same stuff, that they already have, with the minimum amount of performance increase possible. $$$$/££££.
Windows Central Newsletter
Thank you for signing up to Windows Central. You will receive a verification email shortly.
There was a problem. Please refresh the page and try again.