Animated LockScreen Preview lets you test drive Windows Phone 8.1 lockscreen apps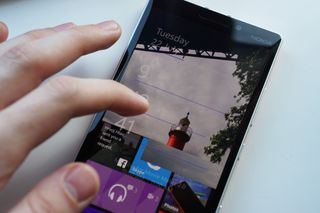 Earlier this morning we took a look at a YouTube video showing off what an app could achieve when tapping into Windows Phone 8.1 to offer more advanced lockscreens. This app, called Animated LockScreen Preview, is what the YouTube video was demonstrating and it's available right now for you to download. It's not a fully functional app (since the APIs haven't been released yet), but is a solid demo of what's to come.
Microsoft's Joe Belfiore has teased that this feature (and necessary APIs for developers) will be available soon, but Venetasoft (the brains behind Movie Maker 8.1) has taken it upon themselves to release an app that demos the feature in action and shows the consumer what the lockscreens could look like on their mobile device. It's a free preview since the Microsoft APIs to fully implement more advanced lockscreen in Windows Phone 8.1 aren't yet available.
All you need to do is take a screenshot of your Start screen and select a background to use as the lockscreen and you're done. Three lockscreen styles are present, two restyled options using lockscreens shown at BUILD and another option to get you excited.
It's noted by the team that once the final APIs are released, they'll release a full version on the store with everything patched together to work in a live environment, as well as some even more awesome effects. We recommend you download the app and give the lockscreen demo a go. Let us know your thoughts in the comments and what you'd like to see from developers regarding these new APIs. While this app itself works on 512MB RAM hardware, the same cannot be said about the feature from Microsoft.
Rich Edmonds is Senior Editor of PC hardware at Windows Central, covering everything related to PC components and NAS. He's been involved in technology for more than a decade and knows a thing or two about the magic inside a PC chassis. You can follow him over on Twitter at @RichEdmonds.
*Personal view* To be very fair, without indulging into sarcasm or foul languages like some users - this looks like a publicity stunt more than anything else. I am not saying WPC shouldn't have covered this but should have probably been *more bold and straight up* for some folks here to say "You don't get the lockscreen". As for publicity stunt the way it keeps pushing people to download the Movie Maker app, just 3 days before the launch of "real Lockscreen Beta", it is trying to make Movie Maker download count go up. But if this backfires, I can see how you can bag in plenty of negative reviews.

I don't get led to the movie maker...probably because it crashes when I pick a background pic!!! Anyone else having this issue?

Yeah my phone crashes too. Doesn't work at all.

Please uninstall and verify to download version 1.0.0.4

Thanks Venetasoft.. 1.0.0.4 works. But I'm afraid you successfully just made more people impatient with awesome custom lockscreens. :D

worked for me... and looks great. but desapointed because you don't really get it. its just to take a look.

yeah same here... its crashing... pls fix it... on 520 Edit: They updated it.. now works perfectly...

Same here, sorry not worth the time to download. Looks cool in the video...

I didn't even get to the point where it prompts me to go to movie maker. It kept crashing all the time. So I lost interest immediately. I'm never again rushing anything. I'll wait for the real deal.

3 days for the actual beta apparently...so we'll just have to wait for that I guess. :/

You're right. This preview of preview lockscreen is simply made for advertising purposes. Not only that it was poorly built but at the end of every session it prompts you to download a paid movie maker app. I already responded with a poor review and reported it to MS for poor performance. I encourage others to do the same since this app was made simply to pull public for advertising purposes only.

Upgrade to 1.0.0.5 or uninstall and forget about it (it s free dude ;)

I'll take a turd and give it to you for free, but every time you smell it you'll get an ad. (it's free dude)

That is a pretty ignorant comment. A developer worked hard to give us an opportunity to see something we are all excited about. While you were sitting around being a waste of sarcastic space, he was actually doing something with his time and contributing to this community. Its easy for you to call his hard work, time, and effort a piece of crud, but what have you contributed to this community? As for the advertisements, how ignorant can you be? For his time and effort, he deserves to get his other work recognized or hopefully make some money off of it. How else would you expect great developers like himself to be able to continue to contribute to our platform and help it grow if not by paid apps or ads? Please offer your profound solution to what you suggested is a problem, because the entire developer community and world for that matter are on pins and needs to hear what your revolutionary idea for app commerce is. Without developers like himself, we wouldnt have great apps. Without sad commentors like yourself, we might actually have more developers who wouldnt consider Windows and Windows Phone a waste of time with an ungrateful crowd. I went ahead and purchased his move maker app to hopefully remind him that some of us do appreciate his hard work. With such a high standard for app quality, I can't wait to see which of your apps hits #1 in the app store, PolishHitta.

Excuse me? Oh yes lets build a windows phone and just be happy with it.. Lets not question anything about it. Because of "ignorant" people like me you get windows phone 8.1 with notification bar, background tile image... For Gods sake CORTANA and not Alyx. Because of "ignorant"people like me, the developer realized that he went too far and got rid of the stupid pop up advertisement that harasses users. And comments are for everyone including you, the thankful sheep who is fine with everything that you get, and me the critic... And I don't care if you're a developer or Obama, everyone deserves to get a straight answer whether it's harsh or not. So please go back to your hole and next time thank people like me instead for speaking out their mind. And as for me hitting #1 in store, I really could give a _______ fill in the blank. I make commercials for a living... Like to see your commercial on a billboard in Manhattan.

Great ideas don't come from people who whine, complain, and criticize others work. Work that they themselves aren't capable of. It comes from great people who collaborate and listen to people who have real feedback to offer. Honest members of the community who share their feedback contribute to the great idea that is windows phone 8.1 by asking for the things that wanted to see in their windows phone. They didn't have to tear down others accomplishments. It is sad people like yourself that feel they deserve a pat in the back and have the audacity to call themselves 'critics' and should be thanked for nothing more than crying like a spoiled brat. I myself am not a developer, but I participate in every beta I can get my hands on, I send in lengthy notes on what can be improved in the UI and experience, I add what needs to be polished or added. I spend hours contributing in a way that adds to the hard work of our developers. I don't simply sit behind a keyboard and scoff at hard work. You are the problem, sir, not the solution.

It works now, thank you for this demo, looks great now I'm exciting for the official one. Just ignore the rude comments that some people post on here, opinions are like nipples, everybody has one, some have firm points but others...

+920 keep crashing, can't use the app

I went to reinstalled, went to settings and changed the application theme to dark and it hasn't crashed for me now. But yes it does send you to Movie Makers store page. Bit of a cheap move really, as good an app as it is.

You have an old bugged version, please update :)

Well said! :sadface for WPC. Also doing this kind lame promotion just gets me to uninstall rest of the apps from this publisher from my phone.

My mistake, should open once every 3 unlocks (not every time)... Will be removed in next coming update. Really apologize for this.

Or you can alter the message, have the app direct us to a free ad-free version of Movie Maker just cause people downloaded this one and save some reputation. (I do own Movie Maker)

I have to agree with this. This actually makes me want to uninstall that other app.

and 1.0.0.5 is coming too (no more redirect to MM)

Not that nice... Always sends me to movie maker app in store

The app just got updated now..... Added one more theme.....

Can't believe you had me install this crap. It doesnt work at all on my Lumia 925 and it keeps taking me to the Movie Maker app on the store. Just a damn simulator and not even a good one. I expected more from a website like this. Not to point me to adware. Shame on you WPC!

You should read the article :D

This app is a good demo ..!! I really like it when original one comes it will be a good show off ;)

Nowadays people tend to be bad readers but excellent writers

Excellent writers? Here???

More like excellent whiners.

I honestly don't see why a dev would do this. It just makes me think they're stupid d$ckh&@ds. No way I'll ever be downloading movie maker now...

Read Read Read before you download any app :-)

What makes you think I didn't read it?

Okay wait, you are actually kind of right in your statement. It takes you to the moviemaker app. Looks like this is a public PR stunt. just sad.

Sorry, I didn't realize being an Asshat was a prerequisite for not reading an article.

Sorry about that, I edited my comment and now fully agree with you. sorry about that.

Sucked in.... The article does tell you what it is... Lol

Wow some people are thick... Here's what happened: I read the article, therefore I knew it was just a quick demo to showcase some features that might be coming. I thought, what the heck, I'll check that out. I installed the app, opened the app, demoed the feature, then the app took me to the movie maker app in the store, then proceeded to crash. After that I came back here and made my comment about the dev being an idiot for sending me to the store.
What part of that story makes you think I didn't read the article?

You can just press "back" button instead of sliding the "fake Lockscreen" open... That's it to avoid that. Chill out... You get what you want too right? (at least its lighter than the data to watch the video (2mb))

Was only playin man, all is good ;)

Haha this happened me lot from Google play store. Fake demos.

This is a preview, as the article and the app description says, not a "fake"...
As soon as the final API will be realeased, I will update to te FULL integrated version, with MORE effects too :)

It's clearly not a fake, I thought it was kinda cool seeing it in action. But why would you jump the user straight to the store after swiping? All you had to do was chuck a link in the app or at least prompt the user to go there. Now you're getting heaps of negative feedback, and missing future downloads just to get a few cheap views on your other app.
Pro tip: Google, marketing strategies.

100% agree... I m correcting this...

1.0.0.5 does not redirect to MM page any more

Really great work guys, loved your hard work, but cannot i make it as my lockscreen now.

Preview...... New API will bring features like this within a Microsoft week... (soon) ;)

Sounds cool mate! Can't wait ;) oh, And thank you!

For once i was like at last we got the official lockscreen app from Microsoft but anyways nice work venetasoft

Same with me. And I was also had a doubt will it work on L720 since it said the app will support 512mb but it was not MS.

Latest update has a bug (sorry), plase update to1.0.0.4 (visible shortly)

This updatet app its work on device 512 ram?

This is not an official Lockscreen App from Microsoft, is it?

You didn't read the article did you?

It was a kind of a retorical question

Based on that, it was a rhetorical answer then.

Bah, I'll wait for the movie.

The sequel will be awesome!

Reading is so overrated :p


No not yet still few days

Looks very promising indeed!

On Lumia 720 too on wp8.0, but not working

don't worry I have the same problem ;)

@Rich, third para, "losckscreen" :¬)

This is some cool stuff...Thnx ventasoft

Just an app... Not a real lock screen.

Please tell me you read the title and article, right?

I did. Thought it was the real thing but without full function. Cool though.

Read the app description too (and the prize).... :)

"thought" not everyone perfect. Cheers

Aahh! It is a prank app of animated lockscreen form the developers of movie maker. And the video was also a prank.

Read the article. It is a PREVIEW. YOU'LL GET A FULLY FUNCTIONAL APP WHEN THE API ARE MADE PUBLIC.

Hahaha sorry i wont get it because i have lumia 630 and i have already read the artical.

reads the article, thinks this app is a prank. *facepalm*

Fun, but not accurate to what the videos show: • The circular mode doesn't fade the clock strips, it should instead rotate the bitmap.
• The diagonal mode should move the image as you swipe up
• Not sure about the last one because they hardly ever show it Also the Start/Wallpaper options are round the wrong way. Apart from that, cool to get a feel for what they might play like :)

Your kidding right?
You do know that douchebaggery is a choice. Nevermind, I forget what era I live in, it's like the yuppie years.
Your with the in crowd aren't you?

Funny, because your comment comes across a lot more douchebag-esque than mine ... First, the article doesn't mention 'third party' or 'imitation' anywhere. In fact it's written very much like this is a copy of the actual code but without API integration. The app description is similar. Second, I would expect these kinds of fairly major disparities to be picked up, especially the wrong images. But hey, that's cool, I figured it out. Third, I tried my best to remain light hearted. Notice the smiley and the positive comment sandwich? Lastly, this article suggests that I post my thoughts in the comments. But according to you I should only post them if they're 100% positive?

That's exactly the reason behind this "preview" app :-P Not accurate per se, but a sweet look at what said feature will look like on a Windows Phone.

Great... Wish they could make it part of the OS.

The API will be a part of the OS.

And the app will be 100% integrated as API will be out

Exactly, with this decupling of features in favor of an app based model,(you know, for the sake of being able to update said apps as often as needed, well lets just take a look at Xbox Music - Ha! Enough said) has taken its toll on the OS and overall user experience that ran as smooth as can be, but is no longer the case with WP 8.1. I'm really disappointed with 8.1, for whatever new feature that was made available in 8.1, there were 2 taken away from WP 8 in.

Music should have stayed as a hub... It is a major part of everyday use for so many... But it does open up more opportunities for devs... I'm hanging on a decent music app with access to Xbox music dloads and streaming! Don't really care if its from MS... Then all will be fine ;)

When the feature is coming?

Hopefully this week ( @Belfiore said)

Nice.Waiting for the Live one...

It keeps sending me to the Store. Although I already have Movie Maker 8.1

It's simply a preview app, which is partly funded by a redirect to their Movie Maker app store listing. S'all. You'll probably only encounter it a handful of times while you play with the app for a bit, so it's no biggie.

I see. I wonder how the official version will work with a password?

You have a typo error if am not wrong. Your lock screen became losckscreen

Already fixed, noobchief!

Hahahaha the error still shows up on the article in the WPCentral app though

Downloading now... Lets see what our has in for us

Fun actually!! Preview runs smoothly on my L520, I dont know why it takes a lot of time for MS to launch LS app even for 1GB Ram phones..

Because it's a preview and it's not a fully functional app that is meant to stay in memory permanently

Anyway the preview should live under the lock screen, so you will have two to unlock :)

The app isn't opening on my 920. I have wp8

Hope MS release it for 512mb RAM as soon as possible

They still haven't released it for 1gb RAM devices

Crashing all the time, uninstalled. I'll wait for good stuff.

Stupid app closes after I open

Pretty useless as it crashes... Come on devs.. Test your software!!!! This is becoming a bit of a disease in the industry....

Crashes/Closes on Ativ S when doing both steps

I seem to be confused. You said that:

It's noted by the team that once the final APIs are released, they'll release a full version on the store with everything patched together to work in a live environment

I thought that Rudy Huyn / Microsoft is developing and will be releasing this. Did Microsoft instead outsourced this to Venettasoft?

If the APIs are made public and available, any developer can develop an app using the same.....:) This means there will be more apps to do the same work....:)

Right, we need more apps doing exactly the same thing, but just worse :-) BTW, WPCentral, please update your previous article about lockscreen demo, it's clearly not the "real thing", it's this app demoed and it's misleading. Judging by the comments under the article, most of the commenters think it is the Microsoft's lock screen demoed in the video.

Good job dear developer....:) Especially for updating it today itself.....:)

In final version , can i install in my htc 8s , 512 mb ram???

Yes but at first they would provide the app for 1gb RAm users and then for 512ram users :)

Trash! Forcing to close everytime i want to use on my Lumia 520
\

So the previous video was a fake made using this app, right?

You should really read the article and the comment by ventasoft above..

And you should really reply only if you want to answer properly.

Probably not. It was most likely the "real deal" made using a near-finished build of the official app.

Its crashes on my lumia 625!

wah,, I got force closed when I open it,, hahha,, I use Lumia 820

I don't think that the video was fake. But I guess the app that they've published in store isn't the one from the video.

Insta crash on my 1020 w/ DP. Anyone else getting this? Might just wait for MS official if I cant get this to work. Nice work though Venetasoft

Crash on my 1520 also but after reinstalling works fine.

Tried, same result. Guess I'm having to wait for greatness. Don't mind though ;)

Same for my 1020 with dev preview. :(

Look nice lockscreen :) cool

Guys, I downloaded this app and i think i accidentally spoiled the app.... It keeps crashing on me...

Sorry, little bug, I just updated (1.0.0.4)

but the store still says version to be 1.0.0.2 which keeps on crashing on lumia 520

Crashes a lot. Reinstalling now.

People read, read the Article, read, no one simply reads into WPC

Can't even use it, I am able to add my start screen screenshot to the first part, but for the lockscreen image after, it just closes itself. I'm using the Nokia Lumia 625 with Lumia Cyan and Windows Phone 8.1

What the hell..this app crashes after selecting the lock screen pic..until reinstalling..and same process repeats everytime...hiw am I supposed to use it.

That's the same with me too, I've done many reinstalls without success

Works ok on lumia 1020 not bad.just have to wait for full version now or till preview for developers one come out

Yeah..u r right @conor mayling....same here..LUMIA 925 with cyan...

I'm jealous you get to add Cyan after your phone model...its like earning a college degree and are nearly done, envious of the one who has it:)

Getting crash and came out to start screen..

Nah, crashes after selecting background image on my Lumia 920 WP 8.1.

Keeps on crashing in my 520 :/

I love this developer!! Love all their apps

So many people just don't read the article and comment straight away. It's both amusing and irritating at the same time.

Irrimusing? Amitating?? Lol.. It'll only get worse

Hey I have seen venetasoft often in conversation with wpcentral. Are u there??

Good job to app developer. I would have preferred the real thing.

Crashes.. Doesn't work on L930

Crashing after selecting second background image (L930). Anyway, hope there'll be an update soon so that we can test it :)

Update is already here....:)

ohh man.. this crash on my L925. why is that :/

Oh it's from venetasoft xD but still keeps crashing, though its nice for the first impression ... I WANT IT NOW,

Sorry little bug :/
Update 1.0.0.4 soon available.

It always crashes when I select the screenshot

Works fine on my ATIV S, gives a good impression of the real thing!

Same here - Ativ S with no apparent issues.

It's spitting me out of the app all the time and i never reach to the actual testing place on my lumia 625 :(

Hard to considerate it as a demo... it's not even close to the real app, even animations are bad...

Not opening for me. L620, WP8, Black

HELP! after opening the app it closes itself

Sorry little bug :'(
Update 1.0.0.4 available veeery shortly.

App is also crashing on my L920. Ill just wait for the official app...

The app auto exits when I select the option to add the screenshot of my start screen on Lumia 520.

me too bro same issue after selecting the lock screen picture in lumia 525

just reinstall, it will work

But alot of ppl here probably have prev.dev. Just like i have...
It still crashes after a few random secs.

keep crashing on my lumia 720 while choosing wallpaper........

same for me... after reinstalling, now it's working ...

App sucks I try to open it and crashes.

Always exits as soon as I open it..

Close in my Lumia 520,terrible apps.

Really cool... Excited for the final version :)

guyzz...read before commenting nd downloading its just a preview of final app not the app...nd MS grt hope to see this app in store soon nd plzz for 512 mb ram devices to plzzzz.....for 512 soon wtng eagerly....

Can not walk anymore .
Needs to be updated .
I wait for a update full version.

Not working on my lumia 822. Crashes as soon as i open it.

Sorry, little bug, I just updated (1.0.0.4)

Which is not yet live it seems. The current version in the store is 1.0.0.2

Now that is some killer shit. Waiting for it to be live.....

Crashing on my lumia 925.

It's not what I waited for

Can't see anything - it crashes everytime at the same place when I have to choose pic for the lock screen

Crashes as soon as it's opened.

Same here NL920 and NL630

Continuous UnhandledException on app launch. This happened after setting the lockscreen background. Lumia 1520.

It's crashing everytime in 625..

Crashing on startup on my 920.

Plz understand its only for devices with wp 8.1.
The app wont work in your phone

Crash and burn on my 8XT.

Installed... ran the app... nice themes... uninstalled! Nice simulation!

Not working, keeps crashing after selecting the lock screen image.
The developer should've tested the app first.

Not working, keeps crashing after selecting the lock screen image on my lumia 920 and HTC 8X

Sorry little bug, I just updated (1.0.0.4)

Have you tested this app on low end phone??

Coz when I downloaded and installed and at the next stage of selecting the photo it crashed...

Currently i m using Lumia 525 having 1gb of ram.. Bt this dis app is certainly closed when i open it.. Any one hav dis prob. I m using windows phone 8.1 dev preview..can u plz help me out.. Thanks in advance

Still crashing instantly after choosing step 2 (background pic. for lockscreen) on my Lumia 925.

It crashes in my Lumia 620 from first run. I'm unable to set.

Doesn't work. I take a screenshot and add it and then this damn app just goes back to the start screen

Hi same problem happening with me...

This app needs an update though. Can't make it work here.
---
Edit : Waiting for the update (1.0.0.4), thanks Venetasoft

The demo work fine on my 1020 and it got me really excited! Hopefully there won't be any mind changing and the app will be released very soon :-)

Force close on my NOKIA Lumia 720 , hope the official animated lockscreen from Microsoft can be use by 512MB RAM devices. \m/

I think its not for 512RAM

Currently i m using Lumia 525 having 1gb of ram.. Bt this dis app is certainly closed when i open it.. Any one hav dis prob. I m using windows phone 8.1 dev preview..can anyone help me out.. Thanks in advance...

i cant use this app on my lumia 925. when i open the app after 3 seconds crash. please help :(

Same here. Crashes after choosing the background pic.

Whatever this is.. It keeps crashing on my HTC 8X .

Yo Ventasoft, will release the full featured app for 512 MB RAM phones?

Sorry little bug...
Update 1.0.0.4 available veeery shortly.

Crashes after selecting the screenshot and the lock screen image. Lumia 1020 WP8.1 dev

I am using Lumia 920 8.1 and its keep crashing after open

Crashes on my lumia 920 :( I select both images and the app crashes

So did I Crashes on my HTC 8X 8.1

Wtf.. They said it was just a Preview.. So it is just a preview... Read the article before you comment stupid things

Wtf WPC this is rubbish..question are now staring to see that even this sight is getting on the same level as windowsphone power user...jeez

Please add Camera shortcut....

Assuming you're not using the lumia 630, the camera button is the camera shortcut :)

When I add the onscreen photo it crashes. Reporting the app, crashes. Reinstall, rinse, repeat.

It is not working in my Lumia 520. Closes as soon as i open..

The article should be 'Animated LockScreen Preview lets you simulate Windows Phone 8.1 lock screen app'
I honestly thought it was BETA version of LockScreen app, and not everyone reads the article lol

I thought Microsoft was the company releasing this,I would prefer if it be implemented in the Settings instead of installing an app,nice preview though

Been waiting for this for so long. Unfortunately it keeps crashing.

Have you been waiting SO LONG for a preview of a function this app does not give you? WOW.

The demo sucks it so not smooth.....

I would like to see a nice ripple effect or a dissolve effect. Also the motion of not just up but left or right to exit the lock screen.

Every time App crashes when I pick a background pic

Me too !! It's not working.

Not opening everytime on my Lumia 520 crashing, somebody **** that dev.

This is weird. It wasn't crashing before the update. :P Updated. Crashed. Reinstalled. Crashing still. :P Would rather wait for the official app even if phone is a 512 MB 520. :P

Just reinstall n use default WP wallpaper gallery.
Doesn't works if u use high res wallpapers. Only works with default WP gallery.

App itself crashes alot! What will be the actual lockscreen !

App itself crashes alot !!!

I've never heard of an app to simulate an upcoming app/feature. Not interested at all. It does seem weird why this would be created. The fact that the video demo promoted Movie Maker and now this simulator promotes Movie Maker (per the comments here - I didn't bother trying to install) makes the motives pretty clear.

It is getting crashed frequently

Nokia - brand value . In Indian terms "Nokia ka Bharosa" also loved the OS

It crashes everytime I pick a background pic also. I deleted the app until the actual app come's out. Hopefully it will be better.

Sorry, but this is crap. Waiting for the official one to be released.

I have windows phone 8.1 and the app still crashes. I have one of the best phones out there so I guess that makes my phone high end. Sorry, still crashes!

Please update to ver 1.0.0.4

Now after the bug fixes, it runs swiftly. Hand it over to the developer, good projection of what's coming soon to our devices. Really now I am curious of the real application's official release.

Those who all facing crashing issue.. Just reinstall the app and use some low resolution photo..it works

Looks cool and works great, but these will be battery suckers just like Android. Classic may be the only one that work without eating your battery.

Now i know its look like great. I love it thanks.

Its still crashing on my Lumia 720.

Got so excited when I saw the live tile for this article, then was like, "Damn" Still cool though, I was just hoping for the real deal.

I love the ' zoom' lock screen and then congress the lines one and then the other two

Doesn't even work its bull shit

There are far more customizable lock screen apps out there. I use Lockmix, and think it's great. When the full app is released, I'll give it a shot tho

Superb and hopefully this will spur others on to making some better lock screen capabilities in their apps too, kudos.

It sucks!!! The layout is nice, but it leads u to another app..get rid of that and its workable...

Will be done in next update.

Complaining about the functionality of a preview of a preview. Lol

Crashes on launch on tmo 925. Shouldn't this be called a beta? Wouldn't a preview work, but not have all the features?

Please update ro version 1.0.0.4 (reinstall)

It's classed as a beta, but I reckon it's actually pre-alpha. There seems to be a lot of buggy releases/previews lately. As a dev myself, I would like to offer some advice to other devs... Test the fucking thing to destruction!!! It should be nigh on bombproof!!! I'm not having a go at ventasoft, but this is page 1 of Bug Testing 101....

Lol Saturday morning at the beach with family is not the best location where developing ... ;)
I m fixing it all today, thank you for the support of this preview :) !!!

Please uninstall and get 1.0.0.4

Working fine on my L720 smooth and no crashes..... Loved it... And snapshots!!! Is that how you think it can work!!

Works fine on my L1520... I don't mind been send to get movie maker app, you just back to the app and that's it... For those complaining read before doing... It's a demo... Thanks for the preview....

It worked fine on my 1520. The Tokyo lockscreen is sick. Cant wait. Its pretty straight forward and if you don't want the movie maker, don't buy it, but the app does what it says.

Can I use it on Lumia Black??

Its good! But one query.. Once the full version of this app is released will it work on 512MB devices??

initially it will be releasing only for 1gb... We have to wait few more weeks or months or ..... :|

Depends on what @Belfiore will say this week....I think not immediately, but lets wait :)

Cool but I'm waiting for lumia cyan

Good idea I suppose. But the options aren't great, looks a bit tacky, doesn't work 100% (the seconds skip sometimes, and the images are stretched occasionally) I know its just a preview though. But I wouldn't have this anyway even if it did work, would probably run down the battery more and for what? So I can see seconds pass by? Nah.

Yes, by all means, lets load an app that has no actual value but wastes more battery. Good grief.

Although the preview is a joke and clearly a PR stunt, the feature itself does look pretty good. Looking forward to it being released officially.

Is this real lockscreen app that was demoed by Joe or a similar app by Venatasoft...

The second one, but will be "real" as final API will come.

Hopefully the transitions and the designs will improve: Fading text visible over start screen, an humongous clock face, distorted typography, centered paragraphs ... There is so much more to using the real estate of your Windows Phone lock screen and making it beautiful!

Doesn't work for me. It crashes everytime I open it and select an image

Crashes in my 525. I tried to open the app but it always close automatically.

Please use version 1.0.0.4

looks great, hope the 'actual' app doesn't use too much battery power or is resources hungry. Sort of reminds me of the animations you could use as wallpaper in windows vista ultimate for some reason... Anyway it does indeed show off the power and potential of Windows Phone 8.1, and I can't wait to download the full working app when the API is released, good work guys.

And hope they have more features

would be nice if it could accept GIFs, that'd be all I need.

The best part of all this is reading all the comments from people who believe this is the real lock screen app.

Boo hoo people. Cry more. They stated it was a demo app. Don't download it if you can't read what it states in the article 3 times. And of course they're going to advertise their other app, its gets them money. Do you want another developer to stop making stuff for windows phone just because you don't like them advertising a good app they made? Ridiculous whiners.

Is it really that serious that the dev was trying to promote an app...geez download it use it get sent to the store...hit back button move on with using the app...its really not that serious...or confusing

Exactly. Incredible this dev is getting all this heat. He acknowledged there was a crashing bug-I had it too-he updated it immediately and now it works. So what if it links to his app-that's smart thinking for an app that is going to have a VERY short lifespan. After a few minutes playing, I'm done really. Its been good to preview the upcoming feature but some people are taking this way too seriously. First world problems indeed!

Doesn't work on lumia 520, won't even open :(

The app even doesn't open....

it requires language English (United States)

The lockscreen are awesome

preview of a preview followed by "plz buy my other app". tad bit annoying

But it needs to be able for 512mb ram

Same issue crashes in my 1520wp8.1

Is it creepy to make an first impression and just give away a shit preview.

Why is this getting so many negative reviews. It's supposed to be a preview of the real app and it looks awesome. Stupid people!!!

This locksreen app needs to come preloaded on the phone otherwise a lot of people will miss out on them because it is SPECTACULAR it blows the water out of every lockscreen have ever seen. And to think I was once jealous of the pattern lockscreens on androids

Yeah me too but I hope it's something else other than pass code lock..

Like, is it only going to unlock by pass code? Or are there other options?

I mentioned the pass code cuz it was cool not that I want passwords

Ofcourse they will do it as it was their app...

It doesn't work on my Lumia 920

For now is great in demo version

(Lumia 1520) Though currently this is merely a "preview", it actually brings some life to a former static feature. So when I heard it was available, I immediately downloaded this app and begin fiddling around with it and I think it's just great. It's customizable, crisp and over all simply beautiful. I just know this app has real potential which is exactly why I very much anticipate using this lock screen app for the foreseeable future. In a nutshell, this app is fantastic. I look forward to seeing how this app evolves in the coming months. Love it.

Hey guys when it will come

It's does not work properly

I Can't open this app. -__-

When is the actual app going to be released???
Anybody know???

venetasoft...good work... Needs update... Exicted for the full version....keep it up!!!!

There's been an update people...

Downloaded it and results are awesome. Eager to see their fully working app. Thanks for considering low-memory devices.

this app is not even opening on my Lumia 520

its not opening pls fix..

+520 works good after the update.

Can nokia lumia 521 update to 8.1?

Yes. Microsoft has corfirmed that ALL devices with WP8 will get 8.1 update.

Works great with L920 DP WP8.1
Windows Central Newsletter
Get the best of Windows Central in in your inbox, every day!
Thank you for signing up to Windows Central. You will receive a verification email shortly.
There was a problem. Please refresh the page and try again.